The 5 Best 4-Cycle Weed Eaters Reviewed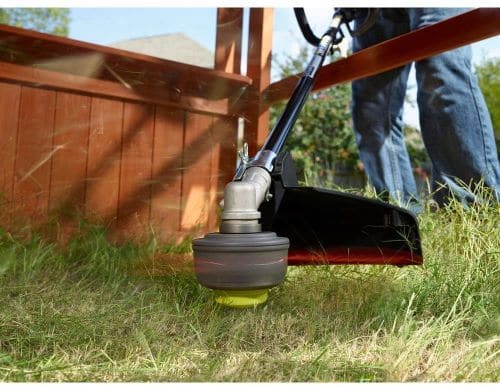 Weed eater manufacturers have always been looking for innovative ways to improve their products. Once upon a time, 2-cycle weed eaters were the only option for consumers. Today, however, 4-cycle weed eaters have become more popular for a variety of reasons.
A 4-cycle weed eater makes four up and down movements in one cycle, creating a weed eater with more torque. It's also much more convenient, especially for people who aren't used to operating a weed eater. There is less room for user error, especially when it comes to getting the gas-to-oil ratio correct. 4-cycle weed eaters tend to fire up right away, rather than having to mess with them to get the balance just right.
Finally, with everyone showing more concern for the environment nowadays, it's important to note that 4-cycle weed eaters are more environmentally-friendly. They release lower carbon emissions, making them better for the planet and your overall health.
Have you decided to go with a 4-cycle weed eater for your landscaping projects, but you're not sure which one to pick?
We've got you covered with some of the best 4-cycle weed eaters on the market. Let's take a look at each one, including some important pros and cons.
Best 4-Cycle Weed Eaters
1. Husqvarna 324L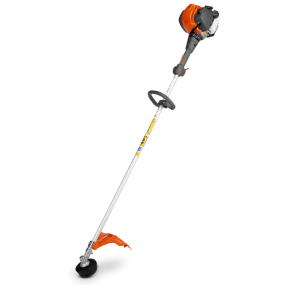 The Husqvarna 324L 4-cycle weed eater is one of the more expensive models on this list, but that's for a good reason! For the price, it's a perfect weed eater for beginners, since it doesn't require you to mix fuel and oil together. There's no room for error!
But, it's still a weed eater that will give you a lot of power. It features a 25cc engine and a string trimmer with a maximum power speed of 7000rpm.
What else makes it great for beginners? It's easy to get started! Far too many 2-cycle models take a few hefty pulls, and you run the risk of damaging the machine. With this weed eater, starter cord resistance is reduced by 40%, so you can be confident in knowing you'll get the trimmer to start in a matter of minutes, rather than wrestling with it. If you're worried about reloading (because you're not sure how), this is the right trimmer for you. It features a T25 trimmer head specifically designed to make installation of cord easier than ever.
The weight is only 17 pounds, so it's lightweight enough for almost anyone to use. Plus, with a cutting swath of 18 inches, you'll be able to tackle any job quickly.
2. Huyosen 4-Cycle Weed Trimmer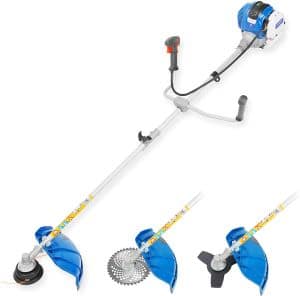 The Huyosen 38.9cc weed eater is a workhorse with a lot of power and very little vibration. You'll feel like you're in complete control when you're using this trimmer, with all of the power in the palm of your hands.
Though this trimmer is also on the expensive side, it is incredibly powerful and efficient at what it does, which can save you time, money, and a lot of energy. Its max engine speed goes up to 7000rpms, so it's great for heavy-duty jobs and can even be used in a professional landscaping setting.
Let's talk about how comfortable and quiet this machine is. Not only will you feel like you're in total control the whole time, but the comfortable handle will reduce vibration, and help you to fight fatigue as you trim. It features an ergonomic handle that makes it comfortable to spend time doing larger projects, and a shoulder strap that can take some of the pressure and weight off of your hands. The best part? You can spend as much time doing those large projects as you'd like. The built-in cooling system keeps the engine from overheating as you work, so you can get the job done right without having to stop.
This is truly a user-friendly model that is great for beginners or professionals in the landscaping and lawn care business. It has a built-in safety guard to keep you secure, and it's incredibly easy to start. You can boost your confidence, safety, and expertise in weed trimming with the Huyosen 4-cycle weed trimmer.
3. Craftsman CMXGTAMD30SA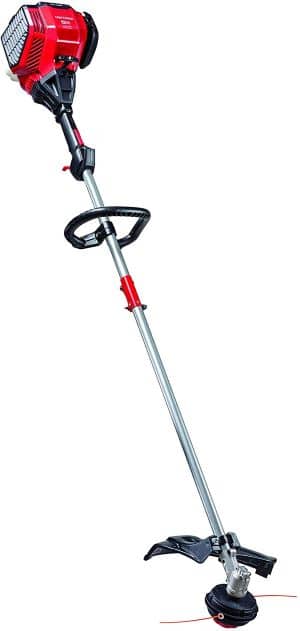 The Craftsman CMXGTAMD30SA may have a complicated name, but it certainly isn't complicated to use.
This weed trimmer is great for different types of yard work thanks to the attachment capability. If you're a lover of Craftsman products, you can easily switch out the trimmer with other lawn care products to tackle any job as quickly and efficiently as possible.
You also won't have a problem taking on multiple lawn care jobs in one day, because the trimmer gives you adjustable control with low vibrations. It's comfortable to hold and use, even for long periods of time. Plus, it will take on even the toughest jobs thanks to a 30cc engine.
One of the unique things about this Craftsman trimmer is the wide cutting width it provides. The width is 17 inches, so you can cover more area in less time, allowing you to take on multiple projects in one day and getting them done quickly.
Craftsman has been a trusted brand for years, and there's a reason why. This trimmer is meant for the toughest of tasks, but is affordable and easy to use for those who have never so much as picked up a weed trimmer before.
4. Wild Badger Power WBP31BCF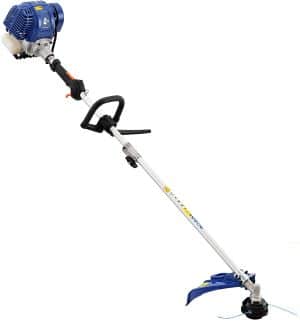 The Wild Badger lives up to its name – this thing is wild in the best way possible!
With a full-crank, quick start engine, you'll be ready to take on any big job with ease. This machine serves as both a grass trimmer and brush cutter. So, not only can you take on borders and make them look clean and flawless, but you can clear away large areas of thick, dense brush. That's where the 'wild' really comes in!
Because the Wild Badger does all the hard work for you, you can be comfortable using it. It's a straight-shaft trimmer with a sturdy aluminum tube. That makes it very lightweight and easy to carry, yet powerful and durable enough to handle almost any job. The aluminum tube also helps to reduce vibrations, so you can take on longer tasks without feeling fatigued or allowing your hands to get sore.
When you use the Wild Badger, you'll feel as though you can take on any lawn care project, so if you've been ignoring the brush buildup in your backyard or you have a project you want to get started but you haven't been able to clear away some of the thick grasses in the way, this is the right kind of animal for the job.
5. Ryobi RY4CSS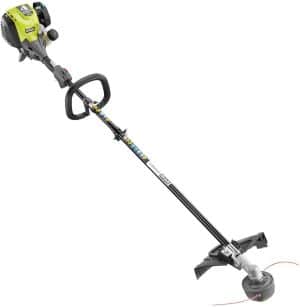 If you're looking for a budget option that still packs a punch, the Ryobi RY4CSS is for you. It features a 30cc engine and is attachment-capable with other Ryobi products, so you can take care of your entire lawn in one day, and it will look absolutely flawless.
It features a lightweight shaft with a long reach, making it easy to get to hard-to-reach areas. You won't have to hurt your back or twist the wrong way just trying to get the job done!
Because this machine is so lightweight, it's great for smaller projects and it's easy to pack up with you in your truck or trunk of your car to take elsewhere. While you may have to refill the tank for larger projects, it's easy to do and only takes a few minutes. This trimmer is designed to be user friendly and it's made for anyone to be able to use with ease.
Plus, with an 18-inch swath, you'll be able to get projects done in a fraction of the time. This is a smaller model than some of the others on our list, but strangely enough, it features one of the largest cutting capacities. That may mean you need to change the string out more often, but it's easy to do. And, for most people, that's a small price to pay for how easy and fun to use this trimmer is.
Which is the Right 4-Cycle Weed Eater For You?
Any of the 4-cycle weed eaters listed above will get the job done. But, which one works best for your needs will depend on the type of jobs you're regularly doing! Some are meant for smaller tasks while others can be used on a professional scale.
All in all, it's hard to beat the Husqvarna. It's a reliable workhorse that is easy to use for almost anyone, but it has the power to take on even large-scale projects.
Some of the most important things to consider when choosing a 4-cycle weed eater include:
How easy it is to use
How often you plan on using it
How comfortable you are changing the line
How heavy it is
Whether it's easy to maneuver
Keep these reviews in mind as you continue your search for a great 4-cycle weed eater. By remembering some of the key features of each, you'll be able to determine which one is right for you, and you can actually have fun making your lawn look incredible.
How To Use A 4-Cycle Weed Eater
For the most part, 4-cycle weed eaters operate in the same way that 2-cycle weed eaters do. For a full tutorial on how to operate one, watch this video: