The 7 Best Axes for Splitting Wood Reviewed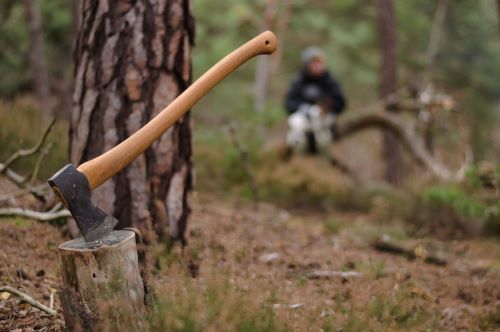 An axe is an essential for a wood-burning fireplace as well as many other aspects of life like camping, hunting, and getting physically fit. No matter where you are, you need an axe, and we found the seven best options to help you get exactly what you need. You don't need to be a lumberjack to own an axe, but you do need wood logs to split.
A wood splitting axe is a fantastic investment for chopping, clearing, and trimming. As a matter of fact, trimming a tree with an axe can help to promote healthy tree growth. However, axes come in all shapes and sizes, and wood-cutting beginners may not know what to look for in an axe.
Stick with us and find exactly what you need. After, read the buying guide to find out relevant information and get answers to your questions too. Start shopping for the right axe to help you split wood into manageable pieces for your fireplace.
Best Axes for Splitting Wood
1. Fiskars 378561-1004 X11 Splitting Axe

Anyone can use the Fiskars 378561-1004 X11 Splitting Axe as it measures just 17 inches long. It's a great option for those wanting a shorter length for a better grip and different weight distribution than a longer axe. The axe gives you power to make splitting small logs like used for home fireplace use. Fiskar is the go-to brand for most cutting, from crafting to kids scissor, and they bring the cutting edge to their axes too!
Get maximum efficiency for more one-strike wood splits and make your life easier. This axe is perfectly balanced with a proper power-to-weight ratio to increase swing speed to increase power. It also comes with an advanced bevel convex blade geometry for added power, and so it's easier to remove the blade from the wood.
A unique head shape helps to disperse wood from the blade for clean splits in the wood. Next, the larger shape and heavier weight provides better splitting power, as does the hardened forged steel blade, which will stay sharp longer. The low-friction blade coating cuts through the wood and helps to keep the blade from staying in the wood as well.
Finally, the head does not separate from the handle to prevent overstrike breakage. A shock-absorbing FiberComp handle makes the axe lightweight, and it comes with a textured non-slip grip reduces hand strain and improves control. Find out what makes this axe from Finland so popular and enjoy a sheath cover to protect the blade. Also, you get a lifetime warranty too.
2. Husqvarna 24 in. Steel Splitting Axe with Fiberglass Handle

If you need an axe for splitting firewood logs, you need the Husqvarna 24 in. Steel Splitting Axe with Fiberglass Handle. Why? Because these axes are flying off the shelves thanks to a solid design and easy visibility. Moreover, the axe offers perfect balance and weight distribution.
The versatile tool also functions as a hammer as well as for splitting wood wedges. Although, it does not split steel wedges. With a 24 inch handle and a weight of 3.53 pounds, the axe is perfect for chopping wood and keeping in your shed or garage.
Lastly, the axe is orange and gray in color, making it easy to spot. The handle is made of fiberglass composite. It's especially made for the purpose of splitting wood; however, what you will love about it is the lifetime warranty making the price very palatable.
Take care of it and keep it dry to avoid rusting as it does not come with a sheath cover. Honestly, this blade is absolutely fantastic, but it would be great if it came with a sheath cover, which is the only reason it's lower on the list. The shorter blade works great for smaller spaces, though, and shorter individuals.
3. LEXIVON V18s Splitting Axe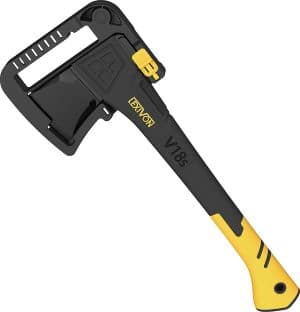 For individuals looking for an even smaller option, consider the LEXIVON V18s Splitting Axe. Not only is the price right, but it comes with an innovative design and an incredible protective carrying sheath. The sheath fully surrounds the top of the axe while making it easier to carry with a built-in handle.
As for design, the vast majority of the axe is black but comes with bright yellow details making it easy to spot. Moreover, the handle is made of high-tech fiberglass composite. It's reinforced in the back spine and comes with a non-slip TPR grip. Add drop-forged and heat-treated Grade A high-carbon steel for meticulously hardened edges perfect for clean deep cuts.
The wedge-shaped blade profile allows for efficient one-strike splits ready to tackle small to medium-sized logs or kindling. It's an efficient instrument with balance and perfect weight distribution for better swing speed and multiple strikes. Like the other options, it comes with a lifetime warranty for the already low price. Finally, it's lightweight and still powerful at 3.5 pounds.
4. Truper Sa De Cv TJR-8SOF-C Splitting Maul

People new to cutting wood may not know that a maul makes splitting wood an easy action. The Truper Sa De Cv TJR-8SOF-C Splitting Maul not only makes the process simple but affordable too. It comes with a fiberglass handle that measures 34 inches long, giving more leverage.
At eight pounds, the axe is solid without causing too much stress on your body while chopping wood. Use the maul to cut large would and get accuracy with a perfectly weighted body. A flared head design helps to penetrate large logs easily.
If you want the work of cutting wood to be easier, you need this maul as it practically explodes wood in half without all the work. However, it doesn't come with a sheath cover. Also, the company doesn't provide a lot of information about their item, but customers love this item for its ease of use for splitting wood with less effort.
5. Intertool Steel Splitting Maul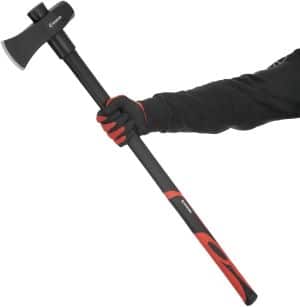 The Intertool Steel Splitting Maul is lightweight but long, ready to make wood splitting easy. A low price makes this the right option, as does the simple design. With a 34 inch handle, it's ready to provide great striking power and incredible leverage despite its small 8.8-pound weight.
A powerful v-shaped head is made of high-quality steel used for tools. It's capable of easily splitting thick timber blocks. The flat poll o the head helps to drive wedges by acting as a sledgehammer. You can use it to double as a sledgehammer reducing the need for two tools on odd jobs. However, it's real job is splitting hardwood.
Last of all, the construction is durable fiberglass on the handle with rubber inserts for comfort and a non-slip grip. Moreover, the handle helps to absorb some of the shock of each blow, too, even in wet conditions. It's well-balanced with a secure head-to-handle joint for security even when used daily. Find it easily, too, thanks to some red accents on the handle and by the blade.
6. Intertool Steel Splitting Axe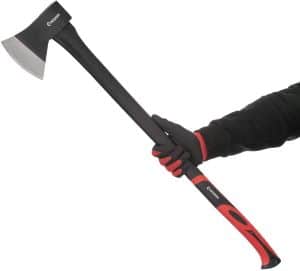 Intertool makes multiple splitting axes, and another fabulous option is the Intertool Steel Splitting Axe. Unlike the maul above, this one comes with a wider head and smaller weight and length. It comes with a similar design with a red gripping handle ready to improve your stance.
The total length is 28 inches making this a great option for almost any height. At 4.8 pounds, it's lightweight enough to make multiple strengths easy for practically anyone. A sturdy lightweight fiberglass haft increase use and dependability. Everything about this axe is ready to split timber and drive wedges.
Use the axe in wet or dry conditions thanks to an ergonomic grip ready to absorb impact for longer use. Moreover, it's well balanced and includes a head-to-haft joint for security even with consistent use. It's easy to transport and store and comes with a silicone blade cover for protection. Finally, it even has a hole for hanging the axe for better, safer storage.
7. STEELHEAD 28 in. Splitting Axe

If you want a touch of modern sleekness, consider the STEELHEAD 28 in. Splitting Axe. It's perfect for splitting small to medium logs around 12 inches and above. Furthermore, it's meticulously engineered for one strike splits, so you don't have to do as much work.
Get an optimal power-to-weight balance ratio for increased swing speed and increase power for deeper cuts with less effort. It also includes a textured shock-absorbing synthetic handle. The handle can absorb more shock than a traditional wooden handle on older style axes. The whole item measures 28 inches and weighs just shy of six pounds.
An inserted molded head is fused to the handle to prevent separation even with constant use. Also, it's forged with high-carbon heat-treated steel to last for a lifetime. It's also non-stick, rust-resistant thanks to a unique coating that prevents gunk and debris from sticking to the blade. All the features work together to improve cutting and splitting wood.
However, the price is only slightly high. But you don't get just the axe, you also get a full cover with a handle. This makes the item easier to carry and to store or hang. Lastly, you can use the hammer back of the head for wedging to reduce your job and tools.
Buying Guide for Axes for Splitting Wood
Before buying, take a look at some important factors in purchasing an axe for splitting wood.
Material
With an axe you need to consider two materials – the axe head and the handle. Let's talk about handles first. You get three main choices – wood, fiberglass, and steel. For the average user, fiberglass is the optimal choice as it's lightweight and easy to grip. Moreover, fiberglass is durable, won't splinter, and helps to absorb shock too.
As for the axe, you want steel using a mixture of iron and carbon. Any axe not using steel will not last for a lifetime. Better yet, a blade made of steel often comes with a lifetime warranty ready to live for generations in your garage.
Length
The length of the axe is important and based somewhat on height as shorter people will have a hard time handling a longer handle. Axes usually run from 14 inches to 36 inches. The longer axe, the more power and velocity it's capable of generating along with precision. Furthermore, a longer axe will give more leverage and can be used one handed.
Weight
A heavy axe provides power to split wood. If it's too heavy, though, it can be hard to control and can throw off aim while tiring you out faster. Try to find an axe between three to eight pounds for the most control.
Questions About Axes for Splitting Wood
Can I use a multi-purpose axe for wood splitting?
It's best to pick an axe for a dedicated job as the shape and design tailor to the task. While you can use a multi-purpose axe, the job will likely be more difficult and take longer too. A splitting axe or maul will get the job done more efficiently. Do not use a felling axe either as it's made to cut wood, not split wood.
Do I need a sheath for my axe?
While you don't need a sheath, it's safer as it covers the sharp blade. If you have children, you will definitely want a sheath, although, either way, make sure to keep axes far out of reach of children. The sheath is about safety and protecting accidental injury.
What's the difference between an axe and a maul?
A maul usually has a longer handle than an axe and tends to weigh more too. It's not as sharp as an axe either, but it's designed for the sole purpose of splitting wood. Both are fabulous options, and you should try both to see which is more comfortable and works best for you. Choose the axe if you want a lighter weight.
How do I split wood with an axe?
Using the proper technique makes splitting wood much easier. For a great tutorial on how to properly split wood, watch this video:
Conclusion
The Fiskars 378561-1004 X11 Splitting Axe offers the best power for splitting wood. Not only do customers love this axe, but it's perfect for wood for home fireplace usage. It's easy to see and provides maximum efficiency for one strike spits. Get the most for your money with a low price, a lifetime warranty, and sheath to product yourself and the blade.