The Top 5 Budget Lawn Mowers Reviewed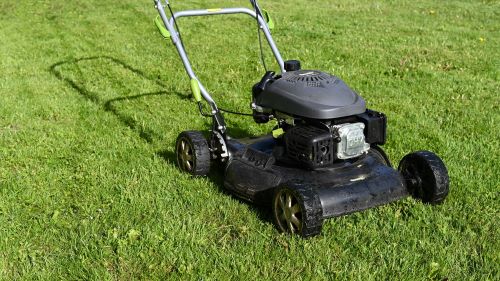 Choosing a lawn mower isn't easy. There are so many different types of products out there and so many lawn mowers have a low price, you may be forgiven for thinking that you just need to get the cheapest one that does the job, but this is not the case. There are so many different types of lawn mowers out there; from reel lawn mowers to corded and cordless ones, in addition to gas-powered and battery-powered lawn mowers, as well as lawn mowers that have a ride-on function.
Needless to say, there are so many different types that you can choose from, and this is before you even start to factor in the lawn itself; from the type of grass, not to mention your physical condition. But let's show you some of the best budget lawn mowers out there to get you started.
Preview
Our Pick
Cheapest Option
Manufacturer
American Lawn Mower Company
Our Pick
Preview
Preview
Preview
Cheapest Option
Preview
Manufacturer
American Lawn Mower Company
Best Budget Lawn Mowers
1. Greenworks 25022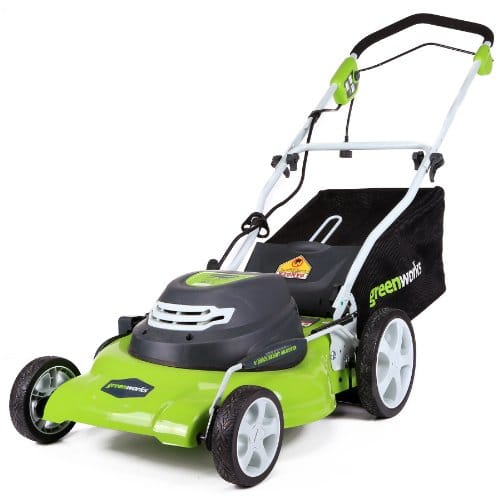 You need a lawn mower that is easy to operate and is powerful on various terrain. You may be mowing the lawn after a long winter or you may be someone that needs to keep on top of overgrown weeds and grass. The Greenworks 25022 is a great way to get the job done quickly and easily.
The streamlined bright green and black design blends seamlessly with the garden and its compact design makes it easy to put away. But what we really like is the seven cutting positions. Many models come with 3 or 4 if you are lucky, but this guarantees a wide variety of options depending on how long you want your grass to be. Performance-wise it's very easy to use and is incredibly efficient. The 20-Inch 12 Amp Corded Electric Lawn Mower makes quick work of any lawn and provides a very even cut.
The one major issue is the cord. If you like more freedom in your mowing you may not like this so much. But for this one downside, there are numerous pros. It's very easy to clean out leaves and grass from the motor, and the price is quite low in comparison to other powerful mowers out there. Easy to operate and well within most people's price range, if you're looking for a corded lawn mower that is compact and packs some power you don't need to look far.
2. PowerSmart DB2194CR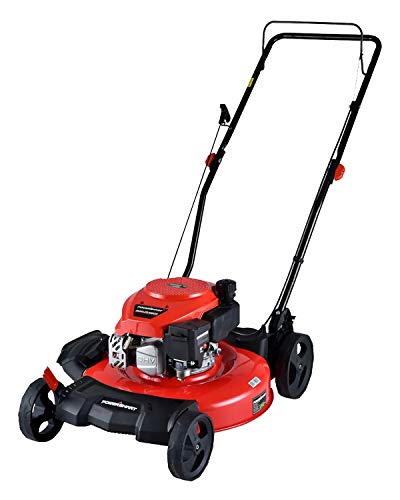 Gas-powered lawn mowers have considerably more power than the average electric lawn mower. If you are looking to take your garden mowing more seriously, this PowerSmart gas lawn mower has a 4-stroke single-cylinder gas engine, guaranteeing a strong backup to get the job done. If you've got tall and tough grass, the power behind you makes short work of it, and with five different height adjustments, you can tackle any overgrowth easily.
The great benefit of the PowerSmart is the 2-in-1 side discharge and mulching function. This allows you to put grass clippings to the side and return nutrients back to the soil to ensure healthy grass. For the green-fingered out there, this is reason alone to buy it. While gas-powered lawn mowers have a lot of power, the design makes it easy to maneuver. The 8-inch rear wheels add a bit more height, making it an efficient piece of machinery.
This is the ideal lawn mower for tough jobs. The 170cc OHV gas engine and 21-inch steel mowing deck give you the power to make a swift and efficient job, and is not a lawn mower that gives in easily. The forced air cooling system allows continuous engine power guaranteeing you can get your job finished without waiting for the lawn mower to cool down. Ideal if you've got a large job and not enough time to do it in. Overall, this packs a punch, but as it is gas-powered, this is something you have to figure into your budget.
3. Sun Joe MJ401E-PRO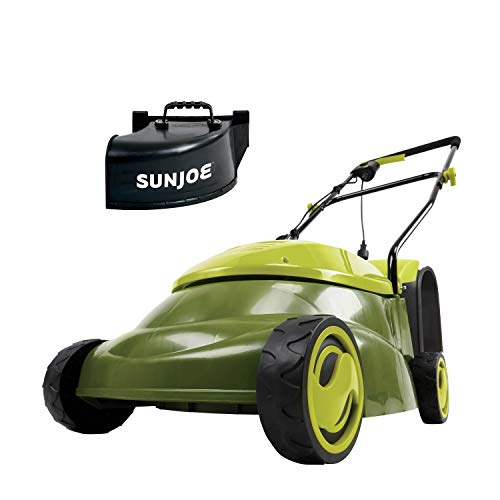 An ideal beginner lawn mower. This 14-inch, 13 amp electric mower is perfect for those who are beginning their journey into lawn mowing. It's easy to use and has three cutting heights so most people will be happy with what it can do, and it still offers enough power to ensure that you get the job done properly. A very lightweight lawn mower, coming in at 29 lbs. and its 10.6 gal bag and discharge chute means it's simple and straightforward to maintain, although there may be buildup between the wheel axles if not cleaned regularly. Its 14-inch single steel blade driven by a 13 amp electric engine makes short work of most grass, guaranteeing modest power that most people can benefit from.
The one downside to this is that it's not really suitable for large lawns. The ideal first-time gardener would use this for smaller lawns only, and as it is light-duty you may find that if you have a bigger garden you may need to go around the lawn a few times to get the ideal length. But the winning combination of lightness, manageable size, and power, in combination with its chameleon-esque green design, makes it an ideal first-time choice.
While it's cost-effective and eco-friendly as a corded lawn mower, it can prove frustrating if it doesn't have a long enough reach but due to its minimal maintenance, it is an ideal first-time lawn mower. It's not perfect, but it's very affordable and will do the job, as long as you don't ask too much of it.
4. BLACK+DECKER BESTA512CM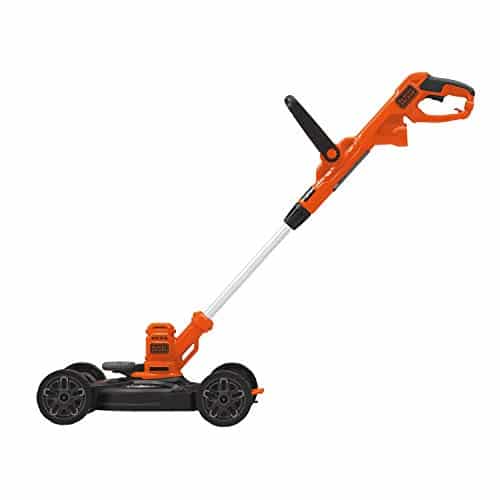 The ideal mower from a brand name that comes with a lot of reliability. This isn't just a lawn mower, but is a three in one: lawn mower, trimmer, and edger. If you are trying to get the job done and are frustrated by moving between lawn mower and strimmer, this device will make short work of any lawn. The variable cutting heights gives you the best control around your garden and its 6.5 amp motor guarantees maximum performance when hitting tough spots. If you have an overgrowth of weeds, it is going to give you the power you need when you hit these tough spots.
Its lightweight design makes it a comfortable mower with minimal physical discomfort; comfort and control is the name of the game with this model. And the adjustable handle and height positions means that you don't have to break your back at all. And the nice little addition to this is the Automatic Feed Spool (AFS), so you can continue your job without needing to adjust the spool, getting the job done quickly.
As Black and Decker are a trustworthy name, you may think that it's a guaranteed winner, but while the AFS function is useful you might end up using a lot of spool line. But if you have a small garden and overgrown weeds are the extent of your problems, you will be able to maintain these without issue. But it's not suitable for grass that's been overgrown for years, for example, if you move into a new property. But an easy-to-use lightweight and versatile model such as this is great for semi-regular jobs. Versatility is the overriding factor with this mower.
5. American Lawn Mower 1204-14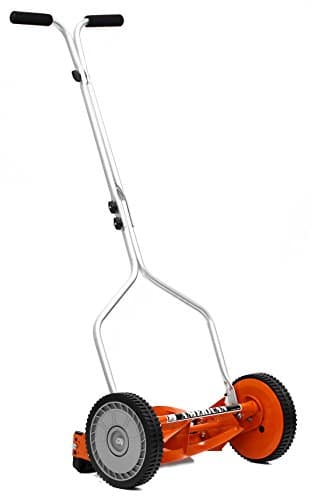 This one is a blast from the past, but with the look of the present. The old 2-wheel design mechanical lawn mower may not be in favor these days, but if you are looking for a lawn mower that requires no source of power, this can actually cut grass smoother than many of the electric and gas-powered ones out there.
Its 4-blade reel and a cutting width of 14 inches means you can maneuver it easily and is capable of cutting grass up to 4 inches tall, making quick work of any basic lawn maintenance. Of course, while the downside is that it doesn't have the same sort of power as its electric or gas-powered counterparts, the blades are made of high-quality alloy steel which guarantees it lasts longer, and makes life easier when you are doing basic maintenance work on your lawn. Its height adjustment feature means you can make a very clean cut of grass which adds a nice finish to your yard.
There are significant benefits to having a lawn mower like this. If you're looking for an environmentally friendly alternative to traditional lawn mowers, this is one of the best out there but rather than going for the cheapest model, this is built to last, lightweight, and has little to no maintenance. Therefore, this is the best choice for anyone looking to cut their lawn with some finesse and precision at a fraction of the cost of most lawn mowers. And if you want a workout at the same time, this guarantees the extra elbow grease!
Gas vs. Battery Lawn Mowers
A big factor when choosing a budget lawn mower is whether to go gas powered or battery powered. Both have their advantages and disadvantages, so make sure you know your needs first before making this decision. For more information on how these two types of mowers stack up against each other, watch this video:
Conclusion
While there are so many cheap lawn mowers out there, when you are looking for the best budget lawn mower, you need to go and see that it does the job that you need to do. You have a unique patch of grass which means that you have to choose a lawn mower that is up to the task but you've also got to think about your own needs. Maintenance and upkeep are just as important as its power and cutting abilities.