The 6 Best Commercial Fertilizer Spreaders Reviewed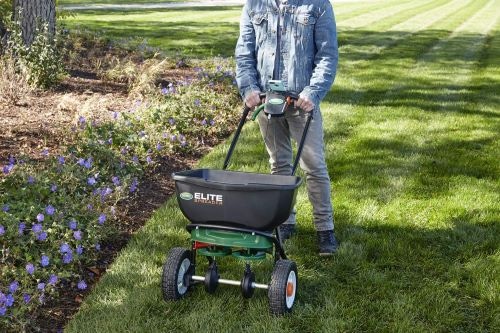 Are you trying to achieve a perfect lawn? You need a commercial-grade fertilizer spreader to get the most lawn coverage. Not only will a commercial fertilizer spreader help to give you a beautiful lawn but a beautiful one too. One of the most important features to look for in a fertilizer spreader is easy to clean options.
Next, you need to decide if you want an option to push or to pull. Both are viable options but depends on what equipment you already own or plan to buy. A push option is normally used for normal size yards. Also, depending on the size of your yard, you may want a larger capacity, and you can find a variety of size options on this list.
Find out the best options available on the market right here to get a gorgeous lush lawn. We found the seven best and most economical options to save you time and money. After, read on for important factors to consider and even some answers to your questions about commercial fertilizer spreaders.
Best Commercial Fertilizer Spreaders
1. Lesco High Wheel Fertilizer Spreader with Manual Deflector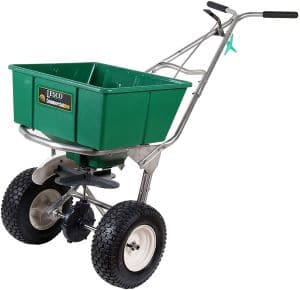 Although the Lesco High Wheel Fertilizer Spreader with Manual Deflector – 101186 comes with a high price tag, it's the highest-rated spreader on the market. You can sue the spreader in the spring and summer for your fertilizer and in the winter for salt too. The multi-purpose spreader will save you time and give you a gorgeous lawn or a safe driveway.
The spreader is the industry standard, with a stainless steel frame making it the first choice for landscaping and lawn care. Honestly, the only thing wrong with this spreader is the cover is a separate purchase despite the high initial cost. Otherwise, it's ready to spread up to 80 pounds of fertilizer in the hopper.
Next, it includes a manual deflector and an enclosed gearbox with a 5 to 1 gear ratio. It's perfect for granular fertilizers and seed along with dry, free-flowing salt and ice melt making it an all-season spreader. Other great features include an adjustable handle, a manual deflector, a large cam-operated impeller and on/off assembly, and oversized tires.
The magic is in the cam-operated oscillating agitator, ready to sweep beyond hole openings in both directions to eliminate bridging and minimize damage. Also, the shutoff plate features a pattern adjustment slide for even distribution of any product used. Mind you, the spreader requires some assembly out of the box but does come with instructions. Finally, it even comes with no rust rims, so this product will last for decades, making it our favorite option.
2. Scotts Elite Spreader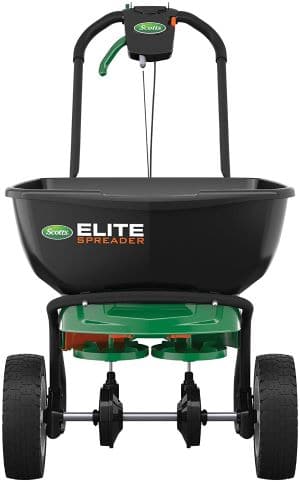 The second highest-rated fertilizer spreader is the Scotts Elite Spreader. It holds 80 pounds of fertilizer or enough to cover 20,000 square feet of lawn product, which is more than sufficient for most yards and then some! What you will really love about this spreader is the never-flat tires ready to cover any terrain.
Next, the fabulous spreader uses EdgeGuard technology to keep the product where it belongs without spreading it where you don't want it to go. Add in ergonomically designed handles to prevent fatigue and discomfort, a necessary feature, especially if you have a lot of ground to cover. Even better, the spreader includes a smartphone holder that you can use to interact with the MyLawn app for added benefits and tips.
Furthermore, you can use the spreader for several applications such as feed, seed, weed, and melt. A dual rotor technology allows for exceptional accuracy and makes the product even more functional. Stainless steel agitators and axles make the product extremely durable and ready to last for decades.
Assembling the spreader takes just minutes, and then you are ready to start the six-foot spreader pattern for twenty percent faster application. Simply fill the spreader, set the dial (following the instructions on the bag of your fertilizer), turn on the EdgeGuard, and you are ready to go. Turn off the EdgeGuard when you are ready to work in the center of the yard. Now you are ready for a beautiful, enviable lawn.
3. EarthWay 3100 Professional 40lb Hand Crank Broadcast Spreader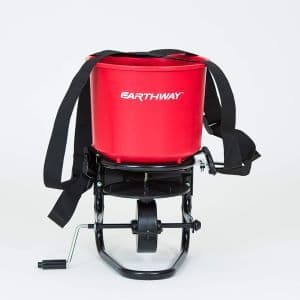 For a smaller capacity suitable for smaller yards, pick the EarthWay 3100 Professional 40lb Hand Crank Broadcast Spreader. The only real problem with this option is the price is significantly higher than the Scott's option with half the capacity. However, if you need to save space in your overcrowded garage or shed, this may be a better choice.
The hand crank spreader comes with a bright red hopper tank ready to hold forty pounds of fertilizer. Moreover, the hopper comes made of rustproof material and a heavy-duty high-speed gearbox. Add in an epoxy powder coated chassis for more durability.
Also, the spreader includes an even spread dual-port adjustable shutoff system. It even comes with a heavy-duty rain cover and a rate calculation matrix. Get a one-year limited warranty with this item and lifetime tech support. Even better, the product comes assembled, saving you time as it's ready to use right out of the box.
The item is easy to use but does come with a bit of a difference from the other options on this list. You need to use this spreader on your chest using the includes straps instead of as a push or a pull. You can cover more ground and have more control, but the item can get heavy after a while, even at only nine pounds. It's designed to get hard to reach areas such as hilly or rough terrain, so you can go where the other options can't!
4. Brinly P20-500BHDF Push Spreader with Side Deflector Kit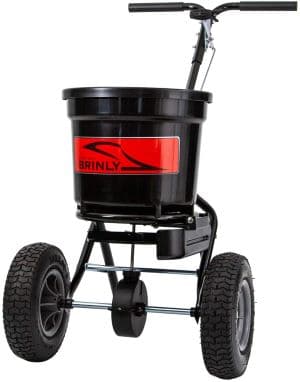 If you want a smaller size and a deflector kit, you need the Brinly P20-500BHDF Push Spreader with Side Deflector Kit. What makes this option unique is the deflectors can move out of the way when not in use. However, it does come with a smaller capacity and can only support 50 pounds of fertilizer. For most home use, this size will get through your yard just fine without refilling.
Another reason to love this choice is it's versatile and ready to work for fertilizer, grass seed, snow, or ice-melting agents for year-round usage. The included deflector kit controls material flow for even distribution and prevent your expensive fertilizer from landing on sidewalks or driveways. Calibrate to your exact needs quickly with easy to reach controls and simple calibration settings for accuracy every time.
Maneuvering the device is easy, too, with 12 x 3-inch pneumatic turf-tread tires. Add air when you need it and get an easier and more even spread. Moreover, all the parts are fully enclosed and rust-resistant, such as the gearbox and other stainless steel hardware along with the shaft and agitator. This translates to less downtime and maintenance.
The Brinly push spreader comes in an easy to push design with a bucket style hopper almost all in black. It's built- to last and ready to cover a massive amount of space quickly. It's heavy, though, at 29 pounds meaning it can take some effort to push uphill. However, the compact size makes it easy to store and comes with an extremely functional funnel design the others don't have.
5. Agri-Fab 45-0462 Push Broadcast Spreader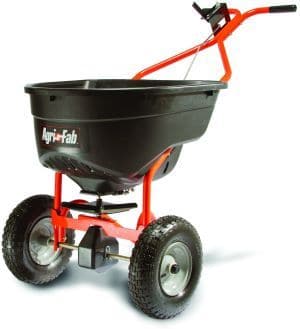 The Agri-Fab 45-0462 Push Broadcast Spreader comes at an incredible price point and offers a terrific funnel design. Honestly, the only reason it's lower on our list is it can be quite difficult to assemble, and no one wants to spend hours assembling something they then need to walk around for miles. However, it offers a whopping 130 pounds capacity capable of 25,000 square feet!
As for assembly, you may want to find the video instruction guide to assist in the process. Otherwise, this is a great piece of equipment ready to spread a ton of seed or salt. Another reason to consider this option is it's made in America, which is great for those trying to support the local economy. Also, it comes with 13-inch x 4-inch tires ready to handle rugged terrain and go anywhere.
The hopper and spreader plate are made of a poly construction, while the enclosed gearbox and gears are made of heat-treated bevel. It also includes a precise rod for flow control. Moreover, the product comes with a three-year warranty, so if you encounter any trouble, you can get support.
Use the device during all four seasons. Mind you, it does not have a deflector, which may make for some more work later getting the product you spread off of the driveway or sidewalks. Also, it's heavy too at just over 40 pounds, but the thick tires more than compensate for the weight, and it has a spread width of 12 feet, meaning you can spread in less time and cover more area.
6. Buyers Products ATVS100 ATV All-Purpose Broadcast Spreader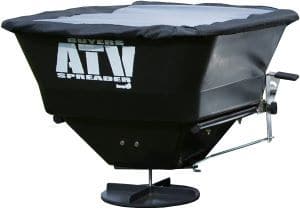 If you are looking for a spreader to attach to a vehicle, you need the Buyers Products ATVS100 ATV All-Purpose Broadcast Spreader. It's an ideal option for farming, hunting, landscaping, and ground maintenance. Attach it to your ATV easily with the included hardware then you are ready to use it for dry, free-flowing materials.
With a capacity of 100 pounds or 12 and a half gallons, you can fill the hopper and go for long distances before needing to refill. It comes with a durable gate flow arm you can adjust to your specifications, and it's controllable while on the ATV. Also, the on/off switch is easily accessible from the driver's seat too.
Next, the hopper is made of durable and rustproof poly. The spreader comes with a rain cover, too, in case you need to leave it attached to your ATV and protect it from the elements. A 12V motor is mounted inside the hopper to keep it protected while in use. It even mounts directly to the existing rear utility rack to make less work for you.
Lastly, the price is fabulous for this product, and all the time it will save you. It would be a great idea if this w also mounted to wheels for when you need to use it as a push spreader or need to reach harder to reach areas. With this option, you may need to get a push option or chest mount option, as well as there are definitely places an ATV can not go.
Buying Guide for Commercial Fertilizer Spreaders
Before you buy, take a look at a few important factors to help you make a better decision.
Type
The vast majority of fertilizer spreaders come in either drop, pull-behind, broadcast, or handheld spreaders. Broadcasts are a vehicle that spreads the feed with you behind the driver's seat. The others are self-explanatory but with different applications. If you have a rocky terrain, then you may want a handheld; otherwise, the pull-behind or options that attach to an ATV make the best options for quick spread.
Capacity
How much weight a hopper can hold affects the time your job will take to spread the material. The larger your yard, the larger the capacity you will need to avoid refilling. Smaller yards will do just fine with a 40-pound capacity, while larger jobs will need a 130-pound capacity. Also, with the capacity, look for a funnel drop down hopper for less effort on your part. This will ensure that the feed keeps moving and doesn't require you top to shift parts, and provides an even spread.
Wheels
You want tires capable of off-roading for better and easier spreading. The thicker the tire, the easier moving the device will be to make less work for you. Also, thicker tires cover rough terrain easier. Pneumatic tires fill with air and allow you to adjust to your needs. It's recommended to keep the PSI around.
Questions About Commercial Fertilizer Spreaders
Can I use liquid in a fertilizer spreader?
Some machines are capable of both, but not all can handle liquids. Check the manual before attempting to use it with liquid. Most of the options on this list are for free-flowing dry agents only.
Is it possible to use a fertilizer spreader for grass seed?
Absolutely! You can use a fertilizer spreader for any dry, free-flowing agents. Use it for fertilizer, seed, salt, and more.
What's the best way to spread fertilizer?
Start around the perimeter of the yard or lawn. After, going in a checkerboard pattern. First, go horizontal, then go diagonal. Make sure to set your spread to half since you will be going over each section twice with this method. This method provides even distribution and prevents zebra stripes. Furthermore, you won't have any missing spots to make your yard look off with this method either. For a few more tips on using a commercial fertilizer spreader, watch this video:
Conclusion
If you have the budget, the Lesco High Wheel Fertilizer Spreader with Manual Deflector – 101186 is the way to go. The high-rated fertilizer spreader offers a stainless steel frame and an 80-pound capacity hopper. Everything about this hopper works perfectly and even comes with a manual deflector and an enclosed gearbox for high-quality and easy work for you. Choose this option for a cam-operated oscillating agitator for a gorgeous lush lawn.