The Top 5 Commercial Weed Eaters Reviewed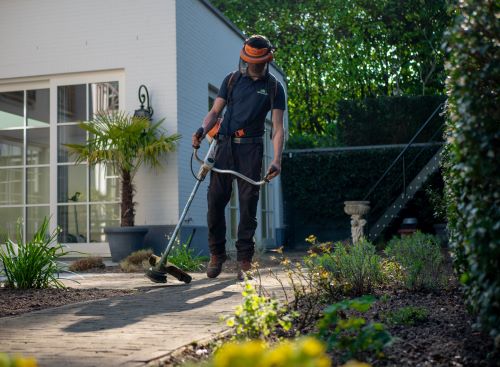 A lot of people don't know the features to look out for when it comes to the best commercial weed eater. However, it can make life much easier if you have one that works well and works for you. A weed eater is a large and powerful machine that trims grass well. If you can get rid of weeds, then it will make things much easier to take care of and save you time.
If you want to find the best commercial weed eater for your needs, then it is important to know a little more about them. Weed eaters can also be called strimmers or string trimmers. They use a heavy-duty string in order to cut the grass, making them different to a lawn mower as they don't have metal blades like mowers. The heavy-duty string means that you can run weed eaters along tricky or tight locations, and means that they are an ideal choice for removing weeds from borders (which is why they can also be nicknamed a weed wacker).
Commercial models of weed eaters are going to be different to household models; so how do you know which will be the best one for your needs? Here are five models available on the market at the moment, so you can see if there is one that will fit what you need it to do, as well as fit budget and other requirements.
Preview
Top Choice
Budget Option
Top Choice
Preview
Preview
Preview
Budget Option
Preview
Best Commercial Weed Eaters
1. Husqvarna 129R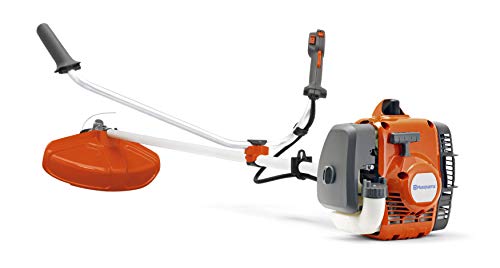 This weed eater is versatile, and comes with a powerful 27.5cc 2-stroke engine, bringing with it 0.85kW power output. For a small commercial weed eater, this packs a pretty powerful punch. It is a professional machine, offering all that you'd expect from a Husqvarna model.
The Smart Start feature that a lot of Husqvarna models come with means that the 129R starts quickly, easily, and starts with minimal effort, saving time and effort. The resistance that is in the starter cord gets reduced by up to 40% during this process, while the auto return stop switch resets automatically to the on position, making the starting process easy and trouble free.
The 129R comes with a straight shaft which helps to give an extended reach to the user, as well as having 'bull horn' handles. This means that you can have full control of the machine, and means a comfortable grip. The grass bevel is designed with a high torque for ease of use, and the cutting equipment is designed to be parallel to the ground, designed for the best cutting performance in mind.
The Husqvarna 129R also comes with a combi guard for use with the included trimmer head, or for use with a grass blade that can be purchased additionally. There is a standard double harness to help with lighter brush cutters. This helps to distribute the weight of the machine, meaning that it is much more comfortable to hold and to use.
2. Honda HHT35SLTAT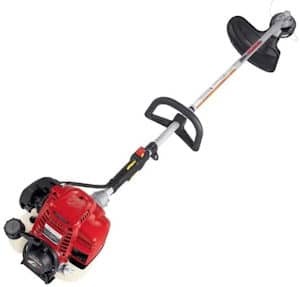 This Honda HHT35SLTAT is a 4-stroke weed eater, which is one of three models from the brand that have been designed with professional landscapers in mind. To start with, the tool is a much quieter tool that makes for a much more comfortable experience, which is a good feature. This is one of the quietest out there, which can make a difference when you are using it for long periods of time.
The HHT35SLTAT weighs a little more than many of its competitors, so that is something to bear in mind, with it weighing in at 16 lbs 1 oz. With this in mind, it does come with a shoulder strap, though, so that can help to alleviate a little weight.
This weed eater starts up quickly, especially so compared to many other models. With a 1.235 gearing, it is powerful and has the capability of converting into a brush cutter. This weed eater handles itself well. In normal conditions, it can clear the weeds and grass in a matter of seconds. For anything more extreme it can still clear it in a quick amount of time. Honda products are built with solid quality, as well as coming with quiet and smooth-running motors; this model definitely fits the bill.
3. Echo SRM-2620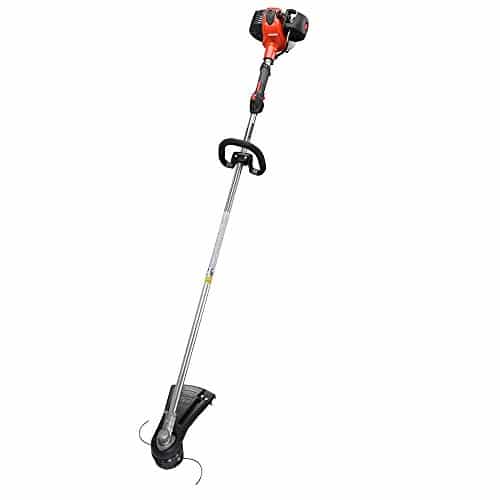 With the Echo SRM-2620, it is all about speed. The weed eater delivers a lot of torque, helping to reduce the potential for slowing things like the head down. If you work in areas where weeds can get a little out of control (like warm climates all year round) then a high-torque unit like this one can be almost a necessity as tough grass isn't a match for this weed eater.
The Echo SRM-2620 has a really strong and powerful engine, and the handle grips mean that the weed eater can be used in comfort. The weed eater comes with an extra heavy duty engine vibration mount, and rubber protected handles to help add to the comfort of the weed eater. As well as those features, it is also a light model to choose, coming in at just over 12 lbs, so that can help to reduce fatigue. As well as that, there is a power boost vortex engine that comes with revolutionary starting technology. This helps to reduce the effort in starting the weed eater by 30% which is a great help when you use this a lot and want to get using it again quickly.
If you are a lawn care professional or a landscaper, then it is a weed eater that comes highly recommended. The model also comes with a 5-year warranty, so although built well and made of quality materials as you'd expect, it is a good point to note.
4. PROYAMA CG430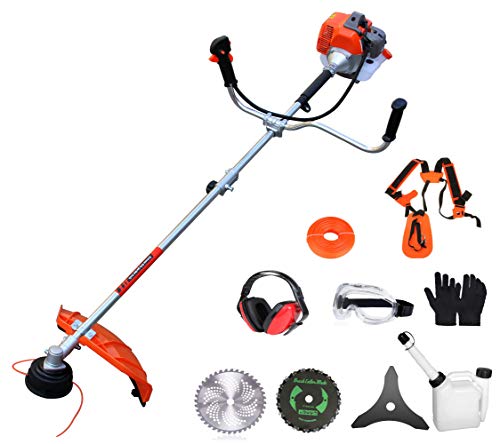 The Proyama CG430 is another consideration when it comes to weed eaters that are affordable. At 42.7 ccs it is not the most powerful out there, but it does have enough power to help you to get the job done. If you are dealing with serious weed problems, then this model can be enough to help you to take care of it all. It is easy to use, simple to start, and also features a gasoline-powered engine. This Proyama model does come with a changeable head, helping you to swap between a string cutting head or a toothed blade. It is a good choice for trimming grass or being able to chop through dense underbrush.
One of the unique features of this model is that it has a handlebar design, similar to that of a bicycle. This may feel a little awkward to some users, but it does help to make the weed eater much easier to move and to handle. This model also comes with a double body harness to help you to manage things to make it easy to handle and to hold.
Proyama is known for producing quality products, and this isn't any different. It comes with everything you need in order to use the machine just right there out of the box. It comes with safety gloves, ear muffs, and goggles to make sure that you are protected and cared for, so in terms of safety, this is a great choice.
The Proyama CG430 is a great choice if you are on a particular budget. It does exactly what is needed, and is quite a 'no-frills' model. It is still very capable, is powerful, and gets to work well.
5. Wild Badger Power WBP31BCF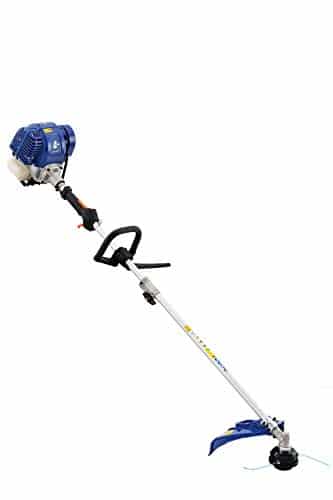 If you want to take control of your commercial weeding and lawn care, then this 2-in-1 grass trimmer and brush cutter is something that is both versatile to use and powerful to have in your professional arsenal. The WBP31BCF comes with a grass trimmer attachment to help with the detailed work that comes along on the borders, as well as coming with a brush cutter blade for heavier and more dense grasses or brush clearing.
The Wild Badger Power includes a harness to be able to take some of the strain of repetitive use, and helps to stabilise your arms and improve how stable things are. Designed with reliability in mind, this model comes with a 31cc, 4-cycle engine, starting time and time again, and built to last. The full crank engine design helps to deliver a quick start and overall smooth operation. Not only that but it can help to reduce emissions, help fuel efficiency, and last and last.
There is an aluminum casing on this model which helps to reduce vibrations, meaning that you can work in comfort. The whole shaft is lightweight and durable, which is great for comfort when using. The trimmer head means that you can quickly change the line feed for a twin line cutting system, meaning a quick and easy change. This model also comes with a 3-year commercial manufacturer's limited warranty.
How To Use A Commercial Weed Eater
To learn how to properly use a commercial weed eater, watch this video by Husqvarna:
Conclusion
As you can see there are a wide range of commercial weed eaters that you can choose from on the market today. These are some great choices for weed eaters, though, with ease of use, comfort, and versatility in mind.