The Top 5 Commercial Zero Turn Mowers Reviewed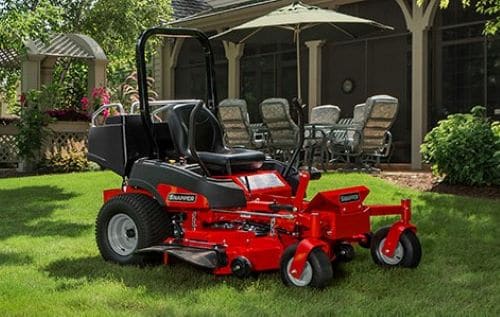 Have you ever been told that a zero-turn mower is what you need to be able to mow the lawn? The claims are that you can mow your lawn in half of the time, and retailers all claim to have the best option for a commercial zero turn mower. But what is the best one for your needs, and are they the best option for you?
Zero turn mowers are made for the purpose of mowing grass, and they do the job well and they do the job quickly. They can also help to save you time on trimming around any obstacles. The maneuverability of a zero-turn mower, one of the main advantages compared to competitor mowers, means that you can easily mow around flower beds, trees, and other obstacles that could be in the lawn and in the way. This is going to be much easier than riding a lawn tractor as you won't have to back up, move forwards, and make a number of maneuvers to do the same job. This is why they are a time-saving option, which is what you want for a commercial zero turn mower.
Here are some reviews for five commercial zero turn mowers to help you to see what they are like, how they run, what to expect, and importantly, if they will be the right choice for you to invest in.
Preview
Top Choice
Budget Option
Top Choice
Preview
Preview
Preview
Preview
Budget Option
Preview
Best Commercial Zero Turn Mowers
1. Husqvarna MZ61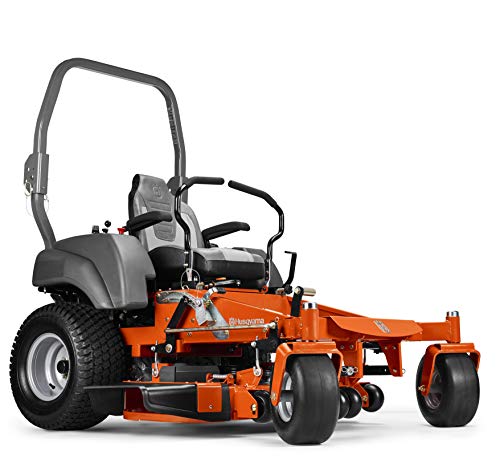 If you are looking for a superior level of performance for a commercial zero turn mower then Husqvarna's MZ61 is a great choice. Coming with a 61 inch cutting deck, the MZ61 zero turn mower can work well for commercial lawn maintenance, as well as residential. The cutting deck is designed with an ergonomic deck lifting system, making it simple and quick to adjust from the driver's seat. The mower comes with commercial hydraulics to create the ultimate mowing experience, as it is powerful and effective.
The mower comes with a 24 HP Kawasaki engine, which is known for being reliable to start up again and again, as well as being a good choice for high ground speeds. You'll get plenty of power with this engine, making it a good choice for use year after year.
The mower is large, so that is something to consider for where it would be used. The frame is heavy duty, made from steel, and comes with a roll-over protection system (ROPS) to ensure safe operation of the mower, no matter the conditions outdoors. The mower is a comfortable and smooth ride, with a high-back seat, armrests, hand grips that are padded with foam, as well as vibration dampers to ensure comfort no matter how long you are out there on the mower. The mower features large wheels, as well as an oversized chassis, so it really does ensure a smooth ride, no matter the terrain.
2. Snapper 560Z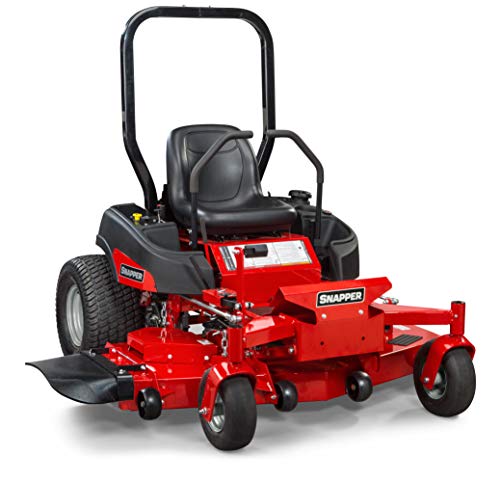 The Snapper 560Z zero turn mower is a good choice for a commercial sero town mower, as it is easy-to-use, but does come packed with a number of enhanced features that you would come to expect from this brand. The mower comes with welded, all-steel construction, helping to make it a rugged and durable choice for a commercial mower that needs to take on a variety of terrain and a range of tough lawn jobs. This zero turn mower comes with a wide mower deck (either 52 inches or 61 inches), made from thick 10-gauge steel, to help with efficient and faster mowing. The mower can reach up to 9mph in speed, so it is a quick and efficient choice. The mower is well made and of quality materials, to help to ensure longevity.
The mower features intuitive controls, making it a simple choice as it is easy-to-use and understand. There are a number of controls and deals, all within easy reach, including a fuel-level indicator. You can also easily fill up the mower with gas as there is a wide opening for this. The mower is powered by a Briggs & Stratton Commercial Series engine or a Kawasaki FR730V engine, so you can get all the power that you need and have a mower that will last for years to come.
3. Husqvarna Z254F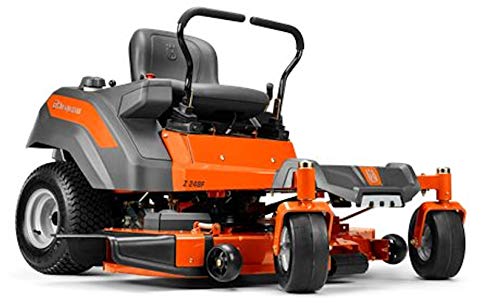 If you are looking for a commercial zero turn mower that comes with performance and styles, then the Husqvarna Z254F zero turn mower could be the choice for you. One of the more modern mowers from the brand, the mower features a cutting edge design. With any Husqvarna product, you come to expect a solid design with superior quality, and the Z254F is no different. It features rugged casters and a steel frame, making it a robust choice and helps to ensure optimum durability. Another feature of the zero turn mower is that there are some rubber bellows. These give the lawn mower a superior and classy look, but importantly, help to protect the control system as they prevent moisture and debris from building up and entering the system.
Comfort is important on a commercial zero turn mower, and the Z254F has an ergonomic high-back seat that comes with padding, as well as a soft outer vinyl covering. The seat also boasts spring suspension, and being able to slide the seat. All of these come together to offer excellent lumbar support, which is important when you can be on the mower for long periods of time. There is also an anti-slip footwell, providing a safe and comfortable resting area.
The mower comes with proven performance that you'd expect from the brand, alongside some new innovative features that combine to make commercial lawn maintenance much easier. There is also plenty of power with the mower, as you can choose a Kawasaki or Briggs & Stratton engine.
4. Ariens 915223 IKON-X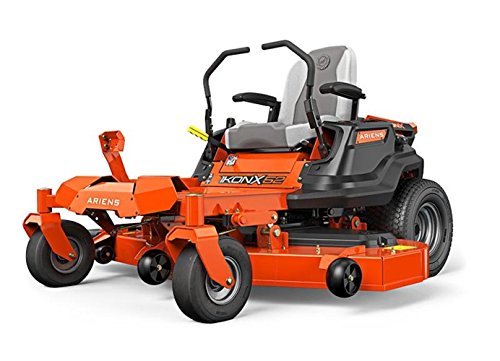 The Ariens 915223 IKON-X is extremely user-friendly in how it is built, and it comes with a fantastic versatility. From pruning yards to mowing extensive golf courses, it can be a commercial zero turn mower that won't let you down. The IKON-X comes with a 23 HP Kawasaki Twin Engine which is much more powerful than a lot of competitors. This power helps to make trimming even the largest of lawns and spaces simple and easy, and helps to cut down the mowing time by half.
The IKON-X is one of the most versatile zero turn mowers available, and comes with a deck with three blades, all of which have a dial-operated cutting height to choose from. This makes the cutting height much more accurate than mowers with a 'pin and lever' option for setting cutting height. Along with an improved foot operated deck lift, the zero turn mower has thirteen cutting heights, so there is something for every commercial lawn requirement.
Durability and ease of use are other stellar aspects of the IKON-X. The mower can work for professional use as well as for amateurs, which is why it is a choice popular among enthusiasts. The mower comes with twin EZT hydrostatic transaxles, which help to improve how responsive the mower is, as well as making sure that the trimming process is much more manageable. There is a dual arm lift feature which includes a 4-point hanging system, meaning that the blades can cut the lawn very evenly.
In addition, the mower comes with a high-back seat, designed with comfort in mind, and with armrests that mean operational comfort. Padded levers mean vibrations during use are minimized.
5. Craftsman Z525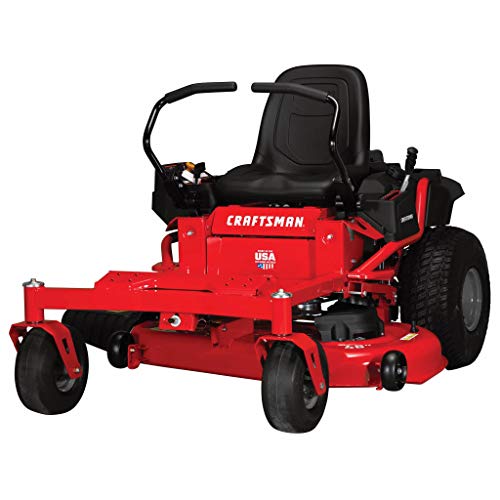 The Craftsman Z525 is a little less powerful than some competitors like the Husqvarna Z254, but it is still undeniably capable. It is a great zero turn mower for large yards. It comes with a 24HP Briggs & Stratton Platinum engine, as well as a 54-inch cutting swath. All of this makes it a mower that can easily get to grips with large lawns.
The Craftsman Z525 is designed to help you to get what you need to do one easily, as it can mow, trim, and clip grass all in one. It is easy to use and even comes with a built-in deck wash. This means that you won't have to lose a lot of time clearing things up afterwards, which is great for commercial use as time is of the essence.
One of the best features of the mower is its capability to mow well and evenly, even when driving in reverse mode. Because of this feature, you can easily move back and forth, switching, reversing, and changing directions without stopping what you are doing; a feature helping to cut down the time it takes to mow. Another feature that makes this zero turn mower a great choice is that it is incredibly stable, due in part to the strong and powerful 20-inch rear wheels. This mower is easy to operate, durable, robust, and rather affordable for what it is.
Zero Turn Mower vs. Walk-Behind Mower
If you are interested to see how zero turn mowers stack up against other types of mowers, watch this video:
Conclusion
Making the choice of which commercial zero turn mower to get is a big one, as it can make a difference to your work and how quickly things can get done. With a little know-how, driving a zero turn mower can mean much faster mowing, and mean good things for your commercial mower needs.