The Top 5 Compost Tumblers Reviewed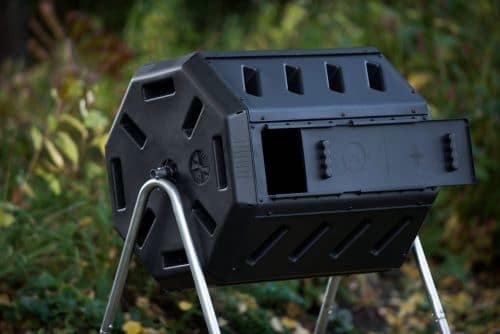 Composting is more than just a fad. For many people, it's a lifestyle and a serious dedication. Composting is also a lot of fun when it's done the right way. But, in order for that to happen, the right tools and equipment are needed.
That includes using a compost tumbler that gets the job done.
Compost tumblers are different from standard bins or piles. They are designed to slightly speed up the composting process and make it easier whether you're a beginner or a seasoned composter.
There are plenty of benefits to a compost tumbler. They allow you to turn the materials within the bin, composting them faster. Tumblers also retain the heat within the container, which will speed up the process and give you the compost you want that much sooner.
But, like any product, not all compost tumblers are created equally. If you're just starting out, obviously you want a good experience. If you've been composting for a while and are thinking about getting a tumbler for the first time, it's important to have something reliable that you can trust.
With that in mind, let's take a look at some of the best compost tumbler options on the market today. Knowing a bit more about each one and how they might fit your needs will make it easier to decide on which one is right for you.
Preview
Top Choice




Budget Option

Top Choice
Preview

Preview

Preview

Preview

Budget Option
Preview

Best Compost Tumblers
The Miracle-Gro Dual Chamber Compost Tumbler
Miracle-Gro is a name many gardeners and composters alike trust because it's a brand that has stood the test of time. The Miracle-Gro Dual Chamber Compost Tumbler is a classic example of that longevity.
This is a great starter bin for someone who is just getting into composting, but it's also reliable enough for seasoned composters. One of the biggest benefits of this bin is its compact size. It's great for small spaces, and can even be used on a terrace or balcony if you live in an apartment. That gives you the opportunity to compost no matter what season it may be.
Another aspect of the design that makes it great for beginners and small spaces is that you don't have to struggle or put in much effort to use it. It's easy to load and unload, and quickly mixes everything thoroughly with a turn of the handle. Plus, because of its compact size and durability, it can speed up the composting process.
Just because the tumbler is small doesn't mean it isn't mightly. Each chamber holds 18.5 gallons of compost, and when you're using both sides, it makes the tumbler incredibly sturdy. It's made from a galvanized steel base to keep it upright, and UV-protected plastic that will keep your compost safe while allowing it to heat up quickly from the sun.
Miracle-Gro Dual Chamber Compost Tumbler – Outdoor Compost Bin, 2 Sliding Doors, (2 X 18.5 Gallon / 70 Liter)
GROW A HAPPIER GARDEN – Do you look at other's gardens with envy? Give your plants the nutrient-dense fertilizer they crave, and watch your garden bloom like never before! With Miracle-Gro's dual chamber, heavy-duty tumbling composter you get 2 compartments for faster and more efficient composting all year round.
KEEP THE NUTRIENTS COMING – Achieve your gardening goals with a steady supply of ready-to-use compost! This 2-chamber compost tumbler allows you to add compost ingredients to 1 side, while waiting for the other side to cure. And with internal mixing bars that speed up the decomposition process, you can expect rich, fertile compost in just 4-6 weeks!
NO MORE HEAVY LIFTING – Miracle-Gro is here to make composting easy for beginners and seasoned green thumbs alike! Our efficient tumbler system is the simple way to get perfectly cooked compost without having to dig, turn, and mix by hand. All you have to do is open the easy-sliding door, add your scraps, and turn the handle 5-6 times every few days.
A BRAND YOU TRUST – With the help of Miracle-Gro, both you and your garden will thrive. As America's most trusted garden supply brand, we guarantee you'll be satisfied with our products. Once you start using the compost generated by your new dual-chamber tumbling composter, you'll enjoy bigger harvests, healthier plants, and your most beautiful gardens yet!
Achieve your garden goals with a pair of Scotts multi-purpose gardening gloves! Each pair is latex-free, water-resistant, and features a no-slip grip, perfect for both indoor and outdoor projects. Grow your green thumb with Scotts and Miracle-Gro!
The LIFETIME Outdoor Double Bin Rotating Composter
If you find yourself needing more room for your composting efforts, the LIFETIME Outdoor Double Bin Rotating Composter is a great option. With two 50-gallon barrels, you will always be able to have a steady rotation of complete compost/soil while adding to your other bin.
These bins feature an ingenious rotating bar through the middle that mixes the compost and allows for just the right amount of airflow. It creates perfect balance between the two barrels, so you can trust that it is sturdy and durable, no matter how much is inside.
Don't let the fact that it features metal/steel parts deter you. The parts are coated in a durable coating that prevents it from rusting. So, you can enjoy all the strength and durability of metal without having to worry about its longevity.
One of the only potential drawbacks to this composter is that it can take some time to put together. But, that is only due to the fact that it is built to last and needs to be assembled correctly. It might be beneficial to get someone to help you and cut the job in half.
This tumbler is the next level up if you're in need of something bigger, stronger, and long-lasting, and you certainly won't be disappointed in how much compost you can yield in a very short time.
Lifetime 60309 Outdoor Double Bin Rotating Composter, 100-Gallon, Pack of 1, Brown
Two 50-gallon barrels allow for continuous composting; Cubic Foot Capacity: 6.7 ft3 (0,18 m3)
Aerated internal Bar mixes compost and allows needed airflow
Ingenious tumbler design - turns on axis for easy and balanced rotation
Load one barrel while the other barrel processes - includes Processing indicator
Convenient loading Height; long-lasting strength and durability; how to compost guide included
The FCMP Outdoor IM4000 Tumbling Composter
Looking for a small compost tumbler with a lot of strength and durability? Look no further than the FCMP Outdoor IM4000 Tumbling Composter.
One of the great things about this composter is the large door to both add scraps and remove compost as needed without getting dirty or having to deal with hot compost touching your hands.
Unlike many other dual-chambered options, this model features two separate sides without adding a lot of unnecessary bulk. With two sides, you can enjoy finished compost from one while still adding more to the other. It has a 37-gallon capacity, so though it looks small, you won't have to sacrifice quantity when it comes to your yield and how quickly you have rich compost to use.
One of the unique things about this composter is that aeration holes that will allow just the right amount of oxygen into the bins to help speed up the composting process. Not only can you feel good about composting with this model, but you can feel good about the product itself. It features BPA-free, post-consumer recycled materials, and it will not corrode over time thanks to its stainless steel frame.
This is a composter that is meant to withstand the elements but can be used almost anywhere. Because of its secure doors, it can even be used on apartment balconies and won't attract rodents or birds, so anyone can compost and get a great yield all year long, no matter where you live.
Sale
FCMP Outdoor IM4000 Tumbling Composter, 37 gallon, Black
Made in North America - The original 8-sided dual chamber tumbling composter.
Tumbling Composter – Avoid digging and mixing your compost pile by hand. The tumbling design makes mixing easy and efficient. Just close the door and turn it 5-6 times every 2-3 days. In hot sunny conditions and with a proper balance of ingredients the compost can finish in as little as 2 weeks.
Easy to use – fantastic for beginners! The large openings and removable door make it easy to add Scraps/clippings and remove finished compost. Deep Fins on the body provide great ergonomic handholds.
Two composter chambers are better than one – Two separate sides allow the first side to finish while leaving the second side available to add fresh Scraps/clippings. Continuously swapping sides after finishing will create an uninterrupted flow of rich, healthy compost. Total capacity 37 gallons (5 cu Ft)
Excellent aeration – All our composter models feature aeration holes as well as deep fins to break up clumps inside the chamber and mix lots of oxygen into the compost. Tumbling composters allow far greater aeration than standard models.
The EJWOX Large Composting Tumbler
This large composting tumbler is more like a composting tank for serious jobs. If you have a lot of composting to do and you want to get it done quickly, the EJWOX Large Composting Tumbler is the workhorse you need.
This tumbler holds up to 43 gallons and features a dual-chamber that allows you to continuously compost, so you will be able to continuously add to one bin while enjoying rich soil from the other.
It isn't just this tumbler's size that makes it so impressive. It features an aerated internal bar that mixes everything evenly while allowing for just the right amount of oxygen. The double-wall panels keep heat 'locked' inside which will also help to speed up the process so you can get to your nutrient-rich compost that much sooner.
While this may not be the best option for beginners or those with small gardens, if you have a lot to do and need something that will stand up to weather, extreme temperatures, and a lot of activity, this is a great option that will last for years thanks to its steel frame and galvanized feet.
Sale
EJWOX Garden Compost Bin from BPA Free Material, Dual Rotating Outdoor Composting Tumblers (43 Gallon,Black)
DUAL CHAMBER COMPOST BIN - Dual chamber composter allow for continuous composting. Fill up one while the other nears the end of the compost process, the rich black stuff ready to use. Once empty, that becomes the one to fill up while the other completes the cycle.
AERATION SYSTEM- Aerated internal bar mixes compost & allows needed airflow.Black, double-wall panels absorb and retain heat.Perfectly suited for your garden and for people not wanting to mix the organic waste in their traditional compost bin.
INGENIOUS TUMBLER DESIGN - Turns on axis for easy and balanced rotation.Easy slide doors will help keep track of each batch,the length of 1 door is 10.23" and the width is 6.1
CONVENIENT LOADING HEIGHT - Enough height to put a cart under the composter.Easy to turn barrel, waste mixed easily, fast batch composting.
STURDY POWDER-COATED STEEL FRAME - Powder-coated steel frame provides a sturdy base for the large bin.Galvanized steel feet prevent rusting and deterioration.
The Miracle-Gro Small Composter
We're rounding out our list the same way we started, with a brand that has been trusted for years. The Miracle-Gro Small Composter has all of the reliable features as the dual-chamber tumbler, but it is more compact and holds just 18.5 gallons. It's a perfect option for small gardens, terraces, apartments, or those just starting to compost for the first time.
This small composter features a unique aeration system for oxygen inlet, as well as mixing bars. The combination will help to ensure that your compost gets mixed properly and breaks down faster, so you can enjoy nutrient-rich soil quickly.
It is lightweight, making it easy for almost anyone to use. But, it is also incredibly durable and meant to last through any season or any type of weather. If you haven't been able to compost in the past due to space, those issues can be solved easily with this small tumbler.
Miracle-Gro Small Composter - Compact Single Chamber Outdoor Garden Compost Bin (18.5 Gallon)
NO SPACE? NO PROBLEM! – Don't let tight spaces keep you from composting! Miracle-Gro's outdoor compost bin tumbler is small enough for even the tiniest spaces! The 18.5gal (70L) volume perfectly fits your balcony, porch, patio, or rooftop garden. Finally you can compost from anywhere!
TURN YOUR FOOD WASTE INTO GARDEN GOLD – Transform kitchen and garden waste into rich, fertile compost – the gardener's treasured "black gold!" Ready-to-use compost will be yours in just 4-6 weeks, thanks to Miracle-Gro's unique aeration system. Internal mixing bars speed up decomposition to make growing a happy garden easier than ever!
REDUCE YOUR CARBON FOOTPRINT – Studies show that approximately one third of the world's food supply goes to waste. But with Miracle-Gro's rolling compost box you can do your part to change that. Save your compostable food scraps, help the environment, and cook up some compost that your plants will love
YEAR-ROUND, HASSLE-FREE – Why should composting be a seasonal activity? Miracle-Gro's heavy-duty design lets you keep your compost going all year round! The sturdy side-locking mechanism ensures easy loading and unloading, while the durable construction maintains a tight seal. And BPA-free, food grade, UV-protected plastic, means you won't need to worry about harmful toxins.
Achieve your garden goals with a pair of multi-purpose gardening gloves! Each pair is latex-free, water-resistant, and features a no-slip grip, perfect for both indoor and outdoor projects. Grow your green thumb with Scotts and Miracle-Gro!
How To Use A Compost Tumbler
This is an excellent video that shows how to make compost with a compost tumbler:
Why Should You Compost?
If you've been thinking about composting for a while, hopefully, these tumblers have helped you to see that anyone can do it. You don't need to have much more than a basic knowledge of composting to get started. It doesn't matter where you live, what the weather is like, or how limited your space might be. There is a compost tumbler that will fit your needs. Plus, consider the benefits, including:
Enriched soil that will help your plants to grow while deterring diseases
Lowering your carbon footprint
Reducing the dependency on commercial fertilizers, often laden with chemicals
Composting is something you can feel good about. It reduces waste and gives something back to the earth in a completely natural way. Any of the compost tumblers listed here will make you feel like a 'pro' in no time, and because most of them are designed to speed up the process, you'll be able to reap the rewards of your composting efforts quickly. That will help you to see just how much of a difference it can make in your garden.
Simply put, you can't go wrong with any of the tumblers listed here. So, whether you need something big or small, a dual-chamber or a single chamber, take comfort in knowing these compost tumblers are built to last.
Related Articles