The Top 5 Electric Hedge Trimmers Reviewed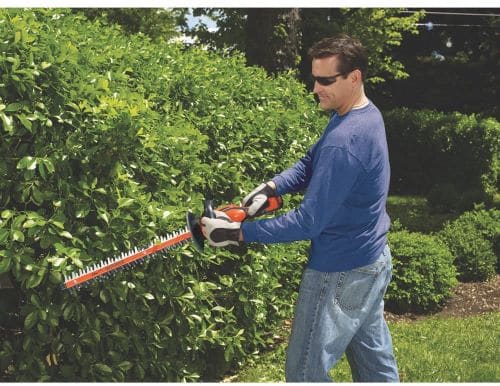 When it comes to taking the best possible care of your backyard, there are certain jobs that a lot of people always tend to dread. While there might be something fun and even soothing about tending to the flowers or keeping your lawn neat, some things like edging the borders and pulling up weeds can often feel like a whole lot more trouble than they're worth. For a lot of people, one of the biggest hassles when it comes to taking care of their yard is keeping their hedges trimmed.
A well-trimmed hedge can be a fantastic way to frame your garden and help to keep it all looking great while still maintaining your privacy. However, for a long time, keeping your hedges trimmed could be seriously back-breaking work. Of course, those days are long behind us. Instead of exhausting yourself with a pair of shears, it's a far better option to embrace the use of an electric hedge trimmer. Not only does an electric trimmer take a huge amount of the time and effort out of maintaining your hedges but it also means that you're going to be able to trim them far more accurately and carefully then you would just by lopping away at them with an elderly pair of shears.
Of course, once you've decided that you need an electric hedge trimmer, the next decision you have to make is: which one? Here are some of our favourite electric hedge trimmers currently available so that you can find the one that perfectly suits your needs.
Preview
Top Choice
Budget Option
Top Choice
Preview
Preview
Preview
Preview
Budget Option
Preview
Best Electric Hedge Trimmers
1. BLACK+DECKER LHT2436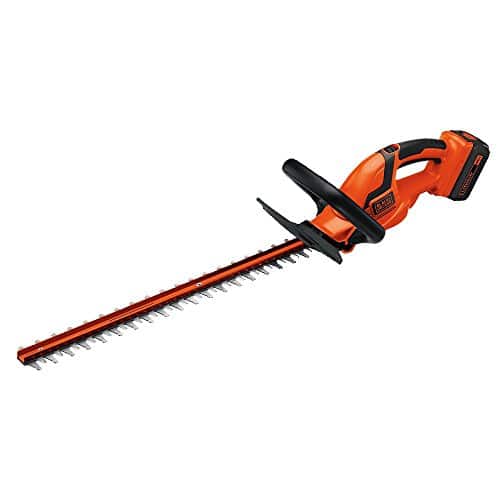 One of the biggest worries a lot of people have about an electric hedge trimmer is whether or not the battery is actually going to be enough to handle the amount of work that it takes to maintain an entire garden before running out. However, the BLACK + DECKER LHT2436 not only takes as little as an hour to recharge but the battery can often last for several hours, meaning that you don't have to worry about constantly stopping and starting.
The BLACK + DECKER LHT2436 is also incredibly useful if you're not looking to lug something incredibly heavy around for hours. For the sheer amount of power that it provides, it's shockingly light! It's light enough that it's easy to reach those high-up spots that are impossible with a heavier, gas-powered trimmer. It certainly doesn't trade lightness for power either, being able to easily trim through branches up to 3/4 inch thick. The long, 24-inch blades allow you to cut easily and comfortably with less aggressive vibration and the soft grips make for the most comfortable experience possible.
2. Greenworks 22122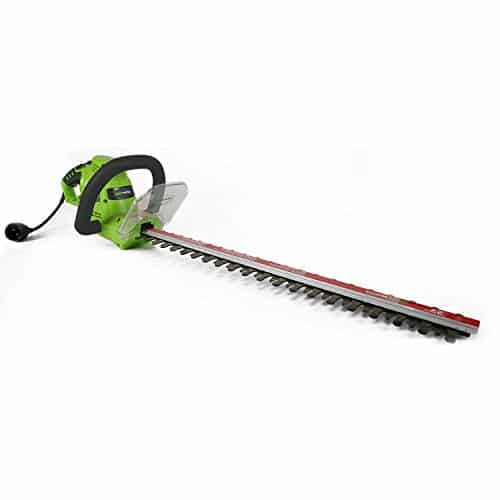 Being able to handle your trimmer carefully should always be a priority and that's something you can guarantee when it comes to the Greenworks 22122. This trimmer's 22-inch, dual-action steel blade provides the optimal performance and manoeuvring that makes it ideal for smaller gardens with those hard to reach spaces. However, the impressively powerful 4 amp electric engine means that you can still cut through some seriously thick branches without much trouble at all. The Greenworks 22122 can cut through just about any hedge without taking too much strain or effort, making yard maintenance a whole lot easier and faster. And thanks to the thick power cord, you never have to worry about the battery running out when you're halfway through a job. The cord lock even helps you make sure that you never accidentally unplug the trimmer, letting you get on with the task at hand worry-free.
Another fantastic feature of the Greenworks 22122 is the rotating rear handle. With the push of a button, you can adjust the angle of the blade in an instant, making it a breeze to trim your hedges at a wide variety of different angles. That way, no matter what kind of shape or style you're going for, there's nothing to get in your way.
3. Sun Joe SJH902E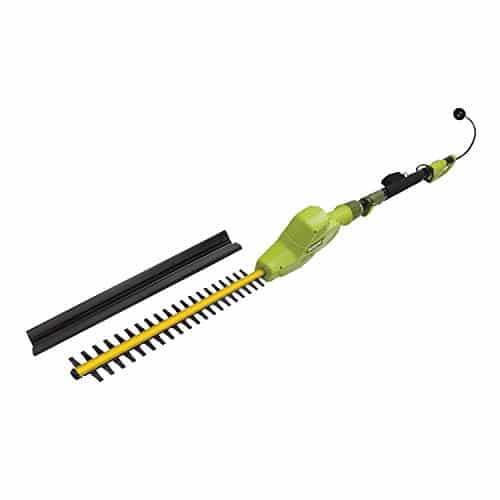 There are few things more frustrating than trying to get to those really high branches, bushes, hedges, and shrubs. Anyone who has ever balanced precariously on a ladder while trying to take a pair of shears to their hedge will instantly know just that's so great about the Sun Joe SJH902E. The most immediately obvious thing about the Sun Joe SJH902E is the telescoping pole that allows you to extend the length to up to a whopping 7.9ft! This means that all together you're able to achieve up to 12fty of overhead reach. This means that even the tallest hedges are going to be easy to deal with. Not only that but the head is fully adjustable and pivots to allow you to easily get both under and above tall hedges.
No matter what kind of height you're working at, the 21-inch dual-action blade provides fantastic performance and durability that allows you to keep the trimmer steady, something that's even more important when you're working on very tall hedges and bushes. The blades are made from rust-resistant steels and feature a 0.7″ cutting capacity that allows you to maintain total control and precision while you're trimming your hedges. For those hard to reach spots, there really is no better option than the Sun Joe SJH902E.
4. Craftsman CMEHTS822

At first glance, the Craftsman CMEHTS822 might not seem like it's doing much differently than many other electric hedge trimmers, however, Craftsman knows how to innovate in the places where it really matters. The Craftsman CMEHTS822 boasts a set of large and powerful teeth that provide added power and can cut through branches up to 1 1/2 inches thick and the 22-inch dual-action blade offers an impressive reach. The 4.0 amp motor means that you're always going to be ready to take on even the toughest trimming jobs. If you're looking for a trimmer that can handle some seriously heavy-duty jobs then the Craftsman CMEHTS822 is the perfect choice for you. And don't think that just because it's something that is designed for some hefty jobs that that means that it's not just as well suited so smaller hedges.
Despite its impressive power and longer blades, the Craftsman CMEHTS822 is surprisingly light and the soft grip makes it comfortable and easy to manoeuvre. It might not be quite as agile as some of the other trimmers on this list but it's absolutely light and comfortable enough to handle almost any job that you might have for it. Not only that but it's reliable enough that you can be sure that it's going to last for plenty of uses and you can always be sure that it will cut as cleanly as the day you bought it.
5. WORKPRO Handheld Hedge Trimmer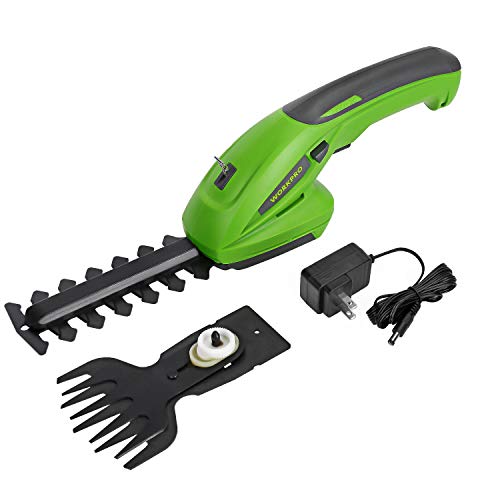 Sometimes, when you're looking for a hedge trimmer, the best option is not always the biggest and most powerful. If you only have a small garden or you're looking for a way to keep things neat and tidy without the need for a massively long blade, then the WORKPRO Handheld Hedge Trimmer may well be much closer to what you're looking for. At only 1.04lbs, the WORKPRO Handheld Hedge Trimmer is light enough to allow for easy one-handed operation. The comfortable grip not only makes it easy to use but allows you to use it for extended periods without worrying about straining your hand at all. The blade can be easily changed without the need for tools which allows you to change things up based on the task at hand at a moment's notice without any trouble.
The compact design also means that it's incredibly easy to store, allowing you to easily protect it from the elements and prolong it's lifespan as much as possible. Of course, just because it comes in a small package doesn't mean that the WORKPRO Handheld Hedge Trimmer isn't panic a seriously impressive punch. The 1100rpm no-load speed means that it provides some pretty high power which makes pretty much any pruning, trimming, or cutting job incredibly quick and easy. The battery takes a few hours to charge but you get a solid 40 minutes of use out of it before needing to charge it again. If you've got a smaller garden without much in terms of heavy or expansive hedging, a massive trimmer is going to be surplus to requirements. The WORKPRO Handheld Hedge Trimmer is ideal if you're not really in a position where something bigger is going to be necessary.
How To Trim Hedges
This is a good video that demonstrates how to properly trim hedges with an electric hedge trimmer:
Conclusion
One thing to remember is that no matter which hedge trimmer you ultimately choose, it's a valuable tool that you need to take the best possible care of. A pair of shears might be able to stand up to a lack of care and maintenance but that's not the case when it comes to an electric trimmer. You need to be sure that you're always keeping the battery charged and making sure that you're protecting your trimmer from the elements to make sure that its lifespan is as long as possible.