The 7 Best Electric Lawn Edgers Reviewed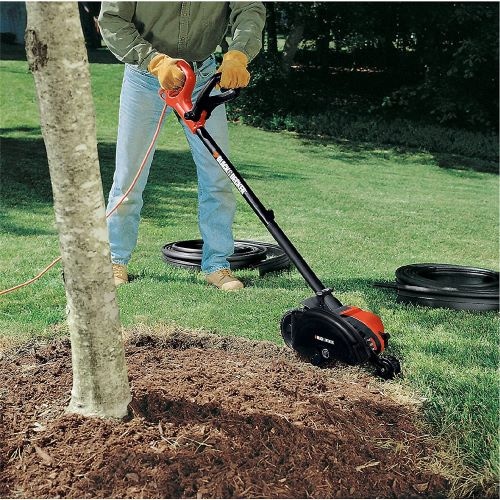 Get the lawn of your dreams with the right lawn edger. With an electric lawn edger, you have to deal with a cord but not with nasty gas smells or batteries dying in the middle of a job. While lawnmowers can cover large lawns, they cannot tuck into smaller spaces like an edger.
Keep your sidewalks, edge of driveways, and around your fences clean with the right edger. We compiled the seven best options in one list to get you on the path to a clean yard. Stay on after for relevant information and answers to your pertinent questions.
Best Electric Lawn Edgers
1. WORX WG896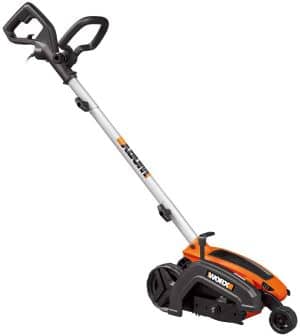 The WORX WG896 12 Amp 7.5″ Electric Lawn Edger sets the standard for lawn care. Not only is it affordable, under three digits, but it's also perfect to give you the lawn you want with precision and power. It's capable of 4700 revolutions per minute to power through tough lawns. Get a professional yard with a machine ready to do the work for you.
With a 12 amp motor spinning a 7.5-inch blade thousands of revolutions a minute, grass doesn't stand a chance. Choose from three depths to cut grass down to 1 inch, 1 1/4 inch, or 1 1/2 inch, depending on your needs. Moreover, the wheeled tool including a cutting line indicator to keep your lines straight and even.
The shaft of the edger and trencher adjusts to the height of the user for a comfortable position. Two handles give you even control in the exact place you need to improve precision. The handle pivots too for height and ease of use. A three-wheel design improves maneuverability.
A three-year warranty ensures your purchase. The set only comes with one blade, but you can purchase replacements to ensure a sharp cut. Finally, as an electric edger, you don't need to worry about a lot of maintenance, charging batteries, or adding fluids. About as perfect as an edger can get.
2. BLACK+DECKER String Trimmer / Edger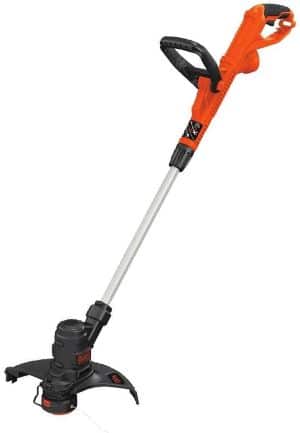 If you want an edger, trimmer combination, try the BLACK+DECKER String Trimmer / Edger. People with a smaller yard or who have the know-how can use one-two for weeds and edging. It's lightweight at 5.4 and comes with two handles for easy maneuverability. The best benefit is the very low price for a two in one item with high reviews.
As a string trimmer, you don't need to worry about replacing the blade, but you do lose a little control on edging as string tends to send grass flying. Changing the strings can be a bit of pain, too, but it does come with an automatic feed spool, which helps. The motor is only a 5 amp, too, making this not even half as powerful as our favorite option.
Next, the trimmer has a 13-inch cutting swath perfect for trimming overgrown areas your lawnmower can reach. It's also perfect for borders, sidewalks, and even flower beds. A shield around the string keeps debris from flying up and hitting you in the face. However, you should wear safety glasses. Get 7700 rpm in an easy to hold trimmer as it only weighs 5.35 pounds. Also, the device has a built-in cord retention system.
3. BLACK+DECKER Edger and Trencher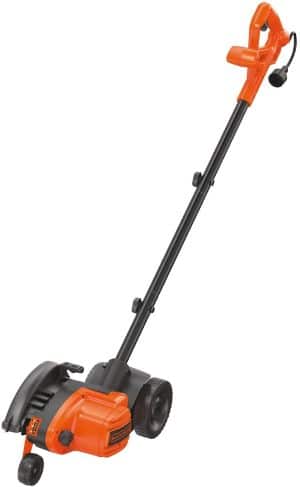 Black + Decker is back with a dedicated edger and trencher. As one of the main brands for electric lawn care, the BLACK+DECKER Edger and Trencher (LE760) is ready to handle all of your edging needs. Unlike the option above, this one cannot double as a trimmer, but it's very good at its job of cleaning up driveways, sidewalks, fencing, and more. It's a great tool to help you set up clear lines for mulch, lights, and more.
With 12 amps, this high torque motor can tackle overgrowing grass and create defined trenches just where you want. The edger requires just a little assembly but takes no time at all and does not require tools. Once assembled, the product is red to provide three different depth positions to the edges of your yard. The three depths include 1 inch, 1 1/4 inch, or 1 1/2 inch for more options and control.
The three-wheeled devices include a pull-up edge guide that converts from an edger to a landscape trench for extra usage. Furthermore, a door on the guard opens for easy access for cleaning. It's also accessible to both left and right-handed individuals with great flexibility and leverage. However, this item is heavy at 12.4 pounds but does offer 4700 rpm. What you will love about this electric corded edger is not gas, fumes, or mess, well, except for the grass you edge out.
4. Greenworks 27032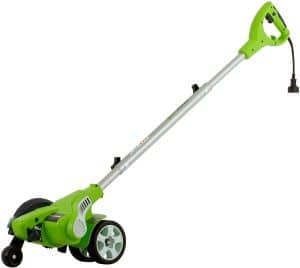 Like the other edgers, the Greenworks 12 Amp Electric Corded Edger 27032 is a powerful option ready to impress. What's different about this option is it's bright green instead of black and orange. Not many people really care about the color of their electric power tools, but the lime green does make it easier to find in the garage or shed.
With 12 amps of power in the motor, this edger can clean up your lawn in no time. Add in a 7.5-inch double-edge steel blade that gives you the most accurate trim on sidewalks and driveways. All this on a three-wheeled power tool ready to maneuver any lawn. Speaking of the wheels, they are spring assisted to allow for variable blade depth. This also allows for easier movement and comfort.
Furthermore, an integrated cord lock feature prevents accidental disconnect. However, the edger only has one handle instead of two making it a little more difficult to use but maybe better for some individuals. It's perfect for smaller tasks but doesn't work as well with tougher terrains or extra thick soil. The simple tool may be a bit pricy, but it does include a three-year warranty guaranteeing your purchase.
5. Toro 51480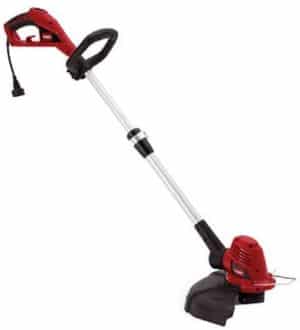 The Toro 51480 Corded 14-Inch Electric Trimmer/Edger offers a two in one tool with a string instead of a blade. If you have a smaller yard or don't need to dig deep into the edges of your yard, then this might be the right money-saving tool for you. It can also save you from having to buy two different items to take up space in your garage or shed.
As a trimmer first and an edger second, this tool does not come with the most powerful motor, but it does come with 5 amps. Those amps can easily work with the string to cut down thick grass and weeds. It is strong enough to tackle spots around your yard, sidewalk, gardens, and much more.
What you will love about this option is the telescoping shaft, and an adjustable assist handled. Use this handle for extended reach. A shield around the string keeps you safe from debris. All this, and the shaft is made of rust-free aluminum to withstand the stress of use. Simply pull the trigger and cut accurately and quickly. Lastly, the electric corded tool includes a two-year full warranty to ensure your purchase.
6. CRAFTSMAN CMEED400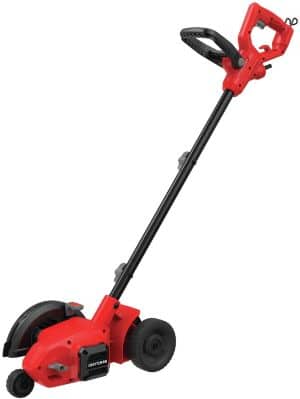 Craftsman is one of the oldest names in power tools, which is why you should check out the CRAFTSMAN Edger (CMEED400). Like most dedicated edgers, this one offers 12 amps of power in a high torque motor. It does come with one unique feature, as you would expect from the brand – you can a hook designed to make storage an easy off the floor option. The Versatrack system may be one of the main reasons, so many people go back for all their tools from Craftsman.
Beyond the hook and amperage, the three-wheeled machine includes a shield to keep debris on the ground. It also includes precision cutting and control even along hard surfaces or trenching around borders. An adjustable auxiliary handle gives the user comfort and control to make jobs easy and quick. Choose from three blade-depth settings to get an accurate cut.
The blade measures 7.5 inches of hardened steel. With an electric cord, you don't need to worry about charging a battery or adding fuel, and dealing with mess. It's a little lower on our list because you pay more for the name, and the cord may not be long enough for all of your needs.
7. Martha Stewart MTS-EDG1
When you think Martha Stewart, you probably do not think of electric power tools, but you should. The Martha Stewart MTS-EDG1 Electric Lawn Edger/Trencher is a powerful option with comfortable handling perfect for keeping your yard in check. One great feature is the sleek appearance and simplistic and high-quality materials.
The tool offers two uses in one as an edger and a trencher. Choose from three different depths as well, including 0.33 inches, 0.75 inches, and 1.2 inches, which is different than most other edgers if you are looking for a different set of variables with a 12 amp high-torque electric motor. It also comes with a 7.3-inch double-edged steel blade perfect for overgrown grass.
Moreover, the tool can dig down deep to quickly make trenches for cables, irrigation systems, drainage, seed planting, and even invisible dog fences. Use the hand includes an ergonomic design for comfort and longer use, and it's adjustable with a telescoping handle shaft to work for 2.5 to 2.9 feet height. Lastly, a front handle helps to control the three-wheeled tool and have it work for you. The electric trimmer has a cord length of up to fifty feet, too, so you can move around the yard with ease, making this an exceptional option.
Buying Guide for Electric Lawn Edgers
Know exactly what you need before you decide which lawn edger to buy. Take a look at some key factors to help you purchase the right lawn edger the first time around.
Benefits of an Electric Lawn Edger
Electric edgers are not just less noxious than gas options. They are easy to use, too, as you simply need to plug it in and go. While electric means a cord, you never have to worry about charging or adding gas to an electric edger either. Moreover, they have little to no maintenance to keep them working.
Of course, you will need to clean off the edger, but otherwise, it's very easy to maintain. It's also a low-cost option as it does not take much power to run, and electric edgers put out zero emissions. Honestly, the only issue besides needing an extension cord is the noise level, but that's true of most edgers or electric equipment, and gas options are actually louder.
The best part of an electric edger is they do the work for you. Sure, you can save some money with a manual edger, but you end up doing all the heavy work too. Also, manual edgers tend to rust and need to be replaced or cleaned more often.
Types of Edgers
Lawn edgers come in two fashions, with a blade or with a string. While the string sounds ineffective, once you add power, that string will whip around and knock down any grass in its path and weeds too. As for blades, some of the options come angled while others are flat.
Both are good but serve different purposes to either trim off the top or get the grass down deep. String edgers are more difficult to use than blade options and leave debris everywhere instead of in one place. Your best bet is to pick a blade with an adjustable depth to get more use out of the edger.
If you do not want to hand-carry an edger, you can also pick a walk-behind edger. However, these options are much more expensive than the handheld options. Pole edgers are easier to maneuver and can adapt more easily to surfaces and terrain, as well as they are handheld for easier use.
Edgers that also function as trenchers can help to dig deeper lines with many possibilities of use. This function isn't available with a string trimmer but often is with an edger. If burying cable, digging up flower beds, or other similar tasks may be in your future, then consider getting an edger instead of a trimmer.
Power
Gas edgers offer more power than electric or battery powered. However, for most home uses, an electric offers sufficient power. If you have a small or medium yard, you can save a ton of money and maintenance time with an electric option. While they are not as powerful, trust us, they offer plenty of power against grass. Save the more powerful tools for wet leaves, like with a leaf blower, and get the easier to use too for edging.
Questions About Electric Lawn Edgers
How are edgers and trimmers different?
Edgers are made specifically to get grass off the edge of the property and create clear boundaries for grass by cleaning up borders. A trimmer can be used to trim grass where a lawnmower cannot. An experienced gardener can use a trimmer as an edger, while newbies will want to stick to separate tools for jobs.
While edgers are better than trimmers for setting an edge, trimmers can still do a great job. To see a comparison of these two tools, watch this video:
Should I choose a gas edger instead?
The benefit of a gas edger is they are more powerful and cordless, making them a better choice for larger yards. However, they are heavier, noisier, smellier, and emit fumes. Moreover, they need more maintenance, especially if you need to store them for longer periods of time. Not to mention you need to fill the tank, empty the tank, take care of the carburetor, and they are a more expensive option too.
Are battery operated edgers worth the money?
Battery operated edgers are fantastic as they give you the option to go cordless. However, batteries take a long time to charge and only last a short time. This means you may get halfway through your edging and not be able to go further unless you have spare batteries available. The batteries do not last very long, life-wise either and tend to require replacing far before your edger dies, which increases the cost.
Conclusion
The WORX WG896 12 Amp 7.5″ Electric Lawn Edger functions exactly as you need to create a gorgeous lawn. Use it as an edger and trencher to make great lines in three different depths to work for multiple purposes. All this with a thick blade and tons of power. The company even backs up the purchase with a three-year warranty. It's perfect for those who are new to edging and want crisp lines that are not possible with a trimmer. Those with experience can save money with a trimmer edger, especially if they need space in their garage.