The Top 5 Electric Patio Heaters Reviewed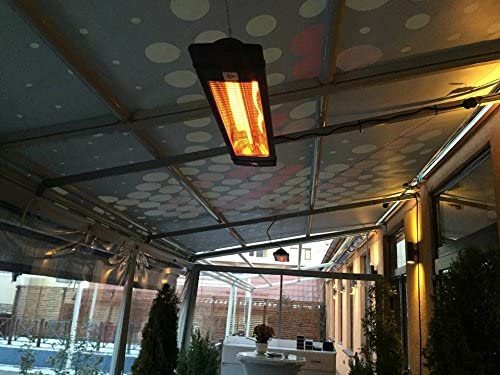 Some of us crave being outdoors, whether chatting with neighbors on the porch or enjoying an alfresco breakfast. In contrast, others have no choice but to be outside because of work obligations. In particular, autumn and winter pose a big problem for those who want or need to be outside. The darkness creeps in earlier each day and the chilly nights soon turn freezing cold. But all is not lost; patio heaters are the go-to remedy to make your outdoor areas brighter, and more importantly, warmer. Which leads you to the next and most significant part of solving your outdoor dilemma – choosing a patio heater that works for you.
Patio heaters come in an array of sizes, weights, and all have different functions. The heating element and speed of gaining heat differ between heaters too. Here we've plucked out the best ones available to help you navigate the patio heaters on offer, which are suitable for different uses.
Preview
Our Choice




Our Choice
Preview

Preview

Preview

Preview

Best Electric Patio Heaters
Other than a great name, the Heat Storm patio heater has several significant aspects, making it an ideal accomplice during frosty days and freezing nights in and outdoors.
Firstly, it's easy to set up. You can either use the tripod provided, attach it to a roll cage for maneuverability, or fix it to the wall. Overall, it should only take 5 minutes to set it up in any one of these locations.
The heating element from the Heat Storm is excellent. It emits strong waves of infrared heat, making it a great addition to, for instance, an outdoor balcony while you gaze at the stars. Or positioned in the garage, to take the chill out of the frosty air as you fix your car. Infrared heat is perfect for giving outdoor spaces with no heating, instant warmth and comfort.
Another positive aspect is that the heater's cord is long, allowing you to move the Heat Storm around outside without needing to fish out the extension cords.
The Heatstorm accessory that accompanies the heater is noted for its sturdiness. This means it can withstand the outdoor elements, such as windy, stormy weather. With the Heatstorm head attachment positioned on top of the tripod, this patio heater is lightweight and portable. Making it easy to move to where you want, or need, the heat directed most. Plus, you can adjust the tripod to your desired height. You can set it at 3 ft, or as high as 7 ft.
For a patio heater, with perfect portability and versatility that can be used indoors or withstand the harsh elements outdoors, the Heat Storm is an attractive patio heater for many.
Sale
Heat Storm HS-1500-TT Infrared, 13 ft Cord, Tripod + Heater
NOTE: Will not mount on ceiling or turn on unless black box is mounted vertical. Tip-over safety switch will only allow to turn on when mounted to Heat Storm Accessory or the wall. (no ceiling mounted operation)
INSTANT HEAT - Infrared heat is silent and comfortable. It warms objects instead of just the air. 5200 BTU Output
PLUG & PLAY - 110 V plug in cord for use anywhere there is a normal outlet
IPX4 WEATHERPROOF - Protected against rain and dust
EASY SET UP - Have your infrared space heater up and running within 5 minutes of delivery
Moving on from the portable heater, here we have the heater you can install as a permanent, immovable fixture. This patio heater arrives with a ceiling mount, enabling you to attach the heater in one position, up-high, securely. However, some buyers prefer to angle the heater, so that its heat washes over a larger area outside.
When the Dr. Infrared heating technology is attached to the ceiling, its heat is directed onto the object or person underneath. And so, if you have a usual spot, you regularly sit outdoors, or a location on a workbench you tend to stand, position the Dr.Infrared heater above this area to give you access to maximum heat output. The heat shall instantly remove the chill from you while gradually heating the air particles surrounding you too. With warmth on your side, you can enjoy the outdoors more or concentrate on your job in the shed, for example, much better.
With a heater up out the way, it makes sense Dr.Infrared would supply a remote to give you control over its heating abilities. With no need to touch the heater to get it working, when you're entertaining guests outdoors, for example, the remote is ideal as it saves you time from needing to get up out of your seat to crank up the heat.
For a permanent fixture in an outdoor or indoor setting, you're prone to spending a lot of your time at; the Dr. Infrared Heater will reduce the chill and add a warm ambiance to your outdoor space.
Moreover, it's a safe option for families because small children can't reach it, and there's no risk of excited pets knocking the heater over. To make your outdoor and cold indoor areas usable this fall and winter, Dr. Infrared is another viable option to consider purchasing before the colder climate strikes.
Sale
While some patio heaters have a set amount of heat, they release. The Air Choice patio heater puts the temperature in your hands, allowing you to adjust the warmth based on who it's for, how cold the weather is, and the occasion.
Where propane heaters can be damaging to the environment and costly to run, the Air Choice heater is a superior alternative, and perfect for environmentally conscious individuals who want to reduce their carbon footprint without sacrificing the luxury of outdoor heating. The Air Choice heater is estimated to save up to 40% on electricity also.
To adjust the heat, you use the pull cord attached to the heater. There is a choice of three levels of heat to choose from, although the second heating option tends to be just the right temperature for those who use it. One way to tell what setting the heater is on is by looking at the heater's three horizontal bulbs. Each one lights up to alert you of what heat setting it's on. The cord is useful for people who are worried they'll lose a remote.
To assemble the heater, there's a helpful video to guide you through it. Overall, the setup shouldn't take you more than 5 minutes to do.
For a freestanding patio heater that's safe and sturdy, the Air Choice patio heater is one of your best options. For instance, it has a large, stable base to keep it anchored. The heating element turns off instantly, should the patio heater be forcibly tipped over. Plus, there's a protective sheath surrounding the heater to prevent any accidents, should anyone touch the heater.
The Air Choice patio heater provides you an array of choices to adapt the heater to suit your needs. You can move the heater around, you can use the tilt function to adjust where it directs heat, and changing the heat setting is quick and easy to do with the pull of a cord. For a heater that can adapt to different outdoor spaces, consider purchasing the Air Choice patio heater.
Sale
Patio Heater-1500W Outdoor Electric Heater, 3 Adjustable Power Level Outdoor Infrared Heater with Tip Over & Overheat Protection, Freestanding,Weatherproof for Patio,Courtyard,Garage Use
【1-SECOND RAPID HEATING & 3 HEATING MODES】Equipped with 3 halogen tubes as heating element, the electric heater warms within 1 second. The patio heater delivers infrared heat directly to people or objects instead of the environment, which ensures you can enjoy instant heating instead of waiting in the cold air in chilly winter. This infrared heater has 3 heating modes from 500W ~1500W, so you could choose comfortable heat freely no matter how the temperature changes throughout the year.
【ENSURE SAFETY VIA TIP-OVER PROTECTION & HEATING ELEMENT】When purchasing a patio heater, safety is a main concern. A protective sheath covers the heating element to avoid pets or children getting burned if they touch the surface of the heater carelessly. What's more, the electric patio heater comes with a stable round base to avoid tipping over. Even it dumps, it will automatically cut off the power. This is necessary for an outdoor heater because there is always strong wind in winter.
【5-MINUTE QUICK INSTALL &EASY OPERATE】Only partial assembling is required to set up the electric heater, and the whole process takes only 5 minutes. Using the outdoor heater is also extremely convenient. You can control power on/off and change heating modes by a long pull switch, no worry of having difficulty reaching it. The height of standing pole is adjustable from 5.9' to 6.6', and heating element assembly angles at 0º~45, so you could set them to a suitable extent for best heating effect.
【WEATHERPROOF DESIGN PERFECT FOR OUTDOOR HEATING】Airchoice patio heater's ruggedness makes it perfect for outdoor use. The aluminum body and design allow it to withstand constant torture that nature throws at it, enabling it to work anywhere you want to stay. You could let the heater stand in your large garage, patio or BBQ areas for efficient warm up and enjoy great time. It is also nice when you need a cigarette in your porch or have a chat in your balcony in cold morning and evenings.
【ENVIRONMENTAL FRIENDLY & NO HEALTH RISK】Unlike gas heater, the halogen heater does not output any harmful odor or chemical. Also, the electric outdoor heater has soft light, helps the body filter out UV radiation, increasing infrared thermal efficiency. So you don't need to worry about lungs or skin problems while using it. What's more, compared with a traditional heater, it could save 30%-40% on electricity. This protects the environment and help you save expenses on heating at the same time.
Suppose you're interested in your outdoor seating space's aesthetic appeal. In that case, you'll likely be searching for a heater that can compliment and assist in setting the scene. In this case, the Trustech Outdoor Heater is for you! It's circular and features a lantern design. Each lantern arrives with a lengthy chain, allowing you to, for example, hang one or more across the midsection of your outdoor dining table area.
The warm glow is particularly attractive, as it adds a sunlight effect in color and warmth, creating ambiance instantly.
Apart from style, it's also convenient. By heating up in just 3 seconds, you and your guests won't have to wait long to feel the benefits of the Trustech Outdoor heater. Meaning, if you're spontaneously heading into the garden for a chat with your other half. The heater will be ready in moments for you both to feel it's positive, warming effects.
For a patio heater that fits in well with your home's exterior, provides bounds of heat, and is safely out of reach, a Trustech Outdoor heater is an excellent option. Also, Trustech offers a warranty for this patio heater too.
The COSTWAY Electric Patio Quartz Heater
The Costway Electric Patio Quartz heater makes being outside on a frosty morning in fall to an icy cold night in winter comfortable. With a tall Costway heater, you can shed warmth on a large portion of outdoor space all year round.
For those who are a fan of remotely controlling their patio heater, the Costway offers an easy-to-use remote to adjust the temperature to your liking. The remote control device is perfect if you have your hands full outdoors, whether crafting in the outdoor shed or tending to the garden. With the flick of a switch, you can change the heat waves in seconds.
As the climate changes throughout the year, you may want a heater that can adapt to fill the void of warmth. While a lighter heating output may be needed on summer nights. During the winter, it's likely you'll want a more intense heat. The Costway Electric Patio Quartz heating element can be adjusted to emit the heat you need. With your options ranging from 500W, 1000W, or 1,500W, you have three options to choose from.
Safety, of course, is always an important element when choosing a patio heater. And the Costway comes with an ETL and UL certificate. While, of course, being extremely durable against harsh weather, it's sturdy, and it doesn't produce any chemicals that are damaging to the environment.
COSTWAY Electric Patio Quartz Heater with Remote Control, 1500W Halogen Freestanding Heater with Overheat Protection, Tip-Over Shut Off Waterproof Heater with 3 Power Levels for Yard/Garage/Outdoor
👑【EFFICIENT AND FAST HEATING】Electric Patio Heater using premium halogen fire tubes as heating element, the patio heater heats up fast while silence when use. Additionally, the electric patio heater has 3 power levels – 500/1000/1500W and suitable for all sizes of areas. In order to warm you better, the heater head could be adjusted from 0°to 45°.
👑【USE-FRIENDLY DESIGN FOR EASY OPERATE】The operation of this electric patio heater is very simple. The pull line power switch is designed to control power on/off. And the power level could adjusted by push button switch. Besides, this electric patio heater is equipped with a remote control for your convenience. And the height of the patio heater is adjustable according to your demands.
👑【OVERHEAT AND TIP OVER PROTECTION】The electric patio heater comes with a stable round base to ensure that the patio heater is not easy to dump. Besides, the electric patio heater is equipped with tip-over safety shut-off device that automatically cuts off the power when it is dumped. Overheat protection is another means of ensuring safety.
👑【RUGGED HEATER FOR OUTDOOR/INDOOR USE】 Made of high quality steel with power-coated finish, the electric patio heater is rustproof and durable that make it perfect for outdoor use, such as garden, balcony or deck. In addition, the electric heater would never output carbon dioxide, smoke and dust, so it is also suitable for indoor use.
👑【SAFE AND ENVIRONMENTALLY FRIENDLY】 The electric patio heater has ETL and UL certificated that provides security and ensures users' safe. Besides, the freestanding patio heater is weather-resistant and dustproof with IP34 rating. The patio heater uses electricity so it does not produce dust, carbon monoxide like propane or natural gas heaters that burn fossil fuels.
Other Types of Patio Heaters
For more information about other types of patio heaters, watch this video:
Conclusion
Now you've figured out the best patio heaters available; it's time to think about what you need your patio heater for. Or if it's a gift, think about where and how the recipient can use it. This will help you reach a decision about which one is practical and suitable.
For example, suppose you adore spending time outdoors, in the garden, out camping. In that case, a lightweight, portable patio heater is your best option, making the Heat Storm patio heater your number one choice.
However, suppose the heater is needed for outdoor occasions and parties, such as a Halloween party or dinner outdoors. In that case, providing you have something to hang the heater from overhead, the COSTWAY Electric Patio Quartz Heater would work well. Because it's stylish and shall compliment your event's decor. Plus, it's safer as it's out of reach, and you can avoid the risk of it being knocked over or tampered with.
With the scenarios of what you'll be using the heater for in mind, you can begin to funnel down which patio heater is the most appropriate.
Related Articles