The Top 5 Expandable Garden Hoses Reviewed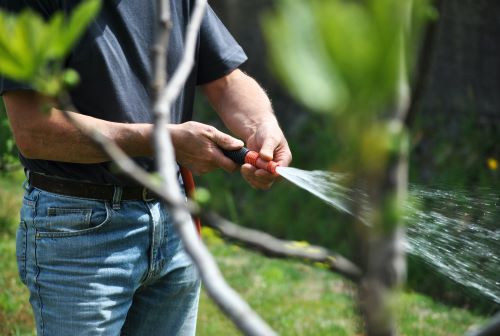 What do you picture when you think of summers in the garden as a child? Chances are, there's a water fight or two in there – complete with the ultimate weapon, the garden hose. Of course, garden hoses were never just for spraying each other with. They are also a vital piece of equipment for maintaining your garden; watering plants, cleaning patios, and (of course) filling paddling pools. For years, garden hoses have been an awkward necessity. They develop kinks, they're either far too long or far too short, and you could wrestle trying to roll them back up into their holders for hours. Now, however, all that has changed with the invention of the expandable garden hose.
Built of two inner parts instead of just one simple tube, these hoses use a clever mechanism to actually expand when water flows through them. This means no kinks, no twists, and a much lighter hose to carry around. They even self-drain, so you won't have to worry about getting that last annoying drop of water out before you can put it away! A good expandable hose will shrink to about a third of their expanded length when empty, making them easier to store and retrieve whenever you need.
The technology of expandable garden hoses has been improving over the last few years, and all of the initial teething problems (snagging, low water pressure, leaking) have now been fixed. There are great hoses out there on the market for reasonable prices, and these are some of the best.
Preview
Top Choice
Budget Option
Top Choice
Preview
Preview
Preview
Preview
Budget Option
Preview
Best Expandable Garden Hoses
The Aterod 75 feet Expandable Garden Hose
First on the list is the Aterod. This hose expands from a mere 25 feet to an excellent 75 feet long, making it perfect for almost any size of garden. Length can be one of the most important factors when buying a garden hose (who wants to make the perfect purchase only to find it doesn't quite stretch as far as you need), so with the Aterod you can be pretty sure you're getting what you need. The hose itself is also particularly durable; an important feature if you'll be dragging it over rough edges. It is made from a double latex pipe and a polyester fabric cover. The cover material is especially important, as flimsier materials are more prone to snagging and tearing – the use of polyester solves this problem.
The nozzle itself has 9 separate functions (Soaker, Flat, Shower, Cone, Mist, Full, Center, Jet. and Angle), so you can adjust it to suit your needs. Reviewers across the board have praised the Aterol Hose for being lightweight, incredibly easy to use, with great water pressure, and the capability to perform many different tasks. Versatility seems to be a great selling point for this model, so if you're looking for a hose that can do anything – from power washing to cleaning pets, to watering plants, to messing around on a summer's day – this is the hose for you.
Aterod 75 feet Expandable Garden Hose, Extra Strength Fabric, Flexible Expanding Water Hose with 9 Function Spray Nozzle
EXPAND 25FT TO 75FT MAGICALLY: This garden hose can expand 3 times to its original length when water pressure is on, and contracts to its original length when its off. Will never tangle, twist or kink. NOTE: If you find this hose does not extend to 75 ft, please kindly make sure whether the faucet is at full blast.
AMAZING DURABLITY: Solid 3/4 Inches brass connectors, it's innovative 2019 leakproof patent connector, rubber washer, double latex pipe, sturdy on/off valve, extra-flexible 5000D polyester fabric cover; the hose can withstand water pressure 3-12 Bar and temperature 41-113 Fahrenheit - this garden hose for long-term use. No more leaks, tear or cracks.
9 FUNCTIONS NOZZLE: The sprayer boasts non-slip and comfortable grip and rotating bezel for choosing 9 spray patterns: Soaker, Flat, Shower, Cone, Mist, Full, Center, Jet and Angle. It can be used for house/car/floor/yard washing, garden watering, pet cleaning, having fun or business use.
EASY TO STORE: Retractable, lightweight, highly portable, flexible hose, simple way to save your storage space. Just drain water from the hose when not in use, store out of direct sun. Plus, you also have a water hose hanger, This is designed to hold the garden hose.
SUPER EASY TO USE AND STORE: Our hose is retractable, lightweight, flexible and portable, easy to store and save your space. Equipped with a water hose hanger, more easy and convenient to hold and store the water pipe.
The TheFitLife Flexible and Expandable Garden Hose
The first great thing about the FitLife Flexible and Expandable Garden Hose is that it comes in different sizes. Options include a 25ft hose, 50ft, 75ft, or even 100ft, so you can choose exactly what length you need. They're even connectable, meaning you can use it to stretch distances of up to 200ft. The 25ft model, in contrast, is perfect for anyone with a small garden or yard just looking for a hose that will suit their space without taking up any room at all. This smaller option is especially lightweight, weighing in at just around 1.8lbs – making it the perfect gift for the elderly gardeners in your life who might find larger, heavier hoses trickier to handle. Built with fantastic quality materials, including brass fittings, the hose is proven against leaks of any kind.
Users have highly praised the quality of the FitLife Flexible and Expandable Garden Hose, saying that it feels durable, and like it would last a very long time indeed. These reviews are borne out by the materials of the hose itself, with tough polyester fabric and high-quality latex used for the inner tube. As part of production, the hose has also been endurance tested for up to 2000 uses, so you know you can rely on it for long-term use – in contrast, many other hoses are only tested for up to 250 uses. That's almost 10x more in the FitLife's favor! This is the perfect hose if your priority is durability, flexibility, and a hose you can trust for years.
TheFitLife Flexible and Expandable Garden Hose - Strongest Triple Latex Core with 3/4" Solid Brass Fittings Free 8 Function Spray Nozzle, Easy Storage Kink Free Water Hose (25 FT)
DESIGNED TO MAKE YOUR LIFE EASIER: The newest design expandable water hose pipe never tangles, twists or kinks. Only 1.8 lbs, after getting your work done, just simply rewind it into a basket or hose hanger. Lightweight, collapsible, easy storage makes your life easier.
A RETRACTABLE HOSE SUITABLE FOR MULTIPLE PURPOSES: Expanding quickly, while a brass valve at the end allows better control of the flow of water, flexible length and proper water flow to support multiple purposes, such as gardening, watering, car/boat washing, pet bathing or pool cleaning, returns to original length in seconds when the water is out, an amazing hose you will never regret buying.
PREMIUM QUALITY MAKES USEFUL LIFE MUCH LONGER: Triple layer latex inner wrapped by newest and strongest interwoven elasticated fabric, with 3/4" USA standard solid brass fittings, our hoses are endurance tested to 1800-2000 uses while the typical hose is only 200-250 uses under the water pressure of 145 PSI/10 Bar. No more bursts, cracks, leaks or corrosion, it's time to say goodbye to your old style leaking hose!
BONUS FREE SPRAY NOZZLE: TheFitLife new spray nozzle, providing 8 patterns support to fulfill your different watering purposes, ease of use and more durable than the typical fragile nozzle, completely free bonus!
GET YOUR EXPANDABLE HOSE NOW: Available in 25 feet, 50 feet, 75 feet, 100 feet and they are connectable for getting a longer size, like 125 feet, 150 feet or 200 feet. You'll feel 100% satisfaction from the moment you received our expandable garden hose and we are quite sure that you will be super-impressed with the durability, protability, versatility and high quality of it.
If you're lucky enough to have a sizeable garden, you're looking after a commercial property, or if you simply need a hose that can stretch from the other side of the house, the TBI Pro Garden Hose is the one to watch. It comes in a single size, expanding up to 100ft in length as your water pressure increases, and it has been especially designed to cope with this length, ensuring no drop in water pressure as the hose stretches all the way out. For extra protection across the hose, the manufacturers have protected it with four layers of latex, as opposed to the usual two, meaning ruptures and leaks are guarded against. The incredibly light materials compensate for this extra protection, making it still lightweight and easy to handle.
Like other expandable hoses, the TBI Pro is guaranteed never to twist or kink; a particular benefit when it comes to a long-length hose. It has been praised for combining the features of a heavy duty hose, with a design that remains easy to manipulate and use for anyone and everyone. With sturdy washers and brass fittings, the TBI Pro Garden House is a high-quality option that won't break the bank, perfect for a range of activities such as washing the car and the exterior of your home, alongside all standard garden uses. It even comes equipped with a storage bag and hanger, so you'll be ready to go straight out of the gate.
Sale
TBI Pro Garden Hose Expandable Flexible - Best Super Durable 3750D Fabric | 4-Layers Flex Strong Latex | No-Rust Brass Connectors with Pocket Protectors - Water Hoses for Gardening (100FT Hose Only)
🎁THE STRONG 3750D FABRIC AND 4-LAYER LATEX. We have developed this hose using the high-quality materials to avoid most problems: 3750x3750D fabric to avoid bursts, 4-layer latex that is 3x more durable than 2-3 layers. A flexible garden hose expands up to 100 feet in length within seconds. Our 100 Ft flexible and expandable garden hose will never kink, twist, burst or get tangled up during use.
🎁ANTI-LEAK SYSTEM WITH PROTECTORS. The innovative design of this water hose comes with advanced connector protectors, which ensure there's no unwanted leakage while you're doing your work. Stop wasting money and time for expensive repairing.
🎁ALL YOU NEED FOR QUALITY WATERING IN 1 SET. We have included in our set: Garden Hose 100 ft, Storage bag, and Hanger. That is all you need! This garden hose is made from a flexible material, making it extremely easy to use and adapt it to your needs. The lightweight material makes it maneuverable and easy to store once you're done with it.
🎁RUST-FREE CONNECTORS. Unlike similar products on the market, this 100 Ft flexible and expandable collapsible water hose will not rust due to its superior quality brass connectors and shut-off valve. Use it with confidence every day!
🎁DESIGNED IN CHICAGO FOR A WIDE RANGE OF APPLICATIONS. A universal choice not only for watering the garden, but also for washing the house, car, yard, bathing pets and other purposes. associated with the need to use water.
Like the FitLife Hose, this GrowGreen Garden Hose also comes in a range of sizes, from 25ft up to 100ft, meaning you can pick the size most tailored to your needs. Each hose will contract to 3x less its size without water inside, making it incredibly easy to store and handle, whichever length you decide to go for. The spray nozzle has eight settings for a variety of uses, and this hose is one of the most flexible out there. Reviewers have found multiple uses for the hose, but common areas of praise are its maneuverability and ease of handling, as well as how efficient it is to take out and put away.
The build quality of the GrowGreen Garden Hose also isn't to be sniffed at. Its brass connectors are durable, with great corrosion resistance, and the pipe itself is made from extra durable high-pressure resistant latex. This means that the pipe can safely operate at a higher water pressure, up to 145PSI/10Bar (this is an increase on normal volumes of 43.5-87PSI/3-6Bar) – so it's quite the difference! Once more, this hose comes with a lifetime warranty from the manufacturer, giving you the piece of mind that you can trust the hose to survive almost anything. Finally, unlike most other hoses out there, and as the name would suggest, the GrowGreen Hose comes in a delightfully bright shade of green. So if you want a hose that will fit right into your garden with a pop of color, look no further.
Sale
GrowGreen Garden Hose, Expandable Garden Hoses, Water Hose with High Pressure Hose Spray Nozzle, Flexible Garden Hose with All Brass Connectors, Leak Proof, Durable, Heavy Duty Material (50 Feet)
SPACE EFFICIENT GARDEN HOSE: This amazing water hose starts out very short and expands 3 times its size when it gets under water pressure, but returns in seconds to its original compact length after the water is out!
A GARDEN HOSE DESIGNED TO MAKE LIFE MUCH EASIER: This newly designed expandable garden hose will never tangle, twist, or kink. This Flexible Garden Hose is compact and easy to store away!
HOSE SPRAY NOZZLE INCLUDED: The GrowGreen Garden Hose gets even better with our 8 pattern, high pressure hose spray nozzle! Made with all brass connectors, excellent corrosion resistance and durable quality.
EXPANDABLE GARDEN HOSE WITH HIGH PRESSURE-RESISTANT DURABLE LATEX! Normal operating water pressure 43.5-87PSI/3-6Bar, our new designed water hose can safely operate with water pressure up to 145PSI/10Bar!
GARDEN HOSE COMES WITH A LIFETIME MANUFACTURERS WARRANTY! We are so confident that you will love our garden hoses, but in case you don't, just contact the manufacturer or the seller via Amazon.com for any claims.
The POYINRO Expandable Garden Hose
The final hose on this list of the best expandable garden hoses currently on the market is the POYINRO Expandable Garden Hose. There are three size choice: 25ft, 75ft and 100ft, and the 75ft option is a popular one to suit and accommodate most gardens. The POYINRO is also a lovely green color, although slightly more muted than the GrowGreen, for those of you who prefer a more natural shade. The hose also boasts great durability, with a 100% natural latex pipe made from triple layers, and a tough outer weave to help prevent snagging and rupturing during use. The POYINRO is particularly good at durability across a large temperature range, and it can withstand anything from -10℃ right up to 108℃. This may help when using it for other purposes, such as car washing, when you might want to utilize a higher water temperature – but it also lets the hose survive the winter months much more easily.
Unlike other hoses, the POYINRO does not come with its own spray nozzle. However, its connecting end has been designed to be compatible with most nozzles out on the market, so you can customize it to suit your needs. You could even attach your favorite nozzle from your old hose! Customers have praised the good quality materials combined with a hose that is easy to move around with, and suitable for almost any purpose. For hot water, cold water, and almost any sized garden, this hose is the perfect fit.
POYINRO Expandable Garden Hose, 75ft Strongest Expanding Garden Hose with Triple Layer Latex Core & Latest Improved Extra Strength Fabric Protection for All Your Watering Needs Improved Design(Green)
☆ Space-Efficient! Get The Full Length! The POYINRO New Designed Expandable Garden Hose Is The ONLY Expanding Hose That You Will Actually Get The Full Length When In Use Under USA Standard Water Pressure. POYINRO Expandable Garden Hose come with Exclusive Worldwide - 2020 Improved Design Leakproof Patent Connector. Ergonomic handle, easy to operate.
☆ Just to Make Lift Much Easier! This newly designed expandable water hose will Never tangle, twist, or kink, flexible and easy to handle and to storage! POYINRO garden hose flexible expands from 25 feet to 75 feet length. The hose can expand up to 3 times of its original length when water pressure is on. It also can retract down to its original shape in minutes when it's off for easy storage. ON/OFF valve located on the end for convenient use. POYINRO garden hose is great for a variety outdoor
☆ Extra-Long and Portable ---- A Perfect Length to Do Outdoor Work: Very light weight, flexible and long enough to make it easy and convenient for watering around the garden, even when full of water Inner rubber washer, no more leaks or cracks! Long-used garden hose Designed. Even in winter, you don't have to worry about water pressure breaking the water pipes.
☆ Durable: Triple layer 100% natural latex core, Features extremely durable latex core and tough outer weave that made. Our multilayer latex is the best hose material on the market to help ensure the life of this 75ft long expandable green garden hose. The high quality fittings will not break, crack, leak or corrode for strongest durability, which can withstand high and low temperature without damage(-10℃/108℃)
☆ Compatibility, Longer Lifespan: Suitable for most spray nozzle attachments. This hose is great for many watering and cleaning uses: garden, workshop, lawn, car-washing shop, RV, pool, boat, garden watering, pet cleaning etc, having fun or business use. If you have any problems with your POYINRO garden hose, please feel free to contact us in time and we will immediately ship a new hose to you for free or fully payment refund!
How To Repair Expandable Hose
As convenient as expandable hoses are, they are more prone to leaks and breaks than traditional hoses. Fortunately, the repair is usually quite simple. Watch this video to see how to repair an expandable hose: