The 5 Best Front Tine Tillers Reviewed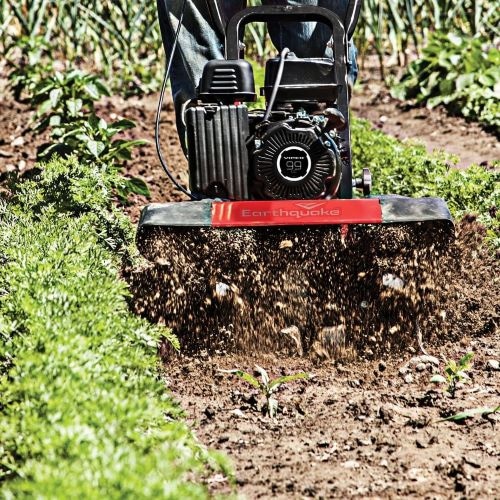 If you're going to have a yard that's full of life, then it's important that the soil is in excellent condition. Indeed, if it's not, then you'll find that the task is an endlessly uphill battle. It's one of the things that gardeners are quick to learn. If you have poor soil, then there'll only be so much that you can do! Of course, wanting to have good soil and actually having good soil are two different things. There are, however, things you can do that'll push things in the right direction.
One such method is to use a front tine tiller. This is a device that helps to prepare the soil for planting, and which can be used for a variety of purposes. But perhaps the biggest advantage is that it can save you a lot of time. You'll have to prepare the soil one way or another. While you can do it by hand, that could require many days of labor, or even longer in some cases. With a front tine tiller, you'll have the job done in no time.
Of course, it's not as if tillers are created equal. As with all things, there are more effective and less effective tillers. On this page, you'll find a few recommendations.
Best Front Tine Tillers
1. Earthquake 20015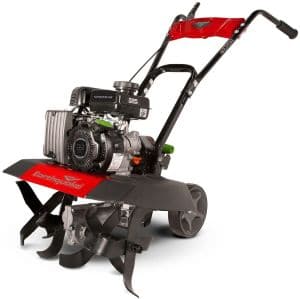 If you're looking for a top of the line tiller that will last for many years, and which will help you to perform any number of jobs, then take a look at the Earthquake 20015. This has everything that you'd look for in a tiller. There's plenty of power without being bulky — indeed, the compactness is one of its key features. It's also easy to use, so while it's a powerful tool, it'll be within the capabilities of beginners to use it. One thing that many people struggle with when it comes to using a tiller, is that they're not always the easiest to maneuver. Yet the Earthquake 20015 is; it has been designed so that you can easily change directions. It's also multi-use — you can easily turn it from a tiller into a cultivator. Despite the capabilities, this is not a loud machine. Indeed, many people are impressed by just how quiet it is.
The reviews are positive. Customers praise the ease of assembly and the use, but, most notably the performance. If you're dealing with very hard soil, then there's always a concern that the tine bolts might break, but on this front, there are no problems — the tiller will carve through it with ease. As with all tillers, it's not as the machine will do all of the work. It is not automatic, after all. If you have the time to guide the tiller over your soil, then you'll find that you can have a big effect on your soil.
2. Tazz 35310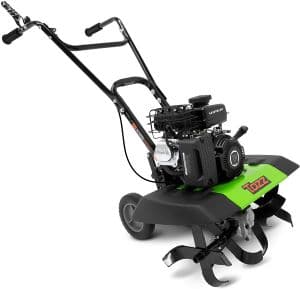 If you're looking for a top of the line tiller that is accessible, high-performing, and attractively priced, then take a look at the Tazz 35310. This is a tiller that does everything you'd ask for and more, which has made it an appealing proposition to consumers, who have consistently given it high praise in reviews. It's made with strong materials, so you can rest assured that it'll cut through even the toughest of soils. Rugged and durable, it'll be a crucial part of your gardening projects for many years.
As well as providing high-performance tilling action, it can also be used as a cultivator. The cultivator, too, is versatile, as you can use it with various heights. One of the primary advantages that this tiller has over others is that it's stable and easy to use. When a machine has power, there's a tendency for them to become difficult to handle. But the manufacturer has kept this in mind during the design, and taken steps to ensure stability. It's easy to get the device up and running, and it's even fuel-efficient. All you'll need to do is to pull the cord and you'll be on your way.
So what do the reviews say? As you might expect from a tine tiller that offers so much, the reviews are largely positive. The assembly can be a little challenging, but once you've gotten everything packaged up, then you'll find that it's good to go. What stands out most to use is the performance — they're able to break up hard, compacted clay with ease. And that's just what a good tiller should do.
3. YARDMAX YT5328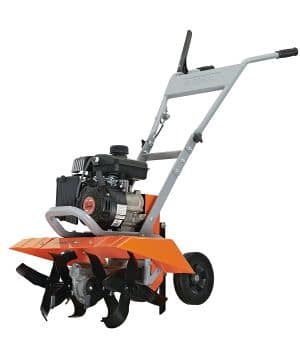 Yardmax has built a reputation on providing high-quality, well-performance home gardening tools at a great price, and that's just what you'll get from the YARDMAX YT5328. This is a tiller that doesn't make any grand promises, but rather focuses on getting the basics just right — and that's just what it does. It's affordable. It performs well. It doesn't require too much physical exertion. Aimed at homeowners, this tiller is compact yet powerful, able to till even the most compact soil. It's also versatile. You won't always want to till the same size. Sometimes, you'll need to till a wider section or a deeper section. One of the strengths of this tiller is the versatility. You can change the width to 11", 16", or 21", and depth of 7" or 11". You'll also find that the tiller is easy to use in other ways, too. For example, the comfort. It's easy to use, and there's a range of heights you can place the handle, so you can till large amounts of land without feeling uncomfortable.
Even if you have to till a lot of land, you'll find that the tiller is effective year on year, since it's made of durable materials. The reviewers mention the ease of setup and use. It's not a machine that requires exceptional physical strength, either — anyone can use it.
4. TACKLIFE TGTL02A
One of the most affordable — yet highly reviewed — options is the TACKLIFE TGTL02A. This is a high-performing tiller that is electricity powered, rather than gas powered. This means that there's less noise and less vibration, and also that it's better for the environment. When it comes to a tiller, there are certain things that you're looking for — if something has a high RPM, high torque grinding, and is versatile, then you'll be onto the right product. As well as tilling, it can also be used to cultivate land — it'll allow you to cultivate up to a width of 16 inches, with a depth of 8 inches.
As well as the performance, you should also look at the design of the product, especially if you're a homeowner, where space might be an issue. On this front, the TACKLIFE product delivers the goods. There's a foldable handle, so you can make the machine smaller and ready for storage, and there are also wheels so you can move the item with ease. If you can't use the wheels for any reason, then fear not: the product is light enough to carry. Clearly designed for private use, the manufacturer has made it as easy to use as possible, and comfort has clearly been a priority.
So what do the reviewers say? In general, they're impressed by their experience, and especially by the power that it can generate. We tend to think that gas powered machines will be more powerful than electricity powered machines, but that trend is beginning to reverse. There's a lot of power in the TACKLIFE TGTL02A. Even people who mention that they have especially tough soil say that they were able to till their land without difficulty.
5. Sun Joe TJ603E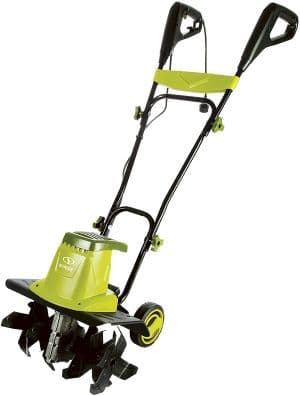 If you're looking for a powerful, well-designed tiller at an excellent price, then take a look at the Sun Joe TJ603E. This is also electricity powered, but the 12amp of power more than ensures that it can cut through the ground with ease. The steel tines are durable and long-lasting, so you won't need to worry about getting replacements any time soon, and they've also put an emphasis on storage and transportability. This is an environmentally friendly option that's simply cleaner than other options. One of the main draws is that it's easy to use. Whereas some have complicated assembly requirements, that's not the case with the Sun Joe TJ603E. All you'll need to is quickly put it together, and press a button to get things started.
The reviews are positive, with many people saying that they're surprised at just how powerful the device is, especially given the compact size. It'll handle all types of ground, including hard clay, though naturally that will require more labor than soil that just needs to be turned. It is especially aimed at homeowners, professionals might find that it's not quite up to standard, not because of the power, but because of the size of the blades. It would take a long time to till a football field as the blades are only 40cm wide. But people beginning their home garden project will find that it more than meets and exceeds their tilling needs.
How To Use A Front Tine Tiller
This video demonstrates how to properly use a front tine tiller: