The 7 Best Garden Seeders Reviewed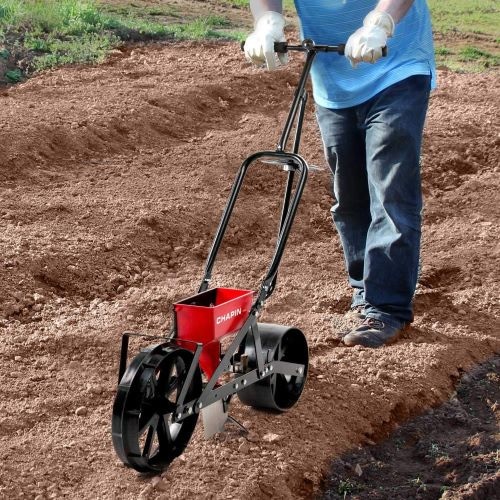 Make your life easier with an easier way of spreading seeds in your garden or farm. A garden seeder can save you hours of work as they are designed for the sole purpose of placing seeds in the ground with precision. Even better, the devices are multi-purpose, and for smaller jobs, you can use them for fertilizer and other small tasks too.
Not only do garden seeders plant seeds, but they o so quickly and accurately, saving you much needed time and money. First, though, you need to find the right size and style for your needs. From handheld styles to push, we found the seven best options to garden fast and yield large results.
Stay on after to find out about hopper size, types of seeds, and other factors to help guide your decision. Get answers to your questions too. Now let's look at the best options on the market, all at a variety of affordable prices.
Best Garden Seeders
1. Scotts 76121 Turf Builder EdgeGuard Mini Broadcast Spreader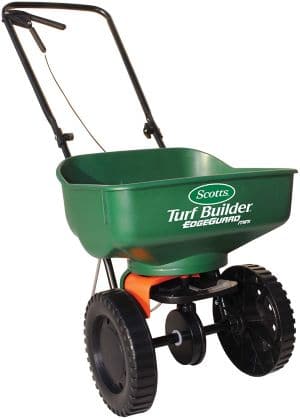 People with small to medium yards will love the Scotts 76121 Turf Builder EdgeGuard Mini Broadcast Spreader to get full coverage of seed. Like most broadcast spreaders, you can use this mini spreader for a variety of products. Use it to spread seed, weed, feed, fertilizer, and even ice melt for a year-round product ready to yield great results.
The price of the spreader saves you money, and it's ease of use and smart design saves you time. You can effectively and efficiently spread product using the tool as it comes with an EdgeGuard to ensure the product goes exactly where you want. The spreader comes with up to 15 different easy to use settings on a bright orange dial for precision and accurate coverage. The EdgeGuard can be turned off when not working on edging.
Treat smaller areas of up to 5,000 square feet, although the company doesn't say how many pounds it holds. Simply check the instructions on the back of the bag. Get a five-foot radius for wide coverage. Even better, the product comes fully assembles and calibrated so you can use it right out of the box.
Lastly, the spreader comes with easy-to-use treaded tires that do not require air. The triggers are on the handle, and both are comfortable enough for small jobs. Add in a funnel shape to help spread the seed accurately. Make your life easy with this highly rated product ready to cover moderate areas.
2. Scotts Whirl Hand-Powered Spreader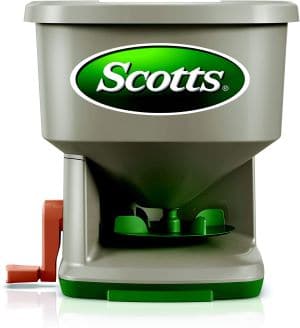 For smaller gardens, save some money with the Scotts Whirl Hand-Powered Spreader. Not only is the price phenomenal, but it comes highly rated and read to work quickly and easily. Deliver seeds smoothly and evenly for fantastic coverage using an adjustable arm support.
While you do need to hand carry, it's faster than planting each seed by and but also the reason it's a little lower on our list. Despite the high rating, the product would not be as functional in a moderate or large garden. However, it does provide maximum comfort and control.
Use this seeder to hold up to 1,500 square feet of lawn product. It can drop seeds, fertilizer, feed, and even ice melt for a full range of options making the price even more affordable. The spreader is so versatile, you can use it year-round with a variety of different dry, free-flowing products.
Finally, the design is simple, with a plastic body and a funnel shape. Simply put the seeds in and crank the orange, easy to see arm, and the seeds will flow out of the mini hopper and spin around with the agitator. Make sure to follow the instructions on the back of the package, set the dial to five different settings, and walk around while pulling the trigger. It comes with a comfortable handle to make the job even easier.
3. EARTHWAY PRODUCTS 2750 Hand Crank Bag Seeder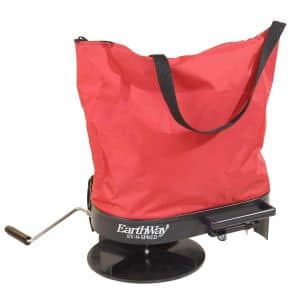 If you don't want to track wheels through your garden and want a larger bag, get the EARTHWAY PRODUCTS 2750 Hand Crank Bag Seeder. It's handheld devices that deliver seeds without the option of spilling and making a large mess. For people with hilly, rough, or wet terrain, this is the option of choice to get the job done quickly and accurately.
The hopper on the 2750 can hold twenty pounds of product in a zippered top, rustproof nylon constructed bag. It comes with a contoured molded base that's easier to work with. Moreover, it also comes with a shoulder strap so your hands can focus on direction while your shoulder does the heavy lifting.
Next, a rocking agitator helps to distribute your product evenly and widely along with a distribution plate. It also comes with a spring-loaded shut-off to stop the flow. The small bag design helps to save space in your garage or shed too. Furthermore, it's meant to be comfortable and make your life easier.
The high-speed direct-drive gearbox makes the operator easy to adjust from a width of eight inches to twelve inches with a click of the crank. You get complete directional control for the ultimate spreader. Again, you can use the product for a wide range of applications, especially in uneven terrain where push or pull spreaders cannot go.
4. Earthway 1001-B Precision Garden Seeder with 6 Seed Plates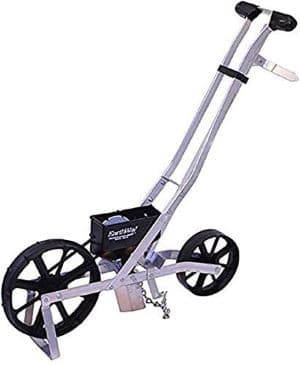 Are you looking for a dedicated garden seeder? You need the Earthway 1001-B Precision Garden Seeder with 6 Seed Plates. It's made of aircraft-grade aluminum for high quality and a long life. Use it to plant seeds for years and years to come. The seeder even comes with a new row maker retaining clip to secure the row marker.
With this device, you get six seed plates ready to help plant a variety of plants. Use it to plant sweet corn, radishes, leeks, spinach, carrots, lettuce, turnips, beans, small and jumbo peas, beets, okra, and Swiss chard, along with up to 28 different seeds. It also has an adjustable depth ground opener to work with whichever see you need.
Get even and consistent straight rows with plant spacing and accurate seed depth. While this seeder doesn't work with multiple purposes, it does its one job very well and reduces your work. Moreover, it does so for a low price that's affordable for most budgets. The product won't rust either, and it's made right here in America.
For a demonstration of the Earthway seeder in action, watch this video:
Use the product for up to 1/2 acre gardens thanks to the generously sized hopper. It's built to last and takes the guesswork and the work out of gardening. Add in some accessories to make it even better and plant more options for a customized garden. Add in a comfortable long handle for easy use and strong, sturdy wheels.
5. Chapin 8701B Garden Push Seeder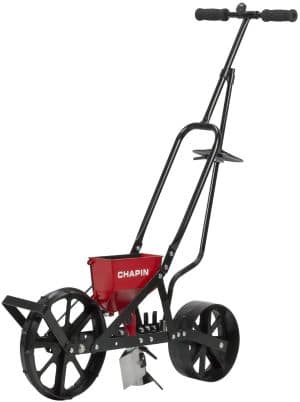 Another great option is the Chapin 8701B Garden Push Seeder. It takes the back strain out of planting seeds and makes your life easier. Also, the push seeder is a dedicated tool specific for planting and doesn't multi-purpose well but costs a very reasonable price, ready to fit in almost any budget.
The device comes with a long height and easy to push frame with foam covered handles that make the job even easier. Moreover, it comes with a durable powder-coated steel frame perfect for years of service. The wheels do not require filling and are designed to last, and the wheel stopper can be moved with either your foot or your hands. Also, the wheels work to cover the soil over the seeds to make less for you and aid in germination.
Get six interchangeable seed plates with the device that allow for use with 20 types of seeds. However, the last option allowed for 28 types of seeds, which is the only reason this option is lower on the list. Otherwise, it's a marvelous option with tons of details like a 30-inch rotating wheel row market for uniform planting.
Last of all, the easy push design allows for easy rowing over cultivated dirt. Adjust everything to your exact specifications too. This model does also require more maintenance, and the company does not share how big their hopper is, which is very frustrating, to say the least. The seeder is well-rated, though, and ready to make your life easier.
6. VAROMORUS Metal Precision Manual Seeder
If you want options, pick the VAROMORUS Metal Precision Manual Seeder. Choose from one to five rows of planting capability. However, this option does not include a handle for pushing, and you will need to buy one of those separately for an extra cost, which is rather ridiculous as the only option is a wooden stick with no handles. The price is very affordable, but if you want a comfortable push, this isn't the right option.
The design of this seeder is quite different from the other options available, making it a unique option many farmers will want. It's a universal tool ready to plant a variety of different vegetables in both greenhouses and in open grounds. The secret is in the rotation of the sowing hub, which holds the seed in a calibrated pocket and then uses a flip-out ejector to put the seed in the ground.
With this option, you get three pieces of different diameter of holds for different size seeds. The device is lightweight and made of steel for a long life. Also, it comes with an opening ready for a pole for pushing. The precision seeder also offers adjustable row distance for proper spacing.
Finally, the device includes a brush limiter, the flip-out seed ejector, a set of sowing drums, and brushes. It also comes with 20th nozzles perfect for radishes, onions, beets, and carrots. Others are available at an extra cost. Plant quickly with a highly-efficient device with smart, simple technology. Again, this company also does not share the size of the hopper, which is quite frustrating as customers need this information.
7. Hoss Garden Seeder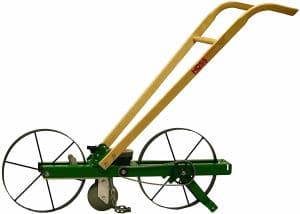 The Hoss Garden Seeder is quite expensive but comes with a unique design perfect for many farmers and gardeners. Use this walk-behind garden planter to make quick work for seeding. Enjoy the innovative seed plate dies for a customized planting exact to your needs. Another advantage of the planter is it's made in America.
Plant with accuracy and precision thanks to lay-flat seed plates in the hopper that can be changed easily without wasting seeds. The seeder has a rolling Coulter or rolling disk that opens a furrow for dropping seeds. It doubles as an opener and works well in heavy soil. Once the seed drops in, the drag chain covers the seed while the rear wheel packs the soil and helps with proper germination.
Get Amish-crafted hardwood handles, fifteen-inch steel wheels, and a powder-coated steel frame. Adjust the handles to the height you design for easier pushing. Meanwhile, the steel frame allows the unit to stay stable and push easily in a straight row. Also, the hopper is actually removable for filling and emptying of seeds. Again, though, the company doesn't share how much the hopper can hold.
However, the seeder does come with six plates allowing you to plant a large variety of seeds. A row marker does not come with the planter despite the high price, but it can be purchased separately for an additional cost. Other attachments are available as well, but by the time you are done, this device will cost a small fortune. Customers complained about the kickstand as well, finding it useless and changing plates a difficult process.
Buying Guide for Garden Seeders
Before making your final decision, take a look at some key features to look for in a garden seeder.
Functionality
One of the most important features is what you plan to use the item for, as many of the options for seeders are multi-purpose. However, the multi-purpose options do not do as much for seeds as the dedicated options. Although the multi-purpose options can also fertilize, throw ice salt, and so much more. Dedicated seeders will help to plant the seeds in the ground and pack dirt over them for proper germination.
Size of Garden
You need to do some measuring to get the best seeder. If you have a small garden, it may be better to get a multi-purpose device or a hand seeder. Also, those on rocky or hilly terrain may also want a hand seeder as with those with smaller spaces. Consider space in your garage or shed as well as the size of your garden before making a purchase. The right size seeder will make the job much quicker and more efficient.
Hopper Size
Although most companies fail to share the hopper capacity, it's necessary information. With a large garden, you will not want to fill the hopper as often as it's more work. However, with a smaller garden, a large hopper isn't a necessity and can save you some money.
Seed Types
Another key feature in picking a garden seeder is what type of seeds you plan to planting. Most planters work with specific seeds only. Definitely take the time to write down which seeds you plan to use and check each seeder to find the option that will work best for your needs.
Questions About Garden Seeders
How do I change out seed plates?
Each product will have a different process for changing out seed plates. The best bet is to read the owner's manual for your product before use. Doing so can prevent damage and wasted time trying to figure out the process yourself.
Can I use a dedicated garden seeder for fertilizer?
Check the manual for your product before attempting to use a dedicated seeder for fertilizer. However, because dedicated seeders tend to push the seed into the ground, it would work the same with fertilizer, which would help immensely in getting the lush lawn you are after.
Should I soak my seeds before putting them in a garden seeder?
No. Never soak seeds before putting them in a garden seeder. In order for the product to work correctly, you must have dry, free-flowing seeds. Wet or damp seeds will cause clogs and can damage the product. Again, read the manual before doing anything with your garden seeder.
Conclusion
Smaller gardens will do well with the Scotts 7612 Turf Builder Mini Broadcast Spreader as it's multi-functional and ready to work year-round. However, larger gardens and farms will need a dedicated option, such as the Earthway 1001-B Precision Garden Seeder with 6 Seed Plates. It's ready to do practically all of the work and make gardening a much faster and more efficient project. Save your back and find an easier way to plant your seeds with one of these fabulous options.