The 5 Best Garden Tool Sets Reviewed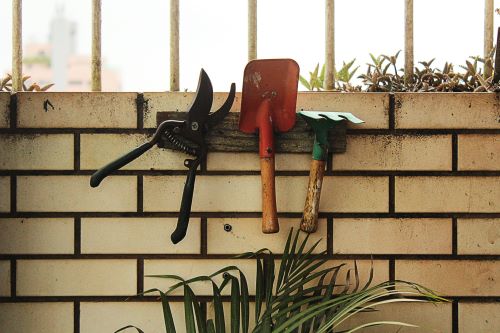 A garden tool set is something that anybody who enjoys spending time tending to their garden needs. But, you can't select any old set of tools. Like anything you want to do well and do efficiently, you need quality from your garden tool set. This will make sure you can tackle (and overcome) any issues your garden faces, from needing to aerate the soil to pruning the bushes, and guarantee that your yard looks the best in the neighborhood.
Finding the best garden tool set for your needs is easier than you might expect, too. It offers convenience, as you don't need to buy each toe individually, which keeps everything together organized. With this in mind, it doesn't matter if you're an experienced green finger or someone who is just starting their exciting and relaxing garden care journey; you can find the most suitable tool set for you.
With a variety of tool sets available, you might not be sure where to start. But this is why we've collected this list of the best garden tool sets available so you can find one that works for you.
Best Garden Tool Sets
1. WORKPRO Garden Tools Set, 7 Piece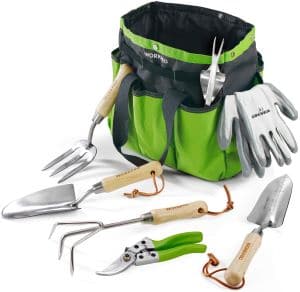 The WORKPRO Garden Tools Set, 7 Piece, comes with everything you could need for your garden care, and this makes it a comprehensive choice for both beginners and anyone more experienced with working in the garden.
The seven tools include a Weeder, Hand Fork, Hand Rake, Transplanter, Trowel, and Pruner. These may mean something to you, but they also may not. However, this is why we're here to explain what everything is and why it's useful for you. Regardless of what you plan on doing in your garden, you'll find something that benefits you. As the name suggests, the Weeder is useful for loosening the soil and removing weeds from the garden, which will keep your garden looking fresh and elegant throughout the year.
Furthermore, the Hand Fork and Hand Rake are miniature versions of the full-sized tools you've seen (if not used) for garden work. These can aerate the soil and smooth out and break up the dirt, making it easier to mix with fertilizer to encourage plant growth and ensure success, regardless of what you're trying to sprout.
Its Transplanter and Trowel also offer plenty of options for the novice or expert gardener. Here, you can measure the soil depth to make sure you plant the flowers or seeds in the right place, and then easily dig and cover to ensure they get all the nutrients they need to grow. Finally, the pruner keeps your garden neat and tidy, keeping stray branches and leaves at bay.
All of these tools come with a useful storage tote bag that both keeps everything organized and protects them from the elements, dust, and even bugs and critters when you're not using them. It covers everything you could need from a garden tool kit, meaning there's no excuse for you to neglect your gardening duties any longer.
2. TACKLIFE 6 Piece Heavy Duty Garden Tools Set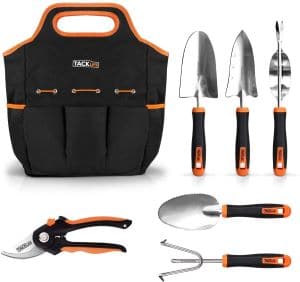 The TACKLIFE 6 Piece Heavy Duty Garden Tools Set may not come with as many tools as other options, but this is undoubtedly a case of quality over quantity. It includes various useful tools, including a Weeder, Pruning Shears, and a Trowel for all your garden needs. These come complete with durable and sturdy stainless steel that ensures lasting quality and longevity.
If you're someone who prefers to spend all weekend in the garden, this sort of design is precisely what you need. You can't rely on the tools to handle heavy-duty demands, while the non-slip rubber handles also ensure comfort. This is immensely satisfying if you're spending all day getting down and dirty in the shrubs.
When combined, the tools deliver a successful and, more importantly, enjoyable gardening experience, which is sure to appeal to novices. Still, anyone with gardening experience could find something to look forward to if they want to upgrade their current set.
Everything comes in a Garden Gift Bag, ideal for storage and portability, and therefore ideal for both people who use it for their garden or in commercial scenarios. This bag is constructed well, ensuring durability, and it is also capable of withstanding wear and tear, which is perfect for anyone who gardens professionally. It also comes with an inside pocket for carrying bulbs and seeds, as well as gardening gloves, giving you a simple carry solution for everything you could need while gardening. Well, except for a cold glass of lemonade to keep you refreshed throughout the day, but we'll let this slide.
3. UKOKE Garden Tool Set, 12 Piece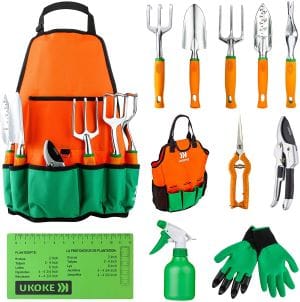 The UKOKE Garden Tool Set, 12 Piece gives you everything you need for a successful garden adventure and then some. It includes all the standard garden tools, including pruning shears, a trowel, and a hand rake, and you can also enjoy additional accessories to diversify your garden exploits to ensure convenience and satisfaction.
A gardening apron is included and has four useful pockets for storing necessary tools, seeds, and bulbs close to hand. This makes it ideal for tight and tricky areas where you might not be able to squeeze your garden tool bag (which is also included) alongside you. For substantial jobs, this saves time and boosts efficiency, allowing you to remain comfortably on task and ensure you don't break your flow.
You also get a set of gardening gloves with protective plastic fingers that you can use to rake away soil by hand. These gloves are waterproof and durable and are perfect for protecting your fingers while pruning your rose bushes.
If you're looking for a garden tool set that provides comfort, this collection offers that in abundance. While you might spend some time standing up, you're sure to be on your knees for the majority of your project. To save discomfort, the garden kneeling pad relieves the pressure on your knees, meaning you can work harder for longer and also stay focused, which will eliminate the risk of accidents.
All the tools are comfortable and get the job done, whatever that might be, and with such a comprehensive set on your hands, you can start looking forward to your garden work, which should be good news to everybody.
4. Aladom Garden Tools Set 10 Pieces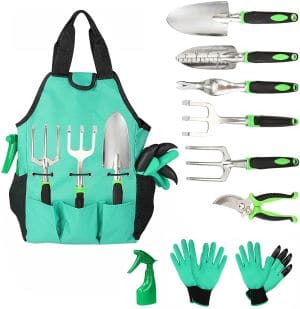 If you're someone who spends most of their free time in the garden caring for your plants, bushes, and flowers, the Aladom Garden Tools Set 10 Pieces is the perfect addition to your projects, great and small. It comes with a range of garden tool essentials, including shears and transplanter shovels, while also including some useful accessories that make this a one-stop-shop for all your gardening demands.
The handy tote bag is just one of these exceptional accessories, and by keeping everything together, it maximizes your productivity and keeps everything organized. This is ideal for those more laborious jobs that demand you use several types of garden tools before you can call it a day, and you can use the exterior pockets to keep your most frequently used tools within easy access. The tools are secure with an elastic band so that they don't fall out in transit, and it also balances the bag effectively, which makes it easier to carry without feeling the trowel and rake knocking against your legs.
The gardening gloves provide safety when working with sharp tools and save you from getting your hands caked in mud. They are also resistant to cut thorns and thistles, which may not be as severe as your pruning shears, but still aren't something you want while gardening, especially because of the mud and dirt.
The gardening claws on the gloves give you a level of creativity that you may not have experienced before. This adds some fun to your everyday yard work while also ensuring you have greater versatility across various duties when maintaining your garden.
5. Scuddles Gardening Tools Set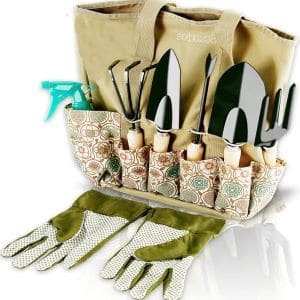 The Scuddles Gardening Tools Set ensures productivity mixed with a chance to show off a little more of who you are as a gardener. We say this because of the tote bag, which comes with spacious pockets and excellent capacity, but more so because of the pockets' detailed patterns. For some, it might be a minor thing, but if you want to bring your personality into your garden work or encourage your kids to get involved, this is the option for you.
Besides this appealing style, it also comes with all the tools you want, providing five tools overall in addition to a 25-ounce water sprayer and a pair of robust and safe gardening gloves. The tools fit securely in the exterior pockets and are held in place by elastic bands to keep them from falling out, and you can place the gloves inside the bag along with any other gardening essentials you've already got with you. If you prefer to store your tools in the bag, the pockets are excellent for storing bulbs and seeds so you can reach them in an instant.
These tools and accessories make it an excellent choice for beginners, and the sturdy wooden handles ensure longevity. The heavy-duty and anti-rust coated steel tools heads are sure to last through many seasons. They are also ergonomic and lightweight, making them perfect for longer gardening sessions and ensuring satisfaction whether you're de-weeding the soil or planting something new.
Must Have Garden Tools
While the garden tool sets above offer different assortments of garden tools, you may have different needs depending on your garden setup. Check out this video to see a brief overview of the most common garden tools and their uses: