The 5 Best Garden Tractors Reviewed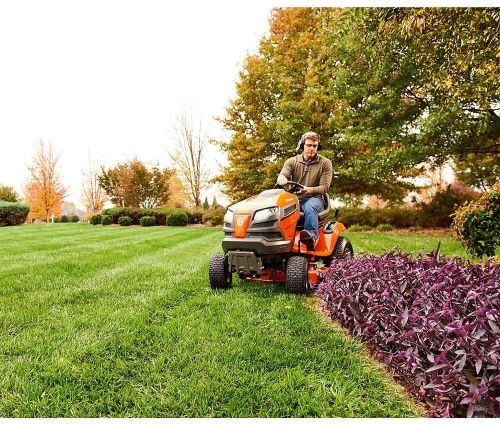 The latest designs of garden tractors are better than ever. Once you've tried out a decent garden tractor, you'll wonder why you stuck it out with your run of the mill lawnmower for so long. A good garden tractor is much easier to operate and does a much better job. They're also a lot more fun to use. Even if you have a fairly compact garden, it's still worth investing in one of the best garden tractors.
When choosing a garden tractor, there are several important factors to consider. Think about the size of your garden, for example. If your backyard is open plan, get a sturdy machine with a wide cutting width. On the other hand, you might require something with a smaller cutting width to get around more obstacles in a smaller garden. The best thing to do is look at some reviews of the best garden tractor, and see which one would suit you. Here is a list we've put together.
Best Garden Tractors
1. Husqvarna TS 354XD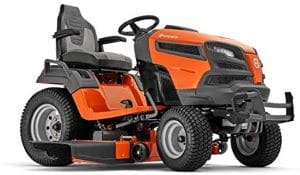 The Husqvarna TS 354XD is a quality and versatile garden tractor. It also provides a very comfortable driving experience. It has a 54-inch cutting deck which can handle up to 4.5 acres if you need it. The whole thing is very well-reinforced to support such a powerful tractor. It has 26 horsepower and a ten gauge steel construction.
It's also well-equipped to handle difficult mowing tasks and works well on an incline or uneven ground. This sturdy garden tractor has plenty of torque. You can also mow in all conditions thanks to the LED headlights. It's pedal-operated which makes for comfortable and controllable maneuvering.
The locking rear differential also prevents wheel spin and allows you to mow up slopes and wet grass with ease. It does this by supplying power to the two rear tires, giving you all the control you need. Whereas the fuel tank can sometimes be a bit difficult to gauge, it still has a powerful 4-gallon capacity powering 24hop Kawaski engine behind the 54-inch clearcut deck.
This garden tractor also features commercial-grade ground-engaging transmission and the dash operated differential lock works with its large, wide rear tires, without overheating. As well as being reinforced to protect the machine itself, it's also a very ergonomic driving experience. Its vinyl seat is adjustable to an extra high 21 inches and includes a deluxe over-molded steering wheel.
All in all, the Husqvarna TS 354XD is a powerful yet easy to control garden tractor and can withstand the most difficult conditions.
2. Craftsman T225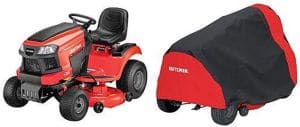 If you're looking for a budget-friendly mid-sizing riding garden tractor, then the Craftsman T225 could be right for you. It has plenty of great features for a small to a mid-sized yard and is ideal for homes with a one to two-acre property. The cutting deck is 46 inches, making it perfectly capable and its reverse mowing function means you can also maneuver it around any of the obstacles or tight corners that you need to.
The Craftsman T225 is perfectly ergonomic, with its comfortable high-back supporting seat, and what's more, it's totally beginner-friendly. It's easy to maintain as well because it has a built-in deck wash port. This allows you to directly connect a hose in order to remove any grass clipping and debris. It easily cuts your garden tractor maintenance time in half.
Another feature that makes this tractor easy and simple to use is the hydrostatic transmission which feels incredibly smooth to operate. If you have short grass, you can also feel the benefits of the anti-skid tires. In the case of a slope or an incline, these will also prevent the wheels from digging into the grass and causing damage to your lawn.
The main appeal of this great mid-size garden tractor is the fact that it's so comfortable and easy to use. Its high-backed chair provides lumbar support so you can take your time mowing the lawn in complete comfort. There are also plenty of features that make this garden tractor great value for money especially in this price range.
3. Husqvarna YTH24V48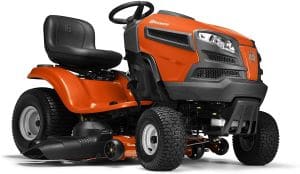 The compact Husqvarna YTH24V48 is easy to maneuver around all the garden obstacles you may have and it's easy to store as well. This versatile garden tractor is also very comfortable to drive due to the fact that it has an adjustable seat and an ergonomic steering wheel. It's very smooth to operate as well because it has hydrostatic transmissions and both variable forward and reverse speed.
It also has plenty of other useful features such as its air induction system which results in better cutting without clogging. You can get plenty of use out of it whatever the season seen as it's compatible with snowy weather and pretty much any other conditions. It works well with snow blades, brushes, and trailers. It's also very easy to get started and has automatic choke.
It also comes with a powerful 24 HP Briggs and Stratton V-Twin OHV engine and the traction ability to tackle any hill. It's a great choice if you're looking to make mowing your lawn that much quicker and easier. Its 48-inch cutting deck will mean you'll be able to cover your whole lawn in less time.
This type of garden tractor is ideal if you're after something of a compact size and easy maneuverability. It also boasts 24 horsepower and anti-scalp wheels. The engine is also smaller and causes less vibration than other similar garden tractors. This results in a quiet and comfortable ride, allowing you to mow your lawn with precision along the way.
4. Troy-Bilt Pony 42X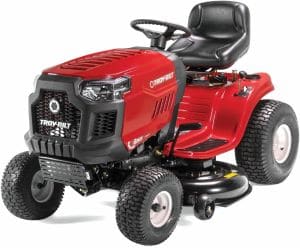 The Troy-Bilt Pony 42X riding lawn mower is also a solid and strong performing garden tractor. It's very durable thanks to its forged steel crankshaft. It also boasts many other useful features making it convenient to use such as a 7-speed transmission dash panel which is perfectly easy to see and adjust. It also includes the Step-thru frame design providing more legroom when you're getting on and off.
Another great optional feature it includes is a convenient rear bagger to collect any excess grass clippings and leaves for use as compost, so you can fertilize your lawn and garden after you've finished cutting the grass. If you're looking for a standard garden tractor that gets the job done, and you can easily sort out the clean up afterward, then this is the one for you.
The Troy-Built 42X garden tractor is designed with residential mowers. The 547cc engine provides sufficient power and torque for quick and efficient cutting in one go. It's a great choice if you've got any obstacles or awkward corners to get around. Its all-steel construction makes it all the more durable. It also has seven speeds and five cutting positions that make it suitable for all different types of grass.
If you're looking to cut the grass quickly and with ease, you can also rely on the 18-inch turning radius which is narrow enough to ensure you get through your mowing task efficiently. This garden tractor is easy to maneuver on most kinds of terrain making it a great value for money option for yards that require a smaller cutting swath.
5. Husqvarna YTH18542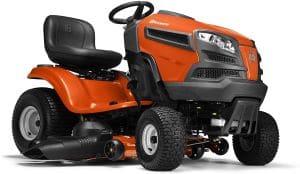 Last but not least, the Husqvarna YTH18542 is also a very reliable garden tractor that is adjustable for a range of different jobs. Its 18.5 Briggs and Statton Intek Engine offer excellent performance and quality results. This garden tractor also features a fender-mounted cutting height adjustment, adjustable seat, along with an ergonomic steering wheel making it very simple and comfortable to operate.
It's a very versatile machine and comes with plenty of useful features that make it customizable to your every need. This lawnmower can also be equipped with a range of towable accessories and a mulch collecting kit to help you fertilize your garden. You can also appreciate the air induction mowing technology that improves airflow within the deck, making sure you get a clean and consistent cut, every time you mow the lawn.
If you're looking for a consumer-grade mower that can give you professional results, the Husqvarna YTH18542 could be the one for you. It's not only convenient but has great safety features and excellent fuel efficiency. It's ideal for use at home in your back yard, even if you've got an average to large-sized lawn. Make your grass cutting less of a chore and cut back on fuel costs as well.
Garden Tractor Buying Guide
This is an excellent video that explains what to look for when shopping for a garden tractor:
Conclusion
If you're looking for a great garden tractor, then these are just some of the fantastic options on the market. There are plenty of options for whatever size you have. There's no lawnmowing job too large or small if you choose the right garden tractor. Whether your yard needs trimming, or you've got acres of land to care for, you need a decent lawnmower. There are plenty of versatile machines that come with innovative technology and state-of-the-art features that are also ideal for residential use. It's worth investing in the best garden tractor for you and your lawn.