The 5 Best Garden Trowels Reviewed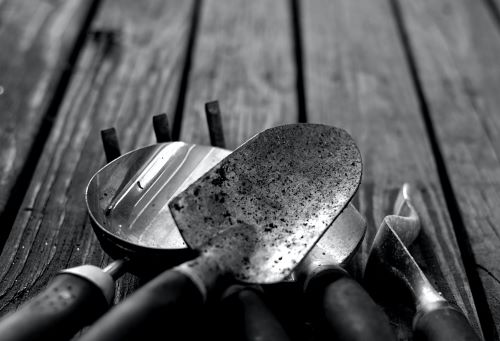 If your gardening efforts involve any kind of close-up work, including planting or weeding, then you're going to need a reliable trowel. This handy, versatile garden tool is an indispensable part of any green-fingered gardener's armory, and the correct garden trowel can put in years of service, even moving with you from house to house in many cases. Trowels come in many shapes and sizes, and can use a range of different materials; what they all have in common is a handle and a blade, but from that basis they can vary considerably.
The best garden trowel is the one that best meets your needs, so different gardeners will find different trowels to be the perfect tool for the job. Some will be more effective for use in harder soils, some will be an ideal weeding trowel, and some will be a great all-around gardening tool. What we're going to look at in this round-up of the best tools for the job, and what gardeners need to know, is which garden trowel is best for use in which situations.
Best Garden Trowels
1. Tierra Garden DeWit Forged Hand Trowel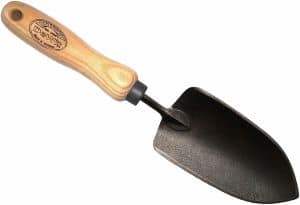 This rugged all-rounder is available in an impressive range of sizes with a choice of handles that allow you to get the ideal trowel for all your gardening needs. With a handle made from ash hardwood it's suitable for the demanding work that dedicated gardeners do, while its sharpened edges ensure that it will cut through earth like a knife through butter. The blade itself is made from boron steel, hand-fashioned to guarantee the most effective shape for whatever task you need to apply it to.
The DeWit Forged Hand Trowel is also designed with useability in mind – its handle is crafted so that smaller hands can hold it and work with it, benefiting from its durability and strength. Whether you're using it for simple digging, aerating, weeding or breaking down roots, there's something for everyone here. DeWit's commitment to only using the best materials mean that this is a tool that will bend to the task without breaking, and the Swedish steel of the blade will endure through years of tough treatment.
The greatest selling point of the Tierra Garden DeWit Forged Hand Trowel is the fact that the steel has been forged rather than simply stamped. This ensures durability and stability no matter the size of the task, and makes it a tool that will be appreciated by professionals and beginners alike. As with any other DeWit tool, you can be confident of the best results when you take this into the garden with you.
2. Wilcox All Pro 202S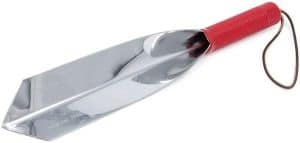 This long-bladed garden trowel is ideal for jobs that require precision work and getting deep into the soil. Its appearance instantly marks it out as something different from the mainstream tools, a leather hand strap also offering convenience so that you can secure the trowel to your wrist allowing you to keep a free hand for other requirements. The red plastic handle is grooved to ensure an easy-to-hold tool, while depth marks on the blade allow you to keep track of how deep you're planting – essential for growing from bulbs.
Shaped almost more like a dagger than a trowel, the blade of the tool is perfect for piercing into harder, rockier soils, while the length of the blade is handy when it comes to breaking up those soils. The blade is available in a range of lengths from as small as 9", going up to more than a foot long. You can buy any one of the trowels on its own, or select a pack of four (measuring 9, 10, 12 and 14 inches) permitting a variety of applications; as any gardener knows, some tasks will require greater precision while others will depend on better range.
Also, while any garden trowel will respond better to better treatment, the Wilcox All Pro is reassuringly robust no matter what you put it through. A stainless steel blade which stubbornly refuses to rust, and is hard to snap or even bend no matter how hard you try; without a doubt this is a tool that is going to become a stalwart element in any gardener's toolbox. Make no mistake, you're going to find all of those little fiddly jobs a whole lot more straightforward with the All Pro 202S.
3. Cate's Garden Hand Trowel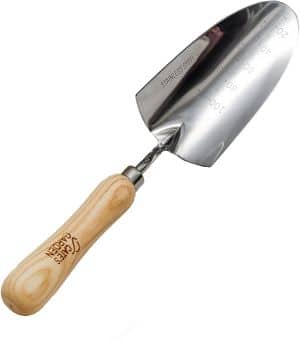 This wide-headed hand trowel is a traditional tool that does what you need it to do with a minimum of fuss. Due to its wooden handle, it's easy on the user; wood operates as a natural shock absorber, so the more heavy-duty work is less stressful on your hands. Standard garden work such as digging, shoveling, cultivating and turning among other tasks are made much easier by the ergonomic shape of the garden trowel, and its rust-resistant stainless steel blade ensures that it will survive several planting seasons.
Cate's Garden also offer a 100% satisfaction guarantee – if you're not happy with the trowel, you can send it back for a full refund. You're unlikely to find yourself in this position, though, as this classic garden workhorse gives beneficial results time and again. It moves comfortably through clay-heavy soils without a note of protest. This will be a source of great relief for any gardener who has found the task of aerating heavy soil to be a back-breaking nuisance in the past.
This is a garden trowel built with the needs of a gardener in mind. With many trowels, gardeners will find that the neck of the tool easily clogs with dirt, making it a substantial rust risk. Cate's Garden have ensured, by making a hand-welded tool with no join at the neck, that this won't be a problem with their tool. An ideal piece for any high-volume garden jobs, you won't be disappointed by the Cate's Garden Hand Trowel.
4. Edward Tools Bend-Proof Garden Trowel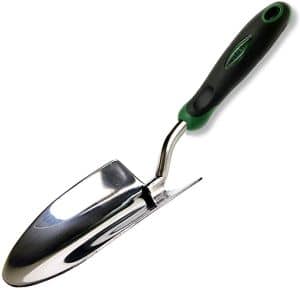 Edward Tools make the proud boast that this garden trowel is "bend-proof", but they're not just throwing words out there. They stand behind their statement by offering the guarantee that, if you do manage to bend this tool, they will replace it free of charge without asking questions. That's a real demonstration of faith in the craftsmanship that goes into what its makers describe as the "most heavy duty" garden trowel on the market.
There's plenty of information available to explain why they can make this boast. Firstly, the blade of the trowel is larger than most, allowing soil to be moved in larger quantities than with the average garden trowel. It's also crafted from a single piece of stainless steel, making it all but impossible to bend even when using it in rocky, clay-loaded soil. The ergonomic rubber handle is grooved to fit your hand and features a palm rest, meaning this trowel is kind to your hands.
Both comfortable to handle and solid in its ability to do any job you turn it to, perhaps the best news about the Edward Tools Bend-Proof trowel is that it will cost you less than most trowels on the market. Other tools may be more innovative and look more stylish, but you'll never have a single complaint to make about this traditional, affordable trowel which will serve you for an extended period of time. The advantages pile up, with no appreciable issues in the disadvantages column for a simple, handy tool.
5. Fiskars 384220-1001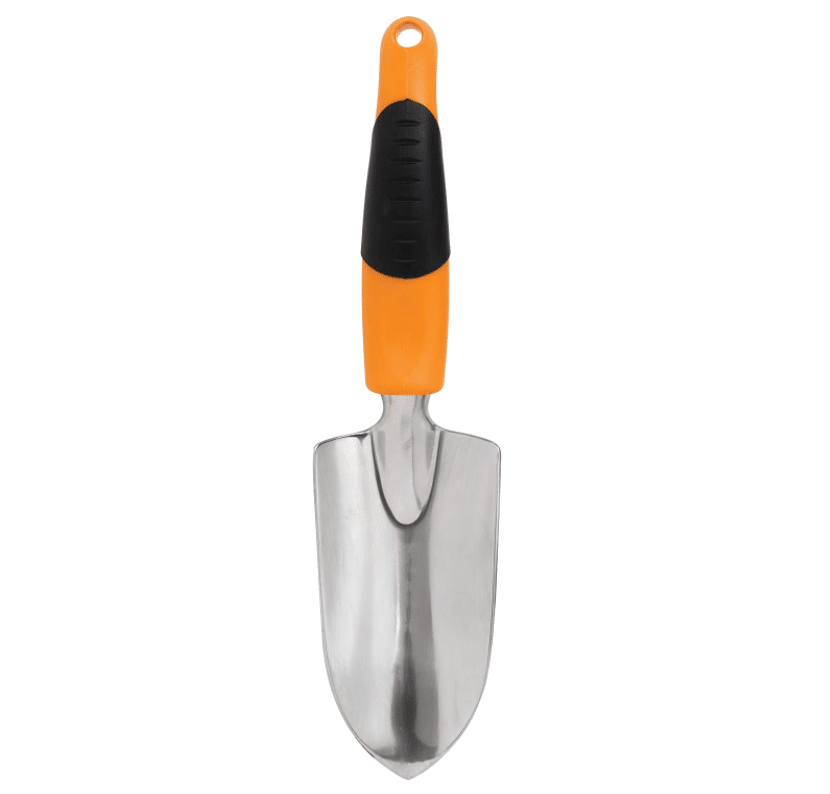 Finnish toolists Fiskars have developed a durable, easy-to-use garden trowel that doesn't cost the Earth but will certainly dig plenty of it. Unlike the other trowels listed here, the 384220-1001 has an aluminium blade, but this doesn't make a difference in terms of durability – you can confidently use this trowel in the most demanding of soils and it will cut through without a fuss. It's light to handle, making it an ideal trowel for intricate jobs, while losing nothing in terms of sturdiness.
The brightly-colored handle features a hang hole for easy storage, and the 384220-1001 is overall an excellent tool for occasional gardeners and beginners, while still offering plenty of advantages for more experienced practitioners. The design of the handle is a feat of ergonomics that we've come to associate with Scandinavian craft; you'll come to notice when you're using the tool that hand and wrist fatigue are not a concern you'll have to worry about – you're protected from that by the special design.
This garden trowel is at its best when it comes to planting, cutting through turf neatly to create just the right size of holes for putting plants in the ground. That same neat design also means that gardeners who are looking to take up plants will find the tool very much to their liking. At 6.4 ounces it's one of the lighter tools on the market, and this in tandem with its solidity and strength means that when you're using it to dig, you're getting a much more efficient trowel experience than you would with many other manufacturers.
Garden Trowel Uses
Hand trowels have many uses in the garden. For a demonstration of the many things a garden trowel can do, watch this video: