The Top 5 Gas Hedge Trimmers Reviewed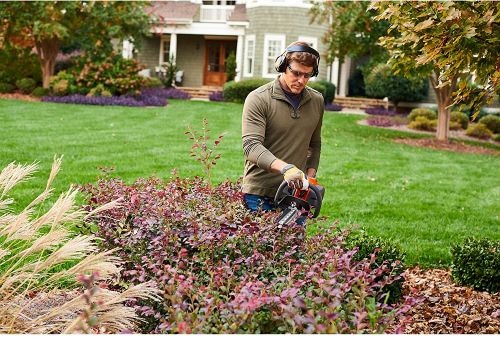 Hedge trimmers are a lifesaver for most gardeners. While we can all appreciate the benefits of electric hedge trimmers because of its eco-friendliness, there will be times when we need something stronger for the tougher jobs. A gas hedge trimmer is, in many ways, better than electric hedge trimmers.
And while many people will get by with an electric one for small, convenient jobs, if you're looking for power in your hedge trimmer you need to go for a gas option. If you are living in an area with an overgrown hedge intruding on your property or you need to undergo commercial-grade efforts to stop your garden overflowing, a gas-powered hedge trimmer is a more expensive option but ideal if you've got a lot of work that needs doing quickly. If you're looking for the best gas hedge trimmer, let's show you some of the highlights out there.
Preview
Top Choice
Budget Option
Top Choice
Preview
Preview
Preview
Budget Option
Preview
Best Gas Hedge Trimmers
1. Poulan Pro PR2322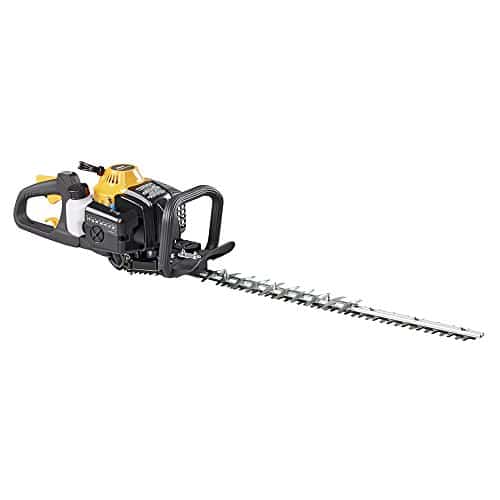 One of the main concerns, when people are looking for a gas-powered hedge trimmer, is how comfortable it can be on longer jobs. The Poulan Pro has a comfort grip handle and guarantees excellent control when you are tackling longer, heavier jobs. A hedge trimmer can very easily fatigue your arms which can be dangerous to the user, so comfort is ideal. The 22-inch dual-action steel blade delivers maximum performance with a considerable amount of power behind it. Its 23 CC two-stroke full crank engine will guarantee branches up to one-inch in diameter is as easy going as possible. With an engine of such power, it can be a chunky piece of equipment in the wrong hands.
While it is a lightweight design, weighing in at 11.1 lbs, this can seem heavy for its size, and depending on the individual, may require a few attempts before chopping down a larger job. But comfort is the overriding factor with the Poulan Pro; the anti-vibration system guarantees a smoother job for those who are concerned about the physically taxing jitters. It comes at a great price and is a perfect new addition to those who are already experienced in hedge trimming and need to up their game.
The one major downfall is that it can have some issues starting. But, that said, for those on a budget this is the best budget-friendly gas hedge trimmer out there.
2. Husqvarna 966532302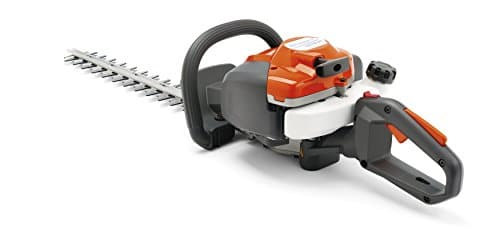 Swedish efficiency comes to the fore with the Husqvarna 966532302. Its key selling point is its lightweight design. With a total weight of only 10.36 lbs, this is the best gas hedge trimmer for those the don't have enough strength to carry a bulky hedge trimmer around, meaning you can go from job to job with ease.
The cutting head is 18-inch in size, guaranteeing shrubs and twigs are annihilated quickly. They work their magic on twigs up to 4/5 in thick easily, and the 21.7 CC two-stroke gas-powered engine means that the job is done quickly with a hefty amount of power behind it. As a lightweight model, you may think that this is the only upshot, but in fact, it comes with a wide variety of benefits. It's a very reliable brand and incredibly durable in its design, but the low-noise motor is a lifesaver in quiet neighborhoods, and you can tackle those annoying jobs without annoying the neighbors. Its anti-vibration system will make for an efficient job without the physical strain, and its smart-start system is the icing on the cake when you are in a rush.
It's also a trimmer that is very easy to maintain. While many trimmers require oiling on a regular basis, this is not necessary here. As far as power and efficiency are concerned, you are coming in well under budget. And the fact that it doesn't consume as much gas as other high-end models, this works well for those needing a lightweight, but strong trimmer.
3. Craftsman CMXGHAMD25HT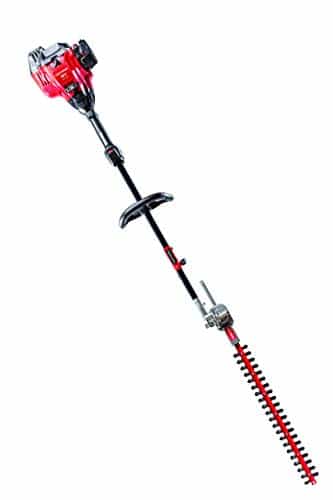 If you're looking for something comfortable and lightweight that is easy to use, this hedge trimmer comes with a lightweight 25 CC two-cycle engine. Its multi-position adjustable handle makes the trimmer easier to use and for those that need a wide range of movement, it can cut at 135 degrees, guaranteeing you have good control over your hedging. The easy pull start makes for quick work but some reviews have said that it is difficult to get going.
For people looking who need the extra reach, the 3-foot extension pole can guarantee the user gets the job done without much effort and overreach. Although the main benefit of the Craftsman is its attachment capabilities. It's compatible with the TrimmerPlus multi yard tool system, which gives you the opportunity to turn the hedge trimmer into other lawn care products, making it an easier more functional job all under one branded name. While this could mean you may be spending a bit more on the brand name, but while many may speak about the compatibility of the machine with other tools (sold separately), you may find the blades a bit too dull for your basic jobs.
It is ideal for bigger jobs rather than fine blades. Its 22-inch cutters will guarantee it can tackle larger branches. It is certainly a mixed bag, but it's lightweight handling and power makes it a good choice for those that need to do larger jobs.
4.HUYOSEN Cordless Hedge Trimmer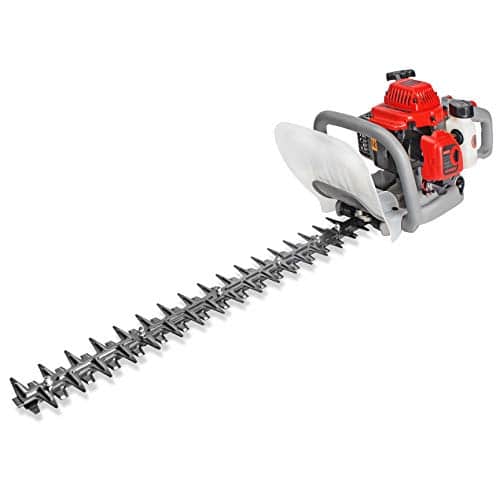 This hedge trimmer can make quick work of bushes, and is the most efficient on this list. The 23-inch dual action stainless steel blade is double-sided, helping you save a lot of time when you've got a busy day in the garden ahead of you. As the blade cuts on both sides it gives you a wider reach and the long length of the blade guarantees you will get bushes higher from the ground without needing to get a stool to reach.
If you have particularly overgrown hedges, the long blade guarantees an easy reach but, most importantly, the job is done in record time. The 25 CC engine is one of the most powerful out there. Its weight comes in at 13 lbs, making it one of the more lightweight models out there so you won't get tired quickly. The lightweight factors, and the durability, combined with the 24-inch blades means that this is one of the most efficient gas hedge trimmers out there. It's waterproof on/off switch also means you can get to work in in any weather, and while it comes with a pull cord start system, this can be an issue for people not used to this setup and need some power behind them to get the engine started.
Overall, it is a very easy-to-use system coming at an affordable price that can surprise someone who doesn't think it has much power behind it. If you're looking for a model that cuts your trimming time in half, this could be the best one for you.
5. SENIX HT4QL-L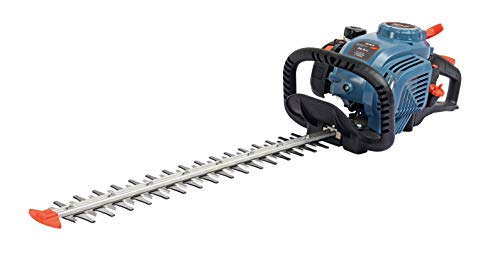 A user-friendly and powerful hedge trimmer is a hefty combination, but is hard to find. However, the Canadian landscaping company Senix provides this powerful gas hedge trimmer for all those looking for power and finesse. It's 26.5 CC two-crank four-stroke engine means there is a lot of power behind it. If you are looking to tackle hedges, shrubs, and bushes this makes for easy work, and as a bonus, can be used on branches up to 1.1 inches thick.
With this power, you may think it's not easy to operate, but the easy to start feature guarantees you get to work quickly and is an ideal combination of power and usability for people who have never used a gas hedge trimmer. 22-inch lazer cut blades guarantees precise trimming if you need to sculpt hedges. It is quieter than two-stroke versions making it ideal in quiet locations, but a four-stroke engine isn't as powerful as it's two-stroke counterpart. But this is a small quibble when there are so many benefits to this trimmer. Its anti-vibration technology means you can work for longer without getting fatigued and the ergonomic rotating hand helps to reach hard parts easily.
If you're looking to craft a very specific design, its usability makes this one stand out in comparison to a lot of tools on the market. If you're looking for a durable machine that has a significant amount of power behind it and you have a lot of work ahead of you, this one works wonders. For something that is so heavy duty, yet user-friendly, but also provides a finesse for perfect sculpting this is, for our money, the best four-stroke gas hedge trimmer around.
Gas vs. Battery Powered Hedge Trimmers
If you wonder how battery powered hedge trimmers compare to gas hedge trimmers, watch this video:
Conclusion
Buying a good hedge trimmer is usually straightforward but buying a good gas hedge trimmer can be more complicated than you think. There are thousands of products on the market out there with a wide combination of blades, power, and cutting capabilities, so finding the best gas hedge trimmer means you can't just pick one at random. Stay safe, look after yourself, and don't cut any corners, especially when it comes to your perfect garden!