The 5 Best Gas-Powered Leaf Blowers Reviewed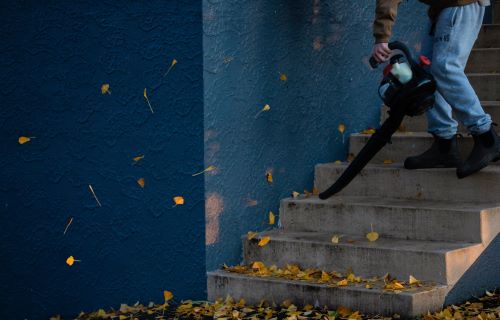 If you need a leaf-blower and need extra power, you might want a gas-powered machine because raking takes far too long, especially for yards with multiple trees. A gas-powered leaf blower can move all the leaves to a convenient location without causing your back to ache. Keep in mind, gas blowers are louder than electric but doesn't require a cord or a battery.
Gas leaf-blowers can come in both handheld or backpack style and are very mobile. However, they do cause some air pollution, and they cost more than an electric blower but provide far superior power. It's a fantastic option for larger, denser leaf accumulation. The gas options cost more money and tend to be messier but get the job done faster.
We found the seven best options in a variety of price ranges to work with any budget. It's time to get your questions answered and learn more about these fantastic and useful products so you can get your yard clean in no time. Take a look at the best options on the market.
Best Gas-Powered Leaf Blowers
1. Makita EB5300TH 4-Stroke Engine Tube Throttle Backpack Blower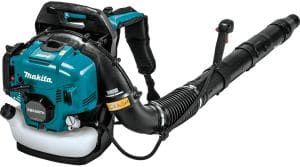 The Makita EB5300TH 4-Stroke Engine Tube Throttle Backpack Blower acts like a hurricane in your yard. With winds of up to 184 miles per hour, it can organize your leaves in minutes instead of hours raking. As it's gas-powered, you get all the power you need on a backpack carry perfect for taking the strain off your back.
Next, the mechanical automatic engine allowed for quick and easy starts while a shoulder strap lets you hold power easily. Change the position of the handle quickly and easily. It's fuel-efficient, too, with a 52.5 cc MM4 2.5 HP commercial duty engine. Moreover, it has a large capacity air filter that's easy to replace as it's simple to access.
Use unleaded gas in the 60.9-ounce fuel tank, and it uses a 4-stroke gas power type. Mind you, it's loud, as all gas blowers are, at 70 decibels. The crankcase capacity is 4.7 ounces for the oil. It's a substantial machine weighing 19.7 pounds, which is why it's great you can carry it on your back.
Finally, the device is adjustable with a large grip for easy transport. The shoulder straps are padded for comfort, and it's tool-less for an improved fit. It uses heavy-duty anti-vibration mounts between the frame and engine for added comfort, along with a padded back. Now is the time to power your yard clean with this incredible machine, although you will pay a significant fee for the power.
2. Poulan Pro PR48BT Backpack Leaf Blower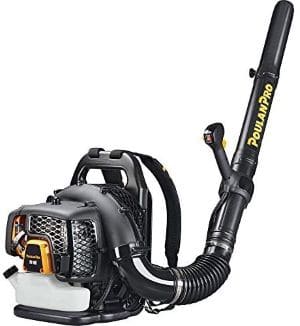 Another high-quality leaf-blower is the Poulan Pro PR48BT Backpack Leaf Blower. It comes equipped with a powerful 48 cc two-cycle engine on a backpack design. What you will love is the high-velocity air speeds up to 200 mph! Moreover, it has an airflow of up to 475 cfm to easily hand touch jobs like wet and heavy leaves.
Furthermore, the leaf blower comes with an ergonomic design with contours and an adjustable back harness to prevent fatigue. The controls are conveniently located, too, with a variable speed trigger and cruise control for easy command. An angled nozzle points downward naturally to make your job easier, too, by reducing effort and maximizing power.
Use this item to clear medium to large lawns and make leaf clean-up super simple and fast. The leaf blower is heavy, though, at 22 pounds. However, the size is right at 13 x 17 x 17 inches. Buy the brand's pre-mixed 2-stroke fuel and oil for extra ease and to save some money too.
It's lower on our list despite the impressive specs because many customers found they had duds and the lack of customer support. The price is a little high, but affordable. It does come with a two-year warranty, though, ensuring your purchase if you can get through to customer service. Also, the color doesn't stand out too much, making it low profile in black with hints of yellow.
3. HUYOSEN Leaf Blowers 2-Cycle Engine 26CC Gas Blower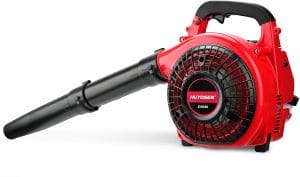 Get a high-performance leaf blower with the HUYOSEN Leaf Blowers 2-Cycle Engine 26CC Gas Blower. You can save a ton of money in the process, but it comes with a reduction in power. Also, starting the blower can be a bit difficult, too, but for those on a budget, this is a decent option, ready to reduce the workload.
Let's go over the specs. It comes with a 2-cycle, 26cc lightweight engine with smart technology. Use a light pull of the recoil starter handle to start the blower, control the air volume and the speed whenever you need. It's perfect for small jobs or yard for yard work, lawn care, and other similar jobs.
Mind you, the winds can only go at a top speed of 70 m/s and up to 930 m3/h air volume. It's enough to do the job for dry leaves although, it may find jobs with heavy, wet leaves more difficult. However, it does come with a transparent fuel tank for easy visibility.
Last of all, the handheld blower comes with a non-slip handle and an ergonomic design. It's also shockproof for longer use without fatigue. Do note the blower is low, and you may want to wear ear protection, but it's not much louder than a lawnmower. Use this option for the smart design and the two nozzles so you can blow leaves straight or at a downward angle.
4. Craftsman B215 25cc 2-Cycle Engine Handheld Gas Powered Leaf Blower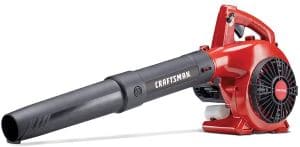 Another low-end option with a fantastic price is the Craftsman B215 25cc 2-Cycle Engine Handheld Gas Powered Leaf Blower. Not only is the price right, but it's perfect for occasional use and those loyal to the Craftsman brand. It comes in the typical black and red color scheme you expect from the popular brand making it ultra-easy to spot.
The powerful tool offers a high performance of 25cc 2-cycle lightweight engine with air volume and an airspeed of up to 430 csm or 200 mph. It's user friendly too, with a lightweight design of just 10 pounds. It's not overly loud either at 72 decibels. It's the 200 mph you care about most as standard low-end options don't offer as much power for the price.
Next, it comes with an extra concentrator nozzle to help you get the job done right. It's easy to start too, with just three steps – prime it, choke it, and pull, then you are ready to go. Also, it includes a transparent fuel tank for easy visibility to know when to refuel. Add in a variable-speed throttle and cruise control for more comfort.
Finally, the blower measures 37 x 9.5 x 14 inches and comes with an easy to grip handle for comfort. Many customers had problems starting the gas leaf blower, though; however, once you get it started, it's powerful. You can reach customer service, which is nice in case you have issues. Also, it comes with a two-year limited warranty.
5. Troy-Bilt TB2BV EC 27cc 2-Cycle Gas Leaf Blower/Vac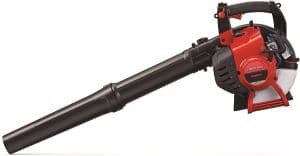 The last option is another well-known name which explains the high price. With the Troy-Bilt TB2BV EC 27cc 2-Cycle Gas Leaf Blower. Despite the higher cost and lower specs, this option comes with two benefits you don't get with the other options. First, it includes a vacuum kit making it multi-purpose. Second, it's easy to replace individual parts with this particular model.
Tools break and often need replacement, and yet it's often difficult to find the replacement parts today. More often, it's cheaper and easier to just replace the item nowadays. While you pay more upfront for this leaf blower, if something needs a quick fix, it's an easy and affordable mini-project.
Furthermore, the blower also works as a vacuum, saving you space in your garage. Who doesn't love a good multi-purpose tool? Simply add on the large capacity vacuum bag and pick up the leaves for easy tossing. Moreover, it comes with a jumpstart capable engine to replace the pull cord.
As for specs, it's a 27cc 2-cycle full crank engine with speeds of up to 150 mph and 450 cfm. An extended output nozzle keeps you from bending and straining while moving. Everything about this blower works to make the job easier and more efficient. However, the vacuum and easy start don't always work as desired, ranking this lower on the list.
Buying Guide for Gas Powered Leaf-Blower
Take a look at some key features before deciding which gas-powered leaf blower will work best for your needs.
Type of Carry
Most gas-powered blowers come in two types – backpack or handheld. Backpack options are heavier but have more power. The handheld options only require one hand but usually come with less power. Another consideration is the larger tank size on a backpack option. If you have a large area of land to cover, definitely consider a backpack option, while smaller jobs will be fine with a more affordable handheld option.
Weight
The more power a leaf blower offers, the more it will weigh. Also, the larger the fuel tank, the more it will weigh too. Consider how much weight you are willing or capable of carrying before purchasing. If you have any medical issues, they can limit your weight on either your back or your hand.
Noise
Leaf blowers are going to make noise, just like anything with an engine. However, you don't need a leaf blower that will cause ear pain when you can find a lower-noise option in affordable price ranges. Consider the power level when choosing as the higher power options come with louder sounds.
If you live in an HOA, you may need to check and see if there are any ordinances about sound before making a purchase as well. You wouldn't want to spend several hundred dollars on an item to be told you need to return it and find a quieter option.
Other Factors
A few more considerations before making a decision. First, check out the nozzles as they come flat or round. Some options come with more than one nozzle, which is preferable for different jobs. Second, speed control as variable speed gives you more options. Third, try and pick an option with a translucent fuel tank, so you know when to refill the tank easily.
Questions About Gas Powered Leaf-Blower
What kind of gas should I put in the leaf blower?
Always read the instruction manual for your leaf blower before adding in any liquids. For the most part, you will need unleaded gasoline like for your car or lawnmower. If you want it to run more efficiently, consider purchasing premium gas.
Will a gas-powered leaf blower work on wet leaves?
Stronger gas-powered leaf blowers can work on wet leaves. The higher the power, the more likely it can handle denser matter. You will find that a gas leaf blower works better for wet leaves than an electric leaf blower.
How long will a gas blower last?
You can expect a gas blower to last for about ten years or 1,000 hours of use. By then, it will probably need replacement or repairs. Depending on usage, you may be able to go longer. Take care of the tool, and you shouldn't have any trouble. Always use fresh gas and oil mixture, change the air filters, and replace the spark plug for optimal life.
Conclusion
While the Makita EB5300TH 4-Stroke Engine Tube Throttle Backpack Blower costs more, it does more too. It not only starts easily but offers a large capacity too. Simply put it on your back and start collecting all the leaves into one area for less work. Makita makes top-rated products ready to impress, and you can own one too for the best winter lawn you've ever had with very little work.
Gas-Powered Leaf Blower Buyer's Guide
For more information on what you need to know when buying a leaf blower, watch this video: