The Top 5 Hose Reel Carts With Wheels Reviewed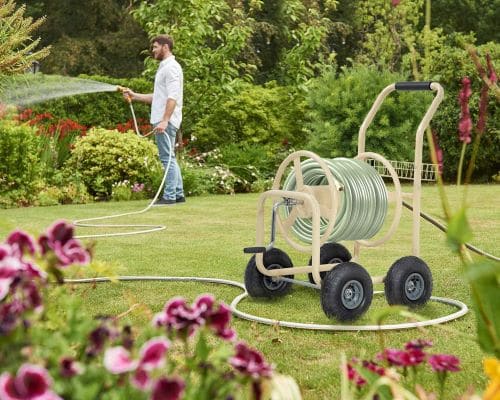 Planting your new garden requires the right combination of tools to help you maintain it. The right garden hose can make or break your garden when it comes to efficiency, durability, and generally making the job easier for you. While the right garden hose guarantees your garden is looking as lush as possible, looking after your hose is just as important. You need to store your hose to make sure it is free from tangles, protected from the harmful UV rays from the sun, and is put away safely at the end of your daily garden duties ready for next time.
The solution? A garden hose reel is a great way to keep it in perfect working condition as it provides a way to store the hose, but one with wheels makes the job so much easier. There is a wide variety of hose reel carts with wheels out there so let's show you the best hose reel cart with wheels for your budget.
Preview
Top Choice
Budget Option
Top Choice
Preview
Preview
Preview
Preview
Budget Option
Preview
Best Hose Reel Carts With Wheels
1. Liberty Garden 870-M1-2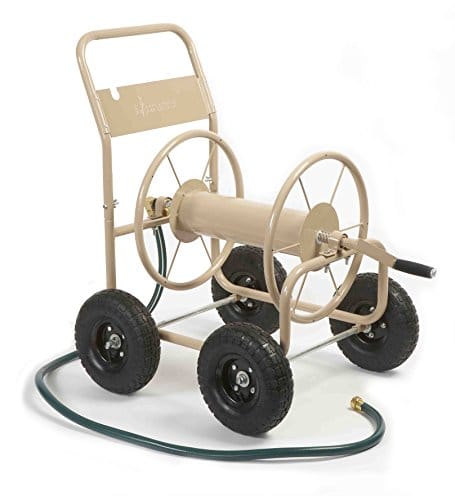 Liberty Garden has brought us a wide variety of quality carts over the years. This is a four-wheeled version of the quality hose reel cart. As many have two wheels with a stand for practicality, four wheels is always going to trump its two-wheeled counterpart. This version is great for a 300-foot hose around the large reel drum, making it ideal for large gardens. If you are looking for maneuverability, the tires are evenly spaced out and raised, making it perfect if you have a garden that slopes. And while many people worry about the wheels, thinking it will cause the cart to "run away," its low center of gravity stops it from tipping over, whatever the surface.
As Liberty Garden makes products for people who need to take the pressure off hauling their hose around the garden, its durability is a big positive with this one. The sturdy build means you don't have to worry about navigating it around every turn; it will go with you, and won't fall foul of difficult surfaces, especially if you are trying to navigate around the garden with various ornaments. It comes highly rated by its users, and is, in many ways, the very definition of convenience for those who need a self-standing hose reel but one that you can move quickly. The hook hose located near the handle makes it easy to place the hose back when you are working on other aspects of the garden.
Here is a short video that demonstrates the features on the Liberty Garden hose reel cart:
The one downside is that it doesn't come with an accessory basket so you may have to carry a basket to ensure you have everything with you as you go. But what it lacks in storage makes up for in its sheer efficiency. Its 90-degree brass swivel connector guarantees flexibility and durability when you are winding it back, making it a quick job at the end of the day. Overall, it is a great asset to those who have a big garden and need something to do the bulk of the hauling around.
2. Ames Aluminum Hose Reel Cart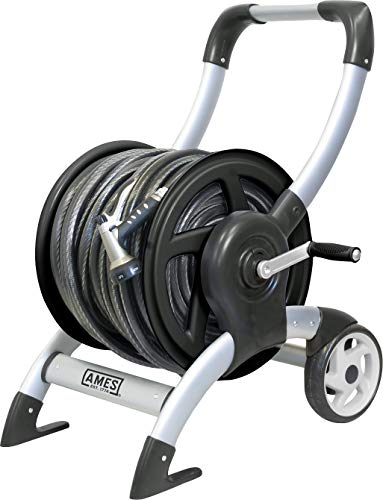 For many people, it's important that they have a piece of equipment that is functional but also adds a nice modern feel to the garden. This model is perfect for most gardens and as it holds 200 feet of hose, you can very easily take it across your garden, making for quick and effortless work. The silver frame adds a sleek design for those that have a modern garden and need the hose reel to blend into its surroundings. For the vast majority of owners looking to make an upgrade from their flimsy, unnattractive plastic hose reel cart, this is a no-brainer.
Its two-wheel setup makes it a sturdy model, and the two stands located in the front guarantees it will stay in place without causing massive problems. The wind-up handle makes putting the hose back easy work. The big selling point for this one is its "never leak" watering system, making it a lifesaver for so many owners looking for an easy job without worrying the garden is getting soggy underneath their feet. While the wheels and handles are plastic, which can make it feel somewhat cheap, but as far as a bargain is concerned, for a budget gardener looking after their pennies, it is easy work.
An ideal option for those with modest surroundings and are looking for a sleek design to make the garden more modern, while still staying under budget.
3. Backyard Expressions Commercial Hose Reel Cart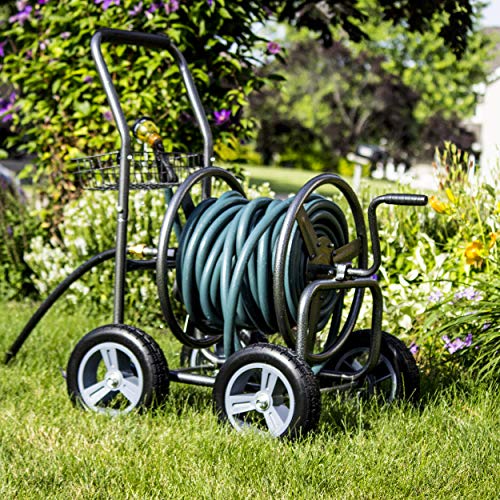 A fantastic heavy-duty model, ideal for those that are really looking to get their teeth into landscaping. The four-wheel design guarantees the cart rolls effortlessly, making short work of hosing down every aspect of a garden. Its pneumatic tires make it easy to roll on any surface, and as the tires will never go flat, means there's one less thing to worry about.
For those who are looking for the cart to store additional items, the basket makes short work of any job, ideal if you are in a rush. But the real selling point of this one is the rust-resistant powder-coated steel body. For any gardener who needs their equipment to endure the toughest of weathers, this is a worthwhile investment for those who live in wetter climates. The 5-foot leader hose guarantees the extra reach you need in smaller gardens. As those who are looking for heavy-duty tools to go with their garden and have a considerable job ahead of them, the 350 ft capacity of a 5/8-inch hose will give you that extra reach.
As Backyard Expressions work to make it easy and design the product for effortless gardening, this is a good option for those who need a little more support going about their business.
4. FDW Garden Hose Reel Cart with Wheels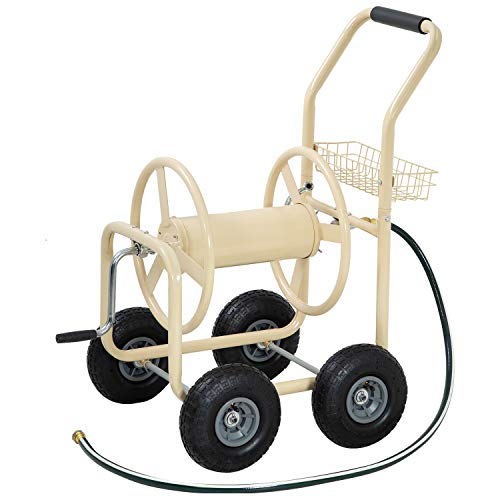 This makes short work of the business of watering your garden. With its easy assemble (taking less than an hour to piece it together), you can get to work quickly. With a 300 ft 5/8-inch hose reel capacity makes it ideal to go around a small garden a good few times.
The long hose reel capacity is crucial, especially for those gardeners who need a multi-purpose yard tool. This is ideal in any weather due to its weather-coat rust-resistant cart, and is surprisingly lightweight. If your garden slopes, its foam-padded handle with non-slip grip means you can always keep a good grip on it. The four 10-inch rubber pneumatic tires ensure you will have a sturdy set of wheels underneath in any weather. Overall, a rolling water hose cart like this is a bargain.
Whether you are rolling down a hillside or on a small, springier lawn, this garden reel cart is a handy addition to anybody's backyard. Stylistically speaking, its tan color helps it blend into most surroundings, making sure it doesn't stick out like a sore thumb.
5. Suncast JSF175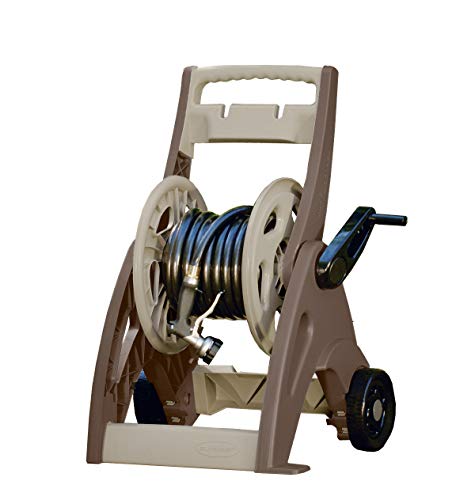 Ideal for those that are really struggling with enough space in their garden, the Hosemobile is so compact and its 175 feet capacity for a 5/8-inch hose makes it the perfect addition to any modest garden where people don't have enough space. For those that need easy transportation, its two 6-inch wheels makes it effortless to transport your hose around the garden.
But the major highlight of this is the price. It is a bargain in comparison to so many other garden hoses, where pricier models can come with functions far inferior to this. When you want to reel it out quickly, this is what you need for a speedy lawn job. The hose hooks makes it effortless to put your leader hose or garden hose down when you need to tend to other duties, and the molded plastic design means it won't rust and will last much longer in all seasons without it rusting or corroding, making it an ideal solution for those that live in wet climates.
Ultimately, for those that need something to blend in with their garden surroundings, its brown taupe color guarantees it won't look out of place, which is great if you are need your tools to blend in with its surroundings. As an added bonus, it comes fully assembled so it is ready to use. Arguably, there are some issues with the hose connection but while it's not the best hose reel cart out there, if you are looking for a functional tool that is quick and easy to use, this is the "reel deal" for any beginner. It is a good starting point for those that don't know what sort of garden hose to buy and need something that does a basic job and a little bit more. As people need a sturdy hose reel cart that is lightweight, convenient but also has a watertight seal between the reel and hose, this ticks all the boxes.
Conclusion
There you have it! The best hose reel cart with wheels will make short work of your garden duties, regardless of your needs. Happy shopping!