The Top 5 Lawn Aerators Reviewed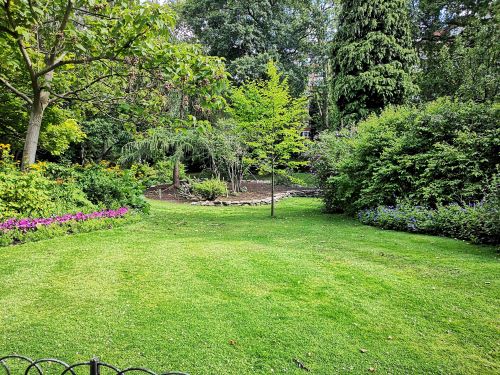 One of the most important lawn care tasks is aerating your lawn. Aerating your lawn involves creating holes in the soil to let nutrients, moisture, and oxygen to penetrate and circulate. You could get a professional service to come and aerate your lawn for you, but you can also do it yourself. With the right tool, it's a job that you can tackle without having to pay anyone else. Lawn aerators can come in a few different styles, from spikes that you wear on your shoes to forks and rollers with spikes. Knowing which style to pick and which is the best lawn aerator for the job can make it easier to aerate your lawn.
Aerators typically have either a plug or spike system. A spike aerator pokes holes in the soil, while plug systems remove small plugs of soil, which can be better for heavier soil. Spike system aerators are sometimes better for a quick job that might be more temporary. You will also want to consider the cost of your aerator. Costs can vary, and it's worth keeping in mind that you don't need to aerate your lawn too often. By aerating your lawn, you can help it get the things that it needs to grow healthy and green.
Preview
Top Choice




Budget Option

Top Choice
Preview

Preview

Preview

Preview

Budget Option
Preview

Best Lawn Aerators
Aerators like the Agri-Fab 45-0299 attach to the back of your lawnmower like a little trailer. It makes them easier to use, and perhaps you can even get two jobs done at the same time. This is a plug aerator, which requires you to add weight to the top so that the spikes are pushed into the soil. It has 32 galvanized knives that pull plugs up to 3 inches deep. The aerator knives are self-sharpening for easy maintenance too. The weight tray holds up to 175 pounds for increased soil penetration. You can attach weights using bungee cords or similar to securely hold them on. There are handy holes to hook your cords into, making it even easier to add weights.
The hitch on this aerator is universal, so you can attach it to any ride-on lawn mower or tractor. From your seat, you can reach the transport handle and easily raise and lower the aerator. Each of the three welded knife sections rotates independently to achieve maximum coverage as you move. The sturdy flat-free tires make moving over your lawn a breeze, plus require less maintenance, and the durable heavy-gauge steel means this aerator is built to last.
This aerator requires a little bit of assembly before use, but it's easy to put together. However, be sure to wear gloves for safety. It will do a quick job pulling up plugs from your lawn, aerating it, and allowing nutrients, water, and oxygen in.
Agri-Fab 45-0299 48-Inch Tow Plug Aerator,Orange & Black,Large
32 galvanized knives to penetrate the soil easily.
Pulls plugs up to 3 inches deep for thicker and healthier lawn.
Flat free tires for smooth transport.
Simple-to-use cantilever transport handle for easy raising and lowering.
3 Year Limited Consumer Warranty; Made in the USA with some imported materials
The Brinly PA-40BH offers another plug system aerator with a hitch style. This aerator has a universal hitch and can be hooked up to most lawn tractors, ZTRs, and ATVs with its single pin hitch. It features 24 heat-treated, 16-gauge steel plug spoons that pull up 3-inch plugs from your lawn. The weight tray, made from all steel, holds up to 150 pounds, enabling you to add weight to the aerator and increase the effectiveness of its action, especially for clay soil or very compacted soil. When you're not using the aerator on your lawn, it has a transport handle, which makes it easy to cross driveways and other surfaces to transport it, especially when combined with the never-flat wheels.
The working width of this aerator is 40 inches, which is smaller than some other options but still provides plenty of coverage. It's a durable aerator and is good for open spaces, but could be a little more difficult to maneuver in tighter spaces. You can use any weights that you have available to weigh down the tray. It's also designed to work safely on uneven terrain and when you're turning, thanks to its welded tine sections.
You can assemble this plug aerator yourself using standard hand tools, although it could take a little while to complete. Instructions are included so that you know what goes where and can get started quicker. It has a heavy-duty steel construction, and it's made in America too, offering you a quality product.
Sale
Brinly PA-40BH Tow Behind Plug Aerator, 40-Inch
Aerate & Relieve Compacted Soil: 24 heat-treated, 16-gauge Steel plugging spoons penetrate compacted soil and remove up to 3-inch plugs of soil, allowing water, seed, and fertilizer to reach the roots. Brinly plug design is narrower with sharpened ends to allow easier penetration and require less weight.
Long-lasting construction: durable, all steel design with fully-enclosed weight tray holds up to 150 pounds of any type of extra weight for maximum soil penetration and depth. Tines are heat-treated for strength. No flat wheels for durability.
Easy transport: for crossing drives, walks and rooted areas, Brinly plug Aerator includes a single transport lever to engage transport mode using the 10" semi-pneumatic rubber tread tires.
Works safely on turns & uneven terrain: three independently rotating, welded tine sections minimize turf damage during turns and help provide consistent penetration on uneven ground.
Universal Hitch: a single pin, universal Hitch easily attaches to every lawn tractor and most ztrs and ATVs.
Another Agri-Fab option, this time using a spike system, the Agri-Fab 45-0365 is simple and easy to use. The spikes rotate as you roll the aerator across your lawn, with five aerating wheels that each have 7-inch spikes on them. You get an aeration depth of 2.5 inches, and there is a steel weight tray, which you can use to hold a concrete block or other weight for extra pressure on the aerator. The five galvanized spike disks will easily penetrate the soil of your lawn, and even more so when you add an extra weight to the action.
The steel weight tray has a 35-pound capacity for help pushing the spikes a little further into the soil. The whole thing has a 16-inch width for good coverage while still making the aerator easy to push along. The welded drawbar and heavy-gauge steel deck make it durable, strong, and long-lasting. Some assembly is required for this aerator, with instructions included to help you put it together. You might find that you need to use a little intuition to work out how to put it together too.
This type of lawn aerator requires a bit more elbow grease compared to those that you can hitch to a tractor or lawnmower. It can be helpful to water the lawn before you get to work so that the soil is softer and easier to deal with. Pulling this aerator can also make it easier to get the job done with less effort.
Sale
Agri-Fab 45-0365 16-Inch Push Spike Aerator,black
Walk-behind spike lawn aerator; 16 inch wide; 5 aerating wheels with 7-inch spikes
Expose grass to air, nutrients, and water; 2-1/2-inch aeration depth
Steel weight tray holds concrete block, creates pressure and pushes spikes into ground; some assembly required
Includes 1 aerator; concrete block not included
The Yard Butler Lawn Coring Aerator
If you are willing to brave aerating your lawn by hand, you can also use a coring type aerator. This hand-operated core aerator removes two plugs of soil at a time, each one of them measuring half an inch wide and 3.5 inches in height. It has a foot bar to give you extra leverage, so you can push it into the earth more easily. It's a good choice if you have a smaller lawn that needs to be aerated, and you perhaps don't want to spend a lot of money. If you're not afraid of a little hard work, this type of coring aerator could work for you.
This is a durable aerator made from steel. It's 37 inches tall, designed to reduce back strain for people of different heights. It's a simple option that's easy to use and won't require any complicated assembly. You just need to be able to push your foot down onto the bar to push it into the earth, then use the handle to pull it back up again. As with other hand tools, it can be easier to use after it has rained or after watering your lawn. The wet soil will be easier to penetrate.
Choose this aerator for smaller lawns that need to be aerated. You might also find that you need to be careful not to clog it up. This could require cleaning it out as you use it to prevent the soil from getting stuck.
Yard Butler Lawn Coring Aerator Manual Grass Dethatching Turf Plug Core Aeration Tool ID-6C
REMOVES TWO ½" WIDE 3 ½ INCH GRASS PLUG LAWN CORES, reducing soil compaction and dethatching your lawn while letting air, water and fertilizer get down to the roots of your yard.
REDUCES RUNOFF AND PROMOTES TURF GROWTH. Your lawn will look better with less water and fertilizer.
HAND HELD LAWN AERATOR WITH FOOT BAR FOR EXTRA LEVERAGE. Perfect garden tool for easily aerating smaller yards. Promotes vigorous root growth, strengthening tolerance to drought and heat stress.
BUILT TO LAST Durable steel construction, 37 inch tool height is designed to reduce back strain and make it easy to aerate your whole yard.
The Abco Tech Lawn Aerator Shoes
A pair of aerator shoes can be attached to any shoes. You can then walk around the area of lawn that you want to aerate to let in the nutrients, air, and water. The shoes have spikes on the bottom that will penetrate the earth as you walk, so all you need to do is use your own weight to start aerating your lawn. To get started with the shoes, you just need to attach the spikes to the bottom and then the straps and buckles. Attach them to your own shoes (preferably something suitable for gardening), and you're ready to go. A small wrench is included to make it easy to assemble them.
With adjustable straps, you can fit these onto any shoes. They have 13 heavy-duty metal spikes on each one, which measure 48mm each. They are designed to stay firmly in place as you walk too. The spikes are very sharp, durable, and anti-corrosive, so that they will last you a long time. They couldn't be easier to use, although you might find that you get a good leg workout as you use these shoes. They're also a cost-effective solution, which is useful for a product that you might only use once a year or so.
Another advantage of these aerator shoes is that you can wear them as you mow the lawn. Kill two birds with one stone by strapping on your aerator shoes and getting the mowing down at the same time.
Sale
Abco Tech Lawn Aerator Shoes - for Effectively Aerating Lawn Soil - 3 Adjustable Straps and Heavy Duty Metal Buckles - One Size Fits All - Easy Use for a Healthier Yard and Garden
PROFESSIONAL GRADE AERATION – Wear our Abcosport Lawn Aerator Spike Shoes and walk around to cover the entire length of your garden for a way greener, healthier and more beautiful lawn and grass. Even better- wear them while mowing your lawn so that you accomplish two important tasks simultaneously!
INEXPENSIVE AND FUN ALTERNATIVE – The lawn aerator shoes offer a superior alternative over the professional gardening services which might cost you fortunes on lawn care and maintenance. However, these shoes are a one time investment that's going to help you with several hundred cycles of yard aeration, and if maintained well even for a lifetime.
SUPERIOR BUILD – Our aerators are made up of a sturdy plastic base with good heel support, 13 heavy duty metal 48 mm spikes on each sandal, and 3 adjustable straps with strong buckles, designed to be highly anti-corrosive and durable. The shoes stay firmly on your feet and the sharp nails make it easy to dig the soil, and an effective core aerator.
EASY TO INSTALL AND USE – Abcosport aerator shoe yard tools also come with a FREE small wrench to make the installation extremely easy. Once installed the lawn aeration shoes can be strapped over any of your strong shoes, making you ready even for the most difficult to reach areas of your lawn.
SATISFACTION GUARANTEED – Abco lawn aeration shoes come with a 100% risk-free satisfaction guarantee to let you buy with confidence; no questions asked. However, we are quite sure that you will find these spike aerator shoes sturdy and functionally effective as you watch your lawn get greener.
How and When to Aerate Your Lawn
For more information about lawn aeration, watch this video:
Conclusion
Each type of lawn aerator has its advantages and disadvantages. Consider the benefits of each type before you decide which one will work for you. The size of your lawn is an important factor to consider if you want to get the job done quickly.
Related Articles