The 5 Best Lawn Fertilizers Reviewed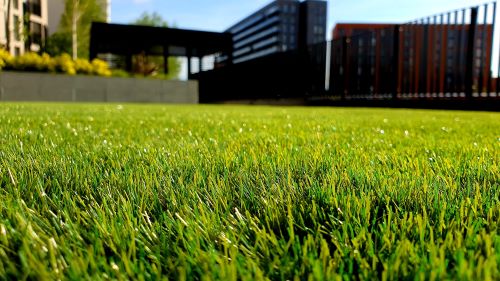 A healthy lawn is key to having a picture-perfect lawn, though keeping your lawn healthy can be a challenge. There are many factors that go into keeping your lawn green and pristine. You could be experiencing an infestation of pests or maybe several bad weather days. For this reason, fertilizing your lawn is essential.
Lawn fertilizer is not just for professional landscapers working on the yard of a commercial business. Fertilizer is beneficial no matter if you own a small patch of land or many acres. It works with the soil to ensure your grass is getting the needed nutrients. When you add fertilizer to your soil, you are creating an environment that is conducive to healthy, green grass. With time your soil loses its nutritional value and by adding fertilizer you are putting those crucial nutrients back into the earth. Your grass will love you because you provided it with the food it needs to grow big and strong.
The fertilizer will definitely help your grass grow faster, but not all fertilizer is created equally. Some are more effective than others while others are only for specific purposes. It can be really overwhelming. Luckily, we have created a guide with our top five fertilizers and why they are amazing.
Best Lawn Fertilizers
1. Scotts Green Max Lawn Food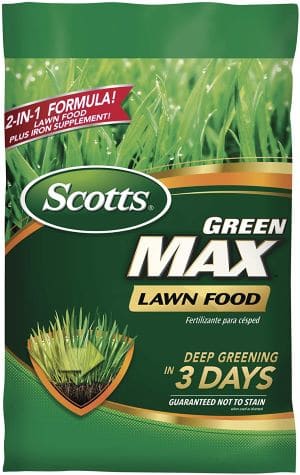 By far, this is our first pick. There are so many benefits to using this fertilizer for your lawn, no matter how big or small. This fertilizer is made for any type of grass you can think of. It contains five percent iron which gives your grass a deeper green in three days, it promises. Scotts Green Max Lawn Food also has other nutrients like nitrogen and potassium. Those two natural elements strengthen the grass blade and keep your lawn healthy from the inside. When you feed your grass this fertilizer you can expect to see growth results almost immediately. You get all of this at an affordable price point. The high level of nitrogen also helps choke out weeds so you do not have to worry about spending extra money on weed killers.
There are a few drawbacks to this fertilizer. It is most effective on lawns that are well established. For those that have bald spots, this may not be the ideal fertilizer for your lawn as this one does not contain phosphorous. Phosphorus is the chemical responsible for helping your roots grow. In addition, the iron is great for giving your grass that deep-green hue but it can also cause rust stains. Make sure you follow the directions on the bag.
2. Simple Lawn Solutions Advanced 16-4-8 Balanced NPK
If you live in the Southern part of the country, this is the fertilizer for you. This is the perfect fertilizer for grass. There is a delicate blend between macronutrients which is what southern grass needs in order for it to grow healthy and green. There are things like fish and seaweed that make it the best natural fertilizer for your lawn. It is non-toxic so you do not have to worry about your pets getting sick if they chew on a blade of grass. If you have grass types like Bermuda, St Augustine, Buffalo, Zoysia, Florida Palmetto and Bahia just to name a few, this is the fertilizer you need to use. The only drawback of this fertilizer is that you may have difficulty getting the product to mix well.
It is recommended that you add this to your soil at least once a month. Your lawn will be much stronger as it will not be as stressed from the heat and lack of water during those hot summer months. The sea kelp and fish make it the ideal fertilizer for both lawns and gardens. It is completely natural and safe from harmful chemicals.
3. The Andersons PGF Complete 16-4-8 Fertilizer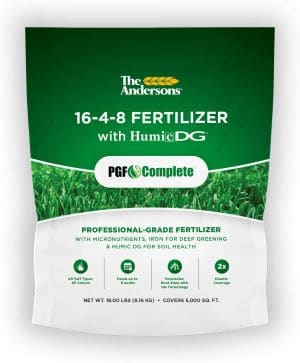 This is definitely considered a professional-grade fertilizer as it is commonly used on some golf courses. You can expect this fertilizer to come in tiny granules. The granules slowly release much-needed nutrients to your lawn steadily and incrementally. They also make it easier to evenly spread per square footage. This fertilizer is also made up of four different types of nitrogen, additionally phosphate and potash.
Cooper, zinc and iron are also present in the fertilizer, making it an ideal combination for luscious grass. If you use this lawn food for your grass, you can also expect it to have humic. This ingredient adds particular microbes that help your grass reach its greatest potential. It simply helps your grass absorb the nutrients better. There is also five percent iron in this bag of fertilizer, so you can be sure that your grass will be the deep green color you are looking for.
One drawback that you must keep in mind is that this type of fertilizer is a slow burn. This takes time to see results. If you make this purchase, just remember that you will not see results immediately. It may take at least a month before you start seeing real results, so before you give up on the product, give it some time.
4. Miracle-Gro Water Soluble Lawn Food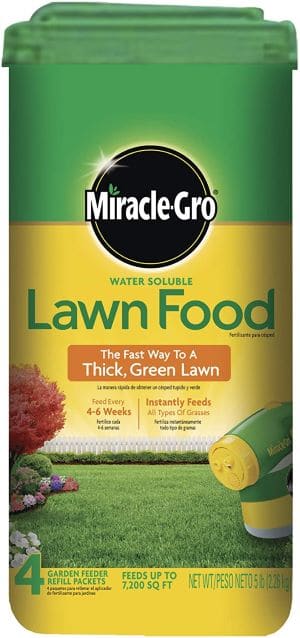 When it comes to this tried and true brand, it is important that you give your lawn the right dosage in order to see the full benefits of this product. It comes at an affordable price point as well. This fertilizer is formulated specially formulated to help encourage the healthy growth of your plant's roots, stems and leaves. It is water-soluble, making it super easy to spread all across your lawn. You can use this both for your lawn and your garden. It covers a lot of square footage, so you never have to worry if the amount in the bag is enough no matter how big or small your lawn is. It is recommended that you feed this to your lawn every four to six weeks. Miracle-Gro is great for lawns, flower gardens and vegetable gardens.
Be cautious when you apply this synthetic fertilizer because it is very easy to overfeed your lawn. This is not a good thing because you could risk burning your lawn. As long as you follow the directions word for word, you will not have to worry about damaging your yard. You should also be very careful as this could harm your pets if they ingest any of the fertilizer.
5. Pennington UltraGreen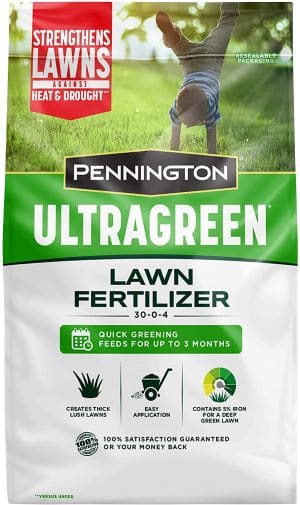 This high-grade fertilizer is able to make any grass green. There is a combination of fast and slow-releasing five percent nitrogen. All of these are great signs because that means you will have a green and dense lawn in only a matter of time. The nitrogen allows for your grass to establish strong roots and you can bet on the deep green color that everyone is dreaming of. This is a very user-friendly fertilizer as the only preparation you need to do before applying the fertilizer is cutting the height of your lawn down and water your grass so that it is nice and moisturized. After you have applied an even coat on your lawn, water your grass again so you can thoroughly get rid of any residue that may be left.
It is recommended that you use this fertilizer at any time except the beginning of spring or in locations that have been overseeded. Once you use this fertilizer, a lot of grass will grow really fast. You do not want your grass to become overgrown as that is not the look you want to go for. You also do not want your seedlings to be in the shade because you may have to cut them down.
Be cautious and try not to apply your fertilizer on really hot days as well. Temperatures higher than 70 degrees is too hot and could damage your application before it really has a chance to work into the soil. The best time to apply this fertilizer is anytime between April and June. This Pennington UltraGreen will also kill any weeds you have, specifically henbit, dollar weed, white clover, plantain and chickweed.
Customers who have purchased this fertilizer have boasted about still seeing the impact of the fertilizer a year after application. Pennington is the real deal for anyone who needs a lawn emergency. It is perfect for lawns that have bald spots.
Related Video
Conclusion
There are a lot of fertilizers out there for every type of grass and lawn. Picking the best one depends on what end result you are looking for as well as what type of climate do you live in. If you are living in a place that is cold and wet, you will likely be using a different lawn fertilizer than someone who lives in a hot and dry region of the world. They all come at different price points, but you can be sure to find one that fits your budget. Most of these fertilizers are also great for your garden so if you have any leftover, you can use it for your tomatoes and lettuce.