The Top 5 Lawn Mower Blade Sharpeners Reviewed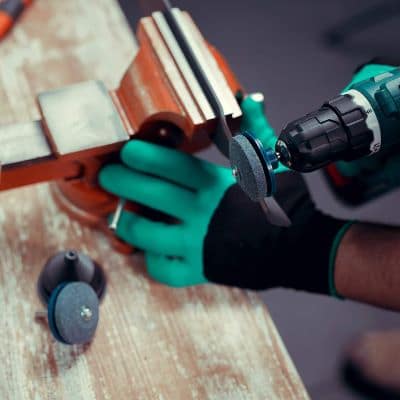 When it comes to mowing the lawn, you need to find the best time and conditions, and it's a job that can be easily put off until later. When you finally get around to it, the last thing you want is to find that the grass isn't cutting properly, or the job is taking you twice as long as what you planned for; that's because your lawnmower blades are probably blunt.
Imagine if you had an easy tool that you could grab from the shed and sharpen up those blades in minutes. It would save you a whole lot of time and frustration. And if you enjoy DIY anyway and occasionally spend time in the shed, there's no reason not to use a universal drill bit to get you lawnmower blades in prime condition for the next time you want to use them.
Many options are available for sharpening your lawnmower blades and other blades used in your household or garden. The type of product you go for will mostly depend on your individual preferences and long-term requirements. Some sharpeners are designed as an instant solution, while others give you more options and better durability. Below are some of the best on the market for a range of requirements.
Preview
Top Choice




Budget Option

Top Choice
Preview

Preview

Preview

Preview

Budget Option
Preview

Best Lawn Mower Blade Sharpeners
The Bladebizz Universal Multi-Sharp Rotary Lawnmower Sharpener
The Bladebizz Universal Lawnmower blade sharpener is a four-piece blade sharpener with one piece used as a blade balancer, designed to be used in most standard power drills; the sharpener boasts perfect spinning balance and is made from a durable, long-lasting material, called conundrum.
This sharpener uses a quarter-inch shank that will fit any drill. It can be used to sharpen lawn blades, but also drill blades, mower sickle bar cutters, Rototillers, hoes, and more. Its balanced blade feature can test the mower cutter balance according to various cutter diameters.
As the four-piece sharpener set is made from durable conundrum material, you will not need to invest much in quality sharpening tools. The results are quick and effective and ensures that you don't waste time and effort mowing your grass with blunt tools.
Furthermore, the Universal Muti-sharp Rotary sharpener is not limited to lawnmower blades; it has a multiple-functionality, allowing you to use it on almost any drill. The sharpener will also effectively sharpen other tools in your workshed, making it the perfect multifunctional sharpening tool to add to your collection.
Avoid the frustration of blunt blades when you set out to cut the grass on those rare opportunities when you get the chance. The Bladebizz Universal will always be on hand to serve you and make sure you're not wasting precious time and effort working with blunt instruments.
When you have a chance, you can spend some time in the workshed using the Bladbizz Universal to turn the blades on your tools razor sharp. And not just lawnmower blades. When it comes time to tend the garden, you can be confident that you're prepared – this makes the job easier and helps you plan your day with confidence.
4 PCS Lawn Mower Blade Sharpener Universal Multi-Sharp Rotary Lawnmower Sharpen for Power Drill Hand Drill and Lawn Mower Blade Balancer
PACKAGE INCLUDED – 4 PCS Lawn Mower Blade Sharpener and 1 PCS Lawn Mower Blade Balancer for 42-100 Model
HIGH QUALITY - This sharpener is made of corundum, Strong and Durable, quality item which will last long
SIZE - 50 x 47 mm/ 1.97 x 1.85 inch (DL), fit for most of power drills, the lawn mower blades sharpener are designed with prefect spinning balance.
EASY TO USE and WIDELY APPLICATION - 1/4" shank fits any power drill .For sharpening lawn blade, drill blade, mower, sickle bar cutter, roto tillers, hoe and so on
Lawn Mower Blade Balancer: The balanced blade is compatible with model 42-100, can quickly test mower cutter balance, according to different diameter cutter, you can choose different diameter steps on the cutter holder for balance test
The SHARPAL All-in-1 Tool Sharpener
Do you need a blade sharpener that is easy-to-use, reliable, and feature-rich? The Sharpal All-in-1 is an excellent choice for those with limited time or availability of power drills. The handheld device is convenient. It can be used to sharpen blades of all kinds without much effort, wherever you happen to be in your house or garden.
The Sharpal All-in-1 Tool makes your life easier with it's versatile and convenient design. It easily sharpens and hones the majority of blades in your home and garden, meaning that your knives and tools are ready to use when you need them most. Convenient to store and versatile to use, the Sharpal All-in-1 would suit professionals and lay-users alike.
This blade sharpener can be deployed on single or double blades, including kitchen knives and lawnmower blades. As the shape of blades varies considerably, the Sharpal is designed with five sharpening parts with different presets at optimal angles, making it effective and versatile. It is also made from durable material and has passed a 10,000 times field use test.
If you want a blade sharpener that is easy to use, even when wearing large gloves, good for sharpening a range of professional and domestic tools, and highly durable – the Sharpal is an excellent choice. This product is manufactured and field-tested to a high standard. It comes with a three-year warranty and can be purchased on Amazon.
SHARPAL 103N All-in-1 Knife, Lawn Mower Blade, Axe, Machete, Pruner Shear Scissors Multi-Sharpener & Garden Tool Sharpener
✅VERSATILE – The most versatile sharpener in the market to sharpen and hone both single and double beveled blades including knife, mower blade, pruner, loppers, hedge shears, axe, machete, hatchet, scissors, edged tool, etc.
✅SUPERIOR SHARPENING PERFORMANCE – As blades vary from different angles, shape, single or double bevel, etc., to fulfill the best sharpening performance for each blade / tool edge, this item is constructed of 5 sharpening parts including 3 different slots of preset optimal sharpening angle, one specially designed tungsten carbide bar, and one ceramic bar.
✅DURABLE – All sharpening abrasive materials pass 10,000 times field use test. NEVER WEARS OUT
✅SAFE & COMFORTABLE USE – Oversized handle allows for use with gloves. Large hand guard to protect your hands from hurting by blades. Rubber over-molded handle and base provide secure and comfortable grip.
✅3 YEARS Warranty and Superior After-Sale Service: Sharpal headquarters in CA, US with overseas branches in Germany and Australia, aiming at providing consumers with an easy and cost-effective way to obtain a sharp edge. Manufactured and field-tested to the highest standards.
The Grizzly Lawn Gear Lawn Mower Blade Sharpener Kit
The Grizzly Lawn Gear Sharpener Kit is an excellent choice for both professional and domestic use. It comes with three sharpening stones that can be attached to almost any drill, a blade balancer for well-balanced razor-sharp blades – and a set of sharpening gloves to protect your hands while working and complete the all-in-one kit.
The Grizzly Lawn Gear Sharpener Kit is an all-in-one solution to your blade sharpening requirements. With three drill bits made from a durable corundum stone, the kit offers a long-lasting, easy-to-use solution to blunt household and garden blades. Nobody wants the stress and frustration of attempting to cut or trim an object with a faulty blade. The Grizzly Sharpener Kit eliminates the issue.
The grizzly kit's drill attachments are made from corundum stone, a material that offers the best purchase. It creates a razor-sharp edge and can be used time and again to sharpen blades of all sizes and uses. The kit also comes with a balancer blade, which optimizes the blade as you sharpen it, ensuring that each edge is properly cut.
In addition to the excellent three-bit kit and balancer blade, The Grizzly Lawn Sharpener Kit comes with gardening gloves made from a natural latex to protect your hands from burns and bruises when working with the sharpener. Without gloves like these, the process of sharpening your tools and domestic utensils can be uncomfortable and undesirable.
The Grizzly Kit gives you an easy to use professional solution to blunt domestic, garden, and professional blades of all kinds. Blunt blades can cost you time and money, not to mention stress and frustration. Most people persevere with blunt implements long after they're of any use but using the Grizzly Kit at regular intervals keeps your blades fit-for-purpose.
Grizzly Lawn Gear Lawn Mower Blade Sharpener Drill Attachment Kit Includes Free Blade Balancer Gloves for Power and Hand Drill Mower Blade Sharpener Lawnmower Blade Sharpener
HEAVY DUTY THICKER SHARPENING STONE - Each drill attachment has a long-lasting and durable corundum stone that sharpen blades of any size
FREE BLADE BALANCER AND GARDENING GLOVES - The mower blade balancer assures even sharpening of the lawnmower blade to create razor-sharp cuts. The natural latex gloves protect your hands against burns and bruises.
INSTALL IN 5 SECONDS - Install in seconds and instantly get professional results with easy to understand instructions.
FASTER SHARPENING WITH LESS EFFORT - High quality stones sharpen blades in under 10 minutes so you will never spend time and effort on sharpening again!
LIFETIME WARRANTY GUARANTEE - Your purchase includes a lifetime warranty and money-back guarantee for lawnmower blade sharpeners. Customer service is Grizzly's top priority so you can buy sharpeners risk-free!
The Smith's Lawn Mower Blade Sharpener
Do you find that cutting the grass on those rare opportunities when the sun is out has become laborious? Perhaps it's taking twice as long as before to cut the same patch of grass. You might think you need a new mower, but chances are it is just the blades that need sharpened.
Smith's Lawn-mower Blade Sharpener is the perfect solution. It's handy, easy-to-use, and can sharpen your blades in minutes. It uses an abrasive carbide stone to make your blades razor-sharp in just a few pulls. An oversized handle allows you to use it wearing gloves, and a wire cleaning brush is stored neatly in the handle.
Blunt lawnmower blades are usually an inconvenient occurrence. The inefficiency of the blade catches you in the middle of your job. That's why the Smith's Sharpener is handheld and super-functional. It can be quickly grabbed from the shed and put to use, allowing you to get on with the job in minutes. Unlike other sharpening options, you don't have to mess with drill bits and extensions.
In comparison to other blade sharpeners, the Smith's Sharpener is functional and convenient. It does not have the same versatility as some others on the market that are more labor-intensive; it is designed only as a quick, effective solution to blunt lawnmower blades. But if you need a reliable solution at short notice, the Smith's Sharpener is a prime choice. Why not buy yours from Amazon today.
Smith's 50603 Lawn Mower Blade Shop Essentials Sharpener, Orange
Quickly sharpens dull lawnmower blade with just a few easy pulls
Durable head for easier sharpening
Oversized handle allows for use with gloves
Large safety guard; Cleaning brush, with wire bristles, stores in the handle
Replaceable carbide blade; Abrasive: Premium Carbides; Grit: Coarse
The CTK Tools Lawn Mower Blade Sharpener
The CTK Lawn-mower Blade Sharpener is designed to cut a razor-sharp edge on your lawnmower blades at an optimal angle. It is made from a tough aluminum oxide material and works with any power drill or hand drill. Although the CTK is developed to keep your law-mower blades in prime condition, it has multiple functionality and can also sharpen knives, spades, hoes, axes, and machetes.
The CTK is an easy-to-use professional solution to blunt blades in the house or garden. Its universal adaptability means it can be used in any power drill, and the high-quality, durable material it's made from offers longevity and excellent results. The drill bit is angled at 25 degrees so that your blade is cut to an optimal sharpness in minutes. Your blunt blades can be quickly renewed with this pro-sharpener.
If you're the sort of person who takes pride in the quality of your DIY -projects, you will be interested in keeping the balder on your tools sharp. Whether they are used often or left for some times, tool blades easily become blunt and affect the quality of your work. The CTK Sharpener is the professional option to keep your blades in prime condition for those times when you need them most.
How To Sharpen Lawn Mower Blade
For a great tutorial on how to sharpen your lawn mower blade, watch this video by This Old House:
Related Articles