The Top 5 Lawn Mowers For Small Yards Reviewed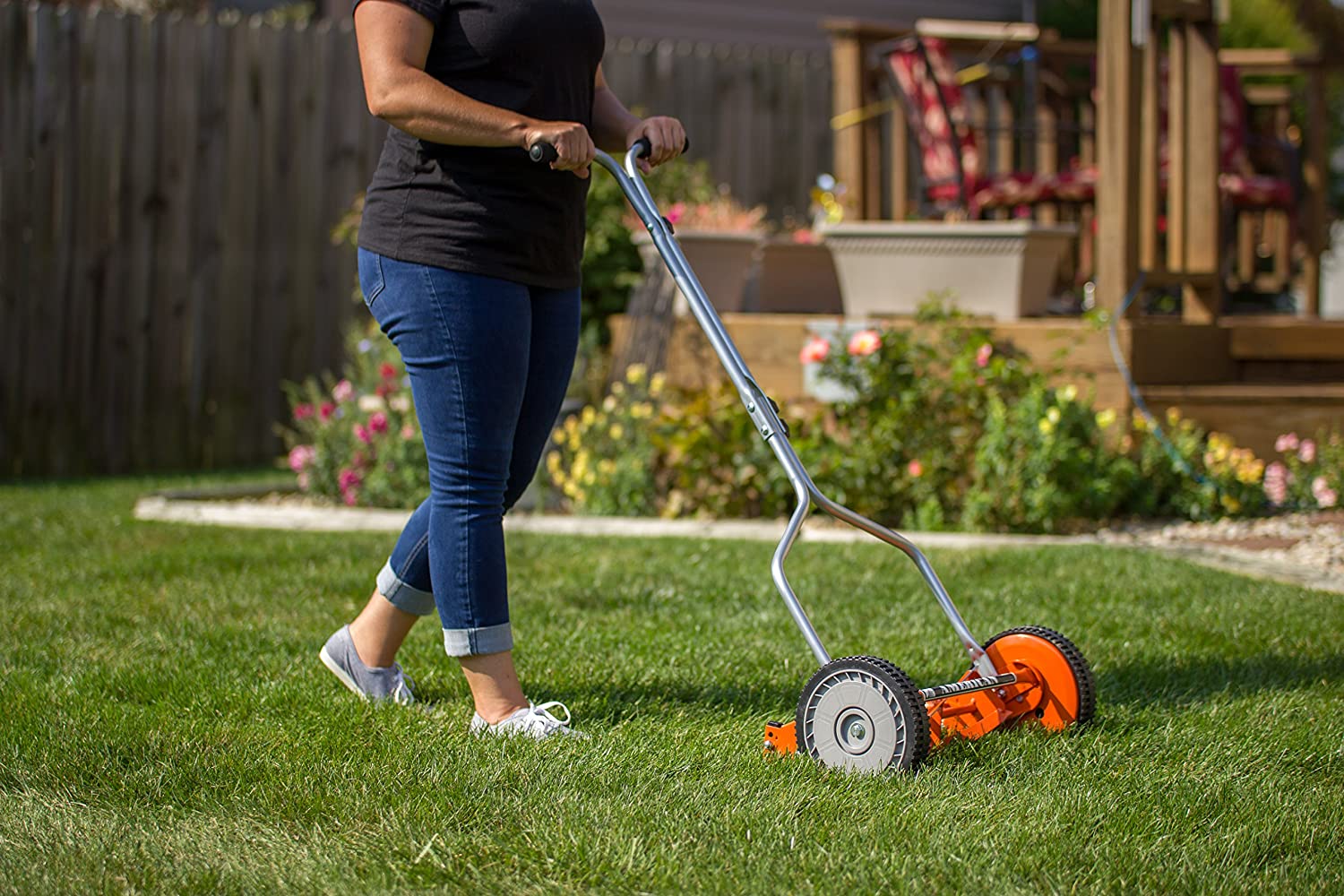 There's no denying that a small yard means that it's easier to maintain than larger ones. Of course, you'll still have to spend some time maintaining it, and something that will save you a lot of time is a good quality lawn mower.
Do you want to enjoy your yard and be the envy of your neighbors? If so, it makes sense to invest in the right lawn mower for small yards. With so much choice on the market, which one is right for your needs and your yard?
The good news is that we've reviewed and narrowed down the top five lawn mowers suitable for small yards. Here's what you need to know about them so you can make an informed purchasing decision:
Preview
Top Choice
Budget Option
Manufacturer
American Lawn Mower Company
Top Choice
Preview
Preview
Preview
Budget Option
Preview
Manufacturer
American Lawn Mower Company
Best Lawn Mowers For Small Yards
1. Greenworks 40V 20-Inch Cordless Twin Force Lawn Mower
Some people with lawns to maintain, regardless of the yard's size, often complain about running a power cord for their lawn mowers. Corded lawn mowers typically have long cables, but some householders find they need to use extension cords.
There's also the issue of needing to spend time unraveling and packing away long lengths of electrical cords. And let's not forget the fact that you need to be extremely observant and not run your lawn mower over a section of the power cord!
While it's true that you could buy a gasoline-powered lawn mower, some models require regular maintenance. Thankfully, you can now purchase battery-operated cordless lawn mowers these days.
One of the best examples in that market segment is the Greenworks 40V 20-Inch Cordless Twin Force Lawn Mower. As the name suggests, it's a 40-volt cordless lawn mower – and it's perfect for small yards such as yours.
The Greenworks lawn mower features a 20-inch deck and has an operational time of up to 60 minutes, thanks to its dual 4Ah and 2Ah Li-Ion batteries. When one battery pack runs out of power, it automatically switches over to the other one for your convenience.
There's a handy onboard battery life indicator on them, so you know how much power you've got available. And when you do need to charge the battery packs, each pack only takes around two hours to charge from empty.
The Greenworks 40v lawn mower comes with dual blades for better cutting and mulching, and that also makes it easier to bag the cut grass. It also features "smartcut" technology, where the power automatically adjusts based on the grass height for maximum performance.
2. PowerSmart Lawn Mower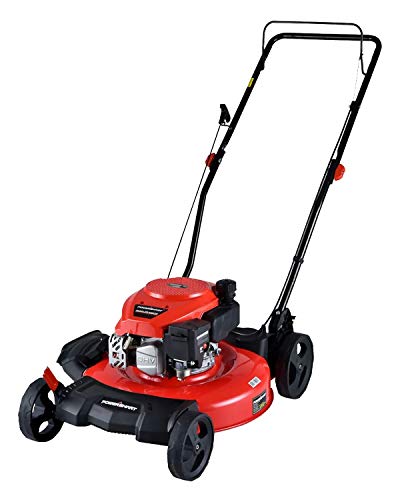 A battery-powered lawn mower can be a good idea for some people; they might not be very practical for others. One example might be where you don't have easy access to a power socket for charging your batteries.
If you want to have a lawn mower that is still cordless but doesn't require charging, the PowerSmart Lawn Mower could be the best solution for your needs. It's a gasoline-powered lawn mower and boasts a fuel-efficient four-stroke, 170cc OHV single-cylinder engine.
Thanks to its forced-air cooling system, the engine provides continuous power and enables you to tackle even some of the toughest grass and weeds in your yard. Meanwhile, the 21-inch steel mowing deck offers a large cutting area.
You can easily adjust the PowerSmart Lawn Mower's cutting depth to five different positions to best suit your needs. Plus, eight-inch rear wheels make maneuvering this 58-lb lawn mower a breeze – even without the motor running!
Another advantage of using the PowerSmart Lawn Mower in a small yard is that it boasts a two-in-one discharge and mulching system. It allows you to spread grass clippings to the side, helping your lawn to retain much-needed nutrients.
The 0.4-gallon fuel tank also ensures that you can mow your lawn without worrying about running out of gas. When it comes to maintenance, you need not worry about spending lots of time and money keeping your PowerSmart Lawn Mower efficient and operational.
The PowerSmart Lawn Mower engine is modern and only requires occasional maintenance. What's more, the 16.9 fl. oz. oil capacity ensures that the motor runs smoothly and without complaint – even in harsh operating environments.
3. Greenworks 16-Inch 10 Amp Corded Electric Lawn Mower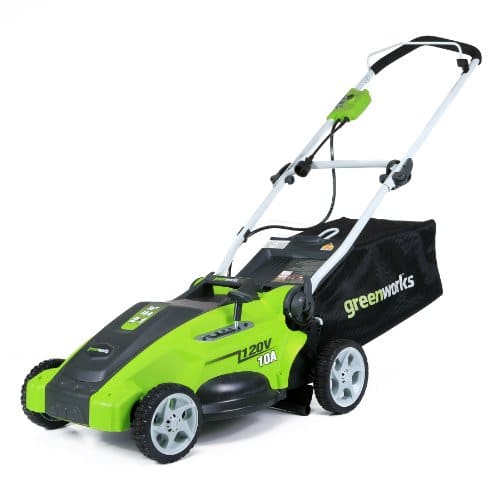 If you have easy access to an electrical socket in your yard, it could make sense to stick with a more traditional corded electric mower. The Greenworks 16-Inch 10 Amp Corded Electric Lawn Mower is one of the top-rated examples in its class.
Hailing from the same company that makes the 40v cordless version, the Greenworks 16-Inch 10 Amp Corded Electric Lawn Mower is an ideal low-cost lawn mower for small yards.
It features a 16-inch cutting deck which provides a large cutting area and five cutting height adjustments with an easy to use lever. Those two features alone guarantee that you'll achieve the perfect look for your yard.
But that's not all. The electric starter is a simple push-button and lever system, and so there are no cumbersome power cords to pull. Power comes from a high-quality 10-amp motor that'll handle even the toughest of small yard lawns.
Another much-welcomed feature of the Greenworks 16-Inch 10 Amp Corded Electric Lawn Mower is how it offers smooth operation with low noise. That means you can mow your lawn without disturbing your neighbors!
If you're looking for a lawn mower for small yards that also offers mulching capabilities, the Greenworks 16-Inch 10 Amp Corded Electric Lawn Mower is for you. It's effortless to change over from basket to mulching mode with this lawn mower.
Plus, if you hate using a lawn mower that is only capable of being pushed by a bodybuilder, the good news is the Greenworks 16-Inch 10 Amp Corded Electric Lawn Mower is lightweight to maneuver. It weighs a mere 33.3 lbs.
4. BLACK+DECKER BESTA512CM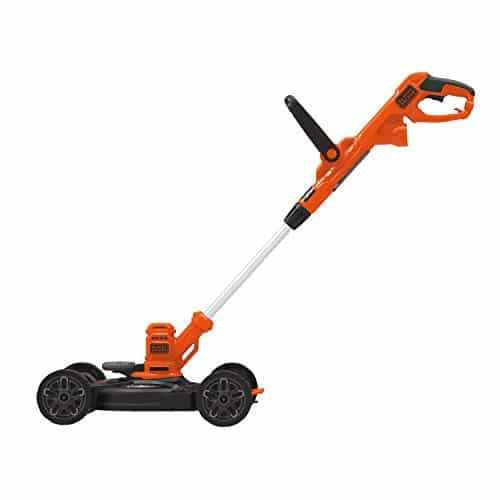 You're reading this page because you're looking for the best lawn mower for small yards. Even though you've got a small yard, you likely need to use a mower with other tools such as a trimmer and edger.
As you can imagine, buying those tools separately will increase your spending. Plus, you'll need to find somewhere to store those other extra gardening tools as well. What if you could have the use of all those tools but without spending extra money or taking up extra space?
One innovative all-in-one tool that you should seriously consider is the BLACK+DECKER BESTA512CM. At first glance, it looks like a futuristic hybrid lawn mower for small yards. But, what can it do, and does it work well for the money?
The BLACK+DECKER BESTA512CM is a lawn mower that you'll love if you're a gadget enthusiast. Of course, this product's beauty is that it does much more than a typical lawn mower. It also easily converts into a trimmer or edger!
It is a lightweight unit, weighing a mere 13 pounds (yes, you've read that correctly). It features an adjustable length and handle, making the task of cutting and managing your lawn more comfortable than ever before.
The BLACK+DECKER BESTA512CM's "PowerDrive" transmission system increases torque for extra cutting power at the string. Plus, the Gear Drive delivers consistent power for a variety of grass types and lengths.
If you're looking for a versatile device to manage your lawn, the BLACK+DECKER BESTA512CM is for you. It's also the perfect product to use for uneven lawns or yards with rock edging.
5. American Lawn Mower 1204-14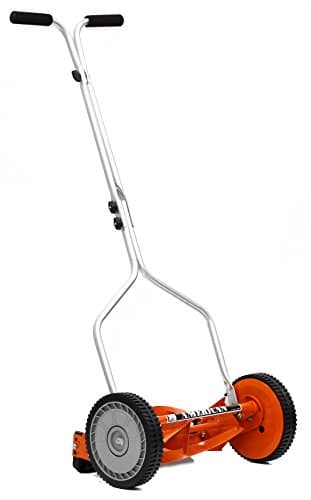 What happens if you've got a tiny yard? In those cases, buying a powered lawn mower might not be a justifiable expense. The thing is, you still need something to mow your lawn – even if you've only got a micro-sized yard!
In those situations, what's the best thing to do? Hiring someone to cut your grass for you can be expensive and overkill for such scenarios. And borrowing a friend's lawn mower can be cumbersome and time-consuming.
Still, there is one option available to you that could best meet your needs. The American Lawn Mower 1204-14 is a deluxe hand reel mower. What that means is that no engine or motor operates the cutting blades.
Instead, you simply propel the lawn mower yourself, and the cutting blades' spinning action does the work. There is no grass box that you need to empty and nothing you need to plug in, fill up with gasoline, or recharge. It's just a mechanical manual grass cutter.
The American Lawn Mower 1204-14 has a four-blade reel and boasts a cutting width of 14 inches. The reels are connected to a couple of durable 8.5-inch polymer wheels for ease of maneuverability.
If you're looking for a manual lawn mower for small yards, the American Lawn Mower 1204-14 is your perfect gardening tool. It's also a low-cost product, and because it's a manual lawn mower, it's quiet and good for the environment.
There are no emissions to worry about with the American Lawn Mower 1204-14. You can use this lawn mower for grass lengths up to four inches. Plus, you can adjust the blade height as you would on other types of lawn mowers.
Lawn Mower Buying Guide
Not Everyone has a small yard, so they may need a different mower from the ones we mentioned above. For good information about the different types of mowers and what to look for when buying one, watch this video by Consumer Reports: