The 5 Best Leaf Mulchers Reviewed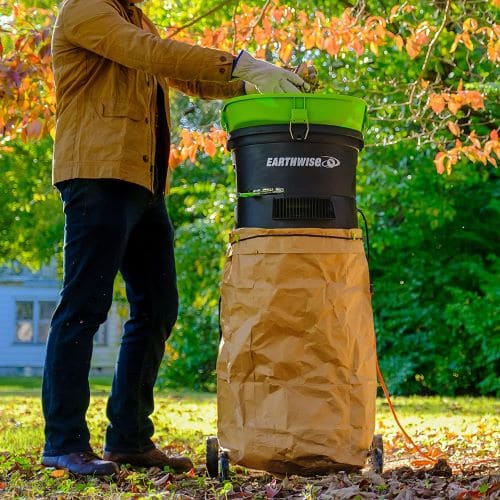 Do you have a lot of trees blowing leaves onto your garden or yard? Do you want to get rid of the leaves but find that there are just too many to get rid of easily? If you do, then you will need a leaf mulcher.
A leaf mulcher will turn the bulky leaves that fall into your garden into a mulch more useful mulch. These can then be added to your compost pile or used directly on your flower beds. If you did want to put your leaves at the curbside to get collected, there will be far less of them if they've been turned into mulch.
There are several different types of tool that can help you mulching your leaves. First up, there are stationary mulchers that you can place your leaves into and they will come out as a fine mulch. Then, there are three-in-one mulchers that are handheld and work as a blower and vacuum too.
The option that you choose will be based on your specific needs. A leaf vacuum is faster because they will suck up the leaves and mulch them all at once, however, you do need to carry this device around the yard with you. For many people, there is less strain involved in using a stationary mulcher.
Although there are gas-powered leaf mulchers on the market, we're going to be looking at electric mulchers as they are more environmentally friendly, they don't smell, and there is no need to worry about refuelling them.
Here are five of the best leaf mulchers.
Best Leaf Mulchers
1. WORX WG430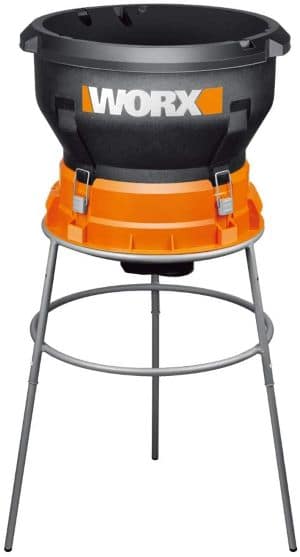 With the ability to turn 11 bags of leaves and other garden debris into just one bag of mulch, you'll be able to clear through your garden waste and make life a lot easier for yourself. Instead of having lots of bags waiting at your curbside, you can use all of your waste as mulch on your plants.
This 13 amp electric leaf mulcher can deal with up to 53 gallons of leaves every minute meaning it will make light work of your clean up job. No matter how many leaves you have to get rid of, the WG430 will be up for the job. With a 13 inch cutting diameter which uses a simple string system, there are no blades in sight.
Because this machine is electric, there is no need to worry about filling up the gas or even having to worry about the pollution that a gas-powered mulcher may cause.
The WORX WG430 is both easy to use, and easy to assemble. You don't even need to use any tools when putting this together. It's also pretty lightweight and compact too, so when you've finished using it you can easily store it away until you need it again.
2. Earthwise GS70015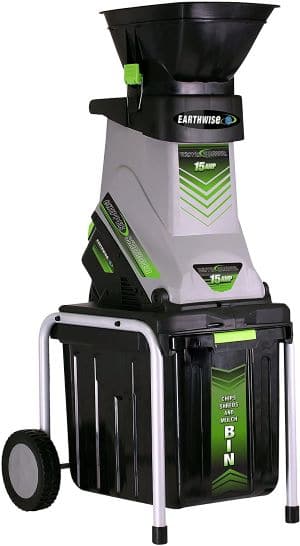 The Earthwise GS70015 is a powerful mucher and chipper that uses a powerful 15-amp electric motor to shred branches that are up to 1.75 inches thick. This makes it ideal for disposing of all of your general garden waste and making it into mulch and chippings for use in your flower beds. The motor runs at 4500rpm and is great at processing all of your unwanted garden debris.
Earthwise aim to lower the carbon footprint of gardening activities, this is why none of their products emit any harmful fumes. The products are also designed to be low-maintanace to save you money.
The Earthwise GS70015 woodchipper and mulcher is slim in design and is both portable and maneuverable. This means that you can take it out to wherever you need it most in your yard. Because of the slim design it leaves more room for collecting up your yard waste.
The Earthwise mulcher has a large 40 Litre collection bin that is great for collecting up mulch and chippings.
With durable rear wheels, the portable chipper is easy to transport, You can take it anywhere that you need to make the job so much easier for you.
This wood chipper and mulcher from Earthwise is ideal for a small to medium sized garden. Because it can chip branches that are up to 1.75 inches thick, you can deal with all of your general pruning as well as clearing up all of those unwanted fallen leaves.If you are looking for something that can handle more than leaves, then this is a great option for you.
3. Earthwise LM71313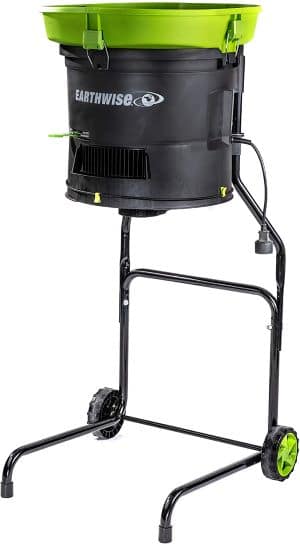 The powerful Earthwise LM71313 leaf mulcher and shredder is great for delivering power and performance. It works just as well as any gas-powered leaf mulcher – only without any of the nasty pollution. Whether you are shredding a small amount of leaves, or you have an entire forest worth, you can rest assured that the Earthwise LM71313 will be able to make light work out of it.
With a 16 to one mulching ratio, you can turn a whole 16 bags of leaves into just one bag of mulch. That's 16 bags that you'll not need to put out on the side of the curb.
The 13-amp motor has great leaf shredding power that shred up to 55 gallons of leaves per minute. The mulcher has three different power settings. These adjustable mulching settings make mulching much easier and help you to get the job done much quicker.
There is a 19 inch funnel on the top for you to put your leaves in and an elastic band and clips for easy bag attachment on the bottom. This mulcher has wheels to allow you to move it around. Weighing just over 28 pounds, you'll have no problems getting it to where you want it to go.
As with all Earthwise products, the company aims to lower the carbon footprint of your gardening. For that reason, this mulcher is powered by electric.
THe Earthwise LM71313 is a fast shredding mulcher capable of turning a lot of leaves into mulch in a very short space of time. If you're looking for a fast mulching machine, then this is the best leaf mulcher for you.
4. YARD FORCE YF8000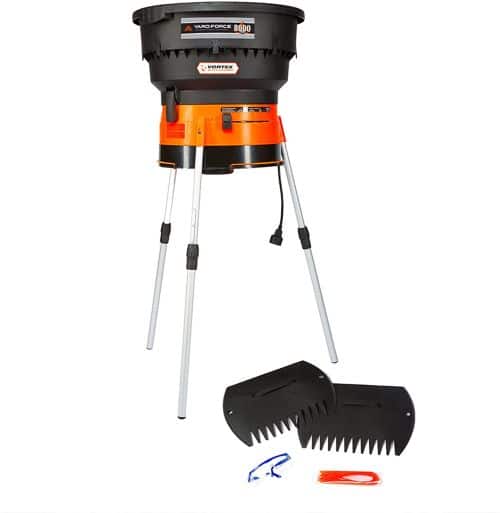 The Yard Force YF8000 has a powerful 8000 rpm motor with adjustable settings that makes it ideal for mulching both wet and dry leaves. With this mulcher you can shred 12 bags of leaves into one single bag of mulch. That means that you won't have to put out bags and bags of gardening waste at your curbside.
The Yard Force YF8000 uses a standard 0.095 trimmer line meaning there is no hunting down complex replacement parts. You can also change the line without the use of any tools.
With adjustable legs you can level your mulcher on even the most uneven of surfaces meaning you'll be able to operate your mulcher safely wherever you are. There is a bungee cord bag clamp that adapts to both plastic and paper waste bags.
The Yard Force YF8000 is an easy to set up leaf shredder that requires. You can use the mulcher straight out of the box. The Yard Force YF8000 is built to last and comes with a two year warranty. Whether you are shredding a small pile of leaves, or you have a lot of leaves that need to be shredded you can do this with confidence.
When it comes to storage, you can stack all of the components inside each other to save space. Weighing in at less than 15 lbs, this lightweight mulcher is portable too.
The Yard Force YF8000 comes with a hand rake set, ten shredder replacement lines, a bungee cord and safety goggles.
5. WORX WG509 TRIVAC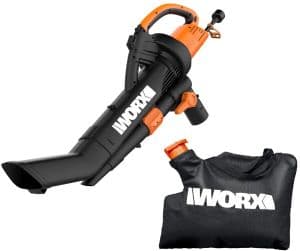 This three-in-one electric blower, mulcher, and vacuum will save you lots of effort when it comes to brushing up and picking up the fallen leaves that clutter your yard. First of all, blow all of your leaves into one big pile, then, suck them up using the WORX WG509 TRIVAC's vaccum. Finally, turn all of the leaves that you suck up into mulch.
Weighing just 11 pounds, this lightweight and ergonomic three-in-one blower, mulcher, and vacuum is easy to use and comfortable to carry. You can even use the WORX TRIVAC with just one hand.
The clever tube design curls up at the lip which means that you can get under lawn fixtures and landscaping elements very easily. This is ideal when you are in vacuum mode.
The metal impeller cuts in two different stages chopping down the leaves into a fine mulch.
The WORX TRIVAC allows you to shred a staggering 18 bags of leaves into just one bag of mulch. That's quite an impressive ratio.
With an air speed of 75 mph and 210 mph you can turn down the speed when you are going around tight corners, and speed it up when you want to blog leaves in a big open area such as a lawn.
The WORX TRIVAC is better that your average leaf blower and more useful than a stationary mulcher.
Benefits of Leaf Mulch
After you mulch your leaves, you will have to find a use for it. Leaf mulch has many uses in the home garden, so watch this video to learn more about what to do with it: