The Top 5 LED Grow Lights for Herbs Reviewed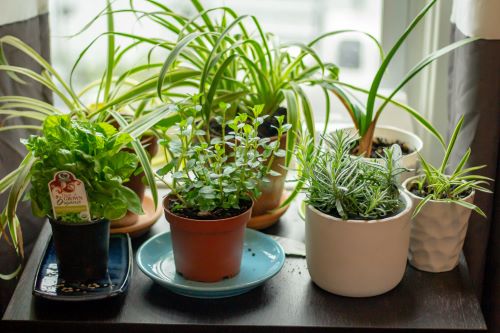 Herbs are one of the easiest things that you can grow if you want to grow something edible. You can grow them just about anywhere, including in your kitchen, and they're super handy to have around to improve your cooking. When you're growing herbs inside, you might put them on the window sill where they can get plenty of natural light. However, they often need a little extra help when you're growing them indoors instead of outdoors. An LED grow light can lend them a helping hand and make it easier for you to grow your herbs indoors.
With an LED grow light, you can make sure your herbs get everything that they need. They can grow faster and larger when they get plenty of light, along with water, air, and nutrition. LED grow lights can be easily controlled, with various settings so that you can make sure they provide the perfect growing conditions. When you have a grow light, you can grow herbs in even the smallest spaces. But first, you need to look at the best LED grow lights for herbs and decide which one is right for your needs. Here are some of the best options for LED grow lights that will help your herbs grow big, strong, and tasty.
Preview
Top Choice




Budget Option

Top Choice
Preview

Preview

Preview

Preview

Budget Option
Preview

Best LED Grow Lights for Herbs
The Vegebox Hydroponics Growing System
Some LED grow lights stand on their own, but this Vegebox Hydroponics Growing System has some extras. It's not just a light but a growing environment that uses water to help you grow your herbs – no soil needed. You just fill up the water tank, which has a capacity of 1.2 liters, using water that is full of nutrients for your herbs. It has nine holes for your plants, so you can grow plenty of herbs. As for the light itself, it's a 135-degree wide-angle lamp that you can adjust as your herbs grow. The smart LED control system means you can set it to automatically turn on and off.
The light emits IR, red, green, and blue light, which helps your plants to function and grow, and even to taste better. First, you sow your seeds, then wait for germination, and then you can transplant them into the planter. The 21W LED can grow your plants faster, with blue light for photosynthesis and red light for increased production. The system only takes up 15.4 x 6.7 x 4.5 inches, so it's easy to fit anywhere, whether in your kitchen or somewhere else.
This hydroponics system with an LED light makes it easy for you to start growing your herbs indoors. It has all that you need to start growing, and you don't have to deal with messy soil. The light is easy to control, with automatic timing that makes it simple to set and forget.
Hydroponics Growing System,Kitchen Garden,Smart Indoor Garden - hydroponic,Support Indoor Grow,herb Garden kit Indoor, Grow Smart for Plant, Built Your Indoor Garden
VegeBox-SMART SPECTRUM & NEW 4 IN ONE New light Technology.Vegebox herb garden kit indoor provide dual times lamp bread,21W powerful LED take care of your indoor garden more high-efficiency and helping your plant growing up 1.5 times faster than simialr herb garden kit indoor. New 4 in one light technology, built in IR,red,blue and green light to the lamp bread. Prevent the visual blue light to hurt you and your kids eyes. Remove UV light to protect your skin.
VegeBox-EASY CARE,AUTO TRUN ON/OFF,1.2L LARGER WATER TANK.VegeBox has smart LED control system , seting the perfect light time turn on to help your plants photosynthesis, then auto turn off for your plants respiration to produce more nutrition. Larger 1.2 L water tank, save more nutrient water. You only need add 1 times water per 2 weeks and enjoy it's indoor growing .
9 PLANT POTS AND 135°WIDE ANGLE LIGHT ADJUSTMENT.VegeBox herb garden kit indoor provide more plant pots up to 9 pcs.More choice for all your favorite plant.Lampstandard support 135° wide angle,unlimited the plant's height and grow.
100% SOILESS CULTURE, EASY TO PLANT & NEED NORMAL SEED ONLY.Just need 3 easy steps, sowing, germination and transplantation like the instructions,after 25 days you will get all your dream herb indoor garden by low cost and nature way. You can plant any seeds as you want.[Remind]: accessories are not include seeds and plants.
FULL ACCESSORIES & GOOD AFTER SALES.Vegebox hydroponics growing system provide all tool you need to pant like:measuring cup,tweeze,sponge,seed box ,plant hole cover & nutrient water. We provide 100% REPLACEMENT WARRANTY: This herb garden kit indoor is backed by our 100% replacement warranty and our 30-day money back guarantee.[Remind]: accessories are not include seeds and plants
If you are looking for more coverage from an LED grow light, the EZORKAS Grow Light might give you what you're looking for. This lamp has four adjustable lights with 80 LEDs, 52 of which are red, and 28 are blue. It's highly adjustable, with its gooseneck design, nine dimmable levels, and three spectrum modes. These meet different stages of plant growing needs so that you can adjust the lighting as your herbs grow. Red light helps with germination, photosynthesis, bloom, and fruit-bearing, while blue light helps plants get more energy from chlorophyll synthesis.
The auto on/off cycle time function has three timing modes, with options for three, nine, and twelve hours. Other handy features include the adjustable clip, which can be clamped onto any stable surface, and the USB connector and plug-in adaptor for power. You can control everything from the simple control panel, which allows you to power the light on and off and adjust the settings. The lamp has multiple uses and is a great choice for growing herbs indoors. With so many ways to adjust the light, it's possible to set it up to create ideal conditions for your herbs as they grow.
If you are looking for a fully adjustable grow light for your herbs, this one is an excellent option for growing them indoors. It has received good reviews from customers growing all kinds of plants. It's also good value, with four 8.4-inch lamp heads all in one light.
Sale
The TORCHSTAR LED Grow Light Kit
The indoor herb garden from TORCHSTAR offers another solution for growing herbs that comes with an LED light. It has a timer function, keeping the light on for 16 hours and turning off for 8 hours before the cycle starts again. It's also available with a height-adjustable design so that you can move the light to meet the growth demands of your herbs. It comes with a tray to give you somewhere to put your herbs. The high-quality light bulbs promote photosynthesis, with space for several plants underneath the light.
The fixed light option has 21 white LEDs, which provide 4000K cool white light, 900lm brightness, and 95 ultra high CRI. Meanwhile, the height-adjustable version has a 120° beam angle, 32 white, and ten red LEDs. These lights are powered with power chords, which means that you need somewhere convenient to plug them in. The whole thing is made from durable plastic material and easy to set up. There's space for several plants, whether you're growing herbs or other plants. A simple switch turns the light on and off so that you have control without anything complicated.
This light option is a good choice if you want a unit that offers both a light and a handy place to put your plants. If you ever want to move your herbs, you can just pick up the whole thing and put it where you want it. The timer light means you can turn it on and leave it to work its magic.
TORCHSTAR Indoor Herb Garden, Plant Grow LED Light Kit with Timer Function, 24V Low Voltage, Indoor Harvest Elite for Gourmet or Plant Enthusiasts, Rosemary, Lavender, Pots & Plants Not Included
💡Flexible Usage: The 21 high-quality LED bulbs promote photosynthesis in most plants with a full-spectrum solar simulator. Grow plants you like, such as succulents, sweetgrass, mint, leavy, vegetables and much more
💡Stylish Decoration: Our LED Indoor Garden With 4000K cool white glow, 900lm brightness and 95 ultra high CRI, plant under this light will be displayed vividly, makes an elegant decoration for your room or office.
💡Smart Timer: The Indoor Garden light loops in the working mode of "16 hours on and 8 hours off", imitating the normal routine of plants under natural condition. Grow your plants more healthily with lower consumption even nobody takes care of them.
💡Safe and Convenience: No needs for screws, easy to install. Durable plastic material won't be affected by water, keep its elegant appearance. UL listed power adapter for safety .
💡Well Arranged Space: A size of 16.54"×11.42" ×5.43" may place several plants according to your needs. The plants during photosynthesis produce negative oxygen ions which are beneficial for your health, suitable for kitchens, offices, living rooms, etc. Pots and plants are not included
The Ankace Full Spectrum Grow Lamp
The Ankace Full Spectrum Grow Lamp offers another option with several moveable arms. It emits all light wavelengths, from 380nm to 800nm, to provide the same benefits to natural sunlight. The replaceable bulbs are very convenient, using a standard E27 socket so that anyone can swap out any bulbs that no longer work. This means that the lamp lasts longer and can save you money. You only need to replace the bulbs, instead of the whole unit. There are three adjustable gooseneck stands, making it possible to control the direction of the light. You can angle them however you want, even when you're short on space.
This lamp is designed to be used for two six-hour sessions a day with your plants. It has a maximum 90W power and can last for up to 50,000 hours. A timer allows you to set it to be on for however many hours you want, and it will switch off automatically when you want it to. Each light has a separate switch so you can have complete control and avoid wasting power. The light is well-rated for growing herbs and other plants indoors, with a strong clip that you can attach to any convenient surface. There are three lighting modes and five dimming levels, plus you can set the timer for three, six, or twelve hours.
This is another LED grow light that gives you lots of options and control for growing your herbs. The replaceable bulbs are a convenient touch too.
Grow Light, Ankace Full Spectrum Grow Lamp, Tri Head Gooseneck Plant Lights for Indoor Plants with Replaceable Bulb
Full Spectrum - Full spectrum grow light is suitable for almost all types of indoor growing plants. A truly one of a kind indoor grow lamp emitting a full wavelength spectrum. It emits all the wavelengths from 380nm to 800nm – just like natural sunlight. It has proven effective at promoting indoor growth as it accelerates photosynthesis.
Replaceable Bulbs - Our Revamped indoor grow light is designed with a standard E27 socket. At the end of its sturdy, flexible stand, this grow light hosts an LED lamp that you can easily replace – hooked by an E27 standard socket. Anyone can remove and replace the bulbs – no experience needed. Simply replace broken/faulty lamps instead of getting a new unit. You can also adjust how much light the left/right light bulbs emit.
Controllable Illumination Area - Each gooseneck adjustable stand houses multiple rows of replaceable LEDs, it's now easier than ever adjusting the angle (and the distance) at which the light hits your plants for optimum growth. The biggest advantage of this indoor LED grow light is that your plants will still get optimum lighting even at odd angles and low intensity.
Scientific Heat Dissipation Design - Ankace indoor LED grow light will neither hurt the eyes of people in the house or the plants it illuminates; It's backed by an aviation-grade heat sink powered by a temperature control unit. This improved heat sink efficiently dissipates the heat generated by the lamp to the atmosphere; giving it an enviable lifespan plus lower maintenance costs to the user.
High Quality - Just like our other products, our indoor grow LEDs undergo strict high-temperature testing before being delivered. This lamp is FCC, CE, ROHS PSE certified.
The PYLYFE indoor kitchen grow light is a fairly large option that's excellent for growing lots of herbs. It includes a tray, plus a light on a stand that has an adjustable height. You can move the light up and down to account for growth in your herbs and make sure it's getting enough light at different stages. It has a USB plug and AC adapter so you can plug it in wherever it is most convenient for you, plus an automatic timer and four dimmable modes to get the intensity of the lighting correct.
The timer has two, four, and eight-hour modes, and the light intensity can be set to 25%, 50%, 75%, and 100%. This large lamp has 122 LED bulbs and a 120-degree beam angle, with 9.5W of power. The generous 5.58ft power cord gives you plenty of space to plug it in where it makes sense for you. It's easy to install this light; it simply requires you to click the few pieces together. The light needs to be connected to the base, and then you can plug it in and put your plants into place. It's good quality and gives your herbs the light they need.
If you want a little more space for your herbs, use this light, which has lots of room underneath it. It's sturdy and adjustable in several ways.
Indoor Garden Kit,Herb & Kitchen Garden Grow Light,Full Spectrum Plant Light with Auto ON/Off 3/9/12H Timer, 4 Dimmable Brightness for Indoor Plant Growth
🌻AUTO ON/OFF & TIMING FUNCTION--The indoor garden kit with an automatic timing function and a USB plug (comes with AC adapter).The circular-memory timing function of this herb garden works automatically. 3/9/12H timer setting options of this indoor garden kit according to plant different stage,which requires no manual operation and this grow light takes good care of your plants when you are on work or a vacation.
🌱HEIGHT ADJUSTABLE--The height of the lighting part of indoor herb garden can be adjusted for indoor plant at different growth stages, helping plant absorb energy from LED grow lights and promoting growth.You can adjust the height of the LED panel of indoor garden by moving it up and down on the metal bracket.This herb garden make sure your plant gets enough luminosity.
🍒4 DIMMABLE MODES--Indoor garden kit provides 4 dimmable modes to suit varied stages of plant growth.Indoor garden providing levels from 25%, 50%, 75%, 100% to adjust the grow light intensity more freely which grow lights effectively supplemented the lack of natural sunlight and promoted the growth of plants at all stages.
🍅GROW ANYTHING ALL YEAR AROUND--The indoor grow garden kit allow you to grow whatever you want in any season at any place. It is suitable for plants such as succulents, flower, herbs,peppermint,small tomatoes mint, leavy vegetables and other type of plants.
🍓HIGH EFFICIENCY LED LIGHT & ENERGY SAVING--The indoor garden kit provide full spectrum for plant growing, providing the necessary spectrum of lights to support indoor gardening plants that maximizes photosynthesis, resulting in rapid natural growth, and abundant harvests.Save up to 80% energy saving,less heat output and low consumption.
Growing Herbs Indoors
If you are new to growing herbs indoors, this video offers helpful advice:
Conclusion
An LED light for your plants will provide them with the light that they need and save energy at the same time. The best LED grow lights for herbs help them to grow healthy and tasty so that you can pick them whenever you want to add them to a meal.
Related Articles