The 7 Best Pressure Washers for Driveways Reviewed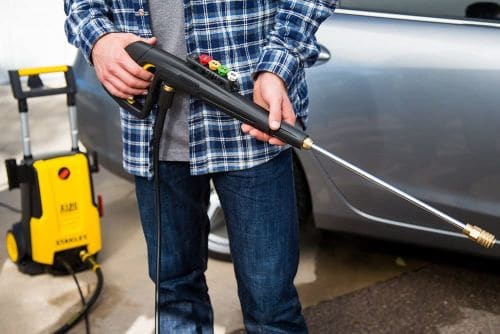 Pressure washers can clean your driveway fast. Actually, they can clean almost anything quickly, including your backyard fence, windows, house, and so much more. Not only are they very versatile, but now they are also very affordable. Make quick work of hard cleaning jobs with the right tool.
First, you need to decide if you want a gas or electric pressure washer. If you want more power, pick a gas pressure washer. However, they are louder, messier, require more maintenance, and they aren't great for the environment. Electric options aren't as powerful but work well for home use, which is why we only show electric options on this list.
Find out more information about pressure washers and take a look at the seven best options on the market. All seven choices work well for home use and will get your driveway sparkling clean again in no time. You might even enjoy cleaning with the right option!
Best Pressure Washers for Driveways
1. TEANDE Smart Pressure Washer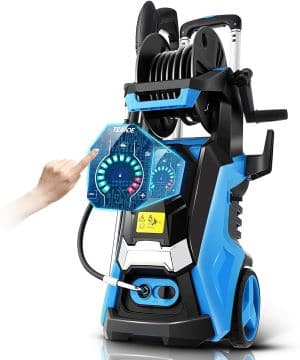 Get the TEANDE Smart Pressure Washer because it's a high-pressure electric washer and comes with a smart screen. The intelligent touch screen allows you to adjust the water pressure to the job. Choose from soft, medium, or strong, all with the simple push of a button. Moreover, it comes with multiple angle nozzles too.
Let's start with the motor – it's powerful at 1800 watts with a max 3800 PSI and water pressure of 2.8 GPM water flow. This machine can clean just about everything except your kids and family pet. It's perfect for cleaning your driveway, siding, shed, fence, patios, and so much more. Also, it's on wheels, making it easy to move around or transport.
Next, the device includes a telescopic aluminum handle that's adjustable to height, making it a great option for tall or short individuals. It also includes integrated storage for accessories and the hose. The 33-foot long cable and 16-foot hose allow you to go farther and clean more.
Finally, in the box, you get the pressure washer, four spray nozzles, a high-pressure hose, power cord, soap bottle, spray gun, and inlet filter. The best feature, though, is the safety lock on the handle to avoid accidents and the simple on/off switch. Also, the nozzles are labeled for easy use. The only mild complaint is the slightly high price.
2. mrliance 3600PSI Electric Pressure Washer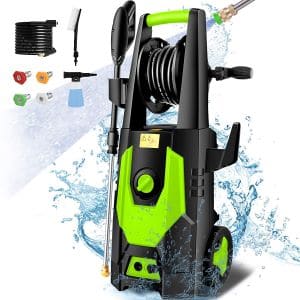 The mrliance 3600PSI Electric Pressure Washer is one of the most powerful options and higher rated than name brands you often know and trust. It offers 1800 watts and can generate up to 3600 PSI water pressure, which is more than the average household needs. Moreover, it provides 2.4 GPM water flow for exceptional cleaning ability.
Use this machine to wash your driveway but also for so much more, such as pretty much anything outdoors, including your car and deck. With four interchangeable nozzles and a removable detergent tank, you can customize your cleaning. All this from a compact machine that stands upright with axle-mounted wheels for easy mobility.
A pistol-style grip makes handling the trigger spray want easier to manage and provides top-notch pressure washing. With a 26-foot high-pressure hose, you can reach even higher projects like gutters. Furthermore, it comes with a high-quality copper connection for fast hookup and to prevent water leaks.
If you don't love the machine, you get two years worth of warranty to ensure your purchase. However, this electric power wash is ready to impress with safety features like auto shut-off, a 33-foot power cord, and so much more. Find everything you need in the box to get your home and property clean. It doesn't offer a smart screen, but you can adjust the pressure to suit your needs.
3. TEANDE 3800PSI Pressure Washer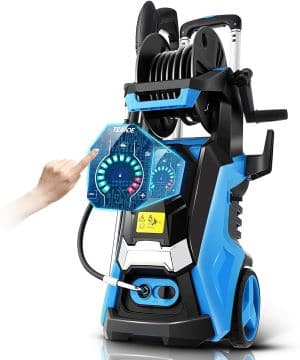 If you want more nozzles, you need the Tailory 3800PSI Pressure Washer as it comes with five nozzles instead of the standard four. It's perfect for cleaning a multitude of different surfaces quickly and easily. Moreover, it comes with a large capacity soap can reduce the hassle of chronic changes as one fill should last for the whole job.
Another advantage you find with this option is a total stop system similar to the option above. When the trigger isn't pressed, it stops the water completely to save you time, money, and energy. With these features, it's fantastic at cleaning driveways, cars, homes, and so much more. Honestly, the 3800 PSI is overkill for average home use.
You will enjoy quick connections, all made with metal for easy assembly and durability. The Tailory offers a portable design, too, with all the accessories storing on the machine along with wheels and a handle. It's also lightweight and easy to assemble.
Furthermore, the machine comes with a max flow rate of 2.8 gallons of water for quick, efficient cleaning. Add in a long power cord for optimal operation. However, the hose length is a little short at just under 20 feet. Also, it doesn't include a smart screen, which is optimal, but it comes with adjustable pressure, so you can even use it to water your plants after cleaning your driveway.
4. Westinghouse Electric Pressure Washer 2030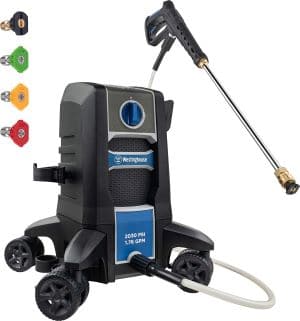 We love the Westinghouse Electric Pressure Washer 2030 because of the unique design for easier mobility. It looks like a portable gas pump robot and moves very well with optimal wheels. However, it only has a max PSI of 2030, making it one of the lower end options and yet more than suitable for most home jobs.
With a slightly lower price, you also get lower gallons per minute as this option only allows for 1.76 GPM. If you have ever dealt with other machines tipping on you, then this may be the better choice as it comes with anti-tipping technology. Moreover, you get the standard four nozzle set, which is adequate for an electric corded pressure washer.
The lightweight washer comes with an easy-coil nylon-braided 15-foot hose that is on the short side. It does, however, provide a trigger ready shooter and a 20 ounce onboard soap tank. Use the machine to clean not just your driveway but so much more too, including garage floors, fencing, patio furniture, and even your car.
Next, the pump stops automatically when you release the trigger to conserve water, energy, and the motor. What you will really love is the three-year limited warranty in case of a defect. The machine will take up have space in your garage and more than serve its purpose of getting your property clean with maximum efficiency.
5. Stanley SHP2150 Electric Pressure Washer with Spray Gun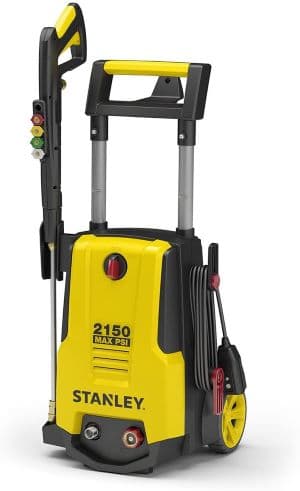 If you know and trust the Stanley brand, then check out the SHP2150 Electric Pressure Washer with Spray Gun. It comes with a reasonable price and all of the options you need to get stuff clean, all with the yellow and black color scheme you expect from the brand. Although, it does not offer the most power as it only reaches a max pressure of 2150 PSI.
The machine also only offers 1.4 gallons per minute. What it does come with is a high-pressure foamer with a specially designed detergent bottle to remove deep-down stains from your driveway. Of course, you can use it to clean decks, water your foundation, clean cages, siding, and so much more. Add in some leakproof connections made of professional-grade brass for long life.
Also, the machine comes with the attachments you need to get common jobs done, including the pressure washer gun, a wand, 25-foot hose, foam tank, and four quick connect nozzles. It even comes with a replacement kit in case you encounter any problems. What really makes this product stand out is a brass garden hose adaptor and a 22 mm connection for easier use.
Buy this option if you want to clean your driveway and your car, as the foam cannon makes quick work of dirt. Moreover, the base comes with a telescoping handle, quick-release cord hock, and colored nozzles. Finally, you also get a two-year limited warranty and lifetime customer support for the electric pressure washer.
6. WORX WG60 Electric Pressure Washer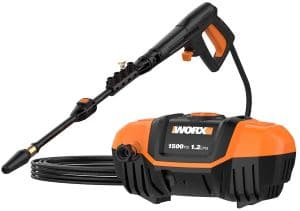 For those who are on a tight budget, consider the WORX WG60 Electric Pressure Washer. Not only is it affordable, but it's compact too and ready to clean with a toolbox size shape and appearance. However, you do sacrifice wheels for a built-in handle, but it's lightweight and fits into practically any space.
The smaller handheld product only provides 1500 PSI making it great for pressure washing driveways and vehicles, but it may not stand up to harder jobs. If you only need it for a few areas, it's a fantastic choice with attention to detail. Also, it offers a GPM of only 1.2, again sufficient but not ready to stand up the big boys above in a battle.
Despite the small size, this option includes a 20-foot hose allowing you to clean more. It also includes two nozzles – a turbo nozzle and a40 degree nozzle. The first of the two oscillates the stream in a 360-degree motion to hit every angle. Get more coverage by switching to the 40-degree nozzle.
Change out nozzles quickly for a custom clean, and then store the extra nozzles right on the base. Finally, get a reliable and efficient machine with an expertly designed product ready to make your life easier and cleaner. Add in soap and start cleaning now with a tiny but powerful tool.
7. Sun Joe SPX3000-RED Pressure Joe 2030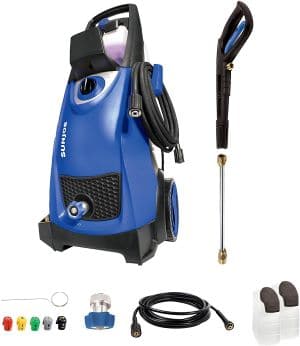 The final option, the Sun Joe SPX3000-RED Pressure Joe 2030, has less power than our top choices but is an excellent choice for those who want lower power. It's rather high prices, but so highly-rated you won't mind the still affordable price. Also, it has all the features you want and functions too, but no smart screen as very few pressure washers offer that option yet.
First, it comes with a powerful 1800-watt motor ready to generate up to 2030 PSI and 1.76 GPM. The machine provides plenty of power to clean your driveway along with many other items in your yard or property from boats, to vehicles, and so much more. Also, it provides TSS (total stop system) to auto shut-off to save you money and increase the machine's lifespan.
Second, you will love the dual detergent tanks for different cleaning options at your fingertips. Also, it comes with five cleaning nozzles, each color code and clearly marked. Of course, the whole electric pressure washer is on wheels and comes with everything you need including a garden hose adapter for multiple purposes.
Lastly, the manual machine comes with a 20-foot hose and weighs 31 pounds, which is a little heavy. However, it comes with a two-year warranty and fantastic customer support. The portable machine is more than sufficient to clean your driveway and power through other difficult jobs.
Buying Guide for Pressure Washers for Driveways
Before you shop, look at some key features to help you make a better decision. Pressure washers offer quite a few options, and you should know the difference before a purchase.
Water Pressure
The entire point of a pressure washer is enough pressure to wash things without effort. In order to do so, you need a lot of pressure. How much a machine puts out determines it's usefulness and ability. More pressure means more cleaning power. Pressure is measured in PSI or pounds per square inch.
Keep in mind, though, not everything can support massive pressure, and for home use, you may not want the highest pressure on the market. The average consumer pressure washers offer between 1,300 to 1,800 PSI and are perfect for small residential cleaning jobs like lawn furniture, windows, and cars.
If you want a heavy-duty option, consider the next step up. Some pressure washers offer between 2,000 to 3,000 PSI, which is perfect for the driveway, decks, side, and much more, especially tougher jobs. Going above, 3,000 PSI is not recommended for home use as its capable of damage and should be used by a professional. However, they can remove paint and handle industrial jobs with ease.
Gallons Per Minute
It makes sense that gallons per minute refer to how much water you will use with your pressure washer. The higher the GPM, the more water forced out of the washer, and the more effectively they will clean. Smaller, more light-weight machines offer around 1.5 gallons per minute while heavy-duty professional pressure washers can go up to 4 GPM, but not all homes can provide that level of water even if the machine can support that rate.
Pump Style
The right pump makes the job of washing easier. Most pressure washers come with two pump stiles – axial or triplex. Axial are best for beginners, as they are easy to use and don't require maintenance. They work for small tasks around the house. For a driveway, you will want a triplex if possible as it's a bit heartier and works better with harder materials, but they do require more maintenance.
Nozzles
Pay attention to the nozzle and make sure it's well suited to the job of cleaning your pressure washer. Some options come with multiple nozzles and are even color-coded to make picking the right one easier. Adjustable nozzles can be replaced easily and can adjust to your needs too. All of them work to customize your spray pattern and angle. Do not use a broken nozzle as it can cause injury or damage.
Questions About Pressure Washers for Driveways
Should I rent instead of buying?
Whether you rent or buy depends on space and need. If you plan to use the item regularly, then buying will save you a ton of money. However, if you only need to use the item once a year or less, then renting or borrowing may be a better and much more affordable option.
Will I need to replace the hose?
Yes, you may need to replace the hose with a stronger option. Many of the machines come with cheaper hoses, and you could save yourself some stress by putting in a better one that can handle the pressure better and perform longer. You can also upgrade the nozzle and fittings too if you want the machine to work even better.
How can I stay safe with a pressure washer?
First off, never use a pressure washer on a person or an animal. Second, read the owner's manual to make sure you follow all safety guidelines. Third, do not get closer than six inches to what you are cleaning for the safest clean and to avoid damage. Fourth, don't use the pressure washer too long, or it could overheat. Finally, do not use it with an extension cord or on a ladder. Keep these tips in mind, and you can avoid damage and injury.
For a demonstration of how to properly pressure wash a driveway, watch this video:
Conclusion
If you still cannot decide, we highly recommend the TEANDE Smart Pressure Washer. It's a smart pressure washer with tons of wonderful uses and accessories, although our favorite feature is the adjustable smart pressure. For easy use, long cords and hoses, and a smart design, this is the pressure washer of choice. Also, it's small and won't take up a ton of space in your garage or shed despite the power it contains. Start cleaning your driveway the easy way.