The 5 Best Pruners for Arthritic Hands Reviewed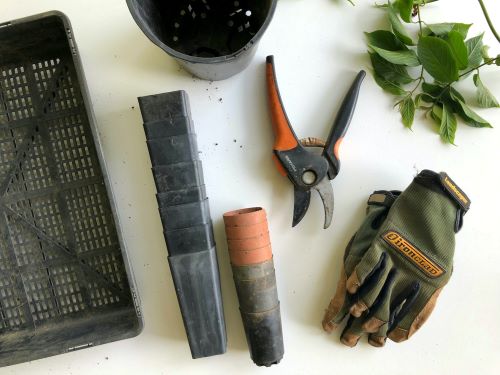 Gardening is the favorite pastime of a lot of people. However, developing arthritis in your hands can cause extreme discomfort and may deter you from gardening all together. Poorly designed tools can cause more damage and discomfort and prevent you from enjoying your garden.
This isn't necessary, there are many gardening implements designed to be used by people with a range of medical issues, arthritis included.
When choosing pruners, it's very important to look for the quality of the build and comfort of the handles.
Types of pruners
As with most things in life, you need the right tools for the job. This is no different with garden pruners.
There are three styles of pruners, all suited to different types of pruning needs. The most well known are bypass style pruners. These consist of two curved blades that act similarly to a pair of scissors. The bladed bypass each other, making a nice clean cut in your greenery. In this style of pruner, only one of the blades is sharpened.
Anvil pruners work less like scissors and more like you're using a knife and chopping board. A single, sharpened, straight cutting edge closes on a flat anvil. These tend to be heavier and more unwieldy than other types of pruners, so are best left for use when you need a bit more cutting power on dead wood and branches.
Ratchet pruners are similar to an anvil pruner but with one unique feature. They cut in stages. A special mechanism locks the pruners in place so you aren't constantly performing the full motion for cutting. These are ideal when you are doing heavier work, but your hand is prone to cramping pain or fatigue.
So which ones should you choose? Most people, especially those with hand problems, tend to have a bypass style pruner for their day to day gardening needs. A good pair will be able to tackle slightly thicker jobs but still give you the precision you need for close cuts and precision pruning.
However, if your garden is full of thicker, difficult to prune greenery, then you might want to think about an anvil or ratchet-style also, as you need the power to be able to cut through it. Bypass pruners are unlikely to be able to meet all of your needs in this area.
What to look for in garden pruners when you have arthritis?
It's important that you take your time when choosing garden pruners. The wrong ones can make your arthritis worse and cause you a lot of discomforts. It can be tempting to go for the cheapest option.
When choosing a pruner, look at the following:
Quality and durability – cheap products will break fairly quickly, meaning that you will end up replacing them. If you have arthritis, look for pruners that are light, well made and designed to stay sharp.
Pick a brand that has rustproof materials and coating so that your blades don't deteriorate and you run the risk of damaging your plants and your hands.
Comfort – ergonomic handles that are comfortable to grip will allow you to use them for a long time without making your hands worse.
Cutting power – your sheers should be sharp enough to cut through vines and small branches with ease. The easier it is to cut, the longer you will be able to do it, so you won't have to cut your gardening time short.
Here we look at some of the best pruners for arthritic hands which let you get back to your garden, without worrying about the pain.
Price – there are many different pruners available on the market to choose from. Their prices range from a few dollars, right up into the hundreds. The trick is to find the best value. The design and quality of pruners compared to their price. If you buy a cheap, badly made item, you're probably going to have to replace it often, spending more overall than if you had bought a better, more expensive pair.
That doesn't necessarily mean that the most expensive is the best either. Many mid-priced tools, made by trusted manufacturers can be perfect for all of your pruning needs.
Here we've selected five pruners, all at different price points and suitable for different gardening needs. Each of them is designed to maximize their cutting strength and minimize the amount of hand force needed to operate them.
They are also all ergonomically designed to help comfortable for extended periods.
All of these factors make them a great choice for those people with mobility issues, arthritis, or other conditions that affect their hands and fingers. They've also received many positive Amazon reviews from satisfied customers.
Best Pruners for Arthritic Hands
1. Felco F-2

Felco is renowned for its quality gardening tools. They are popular with both hobbyist gardeners and professionals alike. These Swiss-made pruners are so popular, the design hasn't been changed in over 50 years.
The Felco F-2 is ideal for most garden pruning needs especially rose bushes or woodier bushes. They also feature a deep grove for sap to prevent the blades from sticking together as well as a spring mechanism that is resistant to corrosion.
The ergonomic design of the handles is perfect for those with mobility issues or arthritis. Hands are protected by shock-absorbing rubber handles.
Gardners love these pruners because they are light, comfortable, and when cared for correctly, last for years.
2. Gardenite Power Drive Ratchet Anvil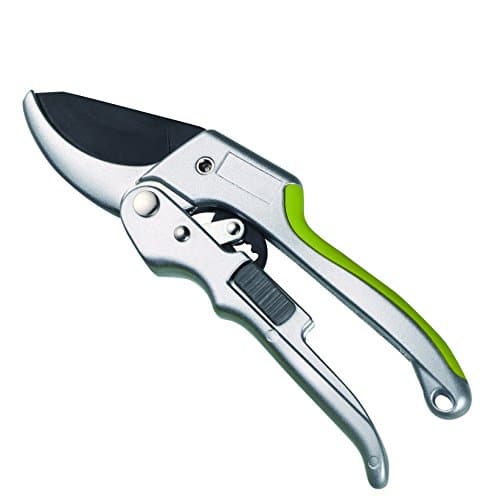 For when you need a little more cutting power. The Gardenite Power Drive Ratchet Anvil pruners are a gardener's best friend. Cut tougher branches with less effort. The ratcheting system allows you to squeeze the shears, latch them, and then readjust your script to squeeze again. The blades are carbon steel with a Teflon coating which means less sticking and sharpening.
These sheers increase your had strength by 5 times.
Those with arthritis will find the handles extremely comfortable and reduce wrist and hand strain. Customers are delighted with the Gardenite Power Drive Ratchet Anvil, describing them as "my favorite garden tool" and I had just had hand restoration surgery and am now looking at tools that do more of the work for me…and these pruners fit that bill very nicely."
3. gonicc 8-inch Professional Premium Titanium Bypass Pruning Shears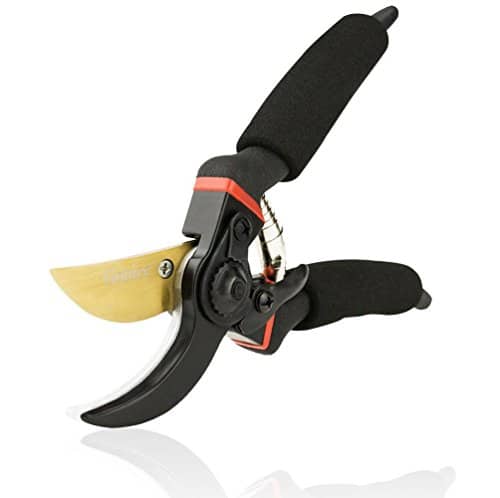 These pruners are designed for light pruning work around the garden. Their handles are ergonomically designed for comfort. The titanium blades maintain their sharp edge use after use.
These pruners represent fantastic value for money and have thousands of 5-star reviews online. Customers are also impressed with the gonicc customer service, so in the unlikely event that there is an issue with you pruners, they are very quick to provide a replacement.
The lightness and durability of the gonicc make them perfect for many people who find it difficult to grip gardening tools for an extended period.
4. Fiskars 91095935J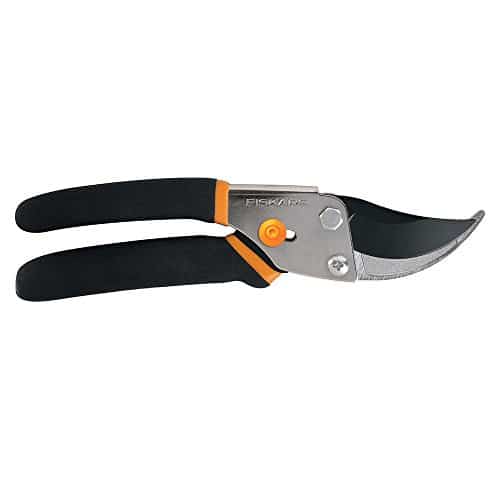 These rugged pruners are made entirely from steel, meaning that you can count on them to last a long time. The sharpness of the bypass blade makes them the perfect tool for pruning live greenery without spitting of damaging existing leaves and branches with no friction. The blades are kept clear by a self-cleaning sap channel.
Even better, the handles of the Fiskars are designed so that they can be used by both left and right-handers. Most pruners are designed for right-handers, which can be frustrating if you're left-handed or like to change hands periodically because of the pain of arthritis.
They also have a safety catch to protect the blades (and hands) when in storage.
5. VIVOSUN 6.5 Inch Gardening Hand Pruner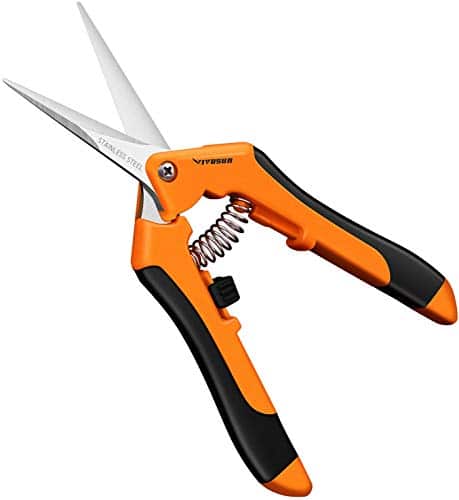 The Vivosun range is popular with gardeners looking for a comfortable yet powerful set of pruners. Their spring-loaded design and comfort grip handles mean that you can let the pruners do most of the work, without causing any unnecessary hand strain.
These pruners also feature super-sharp blades that are suitable for all but the very toughest of gardening needs. Yet they great for any precision pruning you need to do thanks to their micro tip snipping capabilities.
Comfort grip handles are suitable for left or right-handers, giving you the freedom to swap hands if yours become sore or tired. The compact design also makes them popular for those with smaller hands.
Customers have given these pruners thousands of five-star reviews.
Tips for Arthritic Gardeners
While gardening can be tough for those suffering from arthritis, here are a few tips to make it easier:
Conclusion
These are our top five picks for the best pruners for those with arthritis. Finding the right gardening tools is vital to continuing to enjoy your garden for as long as possible. We've selected items that have been put through their paces by gardeners across the country so that you can choose the best ones for your comfort and gardening needs.