The Top 5 Rabbit Repellents Reviewed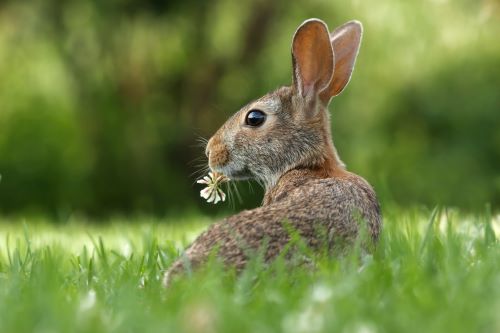 No-one's going to deny that rabbits can be cute, sure, but there's no avoiding the fact that they can be a little problematic too. If you have a lawn that rabbits seem to love, then you'll know just what we mean. They primarily cause damage to your lawn in two ways. The first is that they love to eat plants, and not just the tasty leaves; homeowners might be able to live with that, but rabbits tend to gnaw all the way down to the root, effectively killing your plant. If you've spent a long time cultivating your yard, then you'll know how frustrating it can be to step outside and see that a furry enemy has eaten your most beloved plants.
The other issue is with their urine. Rabbits don't have a particular area where they like to go to the bathroom; they'll go anywhere they can. And after they've eaten your plants, they may stop to do their business on your lawn, which, surprise surprise, does it no favors whatsoever. If you're noticing that your grass is beginning to have some brown patches yet can't figure out why then it's probably got something to do with rabbits in your area. If they're not using your grass as a bathroom, then they'll be using it as food. Rabbits love to eat grass, and don't stop after they've had a nibble or two: they'll keep on eating until they've effectively ruined your lawn.
So if you want your yard to stay in tip-top condition, then it's important that you're taking care of this problem. There are two ways to do this. The first is to put up a fence so that it's more difficult for rabbits to enter your yard. The second is to buy a good rabbit repellent.
On this page, we're going to take a look at some of the best rabbit repellent available to purchase.
Preview
Top Choice
Budget Option
Top Choice
Preview
Preview
Preview
Budget Option
Preview
Preview
Best Rabbit Repellents
1. Enviro Pro Rabbit Scram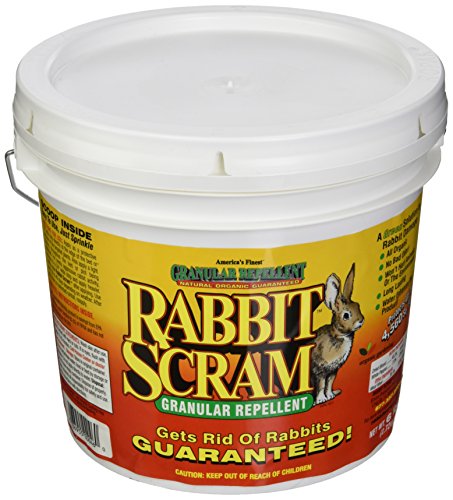 If you're looking for an effective treatment for rabbits in your yard, then take a look at Enviro Pro Rabbit Scram. This product has won plenty of plaudits from consumers for how effective it is at keeping pesky rabbits away from their lawn. Not only is it effective, but it's also easy to use. It comes in granular form, and there's no mixing required. All you'll need to do is apply it to areas that you want to protect, and let it get to work. For the best results, it'll be important to reapply the scram every month or so, though some people say it works best if it's every few weeks — and especially so you haven't received much rain in your local area. It's a six-pound tub, however, so you'll have plenty of product to work with.
So is it effective? The answer is a resounding yes. The people who have bought it generally say that it was effective at keeping rabbits out of their yard, and also other animals too. But the focus is on rabbits. There are reviewers who say that rabbits would continue to go near an untreated area, but as soon as they entered an area that had been treated, they ran away. It's safe for both animals and humans, which is good — though be aware that your dog may be tempted to eat it. It won't harm your pet, but will obviously reduce the effectiveness, since by eating they'll be removing the product from your yard.
2. Nature's Mace Deer & Rabbit MACE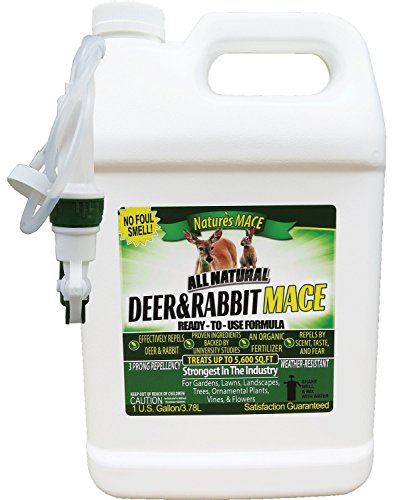 Another popular rabbit repellent product is Nature's Mace Deer & Rabbit MACE. The company that produces this product, Nature's Mace, are one of the leading manufacturers of rabbit repellents. Indeed, they've gained a reputation for the effectiveness of their products, which can contain more than three times the amount of the active ingredient than other products.
As you can see from the name, this product is more than just a rabbit repellent. It'll also keep deer away from your property, too, making this an especially good option for those people who live in rural areas. There are a few standout features that set Nature's Mace Deer & Rabbit MACE apart from the rest. For one, the company boasts that it's manufactured for proven results. It's also long-lasting and rain resistant, two qualities that will appeal to homeowners who want to just use the product once, and not have to think about it again for a while. Finally, it dies odorless. Some rabbit repellents are effective but can have a strong smell; while this item will smell when it's first applied, it'll be scentless once it has dried.
The company stands by its product, offering a money-back guarantee if it doesn't work. This eliminates the risk of buying the product; if it's not effective, then you can at least have peace of mind that it hasn't cost you anything. It's also environmentally friendly and won't harm humans or your pets. The reviews for this product are extremely positive, with many people saying that it has transformed their previously rabbit-infested yard into a rabbit-free yard.
3. Liquid Fence

From Liquid Fence we have the Deer & Rabbit Repellent Ready-to-Use, 32-Ounce product, another item that has been favorably reviewed by consumers. This item is a little bit different, in that it's a spray bottle, rather than granules, so it's used for a different purpose. With granules, you'll cover a large area that you want to keep rabbits away from. With a spray, it's a little bit more targeted. If there's a specific area of your yard that rabbits seem to love, then you can use this liquid to target that spot. All you'll need to do is spray the product onto the vegetation that you want to protect. However, it's important to note that rabbits don't have to eat the treated plant for it to be effective — it'll be the scent that puts them off, so they won't want to eat the plant in the first place.
Other benefits of the product include the ease of us; it comes ready to use, so all you need to do is open it up and begin spraying. It's also resistant to rain (you'll want to reapply after heavy rainfall, however) and is harmless to both plants and animals. That means that you won't have to worry about the plants you're treating, or that your pet may consume it. And as an added bonus: this product will also keep deer away, too.
4. Ortho Deer B Gon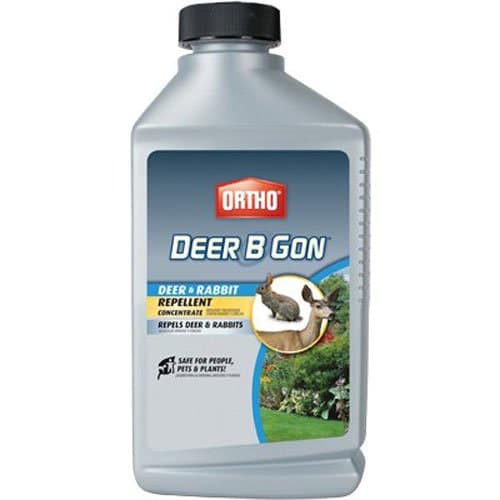 Easy to use and effective, that's how reviewers generally sum up their experience with Ortho Deer B Gon. Though the name specifically mentions deer, this product is just as effective at keeping rabbits away from your yard, too. So how does it work? It's as simple as 1, 2, 3. Buy the product, open the product, and then spread the granules at the base of your vegetation. And that's it — deer and rabbits alike will be repelled by the scent, and will move away from your yard and into someone else's. Other advantages of this item are that you can cover a large area with just one product (1, 440 sq. ft) and that it doesn't smell. As we mentioned earlier, there are some effective products that smell awful, but not this one.
Reviewers say that for best results, it's best to apply a lot of the product to the area you want to protect, especially if you're dealing with rabbits, not deer. It's also important to reapply the product every week or so, or whenever you begin to see rabbits entering your yard again.
5. Plantskydd Animal Repellent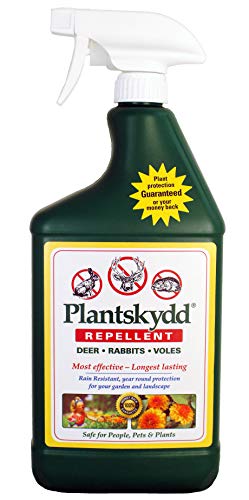 Finally, there's Plantskydd Animal Repellent. As the name suggests, this item isn't just for getting rid of rabbits. It'll take care of all kinds of creatures that could compromise the quality of your yard, including deer, elk, moose, voles, squirrels, and more. With just one bottle, you'll be able to protect around one hundred plants to a height of one foot. How frequently you need to apply the product will depend on the time of year you're using it; it ranges from every 2 -4 weeks during the growing stage of plants, to every six months during the dormant period.
Safe for humans, pets, and pollinators, this item is made in the USA and has been shown to be highly effective at keeping rabbits away.
Other Ways To Get Rid of Rabbits
There are other ways to get rid of rabbits besides using repellents. For a few effective strategies for combating rabbits in your garden, watch this video:
Conclusion
Don't let the good work that you've done in your yard go to waste just because of rabbits. Take action. As we've seen above, there are many excellent, safe, and effective rabbit repellents that you can buy. Once you've found the one that's right for your needs, make your purchase and add it to your lawn. You'll find that with regular spraying, you will severely reduce the number of rabbits that enter your lawn area — and not just rabbits, but other pesky wildlife that can cause damage too. This will help to keep your yard in pristine condition, providing your following the other basics of yard maintenance.