The Top 5 Lawn Mowers for Rough Terrain Reviewed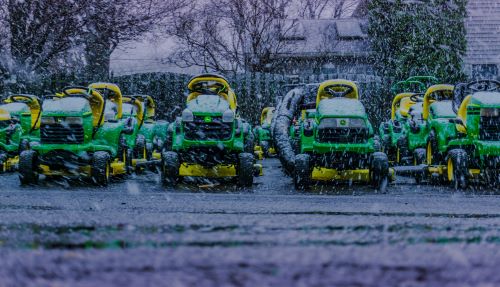 We all want the perfect lawn. Flat and even, healthy grass, with perfectly manicured and trimmed edges. Not only does it look great, but it is so very simple to maintain. A quick run around with a lawnmower and the job is done.
In reality, not every lawn is like that. There are hills and slopes. There are lumps and bumps. There are dips and trenches. There are rocky patches and patches of thick, tough grass that the average lawnmower just can't cope with. You need something that is perfectly suited to rough terrain, and, if it's a large space, you are probably going to want to consider a riding mower.
Generally speaking, if your lawn is half an acre or less, you can probably get away with a reel, battery powered or electric mower. For between half an acre and an acre, a gas powered push mower is probably more than adequate. Any larger than that, a riding mower is necessary – unless you want to exhaust yourself!
A riding mower is a significant expense. Even a budget one is not going to come cheap, and there are also issues around storing something of this size. Because of that, it is important to do your research, understand the pros and cons of each one, and understand all of the different features and functions. Before we look at which are the best riding mowers for rough terrain, let's take a look at some of the features that you might want from a riding mower for rough terrain.
Cutting deck: This is the part of the mower that holds the blades. The size of the cutting desk determines how many times you will need to go around the lawn to get the job done. The wider the cutting deck, the fewer passes over the grass you will need to take. If your lawn is big enough to need a riding mower, you are going to want to look at a cutting deck of at least 42 inches.
Manual transmission: You have to change the gears yourself as you are moving and getting faster. It offers more control over the speed and the power that you have, but it can make it more difficult to manoeuver, especially if you are unfamiliar with how stick works.
Automatic transmission: Instead of having to change the gears yourself, an automatic transmission mower does it itself, using a belt and pulley system to power the wheels. It allows you to focus on getting around any obstacles on the terrain, which, of course, is a bonus and helps to save valuable time.
Hydrostatic transmission: This is the most powerful by far of all the transmission types. It uses, as the name suggests, fluid to transfer power to the wheels. It's smooth and easier to maintain – but significantly more expensive.
Adjustable deck height: When operating a mower on rough terrain, you are going to want to adjust the height of the deck to move over obstacles. It also helps you to avoid scalping the lawn and revealing the earth below. Ideally, you want to be able to do this easily while operating the mower.
Preview
Top Choice
Budget Option
Top Choice
Preview
Preview
Preview
Budget Option
Preview
Preview
Best Lawn Mowers for Rough Terrain
1. Craftsman Z525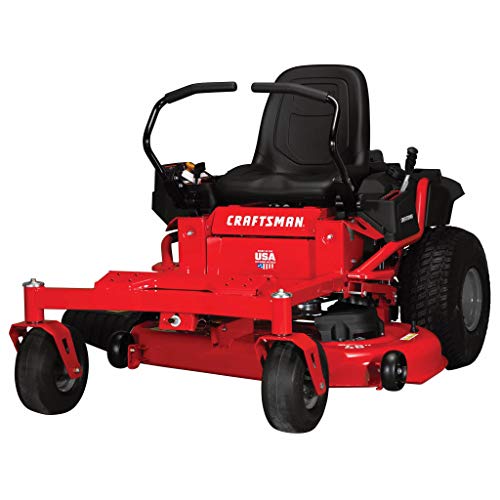 The Craftsman Z525 has a whopping 54 inch cutting deck width and deck wash. It also has a 360 degree turning radius, which makes for superb maneuverability, and a high-back cushioned seat to provide comfort to the user.
In terms of ground clearance, it really hits the spot (or doesn't, as it were!), with a robust 11 inch front and 20 inch rear wheels, which is ideal for less than perfect terrain. It has a ready-start feature, so the mower is ready to go as soon as you are. Even when the powerful 679cc engine is in reverse, you can continue to cut, saving plenty of time and effort.
The dual hydro-gear EZT drive system and simple to use dual levers mean that you can turn around in a tight space without the hassle and is backed by a two year warranty.
2. Troy-Bilt Pony 42X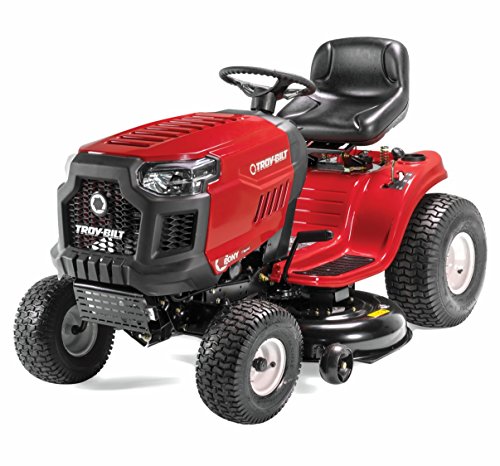 Similar to the Craftsman model above, the Troy-Bilt Pony is a hydro-gear riding mower. The transmission is smooth and gentle, even when switching through to reverse, in which you can still continue to mow. No need to pause your work while you change direction!
It has a 54 inch cutting deck, which is ideal for large spaces, and the discharge is at the side, making sure nothing gets in your way. The integrated deck is easy to clean, so you can concentrate on keeping the outside of your property looking great rather than cleaning and maintaining your gardening equipment.
The three-gallon capacity fuel tank means that it holds plenty, and the high-backed seat provides comfort to the operator. This is essential when dealing with rough terrain!
3. Craftsman T225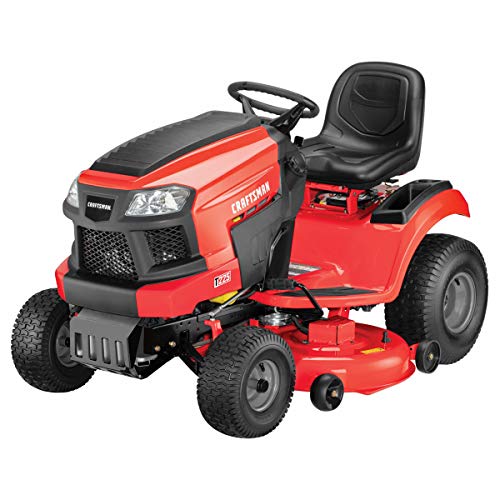 The Craftsman T225 is ideal for particularly rough terrain, with its 15 inch front wheels and 20 inch back wheels. The tires are designed for the ultimate traction, to stop you from slipping and sliding all over the place while working on your yard.
The hydro-transmission means that your experience will be smooth and seamless – no fretting about changing gear while operating the machine, which also works in reverse to save you time. The seat is high-backed, so users do not feel like they are going to be thrown off their riding mower when going over a particularly rough bit of land!
The engine, which is a 19 horsepower Briggs and Stratton Gold gas engine comes with ready start technology, so as soon as you turn the key, the mower is ready to go so you can get on with other tasks.
4. Husqvarna YTH24V48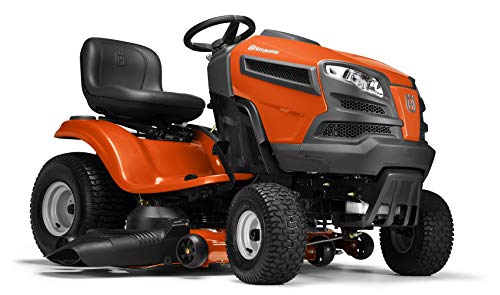 While more compact than other riding mowers for rough terrain, the Husqvarna riding mower does not compromise in any way on power and maneuverability. Because of its smaller size, it is easier to store, but the 24 hp Briggs and Stratton Intek V-Twin engine have the grunt you ended to deal with lumps and bumps in the ground. Again, it comes with hydro-transmission technology to make it a smoother and easier ride, and the ergonomically designed steering wheel and adjustable heigh seat mean that you can ride it with no fatigue or bone-shaking!
To add to the versatility of this model, additional extras and accessories are available, such as a mulch kit to help with good lawn fertilization.
The cutting deck is a decent sized 48 inches, but the cutting deck is reinforced for extra durability and features air induction mowing technology. It also has four anti-scalp wheels, which are a necessity for less than perfect terrain. It also features cruise control, which the other mowers that we have featured do not have, which allows you to maintain consistent speed on rough ground.
The really handy thing about the Husqvarna riding mower is that it has a tiny turning circle – just 16 inches. If you need to quickly move around obstacles on the lawn or need to turn around in a tight spot, this is the mower for you.
5. Ryobi RY48111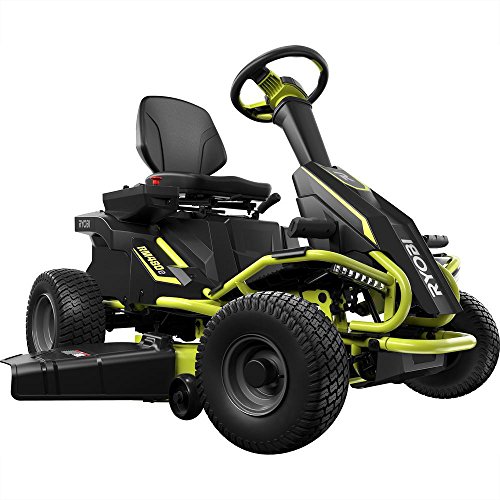 Ryobi is one of the big names when it comes to yard equipment, so we had to feature one of them here. This is our own battery powered riding mower that we have on the list. The 100 aH lead batteries give you around two and a half hours of running time, which is more than enough for the majority of lawns. It is the more environmentally friendly choice when compared to traditional gas powered riding mowers, as well as being a lot quieter – just 70 dB. It is perfect for those early morning or late night gardening sessions!
While it has the smallest cutting deck of 38 inches, it comes with a plethora of added features to make the time that you spend on your mower more comfortable and convenient. These include a USB phone charger, LED highlights, and cruise control.
The deck has two blades and 12 cutting positions, making it a good choice for uneven terrains. The battery can be charged with a standard 120 volt outlet. It is important to remember that in extreme temperatures, the batteries need to be stored away safely.
The Ryobi riding mowers is a heavy piece of equipment, more so than many of its counterparts. This is not necessarily a bad thing, as it gives it more grip on rough ground. However, if the ground is soft, you may see some sinkage and marking.
Modifying Your Existing Mower
If you already have a decent mower but it can't handle mud and rough terrain, it can be modified. Watch this video to learn how to put better tires on your mower: