The 5 Best Soaker Hoses Reviewed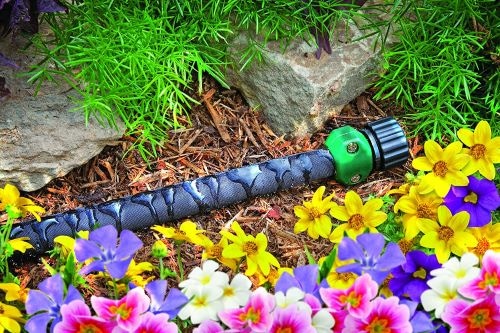 A lush and vibrant garden can bring you countless hours of happiness. Whether it is an oasis of calm or the ultimate socializing space, making sure your garden remains well watered throughout the year is crucial. But with busy lives, getting out every day with a small watering can or hose can become a time-consuming chore. A soaker hose might be the solution you are seeking. While standard sprinklers can result in a lot of water wastage through evaporation and their indirect nature, soaker hoses can ensure the water is gently and efficiently released throughout your garden. The soaker hose is also better for protecting those small saplings and first fruits from the damage that heavy water droplets can cause.
What is a Soaker Hose?
A soaker hose, like an ordinary hose, is a long tube through which water flows. However, the critical difference is that a soaker tube is full of tiny holes that allow small amounts of water to be released throughout its run. This means you can lay the hose in whatever configuration suits your garden, and it will sprinkle water into the soil with minimal effort. Leaving the hose running along the ground also means that while the soil will get fully irrigated, the leaves and flowers will not become laden with water. This is ideal for more sensitive plants that you might have placed around your garden.
Each soaker hose has its particular features and advantages, which will benefit different types of gardens. Hoses come either flat or round and can be made from a variety of materials. Some hoses are designed for durability throughout the year while some are more seasonal. It is important to consider what you might need for your garden when deciding on the Soaker Hose you should purchase.
Best Soaker Hoses
1. Gilmour Soaker Hose 870751-1001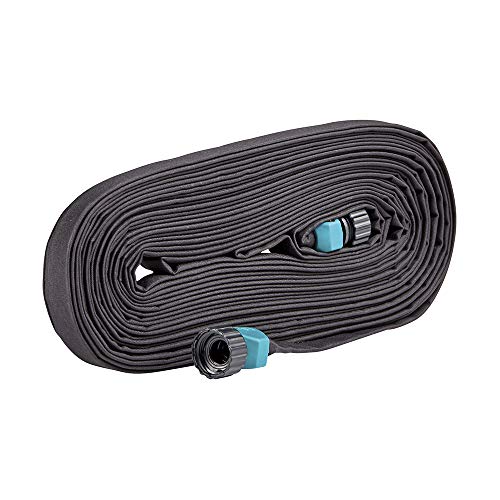 This versatile soaker hose ranges from 25′ to 75′ and can accommodate gardens big and small. It connects to a standard hose connection, and you can combine the hoses easily to fit the size of your beds. If you are an eco-warrior, you will be pleased to hear that the Gilmour is environmentally friendly, made from entirely recycled vinyl. The fabric also protects against UV rays damage, so there is no need to worry if your garden is a natural sun trap.
The Gilmour is relatively lightweight and maneuverable, allowing you to snake the hose around your garden without disrupting flowers, trees, shrubs, or vegetables. The flat shape allows the hose to blend into your soil, making it a little more aesthetically pleasing than the rounder varieties. If you want the hose to disappear entirely, it can be lightly buried underneath the garden mulch. But if you are burying, be aware that the manufacturers advise that the hose should be lifted and drained before freezing conditions occur each year.
The Gilmour utilizes a weeping system that results in less water wastage through evaporation, and it allows the water to penetrate down to the plants' root zone. It has
The optimum water pressure for the hose is 60 psi and works very well as a slow soaker. The hose can be combined with a timer to turn on your tap at regular intervals and left to do its thing. Or, if you would like to have more control, you can turn the tap on whenever you feel the ground needs moisture.
Gilmour is a brand with over a century's worth of experience in garden supplies. They are confident that their flat soaker hose lives up to this heritage, and as such, they offer a seven-year product quality guarantee.
2. Miracle-GRO Soaker System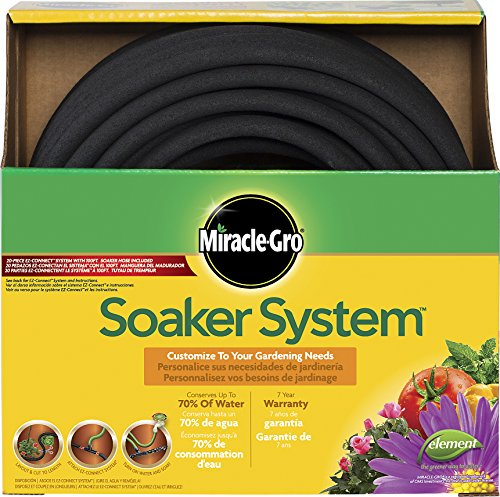 Versatility is the most significant advantage of this soaker system. The hose comes in 50′, 75′, and 100′ lengths but can be easily adapted for even the most elaborate garden layouts. The hose comes with 18 EZ-Connect Push on fittings. This allows you to customize your system quickly. Just cut the hose to your garden's exact dimensions, and you can create multiple pathways with just one hose. The fittings are also easy to switch out as needed, so if you are a gardener that likes to reshape those beds every season, this could be the system for you.
Each set comes with a range of fittings, including male to female connectors, feeders, tees, and plugs. This means you can water multiple beds with just one system. It also means, if needed, you can extend the system with relative ease. This is ideal, for instance, if you are planning on moving home and wanting a system that can adapt from one garden to another.
The Miracle-GRO Soaker System comes with an in-built water restrictor meaning no matter the pressure from your tap, your plants will never become oversaturated and will get just the right amount of water each day. If you strive to be more self-sufficient in your gardening, you can also use the system with a water barrel.
The system can deliver water straight to the roots when buried under mulch or topsoil, saving you up to 70% of the water output from a typical sprinkler system. While sprinkler systems can damage delicate plants or those not-yet-ripe fruits, the Miracle-GRO feeds water directly into the soil, ensuring no plant is damaged while still getting the water, it needs to ensure healthy growth.
3. Water Right Polyurethane Lead Safe Soaker Hose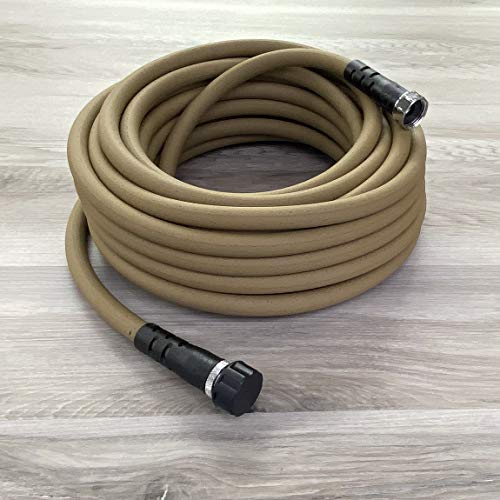 If you are looking for a long-lasting hose designed to be durable in almost any climate, then this is the hose for you. The Lead-free brass fittings are designed never to tarnish, and both ends are fitted with specially engineered strain reliefs that prevent kinking, which can be a common problem with less high-quality soaker hoses. The hose can resist damage in freezing temperatures meaning it can be left in place year after year with minimal fuss. The sturdiness of the hose also allows it to withstand taps with high water pressure.
The manufacturer promotes that the water coming from the hose is drinking water safe, meaning no nasty chemicals are used to coat the hose. This gives you peace of mind, particularly if you are growing fruit and vegetables for consumption.
The hose comes in 25′, 50′, and 100′ lengths and can be coupled together if needed. The hose has a consistent run making it ideal for longer beds as the water flows evenly at the beginning and end of the line.
4. BUYOOKAY Soaker Hose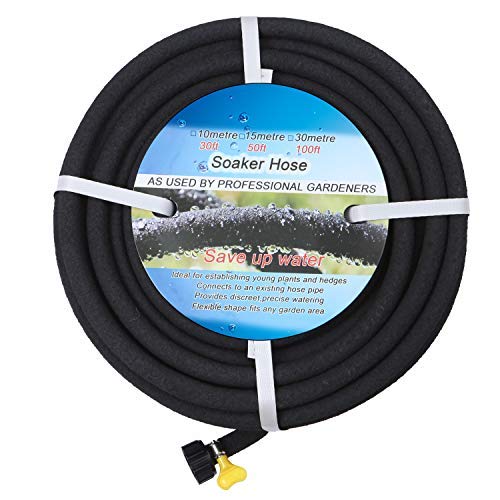 Similar to the Gilmour, BUYOOKAY's Soaker Hose is made from 100% recycled materials. BUYOOKAY also promotes that their hose is entirely lead-free, meaning the water meets the USA's Federal Safe Water Drinking Act.
The hose is constructed with heavy-duty rubber designed to last. It also boasts a unique non-clogging porous design, meaning that the water will flow evenly throughout the run.
One key benefit to this system is the four handy adaptors that come as standard with the hose. They can be used to extend the length of your system or make quick and easy repairs. Not that breakages are expected, the hose is round and so a little more durable than the flatter varieties. But it does mean, if you accidentally cut through the hose with a strimmer or lawnmower, the repair can be made quickly without having to lay the whole system again.
The hose comes in 30′, 50′, and 100′ lengths. That extra 5′ on the smallest length than most hoses makes it a great choice if you have a garden that needs a little more stretch than what is usually allowed with most manufacturer's standard 25′ length.
5. Melnor 65060-AMZ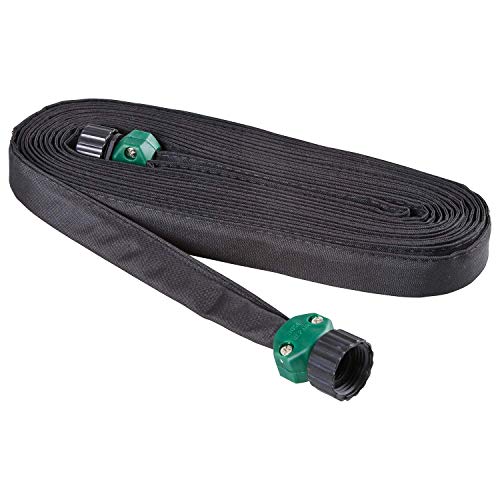 Melnor's soaker hose has plenty going for it. It's flat and can be used both above ground or lightly buried, with no water wasted. The flexible design means it can be woven around your beds and can even cope with tight little u-bends for those trickier garden landscapes.
The rust-resistant end cap allows for multiple Melnor hoses to be connected together. Even when connected to create a more extensive system, the water spreads evenly along the run and ensures even plants at the end of the line are well watered. This means you can get water right to where you want it, no matter how far your plants are from your water source.
Melnor's soaker hose comes with two additional washers so you can be sure of a leak-free connection to your tap. This means if your washer's ever become worn or lost, you have them readily at hand and don't need to wait to be shipped a replacement.
It is recommended to be stored during freezing temperatures, but there is no need to worry about winter storage with this handy soaker hose. It flattens neatly to the size of a shoebox to be stored in the most compact garden sheds or storage boxes.
Like the Gilmour, Melnor has a long history of helping gardeners with their innovative products. The Melnor's soaker hose comes with a two-year manufacturer's guarantee.
The Melnor comes in 25′, 50′ and 75′ as standard.
How To Set Up A Soaker Hose
After you purchase your soaker hose, you will need to make sure it is set up properly to get the best results from it. Watch this video to learn how to correctly set up a soaker hose in your garden: