The Top 5 Stump Killers Reviewed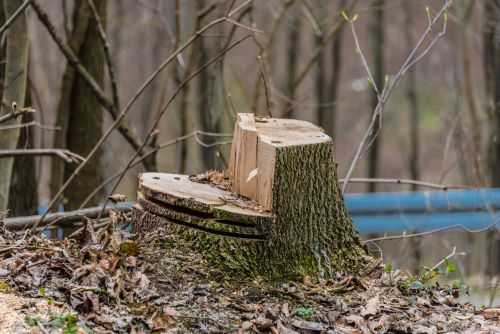 As amazing as trees are, there comes a time when trees need removing now and again for numerous reasons. Sometimes they are destroyed due to storm or weather damage, or they have simply come to the end of their lifecycle. When this happens in our gardens and yards, the remnants of the life they lived are nowhere to be seen, apart from an unsightly tree stump.
While a tree stump might be a nice little chair for a child or somewhere to stand on so you can see over the back wall, it can hamper the enjoyment of our garden. But rather than having to excavate the lawn, you can use stump killers, a chemical process that makes short work of any remaining tree stump. If you are looking for the best stump killer, read on and find the right product for you so you don't get "stumped" by too much choice.
Preview
Top Choice
Bee Friendly
Top Choice
Preview
Preview
Preview
Bee Friendly
Preview
Preview
Best Products
1. VPG Fertilome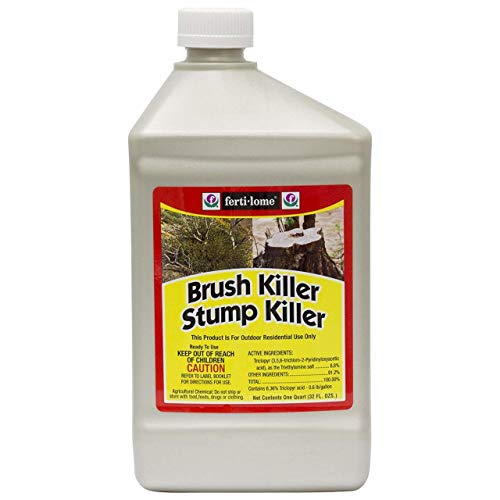 A good choice if you have a lot of work to do and need a multi-purpose stump killer. Its large, 32-ounce container means it will make short work of most jobs leaving you a little bit of solution left over for something you might have missed. This brush and stump killer comes from one of the leading brands out there, VPG Fertilome, and as a trusted brand in the stump killing game, quality and versatility are part of its benefits.
A very diverse plant killer, its main ingredient, Triclopyr, is used in a wide variety of manners as a potent herbicide. You can apply it to broadleaf weeds, vines, and wooded plants. It is incredibly strong, which means that it can destroy pretty much anything in its path, which can cause problems when you're overzealous with the solution. But the brush-on formula means that you don't need to use more than is necessary. It comes highly rated by regular users and is versatile in its uses, guaranteeing good-quality all-round.
You can use it as a spray to control 500 square feet of plants using up to 16 tablespoons of water-diluted solution. The one downside is that this can be a slow process and can take up to 6 weeks for any noticeable effects. But for its cost and versatility, it is hard to beat.
2. Bonide 274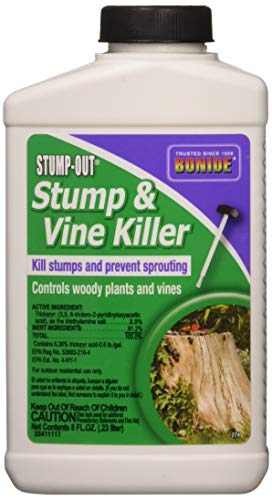 Another great product for killing vines, broadleaf weeds, and stumps. This one also contains the active ingredient Triclopyr, which is incredibly effective to stop the root system from resprouting. As Triclopyr gets sucked up through the roots this guarantees the entire plant is killed, making it a far better method of killing stumps. This will make the removal process far easier.
It is inexpensive, which is great if you need to pick up a product quickly for a bargain price, especially as many garden products aren't on the cheap side. It comes with an applicator brush so you can guarantee precision when applying your stump killer. When you have a larger project it can take time for the product to work, but it is good for the smaller jobs, especially if time is of the essence. If you have one or two projects around the garden this will make quick work of it. But you've got to remember, the larger the project, the longer it will take. But when it does take effect as it attacks the roots, this guarantees long-lasting effects.
As far as the best value stump killer is concerned, this is the best out there. For those people that need a quick job on a minor interference while guaranteeing that the problem won't come back, this is a good choice.
3. Gordon's Stump Killer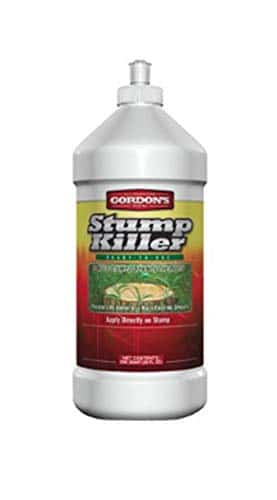 Many stump killers can prove ineffective on first application. They may require a few applications to really get rid of the problem. But when you want a tree stump gone for good, this brand works hard at killing street tree stumps all the way down to the root. Many tree stump killers work on the surface level only and don't penetrate properly. But, when used right Gordon's Stump Killer can destroy everything in its path.
Coming in a squirt bottle means that you can apply it to specific areas of the stump making for deeper penetration. If you want to get the fluid into the interior of the tree you can very easily point and squirt so it can drill right down into the roots.
The one major downside of this is that it's known to kill plants and grass within the vicinity of the stump. You might feel trigger happy and apply it to this annoying tree stump with more than is necessary, but you may see it spread further than you think. Coming in a 32 oz bottle means you've got plenty to use, but you can use it sparingly. As this kills the stump all the way down to the root and does it quickly, this is arguably one of the best out there. But if you've got a lot of precious plants surrounding the tree stump, be careful where you are aiming!
4. Dow AgroSciences Tordon RTU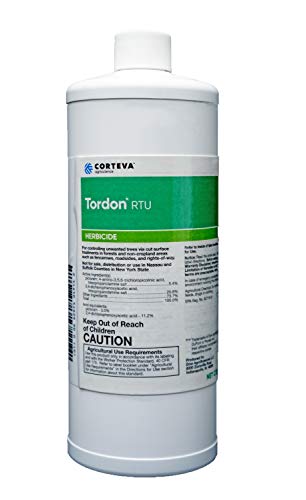 This specialty herbicide is effective at keeping more than 20 wooded species from sprouting again, guaranteeing it does the job when it comes to annoying tree stumps, as well as other shrubs and leaves.
The solution works by translocating itself into the root system of the tree, preventing any further resprouting. Widely effective and used in many areas from non-cropland areas and fence lines it is easy to use and is no fuss. There is no need to mix or measure and is suitable for quick use.
The one downside is that this herbicide works very slowly. It can take a few weeks to properly kill the stump. And you may need to make a second application 30 days after the first, which can prove frustrating when you thought it was going to do the job first-time round. But while it is low toxicity in comparison to other stump killers out there, it's a good quality herbicide. And as an added bonus, if you have bees buzzing in your garden and you are concerned about the level of toxicity in your stump killer, one of the active ingredients, 2,4-D (once used in the Vietnam War herbicide, Agent Orange), is virtually non-toxic to the fragile honeybee population, so the beekeepers among you can rest easy.
5. BioAdvanced Brush Killer Plus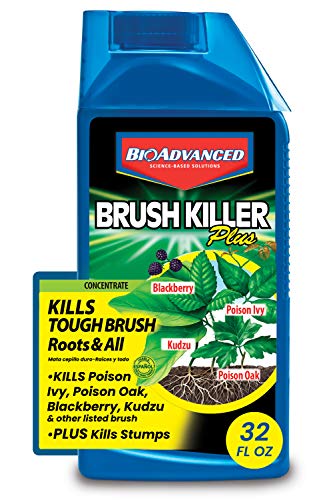 An incredibly robust stump killer. It is one of the best overall out there. It targets the plant all the way down to the roots, ensuring that if something has been bugging you for a long time, it will get rid of it for good. Designed to kill poison ivy, blackberry, poison oak, and the Kudzu (Japanese or Chinese arrowroot), it is a stump killer that can stretch pretty far.
One of the major benefits of this brand is that it's not as expensive as others on the market. If you are looking for excellent value for money, this is one of the best. It can kill more than 70 different types of weeds and is waterproof for several hours after application, meaning that you can spray it in most weathers. One of the most frustrating aspects of normal stump killers is that you have to wait for a dry day but you could spray this before a shower and it would still work its magic.
The one major downside is that the sprayer isn't the best and it can be a bit on the flimsy side. But that said, if you use the brush killer you can work with precision to get to the root of the stump. Its rainproof protection lasts up to 4 hours and as you can see the results between 1 to 6 weeks, this is one of the quickest out there for this low cost. Coming in a 32 oz container, there is a significant amount of brush killer for your budget so you can apply it to other issues in your backyard. Easy-to-use and with a special penetrating formula in conjunction with its ability to kill so many different types of weeds makes this the best one for our money.
How To Kill A Stump
There is a little more involved in killing a stump than just pouring a stump killer on it. Watch this video to see the whole process:
Conclusion
While all these products work well on all sorts of wooded branches, broadleaf weeds, foliage, and vines, you have to remember if you are going to remove a larger tree stump it may take a lot more time than you think. It's important to choose stump killers that are specifically designed for getting rid of tree stumps. A lot of stump killers "double up" as weed and root killers but when you are tackling the bigger jobs, you should choose a product that's more on the heavy-duty side. When you are applying the chemical, think about where the stump is located in case it impacts nearby plants. Also, if you have a large tree stump or there's more than one in your garden you may need to purchase higher quantities of tree stump killer. It's possible to buy multi buy packs to save yourself money, but if you buy the best stump killer for your needs, the tree stump will soon disappear.