The 5 Best T5 Grow Lights Reviewed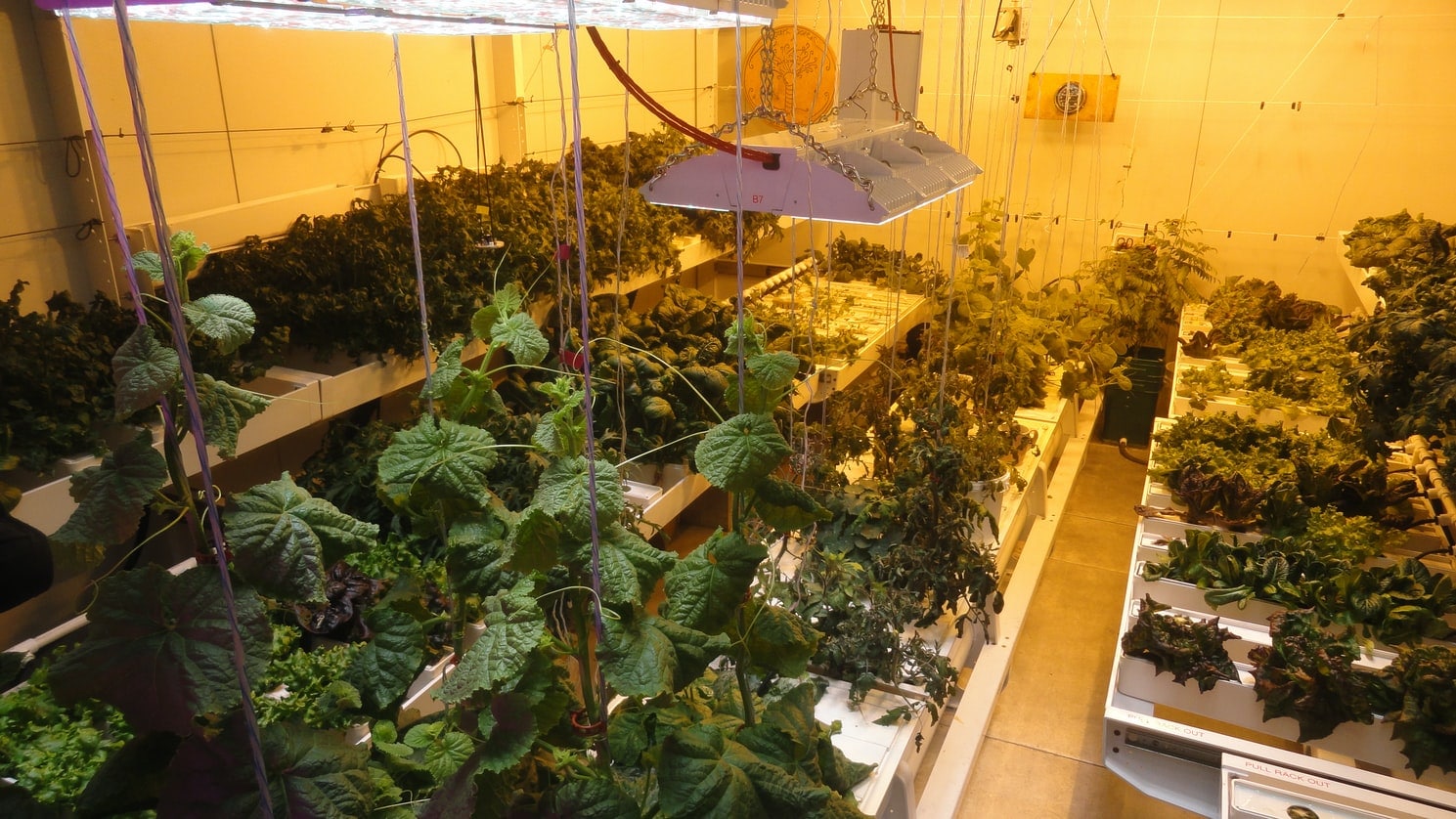 Starting a grow-project in your home is both exciting and daunting. You imagine the results, but as you research the requirements, you realize how involved it is and how expensive it can be when you factor everything in. But don't be disheartened, all projects require some investment, and with the right advice, it may cost as much as you first thought.
One thing you will definitely need are T5 grow lights. These are specially designed lights that hang above your plants and mimic the sun. The lights offer strong light and heat, the intensity of which can be adapted for different products, and are excellent for seedlings and young plants. To grow anything indoors or through the winter months, you will need a reasonable set of T5 lights.
Of course, you must also find a grow space and construct a room for your project. It could be in an outhouse or garage, a spare bedroom, or a basement. You need to figure out your heating and cooling systems and decide what kind of growing you want to do. All of this is important and necessary, but your T5 grow lights will be the main fixture. If you want to find the best lights for your project, consider all your options. Below are some of the best T5 lights on the market.
Best T5 Grow Lights
1. Hydrofarm Agrobrite FLT46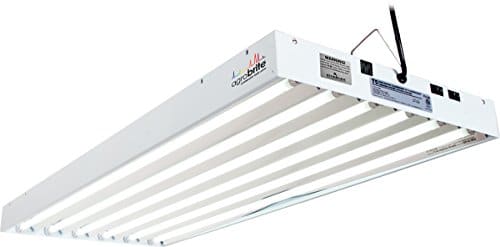 Hydrofarm, an experienced manufacturer of hydroponics equipment and high-intensity grow lights, is known for its premium-quality products and professional hydroponic equipment. The Agrobrite FLT46 grow light is one such item. A dependable lighting fixture with years of value.
Firstly, the Agrobrite has a dual on/off switch, meaning you can control the quantity and intensity of light on your project: this flexibility allows a higher quality product to be produced. The 120 volts, 10ft grounded power cord is advantageous if you want to grow your product in a garage or outhouse but still use the mains electric. Avoid the hassle of obtaining a third party extension cable.
The Hydrofarm Agrobrite is designed to be versatile and flexible. Projects can vary greatly and what's needed is a grow light that can adapt to circumstances. The Agrobrite can hang three ways – overhead, vertical, or horizontal, giving you many options in your grow up facility. It includes six fluorescent 6400K, T5 tubes that provide 30,000 Lumens – enough to produce a high-quality product.
In addition, the Agrobrite is contained in a powder-coated steel housing. The steel housing is the best casing to protect the fragile bulbs from damage and absorb excess heat for the lights. As the steel is powder coated, it is extra durable, protecting it from wear and tear and allowing it to last far longer. The Agrobrite comes with a dual warranty. There is five years on the ballast and one year on the workmanship and material.
2. DuroLux DL8048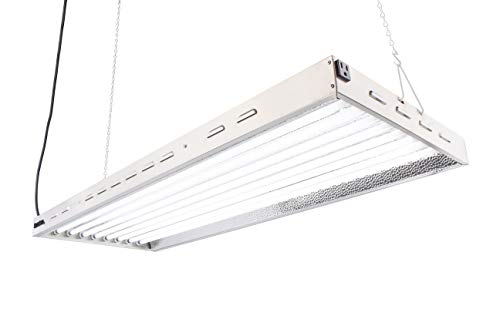 The Durolux Grow light is a four foot eight lamp fluorescent grow light designed primarily for indoor projects. It is an easy to use, plug-and-go grow light, perfect for indoor gardens, greenhouses, and garages. The light is versatile, convenient. It is easy to install and use and comes with a range of features you might not expect for a product in its class.
The Durolux is a professional grow system with fluorescent bulbs that produce 40000 Lumen. The high-light output, driven by a 95% Hammer-tone Reflector, provides 30% more light output in comparison to other systems. This means you have extra range when lighting your plants, giving you more giving you more choice and flexibility.
When planning your grow project, there are a few things you want from your lights. They have to be functional and reliable but also easy to use and set up. The Durolux comes with everything included. It has hanging hooks and chains, an 8″ power cord, and 4ft bulbs with 6500K of output power. All of this arrives in a discreet brown box ready to unpack and set up.
When you take your Durolux out of its box and begin setting it up in your studio, there are a few neat things you will notice. The outlet fixture will power three fixtures off one wall outlet, meaning you have fewer cables to contend with and less clutter. Another neat feature is the two switches on the lamp casing that power different lights in the unit. One switch for the inner lights, and one for the outer ones.
3. VIVOSUN 6500K 4FT T5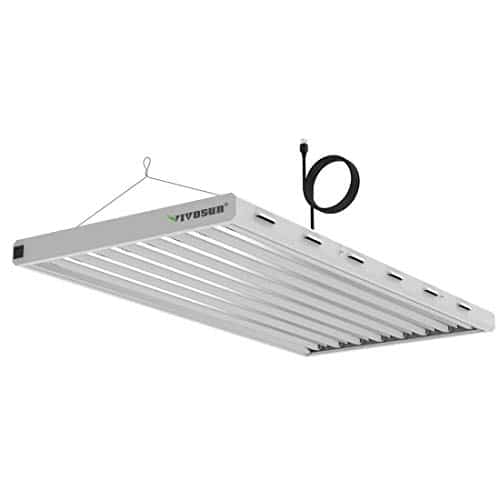 Vivosun is a premium hydroponics equipment brand committed to providing the best hydroponic equipment for indoor gardens. The Vivosun 6500K is a 4ft fluorescent grow light with high output lamps and several non-standard features to improve its performance and functionality. If you need a high quality grow light with enhanced features, Vivosun grow lights are worth considering.
The Vivosun grow lights are massively competitive. The lips provide a lighting output of 5,000 lumens, significantly more than its near competitors. The extra power gives options for range, flexibility, and growth period. It can do this because it uses high-output T5 tubes that produce more lumens than standard tubes.
The Vivosun grow lights also employ a two switches system giving you more control and flexibility for your grow project. The switches allow you to feed the plants with appropriate amounts of light, which carefully controls their growth and quality. The light's casing is also cleverly designed to maximize performance.
Firstly, it's conveniently low-profile, meaning it can be arranged neatly in your grow studio. It uses an aluminum shell that offers extra light intensity and distribution for a lower power output – it delivers 95-97% reflectivity and coverage. Additionally, the powder coating gives it extra durability making it a solid long-term option.
You want your new grow light to be discreetly delivered and easy to install. The Vivosun ones arrive in a stealthy package with easy setup instructions. You will notice the light unit has two hanging cables connected at each corner and an 8″ grounded power cord. While not as flexible to arrange as other products, the Vivosun makes up for it with some innovative cost-saving engineering.
4. DuroLux DL844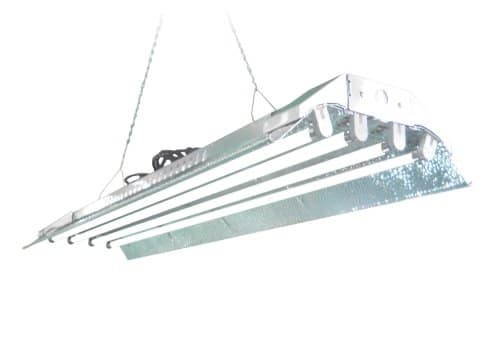 Durolux is a market leader when it comes to grow-lights, offering excellent quality products at affordable prices. The Durolux DL 844 is no exception. It is a convenient plug and go light perfect for indoor gardens, greenhouses, and garages. Multiple lamps can be bought together and connected up in a daisy chain effect if you're working on a larger project. The lamps also provide a powerful lumens output for maximum yields.
If you want your grow-lights to operate at maximum efficiency, you want design and technology to support your ambitions. A powerful output, along with an innovative design, means you have the option of increasing the speed of a yield or improving its quality over a longer period. The Durolux has a 20,000-lumen output that can deliver 95% reflectivity: that's 30% more than comparable products.
After you've set up your studio or grow house, you will be excited to get started, but you also need to ensure your project is discreet and mostly private. Durolux understands this, and so it provides discreet shipping in plain brown boxes. Everything you need to get started is contained in the boxes, including hanging hooks, chains, and an 8ft power cord.
Benefit further from the convenience of one wall outlet that powers up to five fixtures. It massively cuts down on cabling and makes your home setup neater and more convenient. On the light unit's casing, there are two switches that control inner and outer fluorescent bulbs; they also allow step dimming that gives greater autonomy over the growing process.
5. Monios-L T5 Grow Lights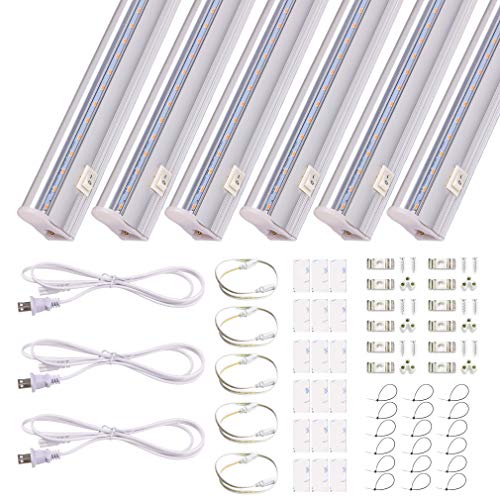 The Monios-L T5 grow-lights are an excellent choice if you want to combine quality with flexibility. One of the stand-out features of these lights is the customizable capabilities that allow them to conform to any setup or situation. They are also super efficient with an excellent output for only 20 watts of power in each bulb.
The Monios grow-lights use LED chips instead of fluorescent bulbs, which has some clear advantages when it comes to power and price. These grow-lights are super bright with four foot LED lights and a high PAR value. They are the perfect option for growing: seedling, veg, flower, succulents, and verbena plants.
Along with an excellent power capacity, the Monios lights are easy to install. The lights come with full instructions and can be set up in only a few hours with supplied screws, super-strong adhesive pads, and cable ties. The most customizable grow-lights on the list, the Monios ones, have an extendible design. Multiple lights can be connected up using seamless connectors and cords. The lights can also be installed in any position you want.
Since the Monios lights are designed with customization in mind, they provide an independent control switch on each individual casing. This means multiple lights can be connected together and controlled independently, giving you the flexibility to grow at different intervals. Along with the lights and installation accessories, the Monios grow-lights come with a 24-month unlimited warranty.
LED vs. T5 Grow Lights
If you are interested in how T5 lights and LED lights stack up against each other, watch this video: