The 5 Best Trimmer Lines Reviewed
Trimmers are a tool you should keep in your lawn tool shed if you want the perfect manicured lawn look. It is easy to attain, all you need is the perfect trimmer. Trimmers are very useful. It uses a string that rotates at top speeds, making it as sharp as a knife.
They are used to create clean lines and to get the hard to reach places that your mower cannot get to. These areas are locations around trees, shrubs, fences and gardens. When you use a trimmer to get those places, your lawn will look pristine. Trimmers are powered either by gas or by electricity. If you want your lawn to look clean and polished, a trimmer is a must. They are also great at getting rid of unsightly weeds. There are different types of trimmers as well as different types of trimmer lines.
You can have a round, multi-sided, serrated or twisted trimmer line. Each type of line design performs differently. The round trimmer line is standard and calls for any weed whacking or lawn edging job. This shape does not wear down quickly and they are perfect for laws that have little to no weeds. Multi-sided trimmer lines are for bigger yards and more weeds. Serrated trimmer lines are best used for lawns that have a bunch of weeds and a vast amount of yard. Lastly, the twisted trimmer line is for heavier, thicker weeds.
You have to carry it in your hand, so you want to make sure you are getting the best one for you. If you are unsure of what to look for in a trimmer or a trimmer line, we have your covered. Here are our top five picks.
Best Trimmer Line
1. Cyclone Orange CY095S3-2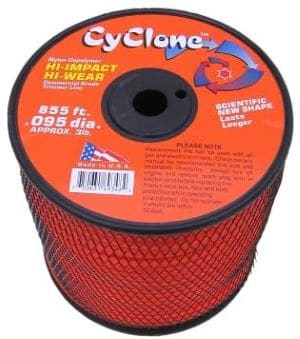 This trimmer line will have your lawn looking spectacular all season long. It has a six blad design, making it able to cut through more things without it fraying as easily. You do not have to worry about it breaking because it has a copolymer formula that makes breaking really difficult. That means you will get as much use out of this as possible. This bright orange trimmer line is also weld-resistant meaning it will spool with ease. You will be able to get a lot of lawn done if you use this trimmer line as it can also increase productivity.
The best thing about this trimmer line is that it works extremely well with any string trimmer as long as it meets its diameter requirements. This is a great trimmer line that is easy to use even though a lot of professional landscapers consider this trimmer line their go-to.
2. Rotary Item 12179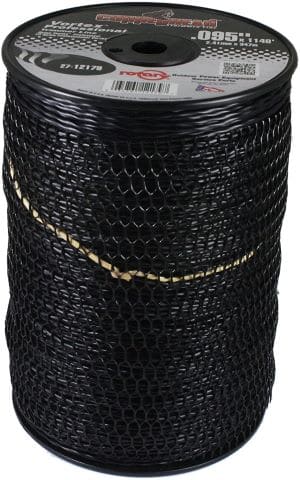 This is a real heavy-duty trimmer line that will give you amazing results. You can expect this trimmer line to cut through some of your toughest weeds like it is a piece of paper. Because the lin is so long, it will also last you a long time which could be saving you money in the long run. You do not have to worry about messing up the trimmer line or severely damaging when you try to edge near fences and sidewalks.
There is a slight twist in the line that makes it harder to destroy. The slight twist also makes the line more aerodynamic therefore decreasing the chance of turbulence. You can expect to get smooth cuts using this trimmer line. This is by far one of the best, longest-lasting trimmer lines that get the job done. This is another trimmer line that is commonly used in the professional landscaping arena, so you can be sure your lawn will look pristine.
3. ANLEOLIFE 5-Pound Commercial Square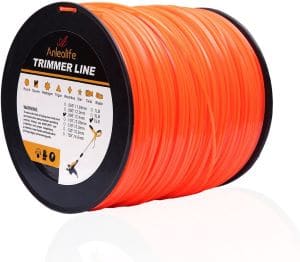 The anleolife trimmer line is also one of the best. This is a multi-sided trimmer line, which makes cutting through weeds and grass a breeze. A really heavy duty trimmer, this multi-sided trimmer line has a square cross-section shape. You will be able to cut down any size weed no matter the thickness. The line is made with nylon 66 copolymer so you know it is virtually indestructible. There is no need to be wary about trimming your driveway or sidewalk. You may also expect to get an extra trimmer line when you purchase this trimmer line.
One thing to keep in mind is because of the thickness of the trimmer line, you have to double-check your trimmer is compatible with the trimmer line's diameter. Other than that, this is a very user-friendly trimmer line as it is simple and easy to re-spool. You should also keep in mind the price point of this trimmer. It is on the more expensive side, but for good reason. This extremely durable trimmer line will be worth the investment because you will have it for a long time.
4. Maxpower 333695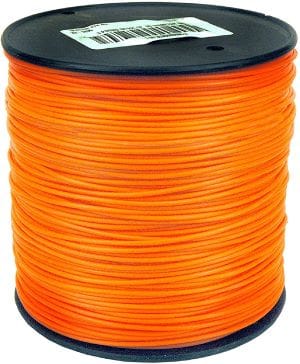 This is a great trimmer if you only need to do small work around the house. This line is very light and thin. It is best used for cutting down light and tall grass. It can also be used for small weeds and other light greenery. The shape of the trimmer line allows it to rip to shreds instead of cut through the things you are trying to cut through. You can also be worry-free as it pertains to finding a line trimmer that will be able to adapt to this trimmer line as the line itself is very thin and easy to install. Do not be fooled by its thinness, though. It can still get the job done for something its size.
It is recommended that you avoid using this line trimmer on any type of wood or thick brush. Doing so could seriously damage your line, making it totally unusable. You can use it to edge your lawn, just manage your expectations. It is a great option if you are looking for something that will be able to provide average precision.
5. Oregon 22-895 Magnum Gatorline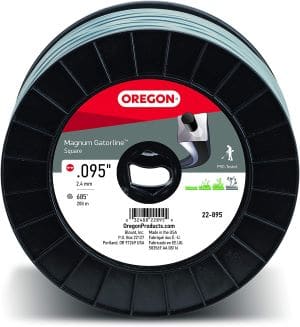 The Oregon 22-895 Magnum Gatorline is considered one of the heavy-duty trimmer lines. It is made with dual polymer material while also reinforced by the use of aramid fibers. This essentially makes this trimmer indestructible. It is ideal for cutting down big, thick weeds and grass. You do not have to worry about this trimmer line breaking on you.
This comes in a square shape meaning it is multi-sided, giving your clean lines and a clear cut. The inner core strength of this trimmer line is unbeatable. It is also weld-resistant. It is recommended that you use it on small lawns for homes per se if you want your spool to last you a really long time. With this line trimmer, you get super wear characteristics, a consistent line diameter, an intense resistance to cuts and dings, and the spool makes it easy to store.
One drawback to keep in mind is though the trimmer lin is very durable, it is not foolproof. If you try to test it against a fence or stones, it will break daily easily. You do not want to test your luck on this. You can still use this to trim those hard to reach places by sidewalks, but just be very cautious. You do not have to put as much effort into cutting your heavy grassy areas as this can plow through it quickly, plus you do not want to break your line before you had a good chance to break it in.
You can use this for commercial use or domestic use. It does not matter as the line is long enough to do both types of jobs.
How To Replace Trimmer Line
While each weed trimmer may have a slightly different process for replacing trimmer line, they are usually pretty similar. Watch this video to learn how to properly replace trimmer line:
Conclusion
Trimmers and trimmer lines make all the difference when it comes to putting that finishing touch to a perfectly mowed lawn. Ultimately the type of trimmer line depends on the type of trimmer you have and what you plan to do with the trimmer line. You will either be touching or edging some parts of your lawn. Other times you may want to get rid of those ugly weeds in your yard. You may want to tackle them in your garden too. Whatever you do, make sure you have done your research on each trimmer line before you make a decision. There is nothing worse than spending a lot of money on something that does not work out the way you thought it would.
You should also be looking for trimmers that are fairly easy to install to your trimmer. You also want a spool that is going to provide you with enough trimmer line to get the job done. You do not want to have to stop halfway through doing yard work to go out and by more trimmer line. That is inconvenient and inefficient. You can find any of these trimmer lines online or at your local hardware store. Make sure you shop around before making a final decision. You want to make sure you are getting the best bang for your buck. You will not know that if you buy the first trimmer line you see.