The 5 Best Tripod Sprinklers Reviewed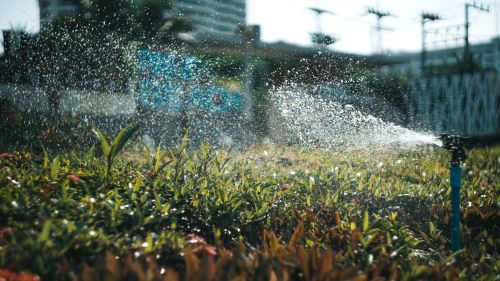 Your yard doesn't need all that much to look at its best. The issue is that we don't always have the time to give our yards what we need. While we know that we have to deliver plenty of water to our yard, it's not as if we can stand out there all day with a hose pipe. Fortunately, there are other options available to us. Take, for instance, the tripod sprinkler. This will allow you to deliver water to all areas of your yard, with next to no effort.
As with all things, it's important to think about certain things when it comes to purchasing your tripod sprinkler. After all, if you buy the correct one for your needs, then you'll find that you're able to use it again and again, for many years to come. In this sense, you can think of your purchase as an investment. Choose the right one, and your garden ambitions will be much more straightforward.
On this page, we're going to run you through a selection of the best tripod sprinklers available on the market, so you can make an informed decision.
Best Tripod Sprinklers
1. Gilmour 819003-1001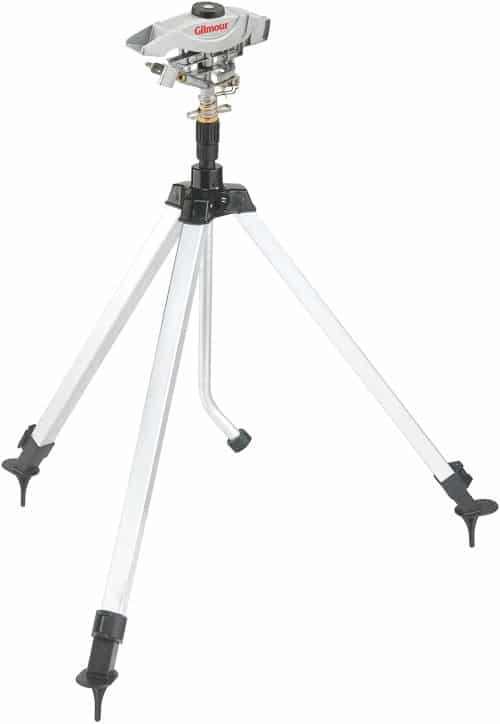 The Gilmour 819003-1001 tripod sprinkler has proven to be one of the most popular on the market, thanks to a range of handy features that ensures it does everything that people want and more. To get an idea of just what this product is capable of: it can achieve up to 8,500 square feet of coverage, and it has a spray distance of some 53 feet. That means that it should comfortably cover any reasonably sized yard. The telescoping aspect is impressive, too. The tripod can reach a height of 58 inches, so you can adjust the height depending on which part of the garden you need to water. You can also alter the collar, which will allow you to get partial or full coverage. So if you need a full rotation, then you can, or you can just let the water flow out in one direction. While the device might be top of the line, the use is anything but complicated. Quite the opposite, in fact.
The reviewers are, on the whole, positive about their purchase choice. They compliment the ease of setup, which is always beneficial, and the sturdy nature of the sprinkler. In some cases, you might need to adjust a few settings to achieve the 55 feet of coverage — for example, you might have to change the size of the hose that you're using. The full spray range will depend on the pressure of your water; the high, the better. In short, purchasers generally say that the item does exactly as it was intended to do. And since it's well made, you'll find that the product can last for many years without suffering any loss of performance.
2. Melnor 65115-AMZ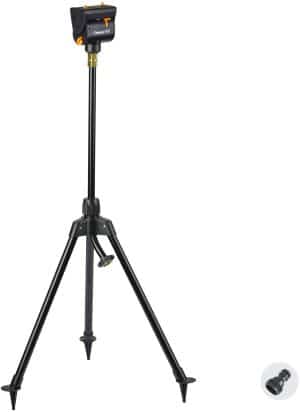 If you're looking for a versatile tripod sprinkler that can be used in a variety of different ways, then take a look at the Melnor 65115-AMZ. This is a sprinkler that will be useful for any homeowner with a yard that needs maintenance, and especially those that have oddly-shaped yards. A lot of sprinklers will give generic coverage, but this can be problematic if the yard is oddly shaped or there are other reasons why the water won't reach a certain part of the yard. The Melnor 65115-AMZ comes with a range of adjustment types, so you can precisely water certain areas, if it's needed. The full size coverage is encouraging too, with a coverage of up to 4,000 feet. There's also a sturdy base that will ensure that it's more than fine when left out in the elements, even during windy weather. The tripod aspect can extend the height from 27 inches all the way up to 41 inches, so you can get the coverage that you require.
So what do the reviews say? They're highly effusive. One of the main benefits is that it's so easy to set up. The sprinkler doesn't come with instructions, which would ordinarily be a negative point, but conversely, it turns out to show its strengths — it's easy to set up even without instructions. It's particularly recommended for people who want to water specific parts of their garden, due to the precision feature. It'll allow you to water your flowers, say, without using any more water than necessary.
3. Eden 11530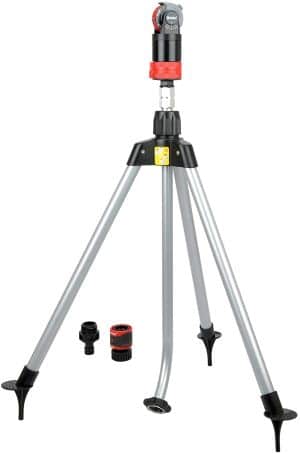 The Eden 11530 is another popular tripod sprinkler, because of the versatility and quality of the performance. This is a sprinkler that comes jam-packed with features. You can decide how much coverage you want, ranging from 5 degrees to 360 degrees of coverage. That'll allow you to focus the water on one specific part of your yard, or to provide the whole space with a hosing. It's not just the direction of the water that'll be in your hands, either, but also the type of watering. You can have a flat, fan, mist, large, or multi water pattern. With some sprinklers, you'll need to acquire additional equipment to achieve 360 degrees of coverage, but not with the Eden 11530 — it includes everything that you'll need. One of the most impressive things about this sprinkler is the range of coverage that it can provide. It'll allow you to water up to 78 ft. On hot days, it's recommended to use the mist system, which uses less water than the other flow types, to keep your yard and plants hydrated.
The reviewers compliment the versatility of this sprinkler. In many respects, this is a product that can do virtually everything connected to watering your garden, so you're able to avoid repeat purchases and having to think about how you're going to store them all. Additionally, unlike with other sprinklers, the power of the Eden 11530 means that it'll work well even if you don't have access to water with high pressure.
4. Orbit 58308Z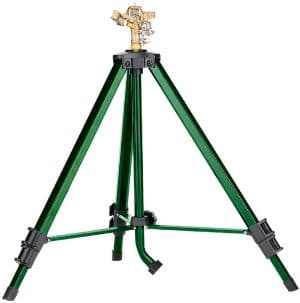 If you're looking for a high-performing yet affordable tripod sprinkler, then the Orbit 58308Z might just be the right one for you. It comes with a lot of features that can make watering your yard or flower bed a breeze. For example, it has a large coverage area. It'll achieve a spray of around 90 feet in diameter, which makes it appropriate for large yards, for a maximum coverage of 6, 360 feet when it's on the full rotation setting. One of the issues that people have with other sprinkler systems is that they're unable to handle their water pressure, or that they get blown over in inclement weather. The manufacturers of the Orbit 58308Z have done away with this problem by making it with high-quality materials. It's made of brass, which gives it the weight required to keep it on the ground, and which can also manage high pressure water flow. The tripod system has been specifically designed to be stable, so you won't have to worry about returning home to find that your sprinkler has fallen over.
It's particularly recommended for people with large beds spread over their yard. The wide coverage means that you can place your sprinkler in the middle and let the water splash over the flowers on either side of the yard. To get the best use from the sprinkler, it's best to periodically clean the head, and perhaps even apply some WD-40, especially if you live in an area that has water filled with minerals or other imperfections, since they can clog up the head from time to time.
5. Aqua Joe AJ-IST39BM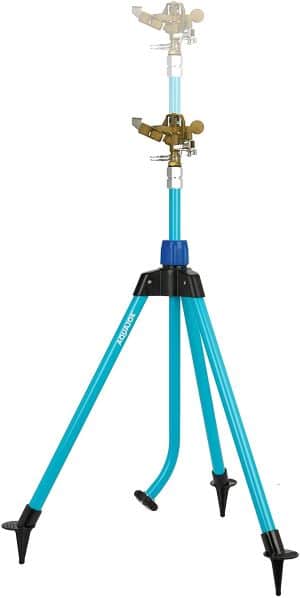 If you're looking for a well-made tripod sprinkler that can last for many years, then take a look at Aqua Joe AJ-IST39BM. This is a well-performing sprinkler that is crucially made of durable materials, so you don't have to worry about the sprinkler falling apart if it's left out in the elements. Not only is it stable enough to remain in the ground when you're watering, but it's also rust resistant, so it will look the part too. It's not just that it's going to last for a long time, however — there's also the matter of coverage, which is, of course, the most important factor when it comes to sprinklers. On this front, the sprinkler performs well. It has a coverage of 1,390 square feet. You can also play around with the settings to get the type of coverage that you want. You can make adjustments to the distance that you're covering, the rotation, and the spray pattern. Another advantage is that the manufacturer stands by their product — while you'll likely have no problems, if you do, then you'll know that there'll be someone to help you. There's a two-year warranty, so you can have peace of mind that your problems will be resolved.
This is a quality, pro-standard sprinkler that will allow homeowners to get the type of coverage they need, no matter whether their yard is large or small, or awkwardly shaped. The Aqua Joe AJ-IST39BM will do the job.
How To Use A Tripod Sprinkler
For instructions on how to use a tripod sprinkler, watch this video: