The 5 Best Watering Wands Reviewed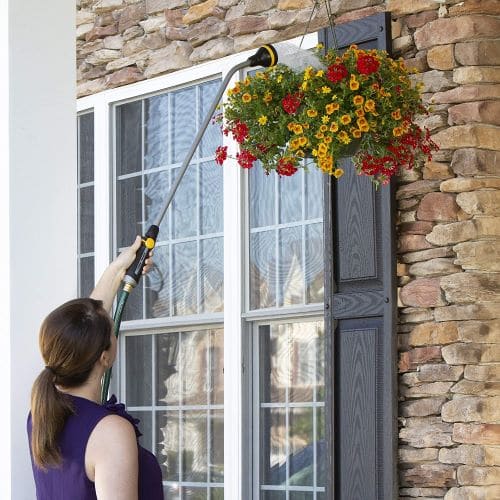 Keeping your flowers looking fresh and your lawn looking nice and green means that you need to water your garden often. Carrying around a large watering can is hard work, and you'll need to make multiple trips to water your garden. If you have a large garden, it will take you a very long time. Even using a standard hose attachment will mean watering the garden takes a long time.
Probably the easiest way of watering your lawn and flower beds is with a watering wand. Using a good watering wand will take the strain out of watering your entire garden.
Let's take a look at five of the best watering wands that you can get today. We'll compare all of the features so that you can make an informed choice.
Best Watering Wands
1. H2O WORKS Heavy Duty 21 Inch Watering Wand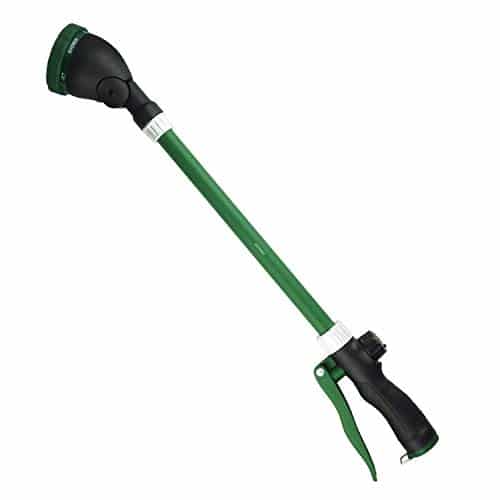 The H20 Works Heavy Duty 21 Inch watering wand is the perfect watering wand for a range of different gardening needs, from watering flowers, shrubs, and lawns through to watering seedling beds. The wand is adjustable and has six different watering patterns.
This watering want has mist and shower modes. The mist sprayer wand provides fine water droplets which are ideal for watering delicate flowers. At the same time, the mist sprayer allows the spray to go further, meaning you can water those hard-to-reach places with ease.
The rain shower mode focuses the water flow to where you need it to be. This saves on water and time. You can easily adjust the water flow using a knob meaning you can easily set the flow to suit the area that you are watering.
Constructed from zinc alloy, aluminium alloy, aluminium and TPR this watering wand is as heavy-duty as the name suggests. The wand is built to last and has a high-quality anodized finish which is designed to help it to prevent rust, corrosion, and wear-and-tear.
With an ergonomic design, this watering wand is easy to handle and comfortable to hold. It provides easy and comfortable spraying. The pistol grip is coated with TPR rubber making it perfectly slip-resistant. There is a smart trigger locking clip at the bottom of the handle which allows for a constant flow of water without the need to apply pressure on the trigger.
The lightweight design means that it is suitable to be used by people of all ages and of differing physical abilities.
The watering wand easily fits onto all types of garden hose. It's 21 inches long, which makes it ideal for reaching hanging baskets or cleaning the top of your SUV. In addition to watering your garden, this is a great tool for cleaning the patio, washing the driveway, clearing out gutters, and washing the car, showering pets, and much more.
2. GREEN MOUNT Watering Wand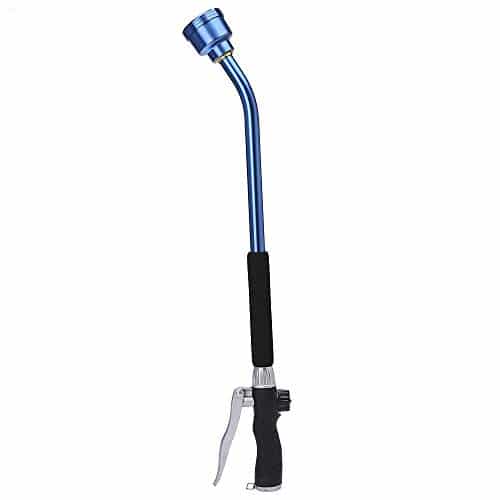 The Green Mount sprayer wand is an ideal choice for watering gardens, including shrubs, bushes, lawns, and more. The wand features an ergonomic design that is lightweight and comfortable to use. The slightly curved design and the length of the wand make it perfect for watering those hard to reach flowers or hanging baskets. With no stretching or bending required, the watering wand is great for saving labor and for people with more limited mobility.
The showerhead features 661 holes which make it perfect for watering delicate flowerbeds and seedbeds. The head is fully removable which makes for easy cleaning should the holes become clogged. At the base of the handle, there is a clip that allows for continuous water flow.
Made from aluminium, this lightweight and durable watering wand is designed to last. It features a rubber foam over the tube.
The shower spray can be adjusted from a fine mist for your delicate plants through to a strong downpour for other areas of watering, or for cleaning.
The head of the Green Mount watering wand is fixed in place and it isn't possible to adjust this, however, this doesn't present any problem as the wand is so user-friendy, it is easy to direct the water flow to exactly where you need it, effortlessly.
This watering wand does only have one spray pattern which means it is best used for watering plants, however, all-in-all, this a great all-round watering wand that is perfect for a range of garden watering tasks.
3. Eden 94609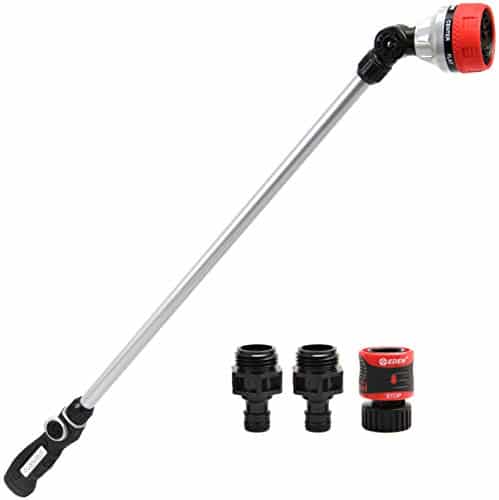 The Eden 94609 watering wand is both lightweight and durable. Made from a combination of aluminum and zinc alloy, the lightweight want is designed to be easy to use. At 33 inches, this wand is long enough to reach all of those hard-to-get-at flowers.
The wand allows you to water those hard-to-reach places with greater ease. This includes watering high-up hanging baskets, hard to reach flower beds, cleaning gutters, or washing the top of your vehicle.
The adjustable head makes it easier to angle your watering wand to where you need it the most meaning you can spray mist or jets of water wherever needed.
The ergonomic design with honeycomb rubber grip makes the wand easy to hold and use. This is great for people of all ages as the length of the wand and the distance that it sprays water out to mean that you don't need to stretch or strain when using the wand.
The watering wand features seven patterns, including flat, center, cone, soaker, mist, shower, and jet. This means that you can set your watering wand to the right setting for the job. Whether you are watering the lawn or delicate flowers or clearing leaves from your gutter or cleaning the car, this watering wand has a setting that will suit you. A thumb control makes it easy to use.
Use the flat or jet settings and you could use this watering wand to clean the windows and siding of your home. Set the watering wand to mist or shower and use the wand to water your garden.
The quick-connect adapter allows you to easily connect most types of garden hose.
The Eden 94609 is a great choice if you are looking for a range of different uses from your watering wand.
4. Orbit 58995 Pro Flo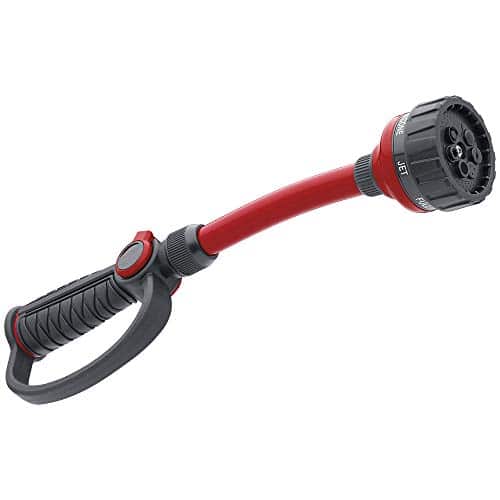 Although this may be a shorter watering wand that some that are reviewed here, it is certainly not one that should be overlooked. With seven different spray patterns to chose from there are a range of different uses for this watering wand.
Choose between shower, center, flat, mist, full, jet, or cone to suit the type of watering or cleaning you need to do.
The watering wand still gives enough of an extended reach so that you can effortlessly water your garden, hanging baskets, lawns, or flower beds. It also helps you to make light work of your cleaning too.
The thumb control makes the watering wand easy to use and a soft-touch dial lets you select the right spray pattern for you. The dial is textured, so it is easy to grip- even when the head is wet. There is no need to head back to the faucet to adjust the water pressure, this can all be done very easily from the handle of the Orbit Pro Flo.
The handle features a textured grip that is easy to keep hold of, even when wet. The handy D-shaped design makes it easy to hold onto and makes for a great hanging hook for when it is no longer in use.
One of the best things about this product is that there are no triggers to squeeze so there is no risk of your hands getting tired. Simply push the lever to start the water flow and then pull it back down to stop it. This can be done easily using just your thumb.
5. Melnor 65045-AMZ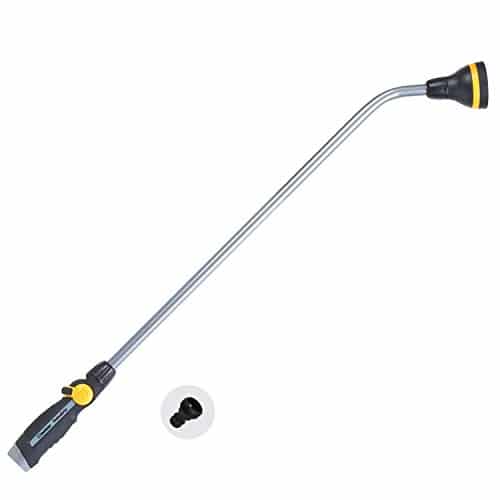 The Melnor 65045 -AMX RelaxGrip Watering Wand measures in at 33 inches. Because of the length of the wand, it makes it perfect for watering all of those hard to reach plants and flowers and allows you to cover a wider watering area without having to move around so much. Not only does the product make light work of watering your garden, but it is also very comfortable to use. It features a RelaxGrip handle which minimizes the strain and stress to the wrists and hands. Because of the design of the Melnor 65045-AMZ, it is very easy for gardeners of all ages and abilities to use without strain.
The gentle rain shower head is ideal for watering both your lawn and your delicate flowers. The soft watering abilities of the shower head mean that you can even use it to water newly seeded gardens and flower beds.
There is an intuitive thumb control that allows you to easily control the water flow without having to squeeze a value or return to the faucet to adjust the flow from there.
Although this doesn't have the same range of spray patterns that several of the other watering wands reviewed here may have, the straightforward, ergonomic design makes it ideal for gardeners who are looking to make life much easier for themselves.
DIY Watering Wand
If you want to save a little money and build your own watering wand, this video will show you how to do it: