The Top 5 Weed Killers for Driveways Reviewed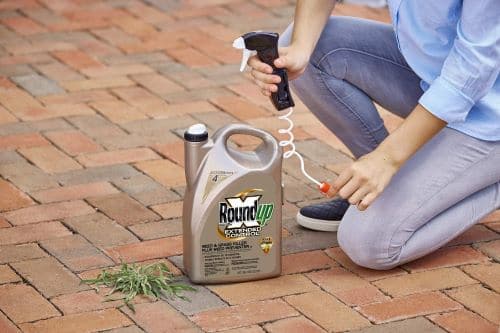 There's a lot of value in adding some greenery to the exterior areas of your property. They can, after all, boost the aesthetic appeal of your home by a significant margin. However, it's important to remember that not all greenery is going to improve your property. Sometimes, they can actually harm the look of your yard and cause functional damage.
Take weeds in your driveway, for instance. In order to look at it's best, your driveway should be smooth and clear. But if weeds find their way onto your property, then that won't be possible: the look will be heavily compromised by the presence of weeds that have managed to creep up in between any openings in your driveway. As well as negatively impacting the aesthetic quality of your outside area, they can also make it dangerous, since the uneven ground will make it more slippery when wet.
Fortunately, there is a solution to this problem. It's called a weed killer. If you use a high-quality weed killer on your driveway, then you'll find that it's a problem that can go away relatively quickly and easily. But the key part of this sentence is "high-quality weed killer." Not all products are created equally; there are more and less effective options out there.
On this page, we're going to run through just five of the best weed killers available to purchase.
Preview
Top Choice
Fastest Results
Top Choice
Preview
Fastest Results
Preview
Preview
Preview
Preview
Best Weed Killers for Driveways
1. Natria Grass & Weed Control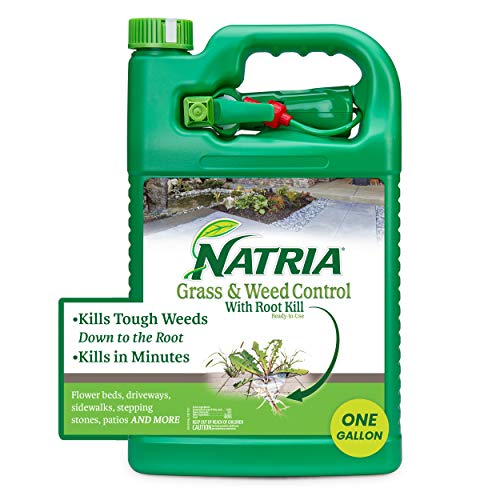 Natria has long been recognized as one of the leading companies when it comes to weed control. They've got a long list of products available, including the "Grass & Weed Control with Root Kill Herbicide Weed Killer, Ready-to-Use, 1-Gallon" product, which has won plenty of favorable reviews from consumers for its effectiveness when it comes to keeping unwanted grass and weeds away. This product is extremely tough on weeds; indeed, it's so tough that it begins working on the weed in a matter of minutes — and you'll begin to see results within 24 hours of use. It'll even kill grass, which means that it's best to avoid on your lawn: this one should be kept for your driveway or patio.
It kills the root of the weed, so you shouldn't have to deal with the issue again anytime soon. It's also effective against many different types of weeds, including crabgrass, foxtail, kudzu, and others. Not only is this product effective, but it's also easy to use. All you'll need to do is thoroughly cover the weed until it's wet with the mixture. From there, you can simply sit back and let the weed killer do its magic.
Finally, one of the main benefits of this product — one that appeals to many customers — is that the product is made up of natural ingredients. If you have environmental concerns and want to make sure that the products you use don't negatively impact the natural world, then this product will be a good one to purchase.
2. Roundup Extended Control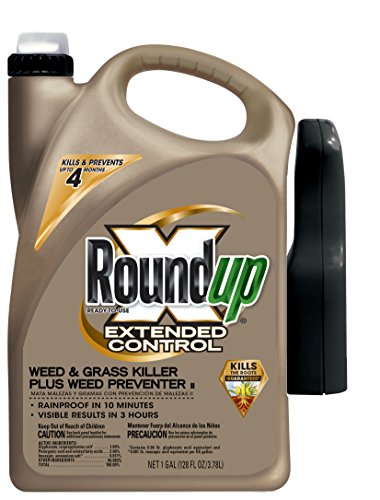 Another big player in the weed-killing market is Roundup. They're famous for their tough, no-nonsense weed-killing solutions. Right at the top of their line is the "Roundup Ready-To-Use Extended Control Weed & Grass Killer Plus Weed Preventer II with Pump 'N Go 2, 1.33 gal" product, which is highly popular with homeowners for the effectiveness of treatment that it provides.
When it comes to killing weeds, it's hard to ask for more than what this offering from Roundup will provide. Not only will it kill the weeds directly, but it'll even stop them from growing back for up to four months. So that means that if you use the solution correctly, you won't have to worry about weeds coming back anytime soon. You'll begin to see results in as little as three hours. Roundup has so much confidence in their product that they even guarantee that it'll kill the weed — and if it doesn't, then they'll give you your money back.
It's important to use the solution properly, however. This is a very strong product and will kill everything that's put in its path; as such, you'll need to actively focus the solution on the specific plant that you're trying to kill. If it spills over onto your grass, for instance, then you can expect that to die too. This, however, should give you confidence that it's going to work!
3. BioAdvanced DuraZone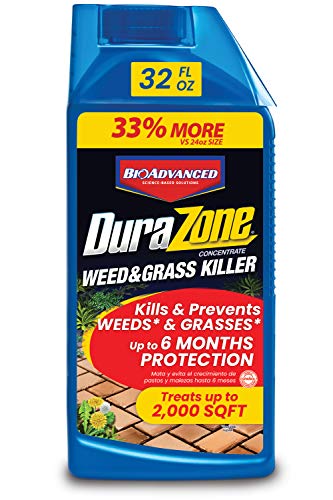 The BioAdvanced 704330A DuraZone Weed & Grass Killer is another popular option with homeowners. The reviews for this product are extremely positive, with many commenting that not only was it effective in killing the weed, but that the results lasted. BioAdvanced says that after the product has been applied, you won't need to worry about weeds returning for up to six months.
As with the other products listed on this page, this is a highly capable weed killer — so capable, in fact, that it's important that you only use the formula on the weeds that you intend to kill. Another plus point of this product is that it's easy to use. No matter which version of the product you buy — it's available in a number of different packaging types — you'll find that it's as simple as spraying the formula on the weed and letting it do its thing. Perhaps the biggest selling point of BioAdvanced Durazone is that you only have to apply the product once. Other products can require multiple applications, but with this, just one application is enough. You can also add the solution to areas where you don't want weeds to grow, even if there are none currently growing through.
4. Ortho GroundClear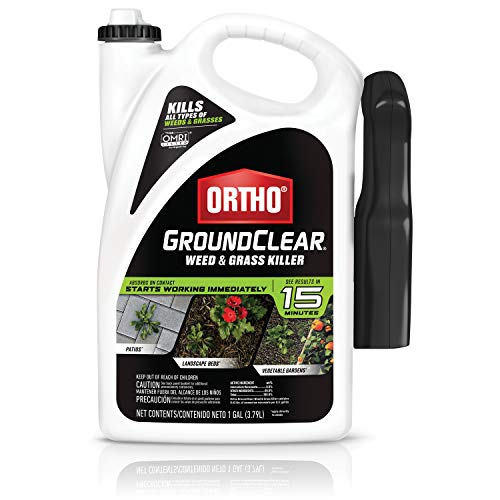 If you're looking for the fastest results possible, then you can't go wrong with Ortho 4613905 GroundClear Weed and Grass Killer. This product gets to work so fast that you'll begin to see results within fifteen minutes. Within a few hours, you'll be able to see that the weed is nearing the end of its life. You can use this product on a variety of grounds, including patios, landscape beds, and vegetable gardens — though it's important that you apply the product directly to the weed that you want to kill. If you apply it to other greenery, then there's a chance that they'll end up dying too.
As well as the effectiveness of the product, consumers also praise the design of the packaging and the ease of use. Many people say that it was easy to set up, that the application was smooth, and that the product was long-lasting. Unlike other products, this one doesn't make any claims as to how long the results will last. It's effective at killing the weeds that are directly splashed with the formula, but may not prevent regrowth further down the line, though the ease of application means that you can simply respray any stubborn weeds as and when they come back.
5. Spectracide Weed & Grass Killer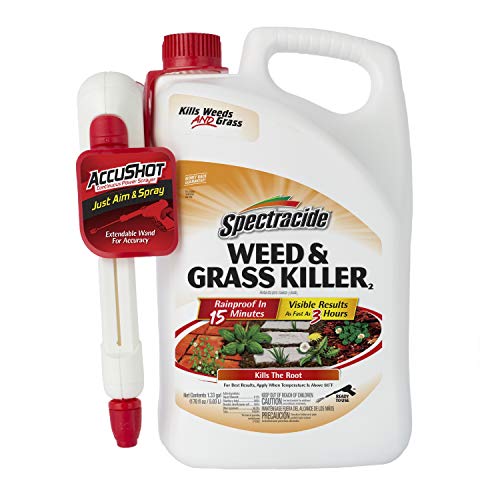 If you live in a generally rainy area, or you want to weed during the wetter months, then you could consider the Spectracide Weed & Grass Killer2 product. This formula becomes rainproof within 15 minutes — that means that so long as there's no rain within the first fifteen minutes of you applying the product, it won't get washed away. It'll get to work! You'll also see results pretty quickly, in as fast as fifteen minutes. From there, the results will only begin to get better. Not all weed killers are effective at killing the root of the weed, but this one is. While other weed killers will only kill the leaves that the product is applied to, this one will work on the root, which will prevent it from growing back. Spectracide has such confidence in the effectiveness of their easy to use formula that they'll even give you your money back if you're not happy with the results. You'll notice that the product works best when it's applied on warm and dry days, ideally when the temperature is around 60 degrees.
Natural Weed Killer Alternative
For those of you who want to stay away from some of the harmful chemicals in weed killers, there are natural alternatives. Watch this video to find a simple, natural weed killer alternative:
Conclusion
So there we have it: the best weed killers for driveways on the market. When you're looking for an effective weed killer for driveway, consider purchasing one of the above. The easy application and effective treatment will soon get rid of the weeds and restore your driveway to its former glory! Be aware that though you may have treated your driveway effectively once, there are no guarantees that the problem won't return in the future. For this reason, it's a good idea to stay on top of your weeds as part of your general property maintenance. The issue becomes easier to control when you're treating weeds on an "as needed" basis, rather than waiting for your driveway to be overflowing with weeds before you take action. When it comes to choosing the right weed killer for your needs, it's good to think about what you need it to do and for how long. There are some weed killers that target specific weeds, for instance. There are others that'll kill the weed once, but may not prevent it from growing back; others will.