The 5 Best Weed Torches Reviewed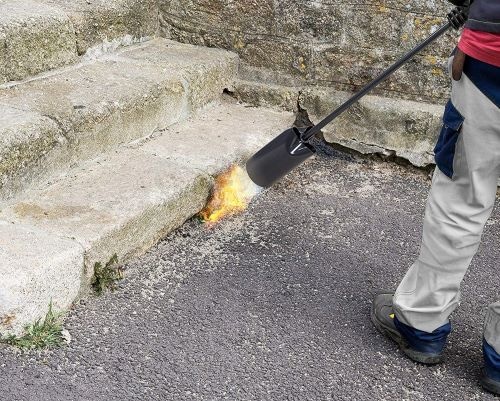 If you have weeds and don't want to use chemicals or pull weeds by hand, then you need a weed torch. Why choose a weed torch? Because they can kill weeds down to the root and stop them from growing with fire! Even better, weed torches are extremely affordable and take up very little space in your garage or shed.
Weed torches can destroy weeds down to the cells in just minutes. You can gain back valuable time on the weekends with less time spent working on the garden and pesky weeds. Find the seven best options on the market right here and get your free time back for more important activity than plants that refuse to die by plucking or with expensive, space-stealing, and environmentally unsound chemicals.
Best Weed Torches
1. Ivation 500,000 BTU Propane Torch
For a low price, you can be the proud owner of the Ivation 500,00 BTU Propane Torch. Not only is this item ready to obliterate weeds, but it can also be used to treat wood, roofing, welding, paving, melt snow, thaw pipes, burn brush piles, and much more. It's a lightweight option with a simple design ready to make life easier.
The premium propane torch offers a massive 500,000 BTUs for impressive heat levels ready to destroy. A ten-foot hose allows for extra reach, extension, and maneuverability. The durable plastic handle makes holding the torch much more comfortable, cool and protects your hands too. Moreover, the 11-inch length of the handle allows for a two hand hold for when the torch gets heavy.
Next, the best feature of this weed torch is the adjustable flame control. A built-in know lets you determine the flame size for increased control and precision. You can even choose "super flame" for extreme heat if you are feeling adventurous. Also, the set includes a flint striker too to avoid using lighters and matches which are not as safe.
Lastly, the tool includes a safety valve lever to keep you protected. Of course, it closes a user guide, which we highly suggest you read completely before use. The too measures 38.1 x 2.7 x 1 inch and weighs just 4. pounds. Get rid of weeds the easy way.
2. Mag-Torch MT 5000 BTU Weed Burner Torch Kit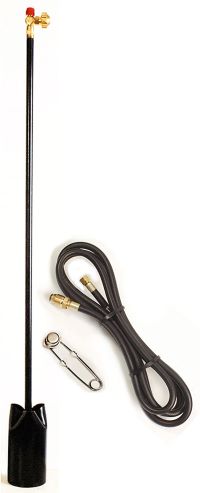 Get rid of weeds quickly with the highly-rated Mag-Torch MT 5000 BTU Weed Burner Torch Kit. Please make sure to follow all instructions. As a professional-grade torch kit, it's suitable for both lightweight and heavy-duty work. Simply connect the pole to the hose and then to the POL style propane tank like you use for your BBQ. Make sure to get a 20 pound Pol bulk tank for this option.
With a maximum BTU of 500,000, you can destroy the weeds in your yard. Use the included spark lighter for easy and safe ignition of the flame torch. The hose length of 61 inches gives you plenty of space to keep the torch near the weeds and away from you, along with added maneuverability. Use the torch for more than just ridding your yard of weeds. It works for roofing, melting snow, and so much more.
Customers love this torch as it's easy to use, lightweight, and takes up very little space in their garage. Overall the product measures 38 x 3 x 3 inches. You don't need any accessories to work the torch, just weeds, and the right weather conditions. Mind you, this item is loud and breathes fire, so protect your ears and skin. Lastly, it doesn't have a trigger if you are looking for adjustability, this isn't the right option for you, but the price is fantastic!
3. SPARC Propane/MAPP Torch Trigger Start
The SPARC Propane/MAPP Torch Trigger Start does not have near as much heat as the first two options, but that can be a good thing. Some people find excessive fire intimidating and don't want to play around with fire, they just want their weeds gone. If that's you, then get this option as it puts out 20,000 BTUs, which is more than sufficient to kill plants. How hot does fire really need to be to kill weeds? Also, this option is extremely affordable.
Beyond killing weeds, this torch can assist with gardening, grill ignition, construction, wood burning, and much more. What you will love about this option is the trigger start. You can also use it with either propane or MAPP gas. It's easy to fasten to either for quick use. Once it's set up, squeeze the trigger, and the torch will fire right up!
While not as hot, this weed torch gives you the most control as it even has a control valve to regulate the pressure. The device even includes a slip-resistant foam handle for comfort and safety. You even get a one year warranty to protect your investment. However, the cord is significantly shorter at just 34 inches long, but you do not have to worry about it getting bunched, ruined, or do unnecessary movements to control the torch.
4. IGNIGHTER Weed Burner Torch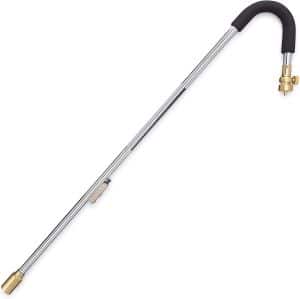 The IGNIGHTER Weed Burner Torch is another lower heat option ready to kill weeds. What you will love is that the price is so low it can fit into any budget. Also, it's easy to use. However, you will have to sacrifice a long pole as this one only measures 35 inches. That's not that bad, all things considered, especially if you have limited space in your garage or shed. Also, it comes with all the other features you end to eradicate weeds.
The handle of this option is right at the top of the cover and includes anti-slip materials. It's self-igniting, too, making it a great option for lighting up grills, de-icing the driveway, and killing weeds, of course. Simply squeeze the trigger, and the fire will light right up! Control the flames, too, with a regulator for pressure intensity to keep the flames in check.
With this option, you can make your lawn safer without all of the toxic chemicals that can harm people, animals, and the environment. All this, and you have the option of using propane, MAPP, or Map-Pro as fuel. However, with fewer BTUs, it may take more passes over the weeds to get the job done, but fire usually works. Finally, the one-inch wide torch head is perfect for smaller uses around a house or small yard.
5. Flame King YSNPQ-5000T Torch Weed Burner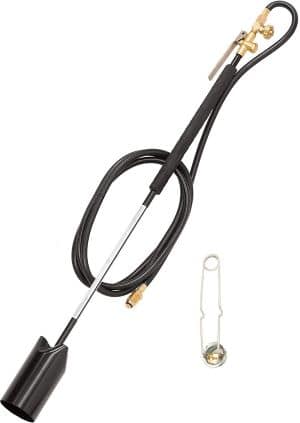 Use the Flame King YSNPQ-5000T Torch Weed Burner if you want options. You can choose between 320,000 BTU or 500,000 BTU and fit the device into your budget. The only reason this option is lower on our list is because people had problems connecting it to a standard propane tank, and some even had problems with leaking. Make sure to read the manual completely for proper connection to avoid these issues.
Once it's connected properly, this magnificent machine is ready to light weeds on fire and get them out of your yard. It measures 39 x 3 x 3 and includes a 10-foot hose. The hose is rated at 350 PSI and works well in hard to reach areas. Add in an easy to grip carry handle for comfort and safety to make this an easy to carry and maneuver option. A POL safety valve with reverse thread keeps the gas where it belongs, although this is one of the problems people have with weed torches as it seems opposite of the correct thread.
Use this to burn weeds, melt asphalt, snow melting, paint removal, wood burning, and more. The torch is compatible with standard liquid propane tanks from five pounds to 100 pounds. It also comes with a brass adjusting valve to control the flames. Lastly, this model comes with a flint striker to get the flames going, make sure you don't lose it so you can continue safely removing unsightly weeds from your yard.
6. Red Dragon BP 2512 SVC 400,000 BTU Backpack Torch Kit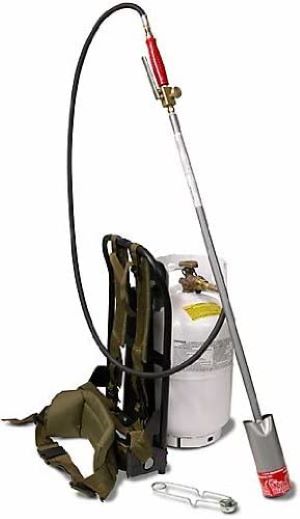 People with larger yards will love the Red Dragon BP 2512 SVC 400,000 BTU Backpack Torch Kit because it straps to your back for easier carrying and maneuverability. While it's not as hot as some of the other options, at least you won't have to keep lugging around the rather large propane tank with your hands every couple of feet. Especially those with wrist problems or who just don't want the nuisance should consider this option first.
Another advantage of this option is it includes a 10-pound empty propane tank. This does mean you will have to fill it, but it saves you from looking for an option that will work with your torch. Also, the backpack attachment includes padding and waist straps for comfort, so you can kill all the weeds on a large property with ease. However, the price is very high for the luxury of the backpack carry.
Besides using this for clearing weeds, use it to easily thaw frozen pipes, melt snow or ice, and even use it to remove paint, grease, or oil from metal. Many will appreciate the product is made in America too. With 400,000 BTU, it can kill any weed in just minutes. Enjoy a squeeze valve, too, making it the perfect option for spot treating and to prevent wasting gas.
Finally, the all-brass squeeze valve features an adjustable pilot feature. It does require manual ignition, though, and only has a five-foot hose. You get a spark lighter, though. It's heavy, too, especially once you add on the propane tank, so this may not be the best option for someone with back problems.
7. Red Dragon VT 3-30 C 500,000 BTU Vapor Torch Kit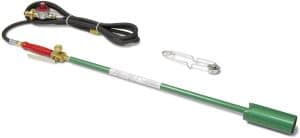 Not only is the Red Dragon VT 3-30 C 500,000 BTU Vapor Torch Kit heavy-duty, but it comes with an easy to spot color too, as it's flame red. The torch is large at 36 x 11 x 12 inches making this a beast ready to kill off weeds in just minutes. It's lightweight, too, at just 3.9 pounds, making it extra easy to maneuver so you can easily clear weeds around your yard.
Use this beast to thaw frozen pipes, rid your yard and driveway of snow or ice, burn brush, or anything else you might need controllable flames for on your property. It can even remove paint, grease, oil, and plastic from metal or sterilize metal too. Simply connect the pole to the shorter hose that measures 22.5 inches and enjoy a massive 3-inch bell ready to decay weeds quickly.
Another advantage of this torch is it's made here in the USA. With 500,000 BTU, it's ready to work and stand up to its dragon name. Use this with a standard size propane tank using the needle valve. The company offers tons of instructions and cares about their customers making this an even better product. However, it doesn't come with adjustability to better concentrate the flame, which can make it rather frustrating, and it's very loud too.
Buying Guide for the Best Weed Torches
Before you buy, take a look at important information you need to know about weed torches to help you make an informed decision. Get answers to your questions too.
Types of Weed Torches
The market currently offers two types of weed torches – lightweight and heavy-duty. We focused on lightweight torches perfect for work around the house or smaller properties. They are perfect for along paths and driveways or around the typical family yard.
What's great about smaller lightweight torches is they are easy to use. The propane versions connect to the same container you would use for a barbecue and create directed fire ready to eliminate weeds. Even better, they can create the same amount of intensity and heat as a heavy-duty torch but for less and an easier to carry size.
Heavy-duty weed torches work best for larger yards or gardens. The main difference between these and the lightweight option is they connect to a hose and a bigger propane tank. Many come with regulators, too, to prevent flames from gaining too much size.
Power Options
Be careful with a weed torch as they produce flames in the range of two thousand Fahrenheit! The volume of flames is measured in BTU or British Thermal Units. Smaller options offer 25,000 BTU up to 100,00 BTU. For more power, get a heavy-duty with an inflated BTU of 500,000.
Safety
Before playing with fire, make sure you read all of the instructions to avoid injury and maintain safety. As weed torches turn propane into an ignitor, you want to create the safest setting possible. Wear steel-toed shoes, a safety helmet, gloves, and other safety equipment. Next, make sure to check the weather and avoid use in high wind or very dry conditions. Make sure to keep a healthy distance between you and the flame and have a fire extinguisher nearby.
How to use a weed torch
Weed torches are relatively simple to use. For a great demonstration of how to use one, watch this video:
Benefits of Weed Torches
The benefits of weed torches are endless. First, they can kill weeds without chemicals. Second, they can kill weeds down to the root. More importantly, a torch can reduce weeds in a time-efficient manner. Also, they work on both annual and perennial weeds, not just one type of weed like sprays. Finally, flame weeders are better for the environment as they work without chemicals.
Questions About the Best Weed Torches
What size tank do I need for my flame thrower?
Smaller flamers can connect to smaller propane tanks around 14 to 16 ounces (thinking camping stove size), while others can attach to the larger tanks used for grilling. If you choose a lightweight option, then you will need a smaller propane tank you can pick up at most stores. Check the instruction manual to find out which size you can use for your weed torch.
Do I want a self-igniting weed torch?
Weed torches with an ignition switch are the easiest to use and turn on. Simply hit a switch, and the flame is ready to go. What's nice about these options, besides the obvious ease, is you don't need to keep track of a flame starter tool. Both are safe, but self-igniting options are often more affordable. Decide which is more important, budget or ease, and you have your choice.
What size burning tip do I need?
The burning tip is the part that directs the flame toward the weeds. While a larger tipped torch can burn a larger area faster, a smaller tip gives a more directed performance. Especially around a garden, you want a smaller, more manageable tip. For home use, we recommend a 3/4 to 1 1/2 inch tip. Larger gardens or patches of weeds will do better with a 1 1/2 to 3-inch tip.
Conclusion
Get weeds under control quickly without spending a fortune. We recommend the Ivation 500,00 BTU Propane Torch as it's easy to use and comes with very high heat, ready to destroy weeds. You will soon find many uses for this weed torch, making this a great investment for yard care.