Today, many are looking for weed control that does not involve the use of harsh and harmful chemicals in order to keep themselves, their loved ones, and their pets as healthy as possible. With this has come a surge of organic weed killers and weed preventers.
While weed killers are great for getting rid of unwanted plants that have already made an appearance in your garden, weed preventers allow you to stop weeds from growing in the first place, thus reducing the amount of time you spend maintaining your garden.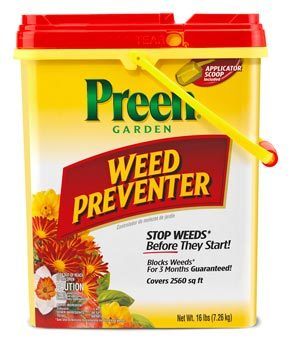 In addition to this, these products also prevent weeds for a longer period of time, sometimes months or even years. They're also often safe to use around a variety of other plants as they are selective weed preventers that do not stop your favorite plants from growing.
Last but not least, they come in a variety of sizes and are often much cheaper than chemical-based weed killers.
With all the above in mind, we'd like to introduce you to the Preen Garden Weed Preventer, a product that is not only affordable and effective but also bound to keep your family and pets away from harmful chemicals. Here is a quick look at the product:
About The Product
If you're looking for a weed control product that uses only natural ingredients to stop pesky weeds from growing in your garden, then look no further, the Preen Garden Weed Preventer is the one for you.
Because chemicals are known to cause a variety of health problems for both humans and animals, it is best to use organic weed killers or preventers in your home. This Preen model is among the most effective and cheapest on the market.
It comes in four size choices depending on the size of your garden, these include 5.6-pound pails, 13-pound pails, 16-pound pails, and 31.3-pound pails for larger gardens.
Preen Garden Weed Preventer is designed to stop weeds from growing for up to 3 months. For best results, it is recommended to remove any current weeds from their roots and then adding mulch to your soil.
Once the preparation has been undertaken, you should add a layer of Preen Garden Weed Preventer using the shaker scoop included in order to evenly distribute the granules across the entirety of your garden surfaces.
Once applied, the granules should be watered in order to release the ingredients into the soil. The best part is that the granules bond with the soil and create a weed-control barrier on the top layer of your garden surface.
Plus, this weed preventer was specially designed to not build-up on soil, wash away, or leach into groundwater. Aside from the fact that it only needs to be applied every three months, the Preen Garden Weed Preventer can be used during virtually any season of the year.
This product can be used with over 200 established flowers, bulbs, roses, trees, vegetables, and shrubs without damaging them in the process. In fact, it can be used on virtually any plant as long as they have germinated 2 to 3 inches tall.
Last but not least, the Preen Garden Weed Preventer does not wash away with rainwater.
What We Like
With nearly 400 customer reviews, most of which are 4 or 5 stars, the Preen Garden Weed Preventer as been reported to be cost-effective, garden, children and pet-friendly by a huge number of happy customers across the world.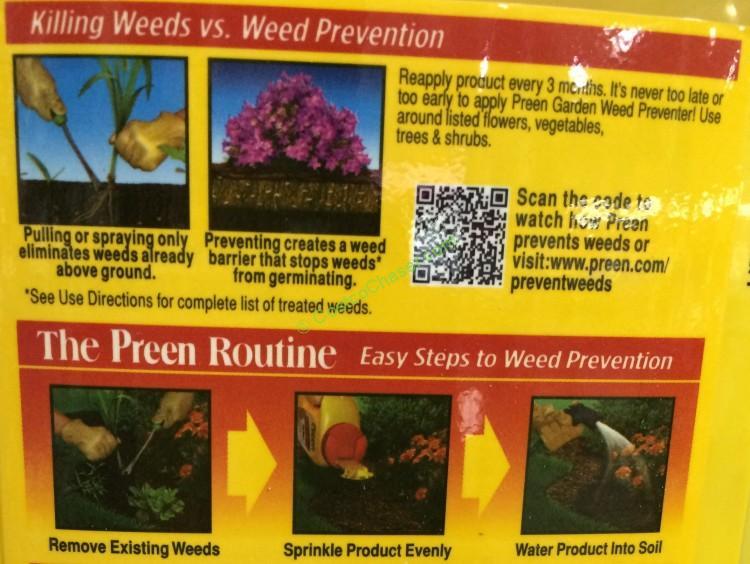 One of the best aspects of using Preen Garden Weed Preventer is that it allows you to cut down on the amount of time you spend in the garden by preventing weeds altogether.
Based on numerous customer reviews, this Preen product does exactly what it says on the label. Nearly all reviews say that as long as you undertake the garden preparation as described in the instructions, barely any weeds make their way through.
Best of all, numerous customers said that it rained after they applied the product and nearly all of them confirm the fact that the product still works, dissolving the granules over a space of a few days in order to work its magic on their lawns.
Last but not least, folks are particularly happy with how far the Preen Garden Weed Preventer goes. Even those with larger gardens have reported covering their outdoor spaces with the product while still having some leftover solution to apply at a later date.
What We Don't Like
While negative reviews are very far and few between, there are customers that were less impressed with the capabilities of the Preen Garden Weed Preventer.
Some customers who have been buying the Preen Garden Weed Preventer for some time now say that it seems to have stopped working as effectively, thus questioning whether the company changed the ingredients they use to make their weed preventer.
Aside from the fact that some folks did not benefit from any of the results that happy customers did, they also received their package in sub-par conditions.
There have been reports of customers opening their box to find a broken plastic bag which spills weed control granules all over their homes.
Despite some less flattering reviews, the very large majority of customers who purchased the Preen Garden Weed Preventer were extremely happy with the results they received and while negative reviews are worth considering, they were very few.
Our Recommendation
If you fancy your chances using the Preen Garden Weed Preventer, we recommend you head over to make your purchase. The company offers four different size choices, all of which come at various prices.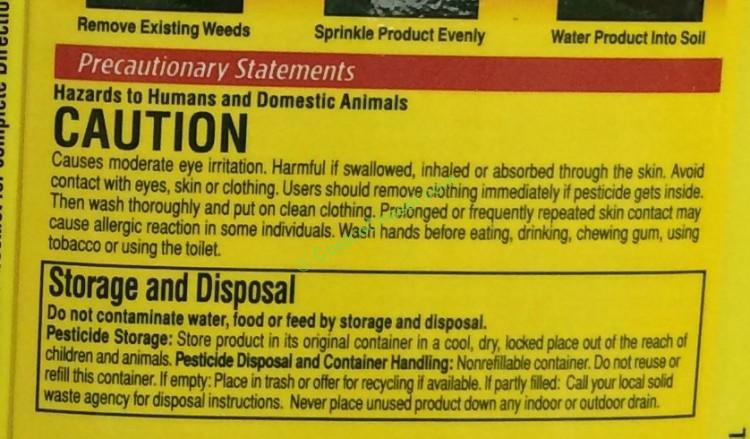 You can choose between a 5.6-pound pail for just under $13, a 13-pound pail for just under $20, a 16-pound pail for just under $40, or a 31.3-pound pail for just under $72.
Our Verdict…
If you want to start using a weed control product that prevents weeds rather than killing them and doesn't use any chemicals to do so, the Preen Garden Weed Preventer gets our seal of approval as one of the best and most cost-effective products on the market today.