While there are now a mound of branded products that you can use to kill your weeds, old-fashioned home products may be your best bet from both a safety and health point of view. Not only this, they're often much cheaper.
Because there are so many famous weed killers available today, people have forgotten about the good old-fashioned organic substances we used to use to get rid of any unwanted visitors in our gardens.
Despite the fact that many try salt as an alternative, pure vinegar is known for being particularly potent, killing everything in its tracks. But to achieve the desired results, you have to choose a vinegar that is strong and has not been diluted.
The white vinegar you have in your kitchen has been diluted to the point that if you were to use it on your plants, it would probably not have the desired effect.
By opting for a stronger version of it, however, you'll get rid of all unwelcome visitors.
Not only this, you may find that it actually prevents weeds from reappearing. With this in mind, we'd like to introduce to Green Gobbler's 30% pure vinegar as an alternative to all your chemical-based weed killers.
About The Product
If you're looking for a safe way to kill the weeds in your garden that doesn't require the use of harmful chemicals, we recommend you check out the Eco Clean 30% Pure Vinegar.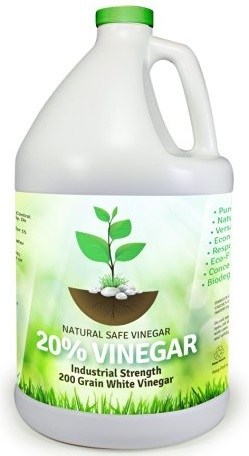 The Eco Clean 30% Pure Vinegar is one of, if not the most organic and natural substance you could use to kill and prevent weeds in your outdoor spaces as it uses only vinegar to do so.
With it, you'll not only be keeping your favorite plants safe, but you also won't be spreading harmful chemicals onto the grass and outdoor spaces where your children and pets play.
In addition to all the above, the Eco Clean 30% Pure Vinegar can be used in conjunction with other organic ingredients such as salt in order to increase its potency.
Its natural properties mean that it can also be used in the kitchen for cooking, canning, pickling, cleaning, laundry, as well as for your automotive needs, just to name a few.
While pure vinegar is not as effective when used on perennial weeds such as dandelions, it is great for targeting annual weeds and can also prevent them from setting seed in the first place, let alone growing in your garden beds.
While the Eco Clean 30% Pure Vinegar will not be as strong on perennial weeds, with enough hard work it can tackle them. All you have to do is apply the solution to the plant regularly until it withers and dies.
To apply it, just add your vinegar to a sprayer and spray it onto the leaves of the plants you'd like to kill. We suggest you wait until the spring and summer months where rain is less likely as rainfall will rinse the solution off the leaves, allowing them to live another day.
In addition to all its fabulous capabilities and functionalities, the Eco Clean 30% Pure Vinegar can be bought in two different sizes depending on the size of your garden and the various other ways you want to use it. You can choose between a 1 and 4-gallon case.
What We Like
With exactly 90% of nearly 400 customers giving the Eco Clean 30% Pure Vinegar a 4-star rating or more, it is hard to find anything not to love about this product.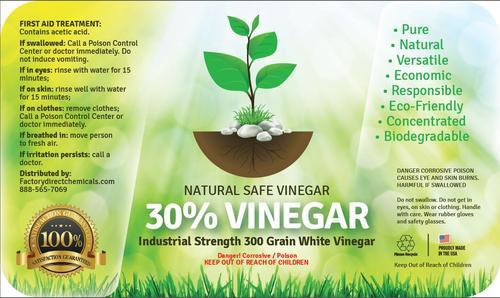 Aside from the fact that it is natural, safe to use in your household and around your children and pets, has multiple functionalities, and comes in its purest form, the Eco Clean 30% Pure Vinegar is a favorite among customers because of its efficacy.
While some reviews go into more detail about how they use it successfully as a cleaning detergent around their home, some customers were very impressed with how quickly and efficiently it kills the weeds in their gardens as well.
According to customer reviews, the vinegar takes action within just a matter of hours in hot sun and within days all the weeds that they sprayed completely wilted.
Folks have said it is great for targeting crabgrass, broadleaf weeds, and stray grass specifically, saying that they turn yellow and wilt in a matter of days.
Additionally, many report using this vinegar in conjunction with essential oils such as orange, thus creating a better smelling weed killer that is also organic and safe for all the family.
What We Don't Like
Of the nearly 400 reviews that the Eco Clean 30% Pure Vinegar received some were not as impressed with the results they achieved, saying that the product was not a better weed killing solution to cheaper vinegar bought in the supermarket.
Not only this, some customers found that while the vinegar did work as weed killer, it did not keep the unwanted weeds at bay for very long. Folks reported having to reapply the vinegar within just four weeks of first use.
Other than the fact that the vinegar does not seem to penetrate the root of the weeds, some customers were not impressed with the packaging of the Eco Clean 30% Pure Vinegar.
Apparently, the product does not have a double seal and about a pint had evaporated from the bottle.
Our Recommendation
If you want to live a healthier lifestyle by avoiding chemical-based weed killers in your garden, we can't recommend using natural vinegar enough. If you're ready to try it out for yourself, head over to Amazon to make your purchase.
Aside from offering the best price of just under $23 for a gallon and just under $90 for 4 gallons, you'll benefit from free shipping straight to your doorstep if your purchase 4 gallons of the product.
Our Verdict…
If you want to avoid chemicals and like the idea of opting for natural ingredients to kill your weeds, then the Green Gobbler 30% Pure Vinegar gets our seal of approval as one of the best organic weed killers available today.
Our Rating