The Top 7 Organic Weed Killers Reviewed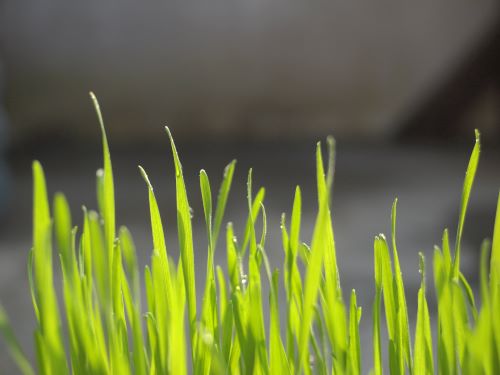 Weeds can steal the beauty of your lawn, and chemical-based weed killers can harm you, your pets, children, and even the bees. Instead, an organic weed killer can get rid of a weed army without harming anything but the weeds. Don't worry, you can get the yard of your dreams without chemicals and for reasonable prices too.
The right organic weed killer can keep your yard lush and beautiful while reducing weeds and keeping your yard safe of toxins. We found the seven best options to remove those pesky plants without pesky chemicals that harm the environment. As people become more aware of the harmful chemicals, bring, the more options available, and we found the best ones on the market.
Find the right weed killer for your needs that won't harm your family or the earth and start tackling weeds the natural way. You can even get bulk options to save on cash too. After, continue reading to get answers to your questions and learn how to use organic weed killers.
Preview
Top Choice
Budget Option
Top Choice
Preview
Preview
Budget Option
Preview
Preview
Preview
Best Organic Weed Killers
1. Doctor Kirchner Natural Weed & Grass Killer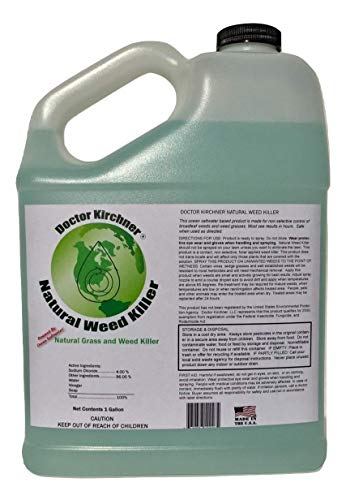 Get the best natural weed killer on the market with the Doctor Kirchner Natural Weed & Grass Killer. What's great about this product is it comes in multiple sizes to work with your needs. While it's a little pricey, it gets the job done better than any other brand, and the company keeps both their customers and the environment in mind.
The ingredients include sodium chloride (salt), water, vinegar, and soap all in an eco-pour bag. It's safe for your kids and pets and the environment, too, as the liquid is biodegradable too. You can naturally kill weeds without resorting to harsh chemicals that aren't even safe for water systems.
Use the product in mulched areas, gardens, borders, pavers, pool decks, and more. However, it's a non-selective weed killer meaning it will kill grasses too. It works by drying plants until they wither, then you just pluck or rake them up and move on with your life.
Finally, the formula is bee-safe, and you can replant once the product dries. You can even see results in under an hour! All this from a USA-based family operated business. Buy the quart size squirt bottle too to get an easy to use sprayer ready to make your yard beautiful.
2. Green Gobbler Vinegar Weed & Grass Killer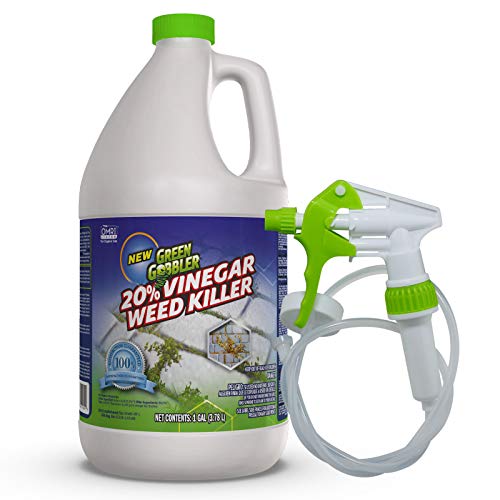 Green Gobbler Vinegar Weed & Grass Killer is one of the most popular and well-known because it works well. Also, the formula is safe and ready to kill weeds in no time. It's a non-selective formula ready to terminate weeds and grass. Also, it comes with a heavy-duty sprayer and one gallon of weed killer to make your life easier.
It's a vinegar-based formula with 20 percent acetic acid and no glyphosate insight. Use the spray to dry out plants until they wither up and die. It will kill both grass and weeds along with flowers too. Be careful where you spray because even though it's organic, the spray can kill even beloved plants.
You can allow your family and pets into the law once the spray dries as it's made from distilled corn grain. Also, you get results quickly as it dries plants quickly so you can get on with living. Ensure you only spray weeds, but if you accidentally spray your flowers or other plants you want, rinse it completely with water.
Using the product is easy, simply spray on the weeds without diluting the liquid. The one-gallon size can cover a large amount of space but not quite as much as traditional chemical-based herbicides, so you have a large yard, plan ahead and get two bottles. If you don't love the product, you can get a full refund.
3. Natural Elements Weed Killer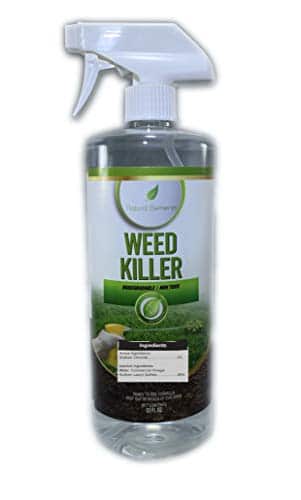 With Natural Elements Weed Killer, you get a one-quart squirt bottle ready to tackle smaller yards or smaller weed problems. However, the price is a little high, but it's well-loved by customers. People with larger yards will want to pick one of the larger options on the list. Otherwise, this formula comes with a trigger ready bottle ready to use as it's concentrated and doesn't require mixing.
As a vinegar-based formula, it's ready to kill weeds without glyphosate or other chemical herbicides. This means you don't need to worry about letting your kids or animals into the yard with this natural formula. The ingredient list is short, including vinegar, sodium chloride, water, and sodium laurel sulfate.
Like the other options, this is a non-selective formula ready to kill both grass and weeds. It works by drying the plants out as long as you properly saturate the entire plant. Use the spray on most broadleaf weeds and grasses. Also, it works on lawns, trees, gardens, flowerbeds, landscaping, trees, rock beds, mulched areas, along with many other areas around your property.
Get results in as little as an hour, depending on the type of weeds in your yard. It can take as long as a day to see results for stubborn weeds. Moreover, the formula is biodegradable, non-toxic, and safe. Let the formula dry before allowing animals and humans into the yard as you don't want them to carry remnants into your house.
4. Vinegar Weed & Grass Killer Approved for Organic Production Pet Safe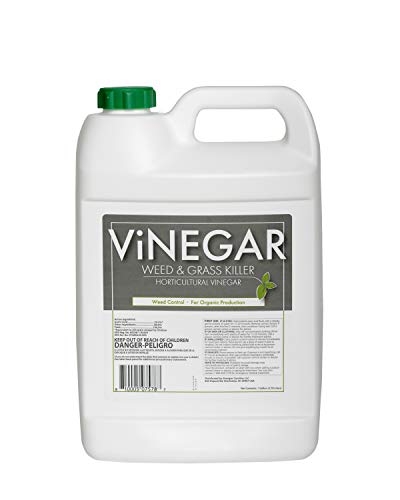 The Vinegar Weed & Grass Killer works well to kill weeds and grass without harsh ingredients. As the name states, vinegar is the main ingredient, but the company doesn't list what the other eighty percent of the ingredients. However, as it's organic, you know must comply with rules, and it's ready to work.
Kill large quantities of weeds naturally with a full gallon of formula without glyphosate or other dangerous chemicals you don't want around your animals or kids. You will need to buy a sprayer as this very affordable weed killer doesn't include a sprayer. However, it's ready to kill weed and grass as its non-selective.
Furthermore, the spray works by drying weeds and grass until it can no longer live. While harsh chemicals can kill weeds by disrupting their internal structure, this liquid kills safely. Do not spray on any plants you want to keep and ensure the weeds are fully saturated with the formula.
Use the spray on driveways, sidewalks, concrete, animal enclosures, mulch beds, pavers, barnyards, and every other spot weeds pop up. The formula is concentrated and ready to impress without harming animals, children, bees, or the environment. It's effective against annual broadleaf weeds, annual or perennial grasses, and liverworts.
5. ECO Garden PRO – Organic Vinegar Weed Killer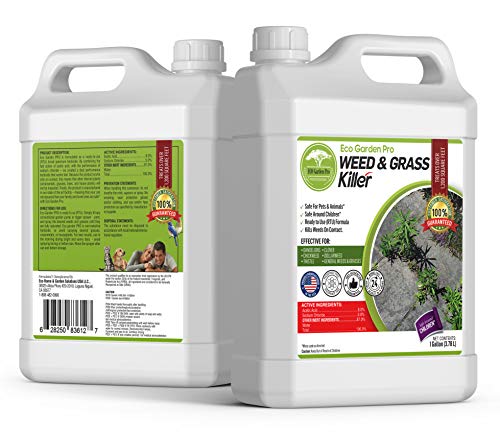 You can get the yard you want without harming the environment with the ECO Garden PRO – Organic Vinegar Weed Killer. Moreover, it's safe for kids, pets, the bees, your lawn, and even the little bunnies who hop into your yard. If you already have a sprayer, this is the option for you as it doesn't come with a sprayer, but it does come with one full gallon of spray ready to tackle large amounts of weeds.
No matter where your weeds are, this spray can take care of them with visible results in just one day. Tackle weeds the easy way in residential, commercial, industrial, and agricultural areas. Furthermore, remove weeds from your property, including your sidewalks, driveways, mulch beds, farmlands, and any other areas where weeds might live. All this and you don't have to mix or deal with mess as the spray is ready to use right out of the bottle.
Eco Garden Pro provides a list of their ingredients, so you know exactly what you are getting. The active ingredients are a mixture of white vinegar, organic rock salt, biodegradable plant activators, and fermentation-derived co-factors. Weeds won't survive with this spray on the scene, including clover, moss, poison ivy, dandelions, chickweed, dollar weed, thistle, crabgrass, and tons of other weeds too.
Next, the formula is safe for your lawn and everything on your property but weeds as it dries them out without harmful phosphates. It's even safe for groundwater, unlike chemical weed killers. Lastly, it works on contact without damaging or staining property, either.
6. OrganicMatters Natural Weed Killer Spray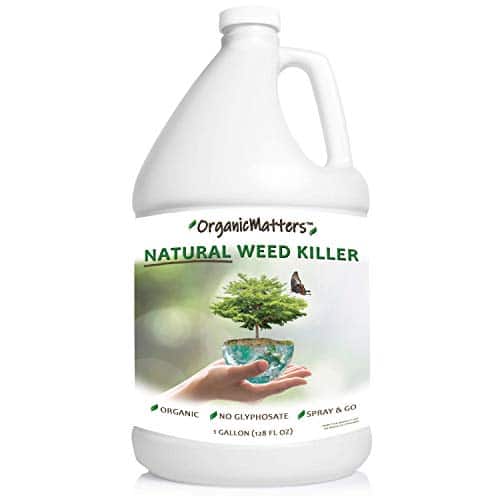 With the OrganicMatters Natural Weed Killer Spray, you get a natural organic spray capable of removing weeds without harming the soil. It's a fantastic choice not just for the environment but also for pets, kids, flowers, bees, bunnies, and so much more. Yes, you really can have a beautiful yard without harsh chemicals like glyphosate. It also comes with a heavy-duty trigger included or pick a refill pack if you already have one.
Kill a bunch of annoying weeds with a full gallon of spray, ready to tell over 250 weeds they aren't welcome in your yard anymore. In a single day, you can see real results as the formula dries the weeds out so they can't live. Make sure to cover each weed with the formula completely to initiate the drying effect. Say goodbye to crabgrass, dandelions, and many other broadleaf types of weeds.
Moreover, the formula works in a variety of spaces around your property. Try the spray on your foundation, overgrown areas, patios, pools, pathways, and any other place where you want a clean-cut look without straggly invaders. As with most vinegar-based formulas, this is a non-selective killer, so do not use it on your lawn as it will kill grass too.
One bottle covers about a 30 square foot area meaning you may need more than one bottle for larger yards. It will bring the price up, but at least it's safe for drain water and your soil too. You also can return the product in the first month if you don't see enough results or just don't like the product.
7. Natural Armor Weed and Grass Killer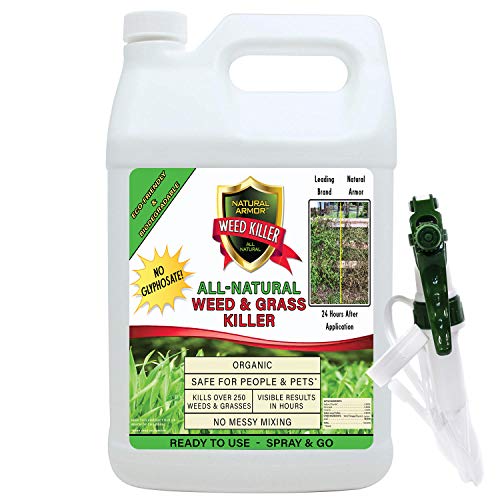 The Natural Armor Weed and Grass Killer comes concentrated and ready to kill weeds without killing the environment. It comes with a tiny bit higher price, but you can pick from two massive sizes, including one gallon or two and a half gallons. Choose this option if you have a gigantic yard filled with pets, animals, children, bees, or other items you want to protect from chemical-based herbicides.
Use the included heavy-duty sprayer and the built-in handle on the bottle to make your rounds spraying weeds completely until they have no choice but to wither and die. The natural formula is ready to destroy over 250 different weeds and grasses. It's a non-selective formula so be careful not to spray the plants you want to creep. If you accidentally spray a plant you want to keep, rinse it thoroughly with water.
Next, the concentrated formula is ready to use out of the bottle, meaning no mixing or diluting for you. Instead, you can focus on spraying mulch, pool areas, overgrown weeded areas, flower beds, shrubs, trees, barns, gravel, and any other area where you want weeds to disappear. It will rid your yard of weeds in under a day as its fast-acting.
Finally, Natural Armor is ready to work without chemicals so your kids and animals can enjoy the yard, and you don't have to worry about their health. It's also the formula you should choose if you want to support a small family business. If you don't love their product, they will even refund your money in the first month.
Buying Guide for Organic Weed Killer
Don't make a decision just yet! Take a look at some useful information to help you make the right decision for your yard and needs.
Ingredients
Forget about glyphosate and other harmful chemicals, as organic cleaners aren't going to harm the environment. Instead, you will find natural ingredients like citrus oil, surfactant, clove oil, salt, and vinegar. Some of these options are even edible, which means they are definitely safe for pets and children too.
Benefits of Organic Weed Killer
Not only are organic weed killers safer for you, kids, pets, and the environment, they are often cheaper as they use natural ingredients you can find readily. Also, they can suppress weed growth while promoting optimal soil health. Healthy soil grows healthy plants, which means its a better option for gardening too. Finally, organic weed control can make your lawn beautiful with thick, lush grass, so there is no room for weeds to grow.
Tips for Effective Use
For the best effects on your yard, try the following tips to ensure your spray works to its full advantage. As organic sprays work by drying out plants, it's best to pull out the larger weeds you can see as they take longer to dry out. Make sure to keep an eye on the weather, too, as rain will not help the spray work better.
Next, check the local weeds and find out what you can about the invaders. Knowing your enemy can help you combat the intruder. Some plants die better with the different substances, and it's beneficial to save your money for what you know will work. Cover the entire weed you want to kill as it will help to dry the plant out better. Finally, ensure its a sunny warm day without wind, so the spray goes exactly where you want.
Questions About Organic Weed Killer
Are there any selective natural weed killers?
Sadly, there are very few selective natural weed killers as most work by drying plants out. Vinegar and other natural acid-based products don't care what they dry out and will work on anything they touch. Even the ones you do find, come with terrible ratings and dissatisfied customers.
Can I just use vinegar instead of buying an organic spray?
Vinegar is more effective when mixed with other natural elements, and companies work hard to make those options available. You can try straight vinegar, but it won't be as effective alone. Other natural methods don't work as well on there on either as too much salt can negatively impact the soil, and essential oils or citrus oil can take longer to work. It's much easier to get a proven weed killer for a little extra money to save your time and effort for other projects.
How long should I wait after an organic weed killer to allow my pet in the yard?
As organic weed killers can take up to two days to work, it's best to let the yard sit for the full 48 hours before letting your dog back into the yard. While organic options are safer for dogs, they can't do their job if a dog digs the dirt up or licks of the spray! Also, once the yard is dry, the dog cannot bring the weed killer back into the house on their paws or fur. Instead, take your dog for walks and give the spray time to work.
Organic Weed Killer Recipe
For an organic weed control recipe that actually works, watch this video:
Conclusion
Get the lawn of your dreams without resorting to chemicals with the Doctor Kirchner Natural Weed & Grass Killer. The unique formula dries out plants naturally and safely to give you a beautiful property free of weeds. While it's a little pricy, it works better than any other natural weed killer, saving you time and money in the long run.