The Top 7 Pet Friendly Weed Killers Reviewed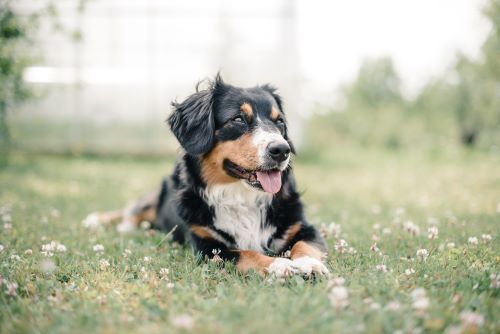 If you have pets, then you may worry about putting chemicals on your lawn. Don't worry, it's completely possible to get a weed killer that will not harm the family dog. Not only are pet-friendly weed killers available, but they are also affordable and better for children too.
You really can have a gorgeous weed-free lawn without noxious chemicals that can harm children or dogs. Environmentally friendly weed killers are usually acid-based to prevent harm so your dog can do what they do best, roll around in the grass, and lick themselves. Acid-based weed killers are better for animals, insects, children, and the yard.
We found the seven best options to get your yard picture perfect safely. Feel better knowing you are doing good things for the environment with safe products. Also, read below for some valuable information and answers to question about pet-friendly weed killers.
Preview
Top Choice
Spray Bottle
Top Choice
Preview
Spray Bottle
Preview
Preview
Preview
Preview
Best Pet Friendly Weed Killers
1. Green Gobbler Vinegar Weed & Grass Killer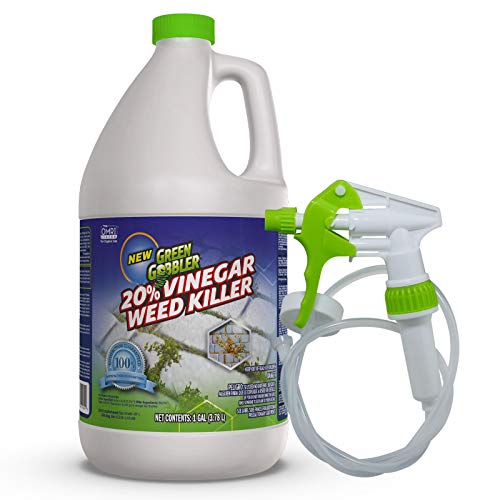 The Green Gobbler Vinegar Weed & Grass Killer gobbles up weeds and spits them out without harsh chemicals. It doesn't matter what kind of weeds or grass this spray comes in contact with; it will kill them off in just a few hours. Think of the Terminator liquified and in a bottle. Okay, it's not really that strong, but it's highly recognized and well-loved.
With vinegar as the main ingredient, the Green Gobbler dries up weed completely to eradicate them from your lawn. It also contains 20 percent acetic acid, which is safer than glyphosate. The powerful formula dries out and eliminates weeds and grass without cancer-causing ingredients as it's certified for organic use.
Feel free to let your kids and dogs play in the backyard after the spray drys completely as it's ready to safely kill only the intended target. Moreover, it's stronger than other vinegar-based weed killers as it's made with ethanol distilled entirely from corn grain. As its so strong, you can see results almost immediately.
To use, fill the pump sprayer with 20 percent of the weed killer without diluting. Do note, this is a non-selective herbicide that can kill even plants you want to live, so spray on the plants you don't want to keep. Ensure the spray completely saturates the plant, and you are done! Lastly, the one-gallon size will cover a massive quantity of weeds. If you don't love it, return for your money back.
2. Natural Elements Weed Killer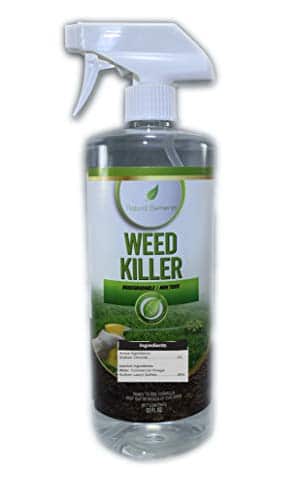 The Natural Elements Weed Killer comes in a one-quart squirt bottle ready to relieve your yard of weeds. It's highly effective but a little on the pricey sides, which is the only reason it's lower on the list. Otherwise, it's perfect for pets as it works without glyphosate or other chemical herbicides. Instead, the formula uses vinegar for a safe and effective formula your animals and children can be around without fear of cancer.
Besides vinegar, the bottle contains sodium chloride, water, and sodium laurel sulfate. The ingredients act fast to kill weeds and give you the front lawn of your dreams. It's safe to use on most broadleaf weeds and grasses. Use the spray on lawns, trees, gardens, flowerbeds, landscaping, trees, rock beds, mulched areas, along with many other necessary areas.
Another advantage of the spray is you don't have to dilute the formula. Simply make sure the nozzle is turned on and start spraying without the hassle of mixing or drifting. The product gives you results in as little as an hour but probably more like a full day for full results depending on the weather conditions.
Furthermore, the spray is biodegradable and non-toxic, meaning it won't hurt bees, pollute the air, or otherwise harm any living thing but grass or weeds. Find out why customers keep on buying this natural cleaner to get the lawn of their dreams.
3. Vinegar Weed & Grass Killer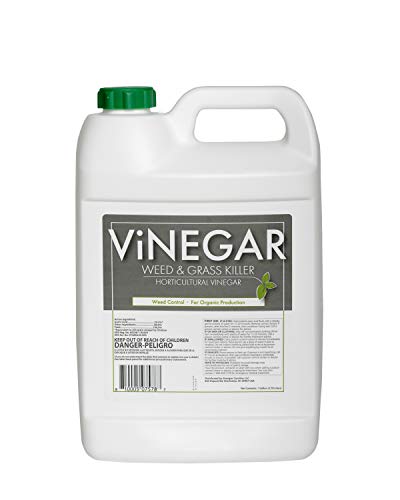 Get a full gallon of liquid ready to destroy plant bandits in your yard with the Vinegar Weed & Grass Killer. Not only is the company's name Vinegar, but that's the active ingredient too, which is safe for animals and children too. Moreover, it's a natural option approved for organic production without herbicides like glyphosate.
The price of this formula is right although, it doesn't come with a sprayer, you will want to get a spray bottle to go with the formula. Otherwise, it's ready to act fast to kill weeds. It's not selective, and it's a contact herbicide ready to destroy both weeds and grass along with any other plant it comes in contact with, so use caution with your spray.
Safely use this spray on driveways, sidewalks, concrete, animal enclosures, mulch beds, pavers, barnyards, and so much more. The formula is concentrated and ready to impress you with its ability to turn weeds into dust without harming animals, children, bees, or the environment. Use the spray on annual broadleaf weeds, annual or perennial grasses, and liverworts.
Last of all, you can watch weed dies right before your eyes just one hour after you spray. It's even safe enough for the garden! Thanks to safe ingredients like vinegar-based acetic acid, you can have the yard you dream of free of invaders and ready to look like the best lawn in the neighborhood.
4. Just For Pets Pet Friendly & Pet Safe Weed Killer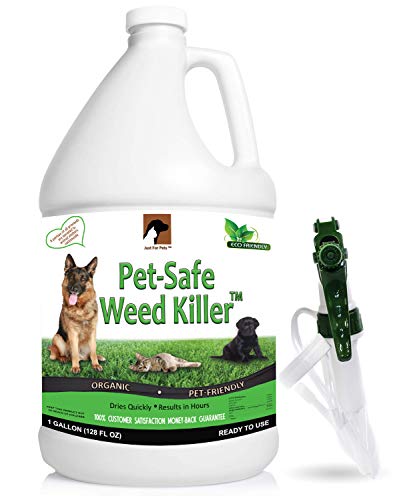 The Just For Pets Pet Friendly & Pet Safe Weed Killer is made with animals in mind. It's an all-natural weed killer free of harsh ingredients like glyphosate and instead uses vinegar to work. If you love animals, then this is the option for you as the company donates a portion of each sale to animal shelters around the nation.
With this formula, you get a spray that's tough on weeds but gentle on the environment and pets. However, the price is slightly higher, but you get a full gallon of spray with a handle and a spray trigger for easy usage. The price also pays for all-natural and organic ingredients your lawn will love.
Also, the formula is ready to use right out of the bottle without mixing or diluting. It will eliminate weeds fast without harming that which you want to keep. Do make sure to avoid spraying plants you want to keep and thoroughly spray the weeds you want to die.
If you want a weed killer made specifically for pets, then this is the blend for you. It's non-selective, meaning you need to avoid spraying on your lawn, or your grass may die too. Finally, the spray can kill annual weeds, knapweed, and even crabgrass, along with many other pest varieties. Keep dogs inside until it dries as you still don't want them to lick it off your plants!
5. Natural Armor Weed and Grass Killer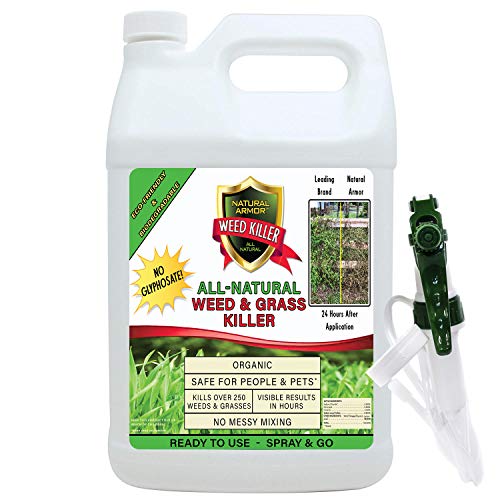 While not made specifically for pets, the Natural Armor Weed and Grass Killer is safe and organic. The slightly high price comes with a full bottle of weed killer, including a heavy-duty trigger sprayer with a new clog-free makeup. You can even get a two and a half-gallon size if you have a massive yard.
Next, like all good pet-friendly weed-killers, this one is free of glyphosate and instead uses a natural formula. With a concentrated formula, it's ready to defend your yard from 250 already grown weeds and grasses. As it's non-selective, take care not to spray the plants you want to keep.
Moreover, the formula is ready to go right off the bat without mess or mixing. Use the spray around flower beds, shrubs, trees, barns, gravel, mulch, pool areas, overgrown weeded areas, and many more. Enjoy fast action as the formula works to destroy weeds in as little as a day.
Stop weeds in their tracks without poisons or harsh chemicals that can ruin the health of your lawn. Allow the spray to dry before letting your dog outside to get the most benefit from the drying agents. In conclusion, you can support a small family-owned business who also guarantees their product for the first thirty days.
6. ECO Garden PRO – Organic Vinegar Weed Killer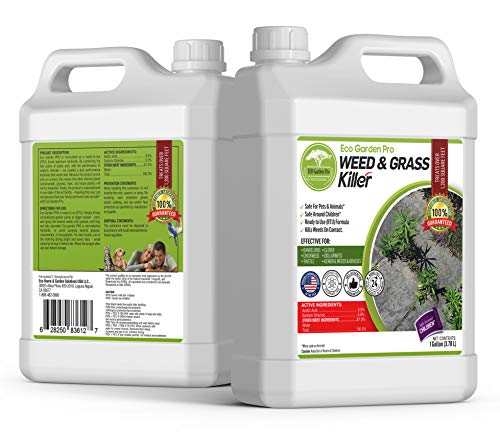 Use ECO Garden PRO – Organic Vinegar Weed Killer to keep kids and pets safe from harmful chemical-based herbicides. It's not just safe for your kids and the family dog, but also for bees, fish, and even livestock. The price is right, and it comes in a large one-gallon size but does not come with a sprayer.
Kill weeds and grass in as little as 24 hours in residential, commercial, industrial, and agricultural areas. It's ready to wither weeds to nothing on sidewalks, driveways, mulch beds, farmlands, etc. Furthermore, it's ready to use without the mess as it's ready to use right out of the bottle.
Next, the company is upfront and honest about their ingredients. The bottle includes an effective mixture of white vinegar, organic rock salt, biodegradable plant activators, and fermentation-derived co-factors, all ready to kill weeds and grass. Use it to kill clover, moss, poison ivy, dandelions, chickweed, dollar weed, thistle, crabgrass, and many other weeds as well.
The formula is safe for your lawn and everything on your property but weeds as it dries them out without harmful phosphates. It's even safe for groundwater, unlike chemical weed killers. Last of all, it works on contact without damaging or staining property either.
7. OrganicMatters Natural Weed Killer Spray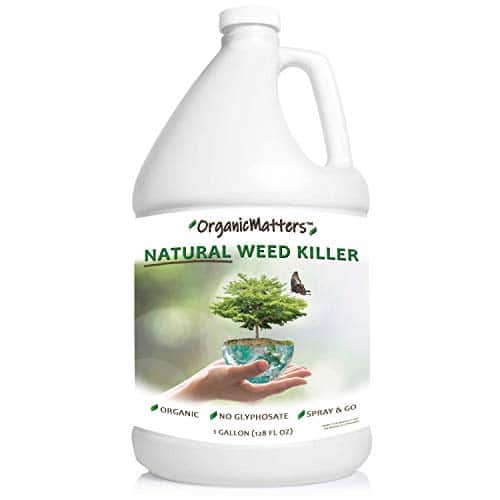 If you are looking for an organic spray for your yard, get the OrganicMatters Natural Weed Killer Spray. It's safe for your pets and includes a trigger spray handle to make spraying the weed super easy. If you don't need a spray trigger, you can save a few dollars by picking the refill bottle that's also a one-gallon size.
The natural weed killer offers all-natural ingredients without harsh chemicals like glyphosate. It's capable of killing weeds in less than 24 hours, including over 250 styles, by drying them out until they die. Use the spray to eliminate crabgrass, dandelions, and many other broadleaf types of weeds.
Next, the spray dries weeds faster as it dries quickly and sprays fast with the included heavy-duty sprayer. Although, you can always use a sprayer you own too, and you still don't have to dilute the concentrated formula. Once ready, spray the mixture anywhere you need to relieve your property of plant eyesores, including around the foundation, overgrown areas, patios, pools, pathways, and more.
It's safe for your water, family, and pets. A one-gallon bottle only covers about a 30 square foot area, so if you have a large yard, you may need multiple bottles to get the job done. Finally, if you don't love the product, return it for a full refund in the first thirty days. The company cares about their customers and responds quickly to any questions you may have about their product.
Buying Guide for Pet-Friendly Weed Killer
Before making your final choice, take a look at some important factors to consider.
How to Use
Always read the bottle thoroughly before using weed killer, even safer pet-friendly options. Applying too much of any product can increase the potency and cause harm to your pet while also potentially harming the grass or plants you are trying to protect. Also, make sure to keep your dog inside while applying any weed killer. Dogs don't always listen and may end up getting sprayed in the eyes, which can cause serious pain.
Moreover, your dog may want to lick the spray off of plants, and that can also cause issues even with safer options like vinegar-based options as it can change your pet's pH balance. Next, avoid spraying in windy or rainy conditions, or the spray will go in the wrong places and not have time to set.
Lastly, give the weed killer time to work before your dog digs holes or does his business and allow the product a full twenty-four hours to dry before letting your dog back into the yard. Most natural or pet-friendly options can take longer to work than traditional options, and you may need to set a full 24 hours aside for the product to work. Also, you may need to spray more often to prevent regrowth, but they can go down to the roots.
Benefits of Pet-Friendly Weed Killer
Not only are pet-friendly weed killers safer for your pet but also for the environment. Often your options are natural or organic in makeup, making them a safer option for humans too. Even the air in your backyard will be safer too, meaning bees which are in danger will be safer too.
Ingredients
Make sure to avoid toxic ingredients like glyphosate, alachlor, and dacthal along with a whole host of other harmful ingredients. Some of the ingredients in traditional weed killers are banned in other countries because of the harm they can bring. To avoid these harmful substances, make sure to read the label and make sure it clearly states pet friendly. Otherwise, you need to move on to a new option.
Questions About Pet-Friendly Weed Killers
Can I get a selective weed killer that's pet friendly?
We are sorry to inform you, the only pet-friendly weed killers are also going to kill your grass and flowers. Instead, you may need to hand-pull weeds to prevent weeds and keep your animals safe. Even salt-based weed killers can harm your grass. You can look into using a weed preventer instead to stop weeds from ever forming.
Will a pet-friendly weed killer work as well as a traditional weed killer?
How well a pet-friendly option works depends on the weeds in your area. Taking some time to research local weeds and what kills them may save you a ton of money and effort too. Some plants may be impervious to even traditional chemical weed killers, and you are spraying for nothing. With that in mind, yes, natural or pet-friendly options can be as effective, but they will require a few more rounds and more time to be as effective as nasty chemicals.
How long is the shelf life on non-toxic weed killers?
Weed killers don't have a shelf-life per se. Most of them are vinegar-base, and as a fermented food, it has an almost indefinite shelf life. Do make sure to store it in a cool, dry, dark location and ensure the cap is fully on and sealed to keep the product longer.
Are Weed Killers Bad For Pets?
To find out just how dangerous chemical weed killers are for pets, watch this video:
Conclusion
If you still cannot decide, we suggest you go with our favorite pet-friendly weed killer, the Green Gobbler Vinegar Weed & Grass Killer. Not only is it affordable, but it's all-natural without glyphosate or other harmful ingredients you don't want animals or your family around. The formula even comes with a sprayer included to cover your yard in weed exterminating spray. You can have the yard of your dreams without harming the environment!