The Top 5 Weed Killers for Large Areas Reviewed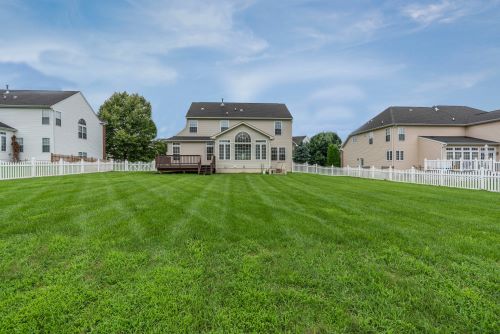 When weeds start to creep into your garden, it's not only a nuisance but can spoil the aesthetics of your yard too. You don't want weeds ruining your lawn or breaking through between your paving stones. Weeds can be even more difficult to deal with when you have a large area to tackle. Having a larger yard is a blessing, but it doesn't feel so great when weeds are threatening to take over.
A good weed killer is a must when you need to get rid of weeds, especially if you need to treat a large area. Weed killers can remove weeds from your lawn or other parts of your yard while helping to create the best environment for anything else that you might want to grow. Weed killers can tackle all types of weeds, making it much easier to get rid of them compared to pulling them up by hand. While some weed killers are better for small areas, there are some that are designed for larger applications so that you can deal with weeds in big yards, fields, or other areas.
Some of the best weed killers for large areas are explored in this guide, which will help you to choose the right weed killer for your requirements.
Preview
Top Choice
Budget Option
Top Choice
Preview
Preview
Preview
Preview
Budget Option
Preview
Best Weed Killers for Large Areas
1. Roundup Pro Concentrate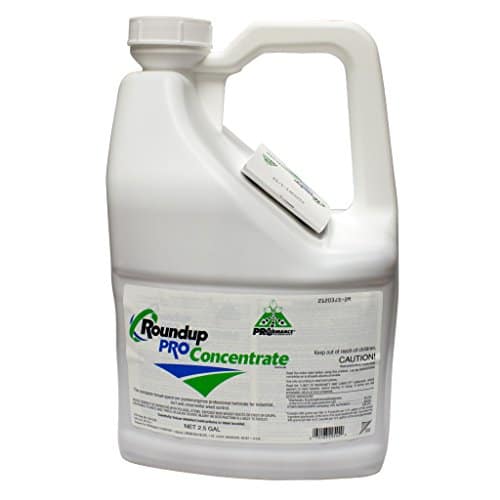 Professional grade weed killers are often best when you need to tackle a large area. Roundup Pro Concentrate is made with 50.2% glyphosate, which is a broad-spectrum herbicide ideal for killing weeds. Although it's designed for farming and industrial use, it's also useful for commercial and domestic weed killing when you have a larger area that needs to be treated. Depending on what type of weeds you want to kill, this concentrate prescribes between 1 ounce and 10.5 ounces per gallon of water, so the 2.5-gallon container can last a long time. It can be used with stainless steel or plastic sprayers for easy application.
Roundup is a very popular weed killer brand and with good reason. It's effective and can kill off many different types of weeds and invasive plants. Many people rate it very highly for its effectiveness and choose it as their preferred brand. It spreads the herbicide to all of the different parts of the plant to kill it more efficiently and prevent it from coming back. Although you might want it to work instantly, it can take a few days for it to really start working. However, it will only kill what you spray, so you can protect other plants and vegetation.
Buying a larger container of Roundup Pro Concentrate is a more economical and affordable way to purchase it. You can save money compared to buying smaller containers, which won't last as long and generally cost more per gallon.
2. Ranger Pro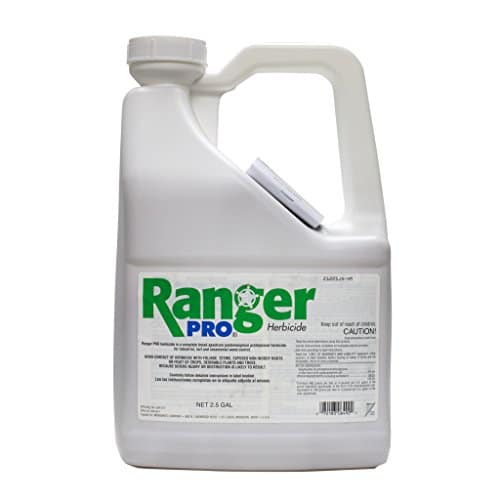 The Ranger Pro weed killer is similar to Roundup, with the same active ingredient (glyphosate). It's generally available at a lower price, and many say that it does the same job. Although not as strong as the Roundup Pro Concentrate, with 41% glyphosate, it still offers a professional-strength weed killer. It comes in 2.5-gallon containers, giving you plenty to work with for multiple applications over larger areas. With a recommended 2-3 ounces per gallon of water, it could provide over 150 applications. Within as little as an hour, it can be rainfast, getting to work even if the weather starts to turn. However, it could take a little longer and will likely require reapplication after heavy rain.
This weed killer offers broad-spectrum control of many weeds, and its industrial strength makes it ideal for larger areas. It can be used with equipment such as sprayers to distribute it easily. Like other broad-spectrum weed killers, it's going to kill everything it touches without discriminating, although you'll need different strength mixtures for different weeds. That makes it best for completely clearing an area, rather than treating an area where you want to keep some of the vegetation.
Most users say that this product works just as well as the branded stuff, offering a generic alternative. Some weeds may need a little more time for the product to work, and it could struggle with some tougher plants, but it still has a high concentration of the active ingredient, which makes it ideal for more stubborn weeds.
3. Compare-N-Save 016869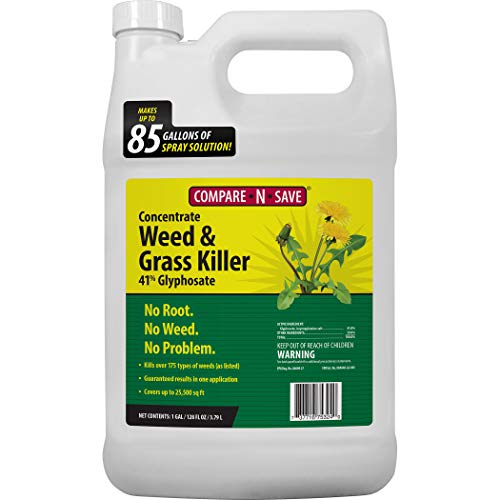 The Compare-N-Save weed killer also has glyphosate as its active ingredient, with a concentration of 41%. The recommended mix is 1.5 ounces per gallon of water, with a few different size containers. The largest 2.5-gallon container can make up to 210 gallons of spray solution, covering up to 630,000 square feet. Treated areas can be replanted in as little as one day, making it easy to prepare any area where you want to start planting. The solution will get to the root of the plant and kill it for good, just like other products containing glyphosate.
This product contains less glyphosate than the main Roundup branded product, but it's equivalent to other generic brands. Although the recommended mix is 1.5 ounces per gallon of water, it might be necessary to make the mix stronger for it to be really effective. However, it's important to give the product time to work, and it may take a few days to complete the job. It can be rainproof in only a couple of hours, but it's still best to apply the solution on a dry day when it's not going to be washed away.
Like many weed killers, some people rate this product well, and others find that it's not effective. However, for the most part, it has positive reviews and is regarded as very effective. It might require some patience to wait for it to act, but it offers an affordable way to kill off weeds across large areas.
4. RM43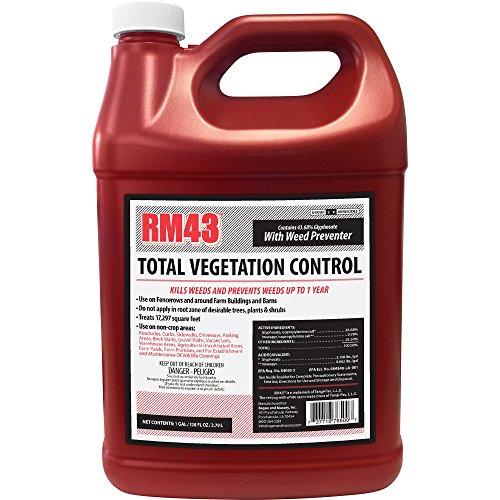 RM43 is a glyphosate weed killer that can kill weeds and prevent them from recurring for up to one year. It combines two herbicides and a surfactant to provide great control. In addition to glyphosate, it also contains imazapyr, another herbicide that works to tackle weeds. It's designed to be rainfast in two hours and safe for pets and people once it has dried. The one gallon of weed killer makes up to 5 gallons of the solution when mixed with water and can cover almost 17,300 square feet, with a rate of 6-7 ounces per gallon of water. It can be used on the ground or as a spot treatment for vines, brush, and weeds.
It takes about three to five days to see results with this weed killer, which is similar to other products. Some people find that it takes longer for weeds to be killed off completely, but the first changes can be observed after the first few days. Once the weeds are dead, they won't grow back, allowing replanting later if desired. With such a large coverage area, this product is ideal for dealing with large areas, and it's a professional-grade solution.
When you order RM43, with a few different bottle sizes to choose from, you can even buy it with a sprayer for extra convenience. A sprayer makes it easy to distribute and makes the weed killer go further. This well-reviewed weed killer can meet your needs, pulling double-duty with its two different herbicides. However, it might be more expensive than some other options.
5. Spectracide HG-95703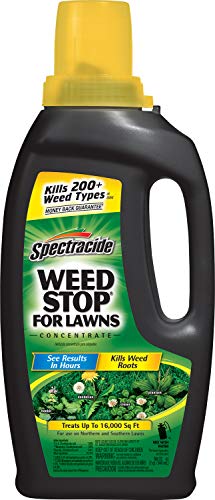 If you are looking for a weed killer that doesn't contain glyphosate, Spectracide offers you an alternative. It's designed to kill weeds, including crabgrass while protecting your lawn and other vegetation. It comes with its own hose attachment, making it easy to apply, especially for domestic users. You can see results in only a few hours, and there's enough of the product to treat up to 5,000 square feet. All that's needed is to attach a hose, so there's no mixing or measuring necessary. Just point at the area to be treated, turn on the hose, and pull out the safety tab.
This weed killer can kill over 250 weeds while protecting your lawn. It's well-rated for the most part and can deal with everything from crabgrass to dandelions. It's rainfast within three hours of application and leaves the surrounding grass looking healthy. If you want to plant some grass seed after applying, you can do so after several weeks. It's easy to use, with no need to buy a separate sprayer, and the price is fairly budget-friendly. However, there are some mixed reviews, which might mean that you want to be a little more cautious when deciding whether to purchase.
This product is intended more for domestic applications, whereas some other options can be used for industrial and commercial uses too. It's also a good choice for applying to lawns, whereas other weed killers don't discriminate between weeds and other plants or grass.
How to Spray Weed Killer
For those of you who have a big area to spray and no clue how to properly do it, this video will help you out:
Conclusion
With a choice of weed killers available for large areas, consider what your needs are. Decide what you need the weed killer to kill, how much space you need to cover, and your budget.