How To Use Your Homemade Weed Killer
It is best to spray this mixture when the sun is the highest in your area – the scorching of the sun will help the weed killer work a little better. Spray directly on your weeds ONLY and be sure to keep the surrounding plants you care about safe as this mixture can affect those as well. Apply daily – and be aware of rain, if it should rain after your application it will be washed away.
Pets

It is important to remember, although this mixture will not hurt your pets if ingested in a small amount, vinegar and even some oils can be pretty irritating to your pets – so you may want to still limit their time in the areas you have treated after spraying.
Other Weed Prevention Options
Landscape Fabric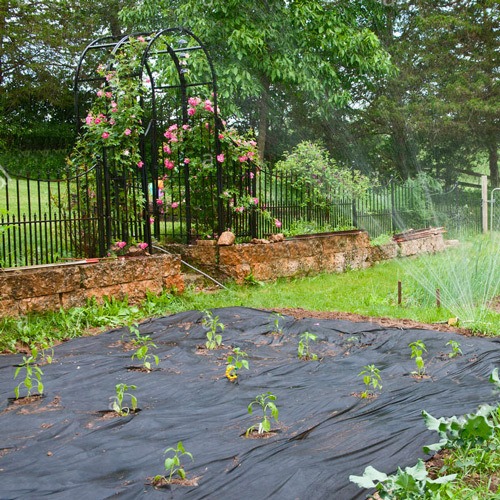 Another option for preventing weed growth is by using what is called Landscape Fabric. While this will not kill existing weeds and of course will not work on full lawns, it is perfect for smaller areas and in areas where it can be hidden.
There are many advantages as well as disadvantages to using landscape fabric so it is important to understand both before deciding whether to use this option or not.
It is most commonly used in these areas:
Below pavers or stone
Under mulch
In flower beds and garden areas
Garden Mulch
Weeds can only survive if they have sunlight! Take that out of the equation and you have a better chance of them dying on their own, this is why mulch is such a game changer – and we use a lot of it in our own yard. While this is not commonly used on walkways or pavers – it can be great in gardens, landscaped areas and as an accent around trees. By using mulch in these areas you are essentially "smothering" them and preventing them from taking over!
Commercial Pet Friendly Weed Killers
If the options above just do not appeal to you or are not working, there are a few recommended commercial products you can try as well that make claims of being pet friendly. We will review each of these individually to see if we can find any issues with them, but we did want to at least do a brief roundup to help you make a decision about the best alternative for your specific needs.
Offers a full line of weed and pest killers that are 100% organic and use plant oils and salt to create mixtures that kill unwanted grass and weeds. You need to use caution with this product because it is a grass killer as well — so if you are only looking to kill the weeds you need to spray it carefully!
It is highly recommended for patios and walkways as well as the base of trees and shrubbery. Pets and kids will be kept safe if you allow about an hour for the mixture to dry. The bonus is that it is environmentally friendly and will not hurt any nearby water supplies, mammals or birds which we love.
You can learn more about EcoSmart here.
---
A.D.I.O.S. offers a weed killer (or herbicide) that is odorless and claims to be non-toxic. It primarily focuses on what are considered broadleaf weeds so be careful to know what type of weeds you have before making this purchase. It is safe to use just about anywhere including on trees, plants, fruits and vegetable gardens.
Once you spray this on the weeds the spray will then travel down right to the root to kill it.
It is pet friendly and safe to use around wells and fresh water areas as well.
You can learn more about EcoSmart here.
Tell Us About Your Weed Killing Successes!
Have a funny story? Have a trick that works every time when killing weeds? We want to hear about it! Let us know what works, what doesn't and any pet stories related to your weed killing experiences!